Last Updated on March 8, 2021 by laurenpacek
This Baileys Iced Coffee is equal parts sweet, boozy, and refreshing. Enjoy it as a cocktail or as dessert! This cold coffee cocktail is a fun way to celebrate St. Patrick's Day, especially if green beer or Guinness aren't your jam.
But really, this cocktail would be delicious no matter what time of the year it is!
What ingredients go into this drink?
Just a handful of really tasty things. Let's walk through them:
Iced coffee: You can use iced coffee (i.e., coffee that was brewed hot, then cooled) OR use cold brew (my preference). If you want to go the cold brew route, check out my recipe! Personally, I don't think that it's necessary to sweeten the coffee, since the liqueurs are pretty sweet, but you do you!
Irish Cream liqueur: St. Patrick's Day is coming up, after all.
Chocolate liqueur: I used a chocolate liqueur from a local distillery here in Durham.
Half and half: You don't have to add milk, cream, and/or half and half, but I prefer to take my coffee (even the boozy kind) with some half and half.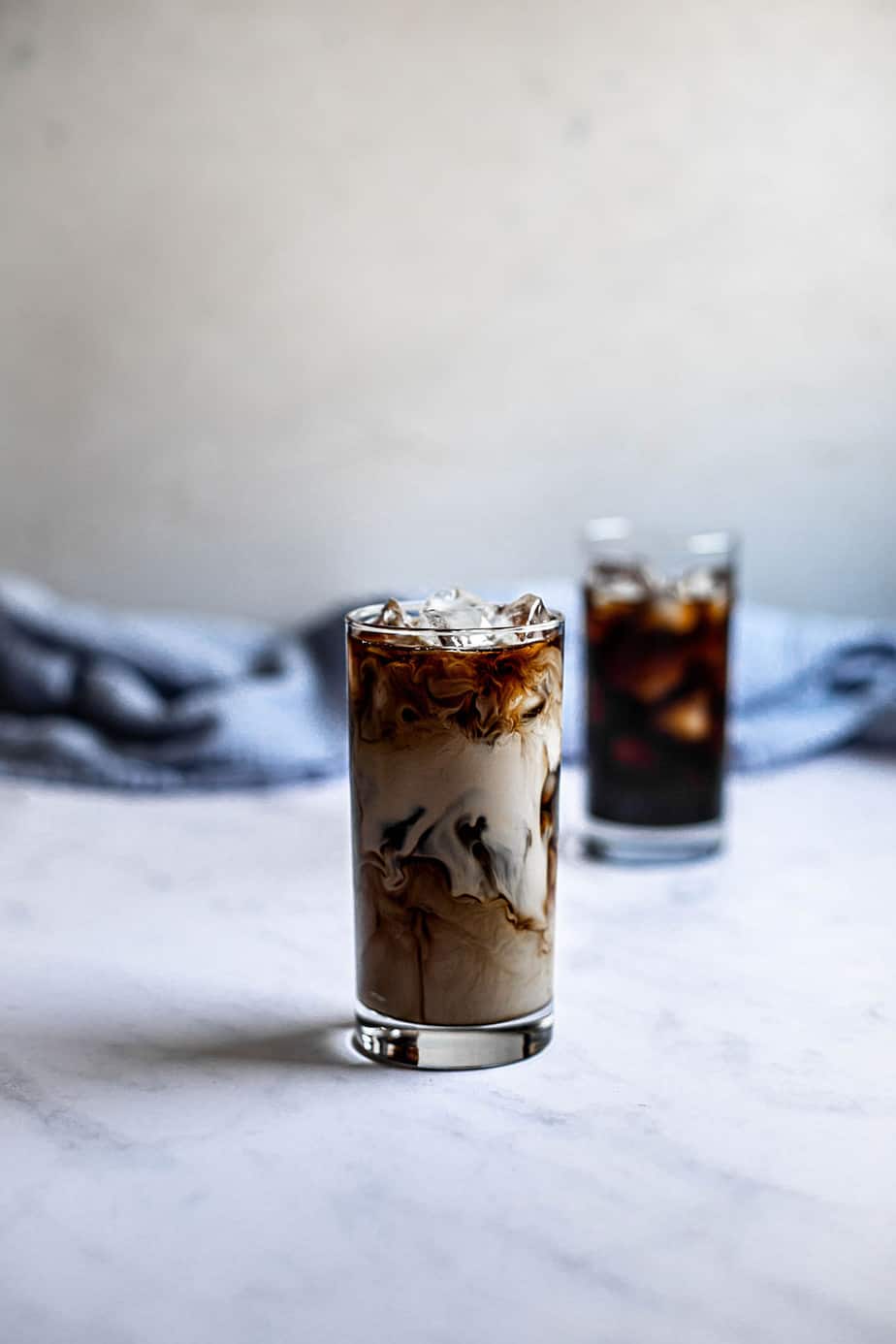 How does this drink come together?
If you have iced coffee or cold brew coffee handy, you can make this cocktail in a minute or two!
All you need to do is pour some iced coffee/cold brew, Irish Cream and chocolate liqueurs, and some dairy (if desired) into a tall glass with ice. Give it a little stir, pop a straw in there, and you're good to go!
You can check out some step-by-step photos below.
Step 1: Iced coffee
Pour your iced coffee/cold brew into a tall glass with ice. But leave a little room at the top for the liqueurs!
I didn't find it necessary to sweeten my coffee (the liqueurs are pretty sweet on their own), but you do whatever floats your boat.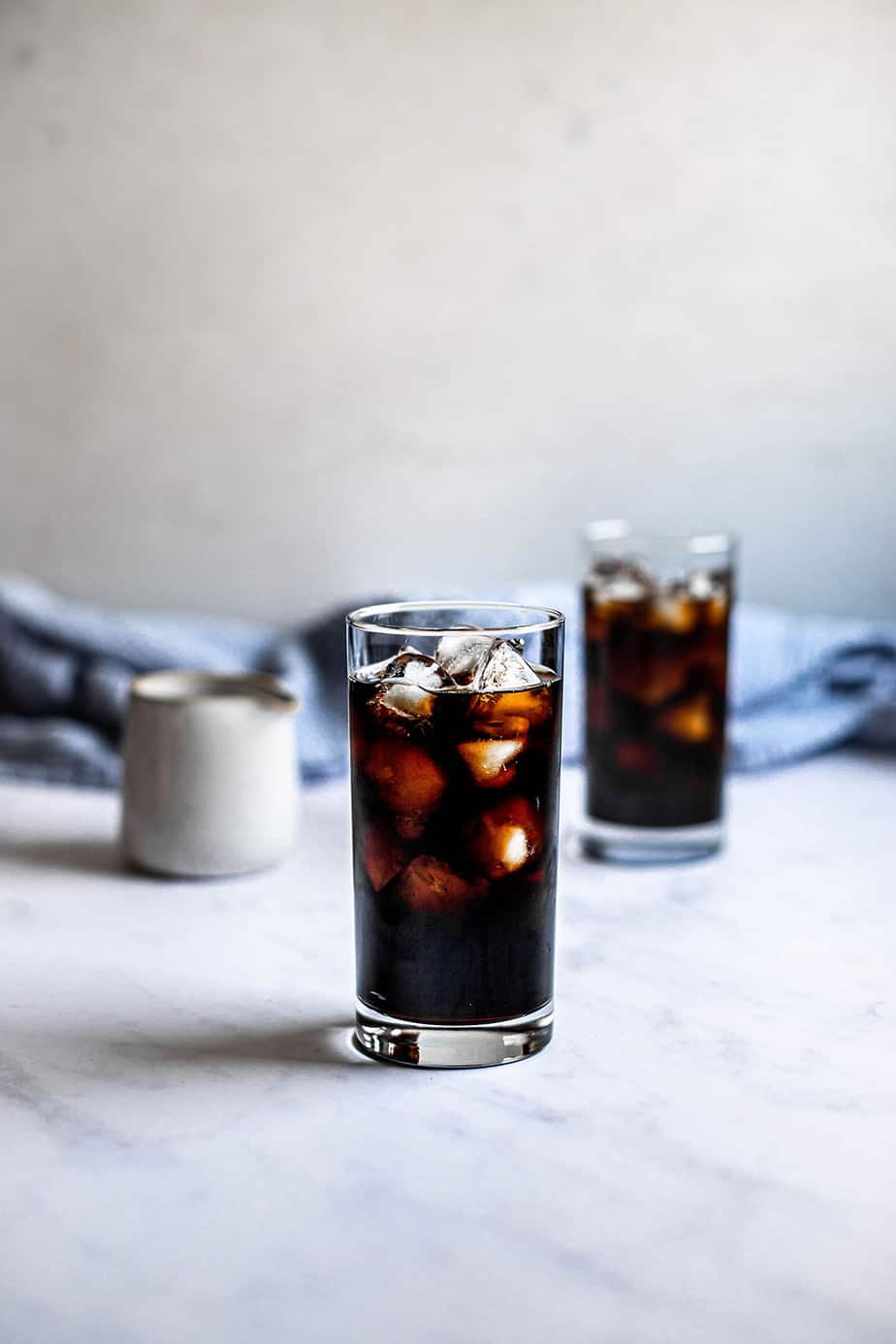 Step 2: Add the liqueurs and dairy
Milk or cream isn't mandatory, but I added some half and half. You do you!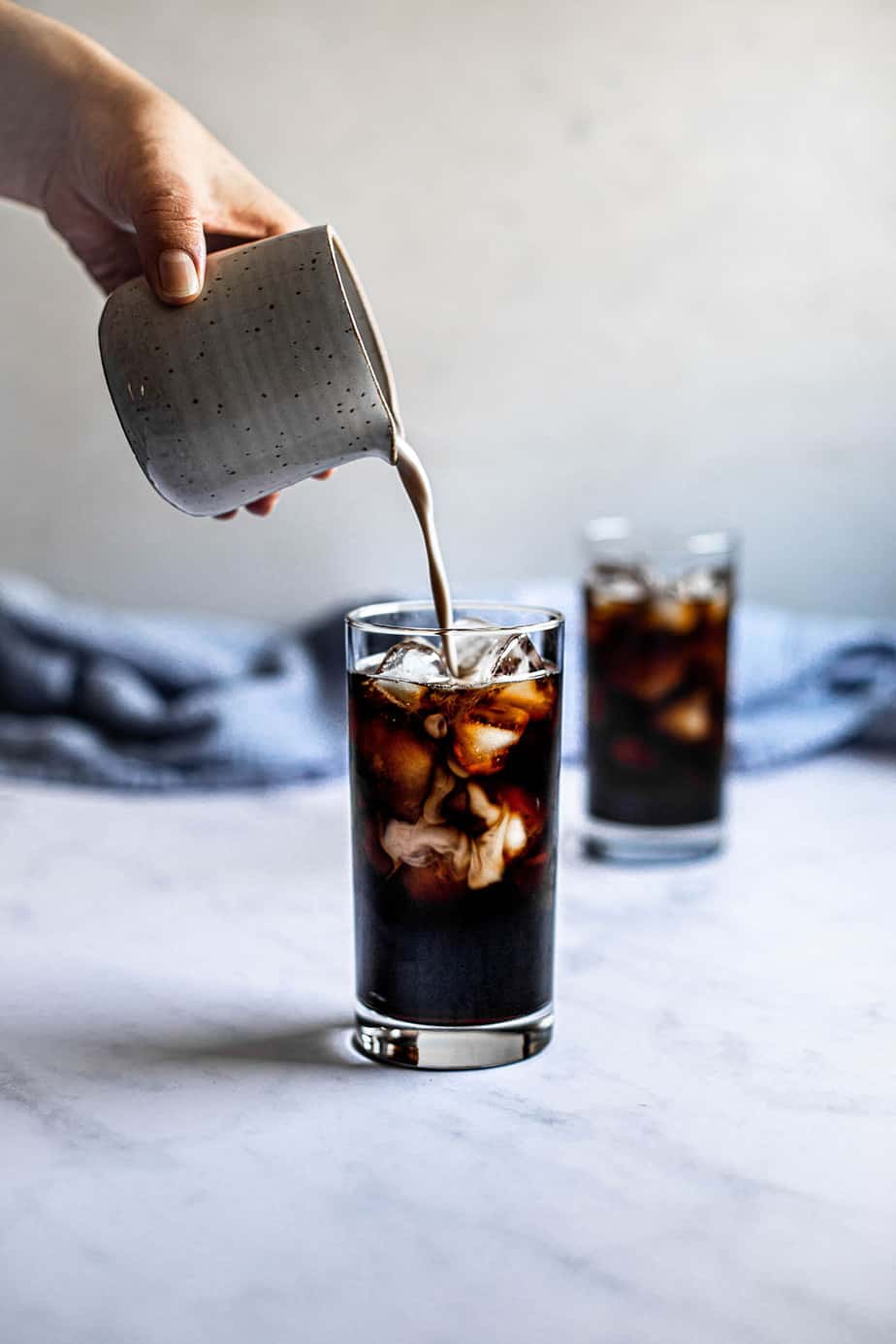 I love watching everything mix together. It's like a potable lava lamp.
Is that weird? Probably. <shrug>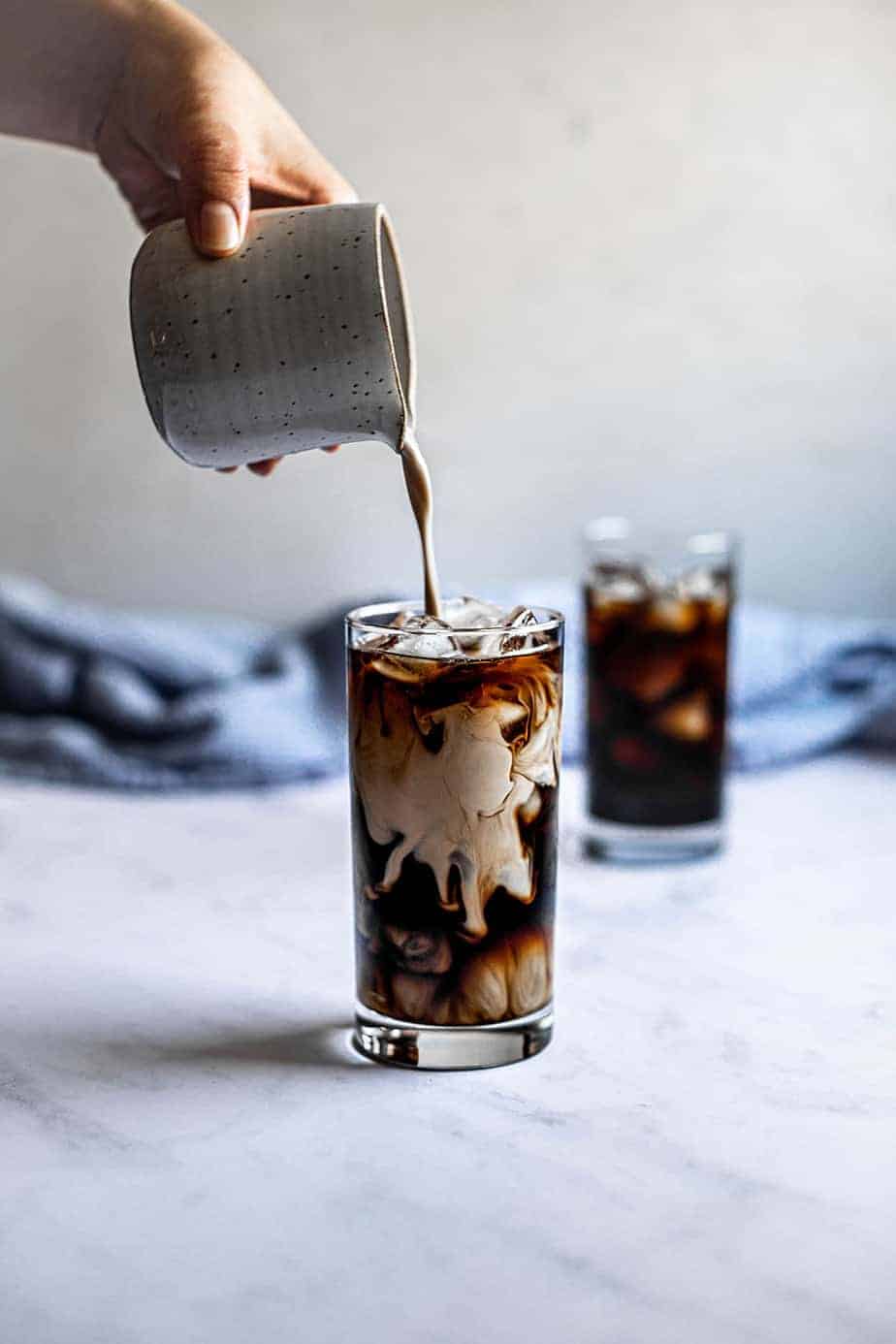 Step 3: Give it a stir ... and drink!
I popped a metal straw in the glass, gave everything a stir, and proceeded to enjoy your Baileys Iced Coffee.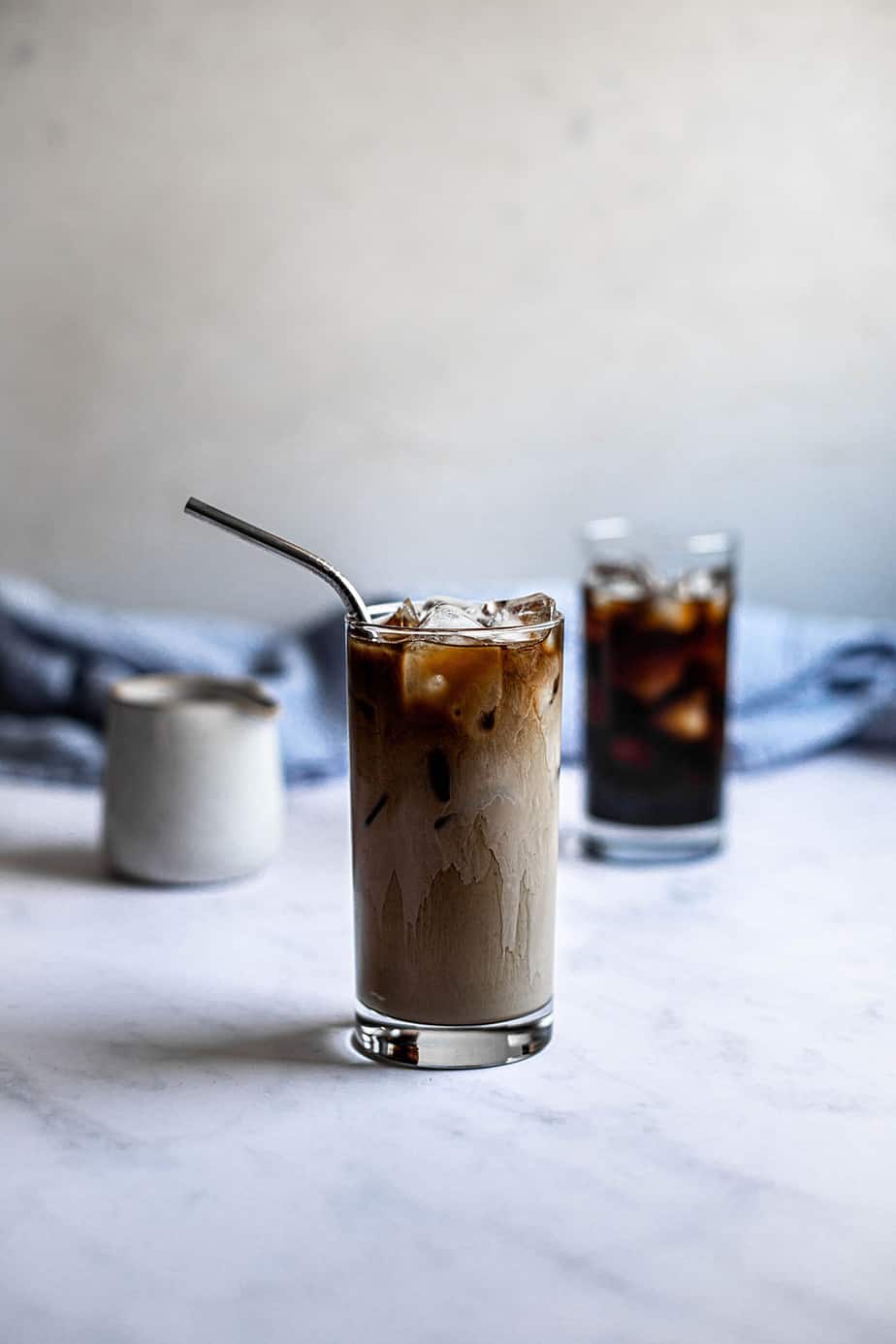 Interested in more coffee goodness?
I used my Cold Brew Coffee recipe as the basis for this cocktail. It makes a strong and really smooth batch of cold brew.
My Pumpkin Spice Cold Brew is a sweet and delicious drink that also builds on basic cold brew. IMHO, it rivals the drink you get at Starbucks.
Looking for other St. Patrick's Day-friendly recipes?
I got 'em!
These Mini Baileys Cheesecakes are so cute and so delicious. You should definitely whip up a batch. I also have a recipe for these Double Chocolate Irish Cream Cookies (which have Irish Cream in the cookies AND glaze).
This Chocolate Stout Bundt Cake with Irish Cream Glaze is a real crowd pleaser, too. I also have a Chocolate Guinness Cheesecake, if that's more your style.
AND just for fun, don't forget about these Lucky Charms Marshmallow Bars!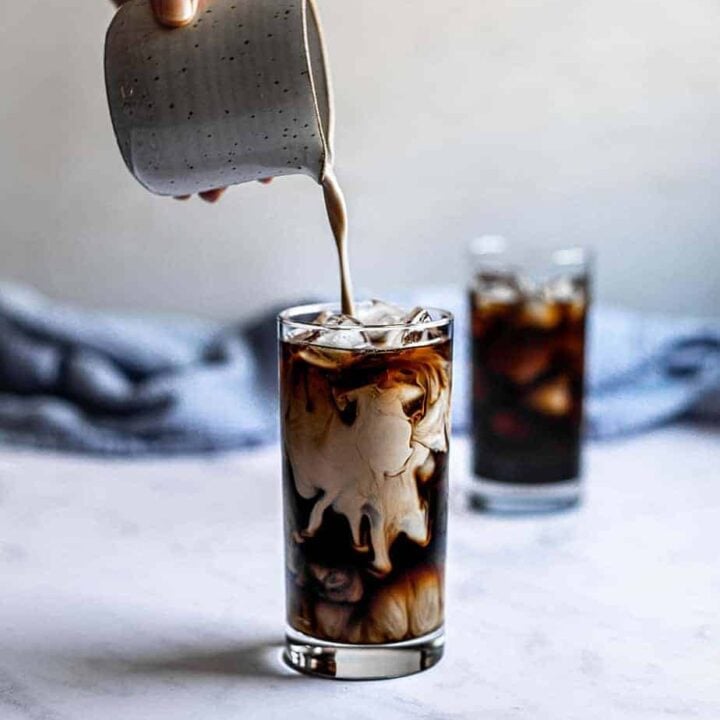 Baileys Iced Coffee
Ingredients
6 oz iced coffee or cold brew coffee
1 oz Irish Cream liqueur
half and half, cream, or milk; to taste (optional)
Instructions
Pour the iced coffee/cold brew coffee into a tall glass filled with ice.
Add the Irish Cream liqueur and chocolate liqueur to the coffee.
Add the milk/half and half/cream to the coffee, if desired.
Stir and enjoy.
Notes
I didn't find it necessary to sweeten my coffee, since the Irish Cream and chocolate liqueurs are pretty sweet. But you do you!
Nutrition Information:
Yield:

1
Serving Size:

1
Amount Per Serving:
Calories:

421
Total Fat:

6g
Saturated Fat:

4g
Trans Fat:

0g
Unsaturated Fat:

2g
Cholesterol:

25mg
Sodium:

148mg
Carbohydrates:

40g
Fiber:

0g
Sugar:

27g
Protein:

10g
What should I have on hand to make these drinks?
Pin this recipe for later!