Last Updated on August 2, 2021 by laurenpacek
This Espresso Martini is cold, sweet, and just a little kicky from the espresso. The recipe only uses a handful of ingredients and is so easy to make.
Whip one up for happy hour or as an after dinner treat!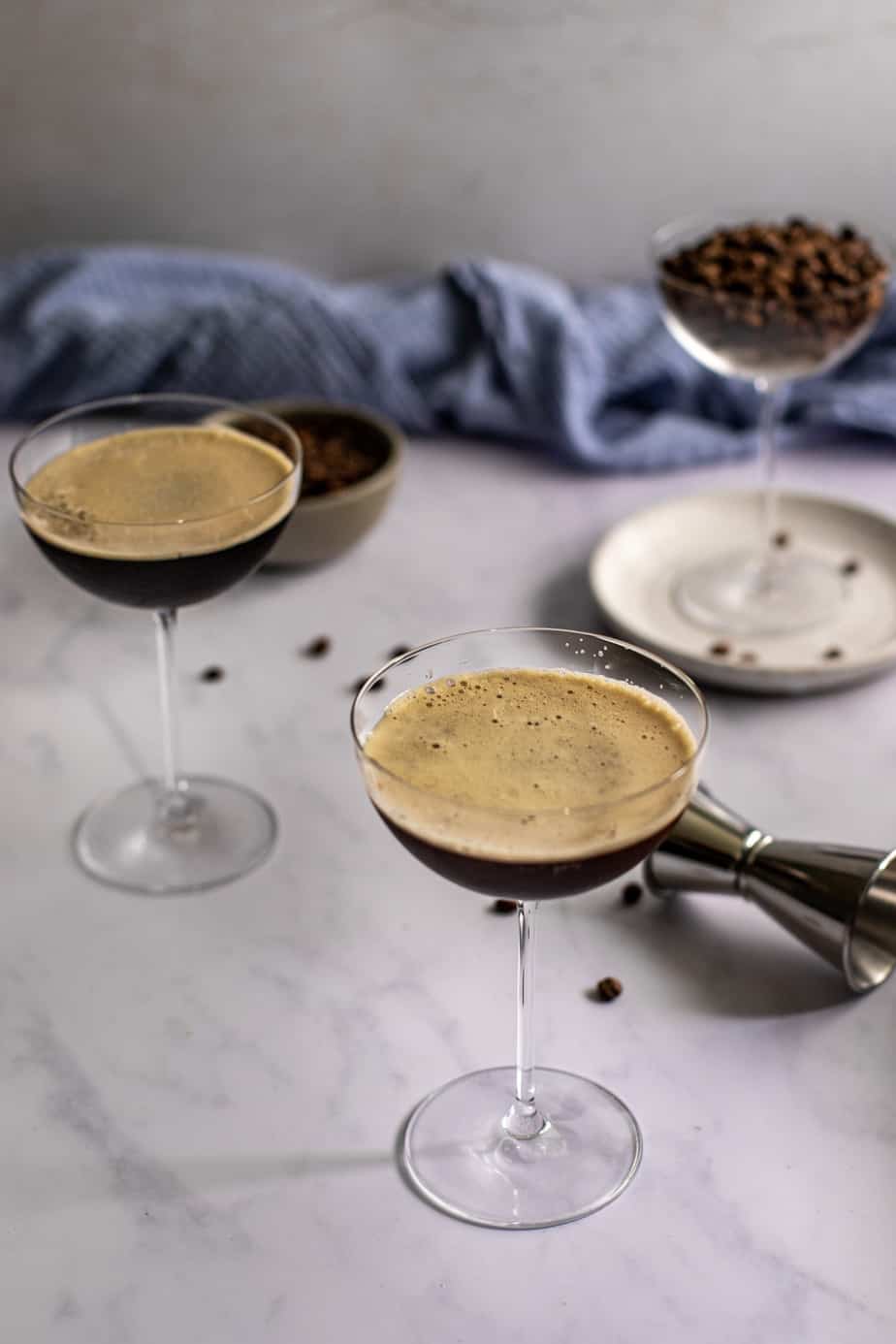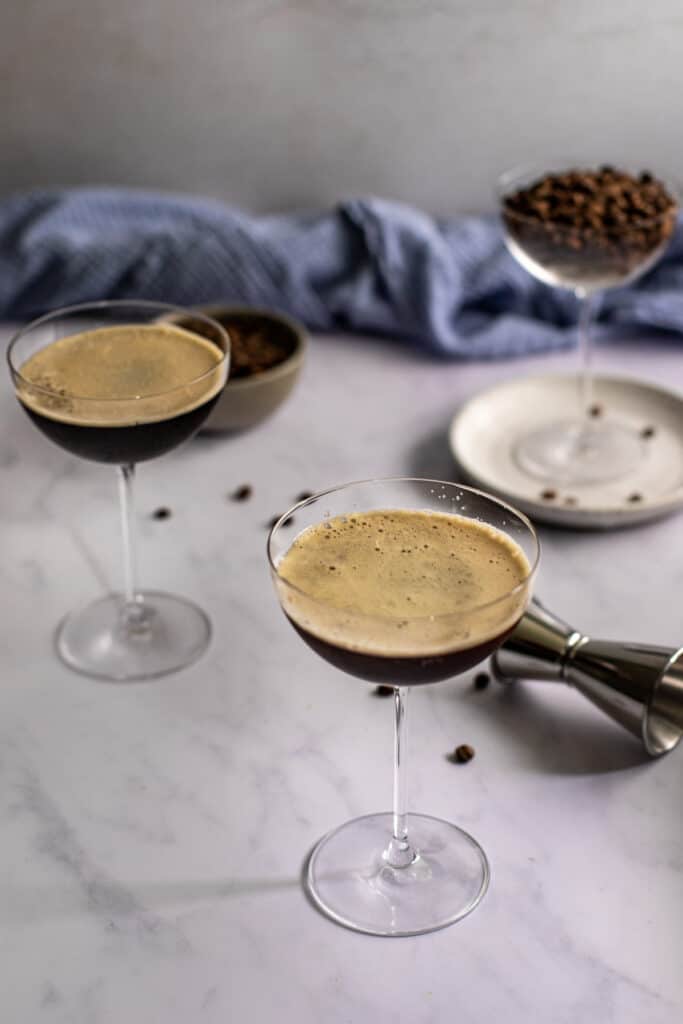 What is in an espresso martini?
Vodka: Use a plain, unflavored, vodka here. Use something that's good, but not exactly top shelf liquor, since there are other strongly flavored ingredients in the mix. I tend to use a vodka like Smirnoff.
Kahlúa: Kauhlúa liqueur is a rum and coffee liqueur that hails from Mexico.
Espresso: If possible, use freshly brewed espresso.
Simple syrup: You can use store bought simple syrup, but homemade is so easy!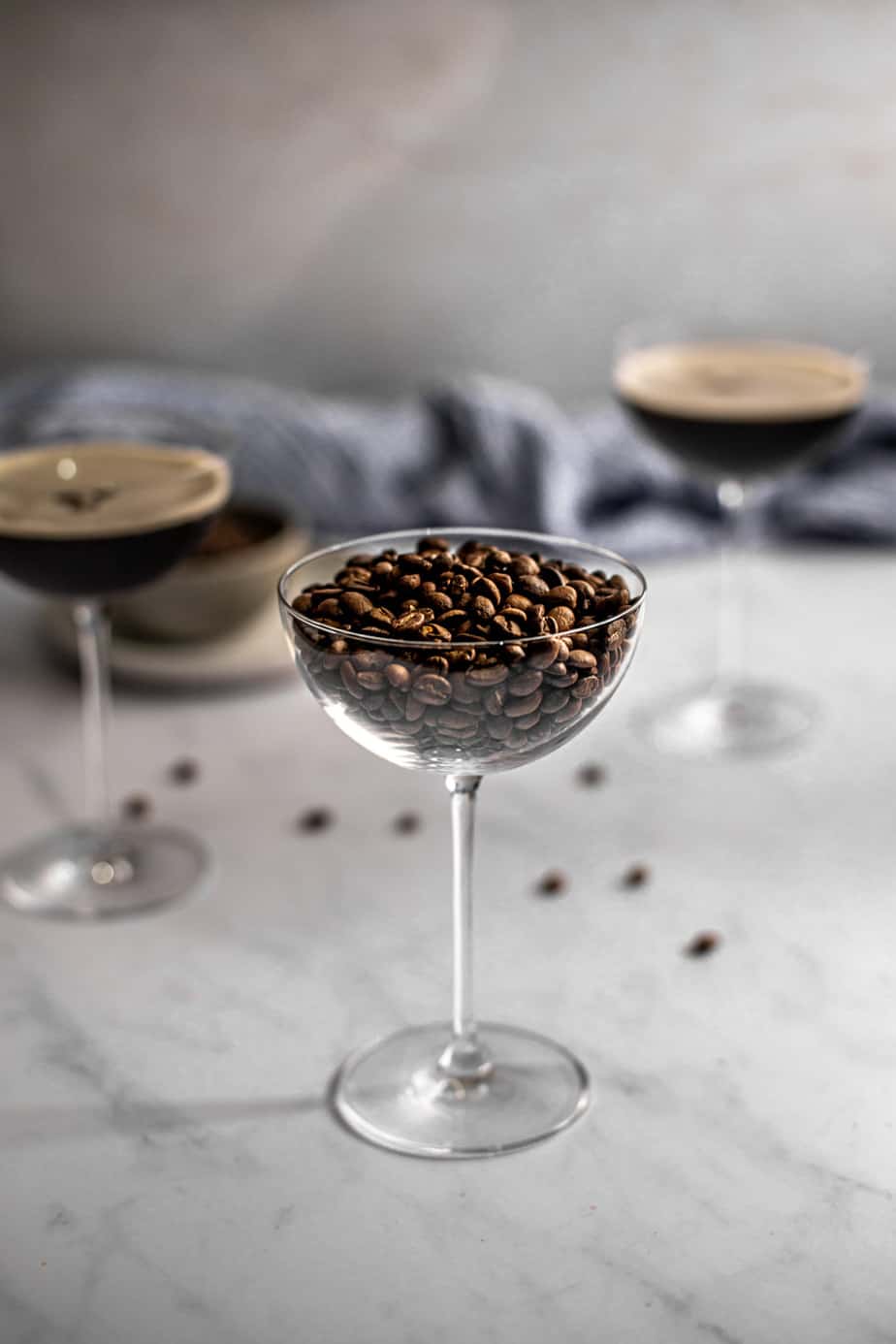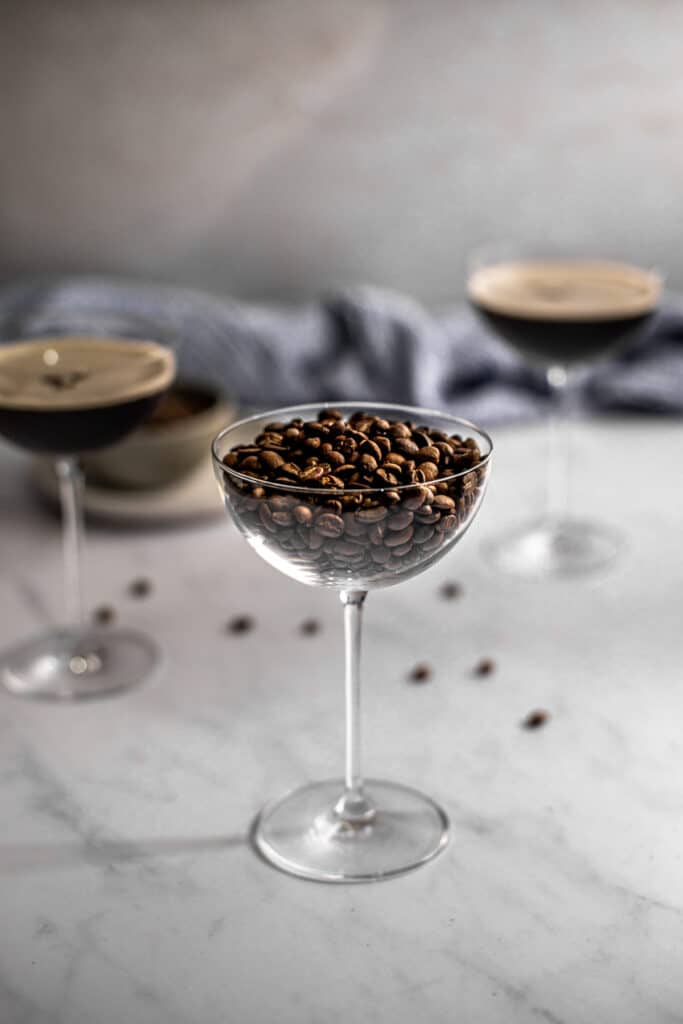 What is the difference between espresso and regular coffee?
Full disclosure: I leaned pretty heavily on this article from The Kitchn for the following information. The Cliff's Notes version is that espresso is much stronger than regular coffee. Read on for more info, though.
As it turns out, the differences between espresso and regular coffee don't have to do with the type of roast or the beans. The difference is all in the preparation.
As you likely know, you can make coffee in a number of ways: drip coffee maker, Chemex, French press, just to name a few. At its most basic, hot water is dripped through coffee grounds to yield ... get this ... brewed coffee.
But espresso needs to be made using an espresso machine. This involves hot water at high pressure, being forced through finely ground beans. It results in a smaller quantity of liquid, which is much more intensely flavored than brewed coffee.
You'll also see what's called the crema on top of an espresso. Basically, it's a layer of foam, somewhat resembling the head on top of a draught beer.
How to make an espresso martini
Vodka, Kahlúa liqueur, espresso, and plain simple syrup get shaken up in a cocktail shaker with *lots* of ice. Using a lot of ice is key, especially if your espresso is freshly brewed and still hot. No one wants a hot martini.
Strain that drink into a fancy glass and garnish with a few coffee beans, if you're so inclined.
How to make an espresso martini without an espresso machine
I wouldn't say that this would be my recommended way of preparing this cocktail (or just espresso, in general), but you can technically use some instant espresso powder to make liquid espresso for this drink.
Again, not the best way to go about it. BUT if you do try this, make sure to grab a good quality instant espresso powder.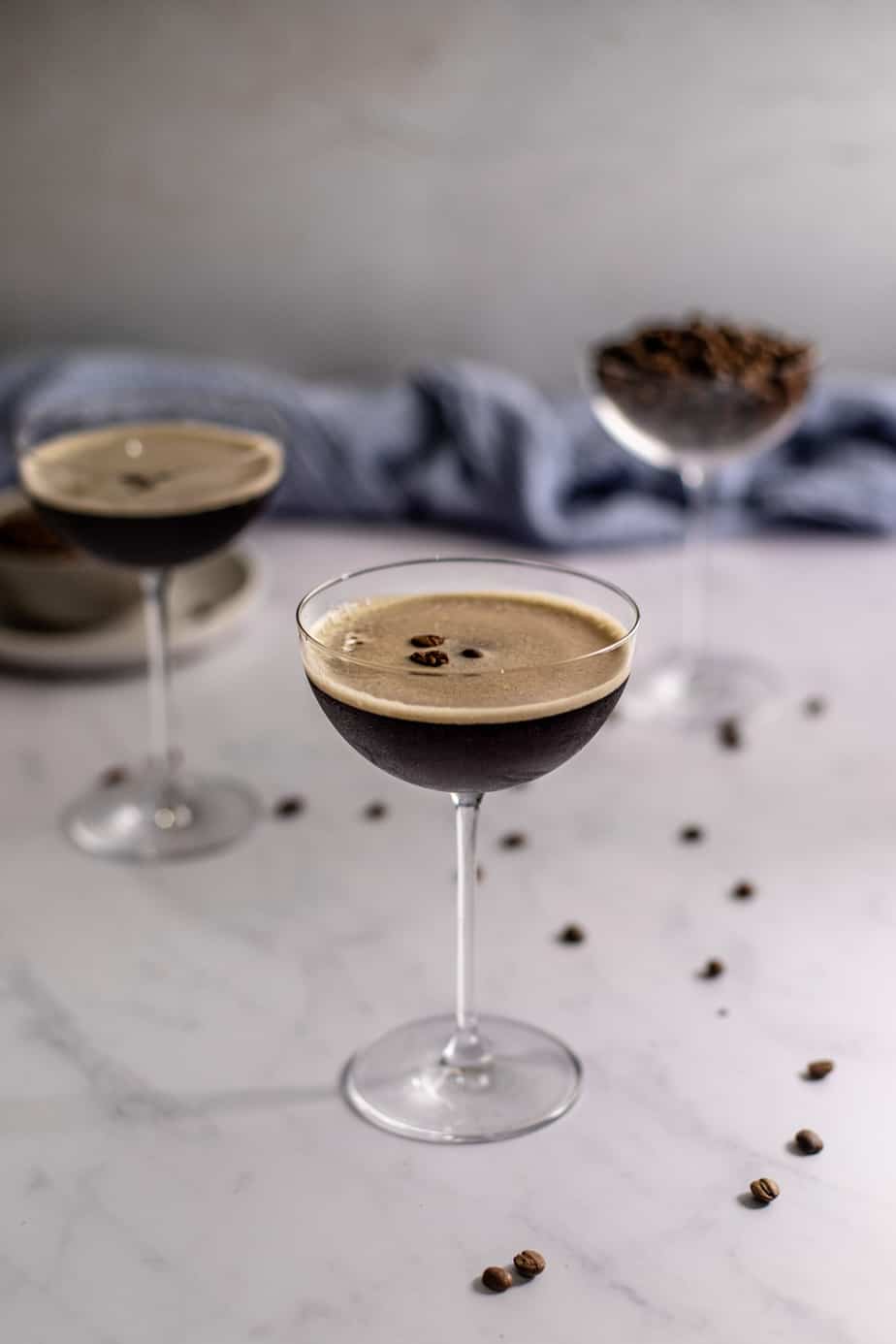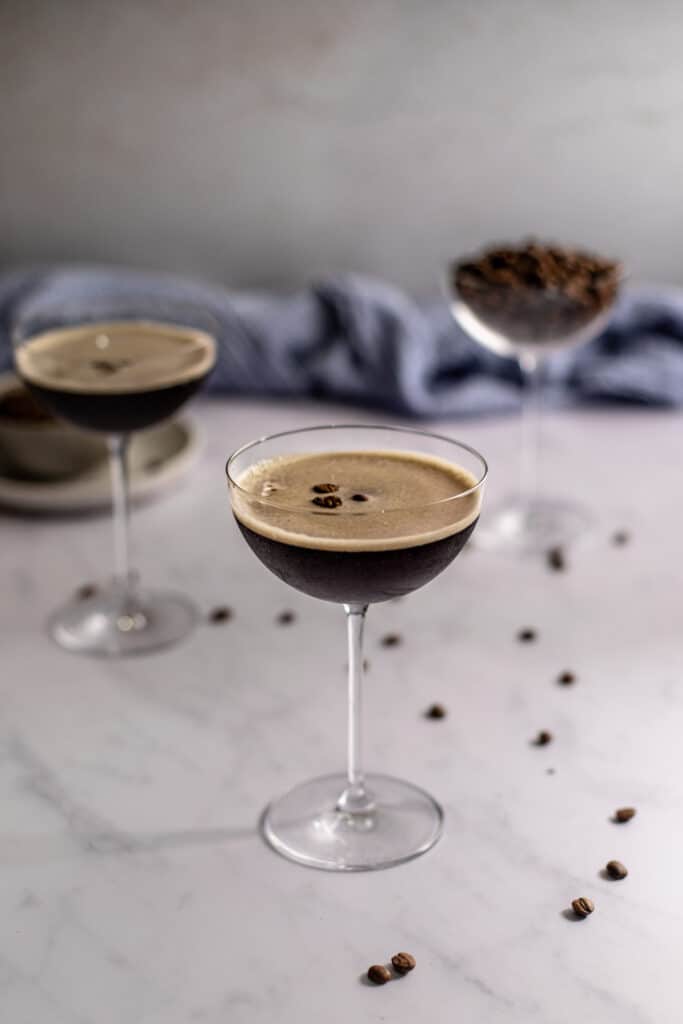 Looking for other cocktail recipes?
If you're in need of another martini, check out my Limoncello Martinis. They will not disappoint.
I'd also like to recommend my Strawberry Mojitos, Rossini Cocktails (strawberry bellinis!), and Cadillac Margaritas! Oh, and don't forget about my recipe for the Dirty Shirley. It's a grown up Shirley Temple!
You know what? Just take a look at all of the cocktails on this blog. Goodness knows that there's enough of them.
Looking for other coffee-based recipes?
Because I have some for you!
If you're looking for another coffee-based cocktail, definitely check out my Baileys Iced Coffee. It only involves a few ingredients and comes together really quickly.
If you are in need of caffeination, sans alcohol, I can recommend my Homemade Cold Brew Coffee and Pumpkin Spice Cold Brew Coffee. ALSO check out my Homemade Iced Lattes and Gingerbread Lattes.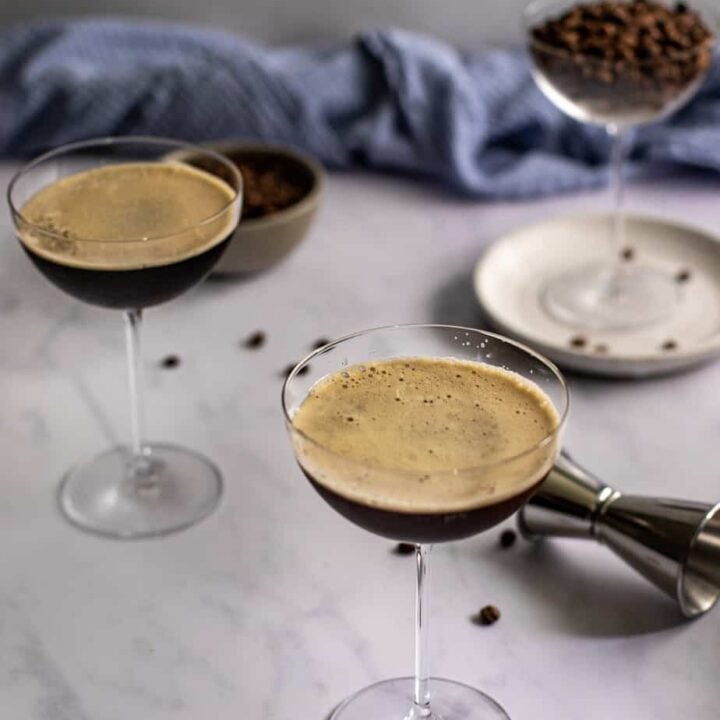 Espresso Martini
This Espresso Martini is cold, sweet, and just a little kicky from the espresso. The recipe only has a few ingredients and is so easy.
Ingredients
1.5 oz vodka
1 oz espresso, freshly brewed
½ oz Kahlúa liqueur
½ oz simple syrup
coffee beans, for garnish (optional)
Instructions
Combine the vodka, espresso, Kahlúa, and simple syrup in a cocktail shaker with lots of ice.
Shake until very cold and strain into a coupe or martini glass.
Garnish with a few coffee beans, if desired.
Nutrition Information:
Yield:

1
Serving Size:

1
Amount Per Serving:
Calories:

473
Total Fat:

1g
Saturated Fat:

0g
Trans Fat:

0g
Unsaturated Fat:

1g
Cholesterol:

0mg
Sodium:

883mg
Carbohydrates:

72g
Fiber:

10g
Sugar:

38g
Protein:

12g
What should I have on hand to make this recipe?
Pin this recipe for later!