The Gold Rush Cocktail marries bourbon, honey syrup, and lemon juice in one delicious cocktail. It's a fabulous and perfectly balanced variation on the traditional whiskey sour.
This might be my new favorite cocktail. It's easy to shake up and tastes amazing. In my mind, the bourbon lends itself to being a Fall and Winter cocktail, while the honey and bright lemon make it also feel like it would be great choice year round.
To be honest, the first time that I made this drink, my first thought (after thinking about how good it tasted) was that this was something that I wouldn't mind drinking when I have a bit of a cold. Warming bourbon, soothing honey, zingy lemon... Maybe that's just me, though. Sick or not, I plan to be shaking up a Gold Rush on the regular from here on out.
Looking for more bourbon cocktails? Try my Kentucky Mule or Maple Old Fashioned!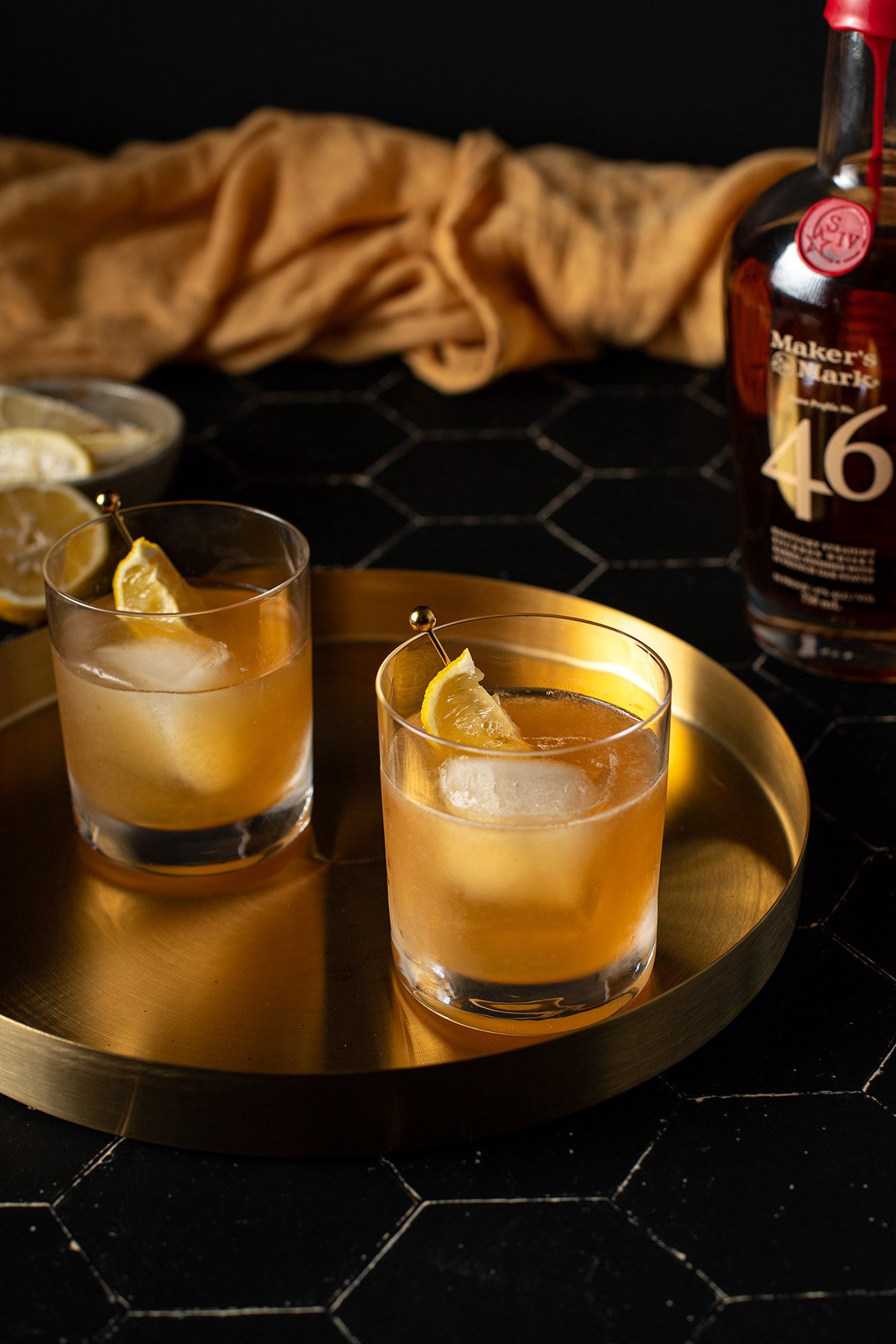 Jump to:
🌟 Why You'll Love This Recipe
It's perfectly balanced. Smooth bourbon, sweet honey syrup, and bright, zingy lemon make for a balanced and delicious drink.

It's easy to make. You only need to shake up a few ingredients and strain it into a glass over ice.

It only requires three ingredients. Just three!
💭 What is a Gold Rush Cocktail?
A Gold Rush was created in NYC at the bar Milk & Honey in the mid-2000s and is a bourbon-based, shaken cocktail that is made with only three ingredients: bourbon, honey syrup, and lemon juice.
We'll talk about these ingredients in the section right below this one.
📝 Ingredients
This drink requires only a handful of simple ingredients.
Lemon juice: Freshly squeezed, please!
Honey syrup: This cocktail calls for honey syrup, which is a syrup made from a 1:1 combination of water and honey. It's incredibly easy and worthwhile to make your own at home.
Bourbon: Ultimately, you should use the bourbon that you like to drink, but I recommend using something of at least decent quality. As you can see in the photos, I shook mine up with some Maker's Mark (and it was delicious).
Garnish: I garnished my drink with a lemon wedge, skewered on a cocktail pick.
👩🏻‍🍳 How to make a Gold Rush Drink
Start out by adding a large ice cube to a rocks glass. You can use a handful of smaller ice cubes, too, if that's what you have. I've come to really enjoy large ice cubes because they melt more slowly, and therefore don't dilute your cocktail as quickly as smaller ice cubes do.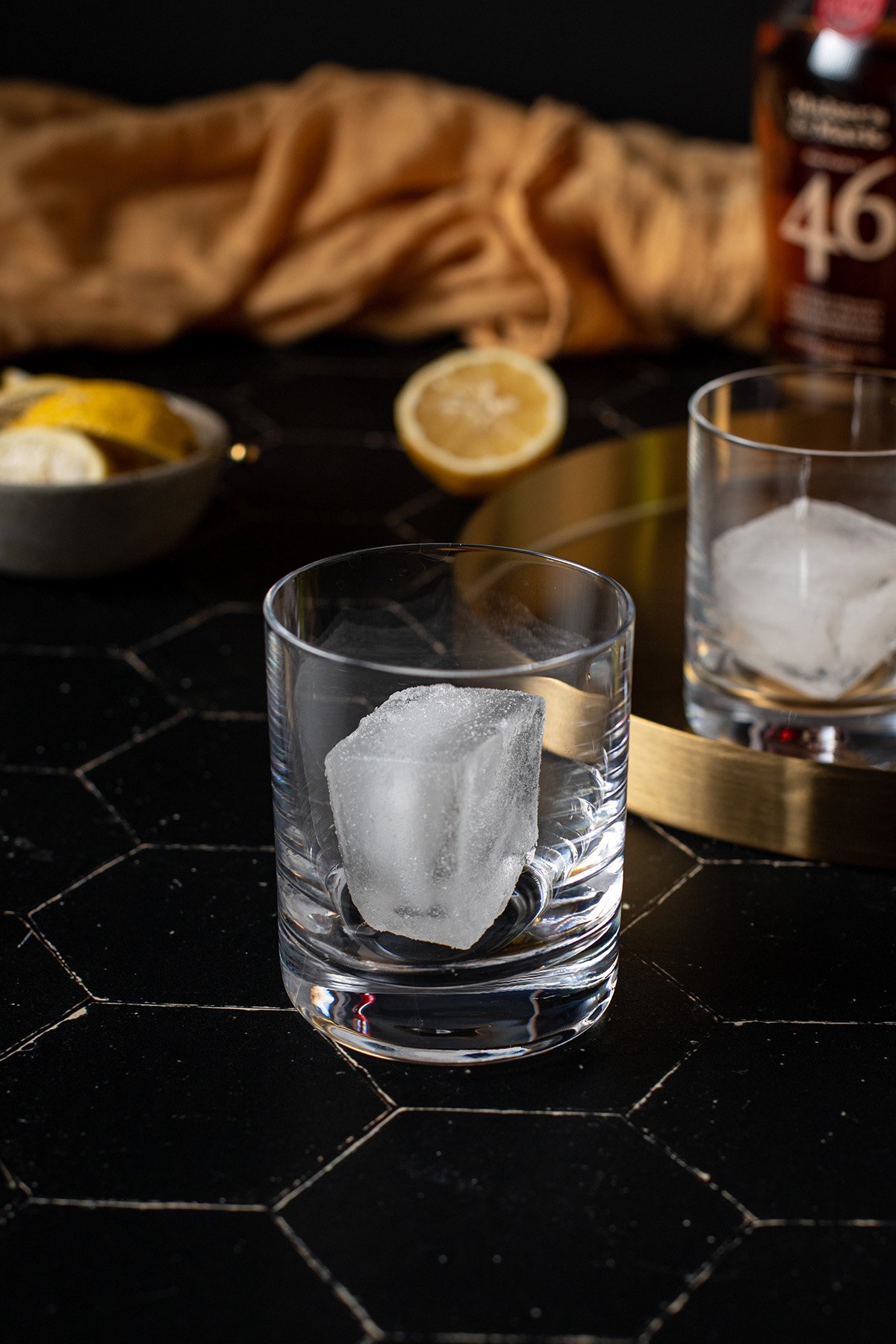 You'll then add your cocktail ingredients and ice to a cocktail shaker. I've been using a single large cube in my shakers, too, for the same reason that I've been serving them in my finished drinks. Larger ice cubes = less watered down drinks than when using small cubes, while still allowing for an adequate and appropriate amount of dilution. Shake everything until it is very cold.
Next, you'll strain your drink into your prepared cocktail glass.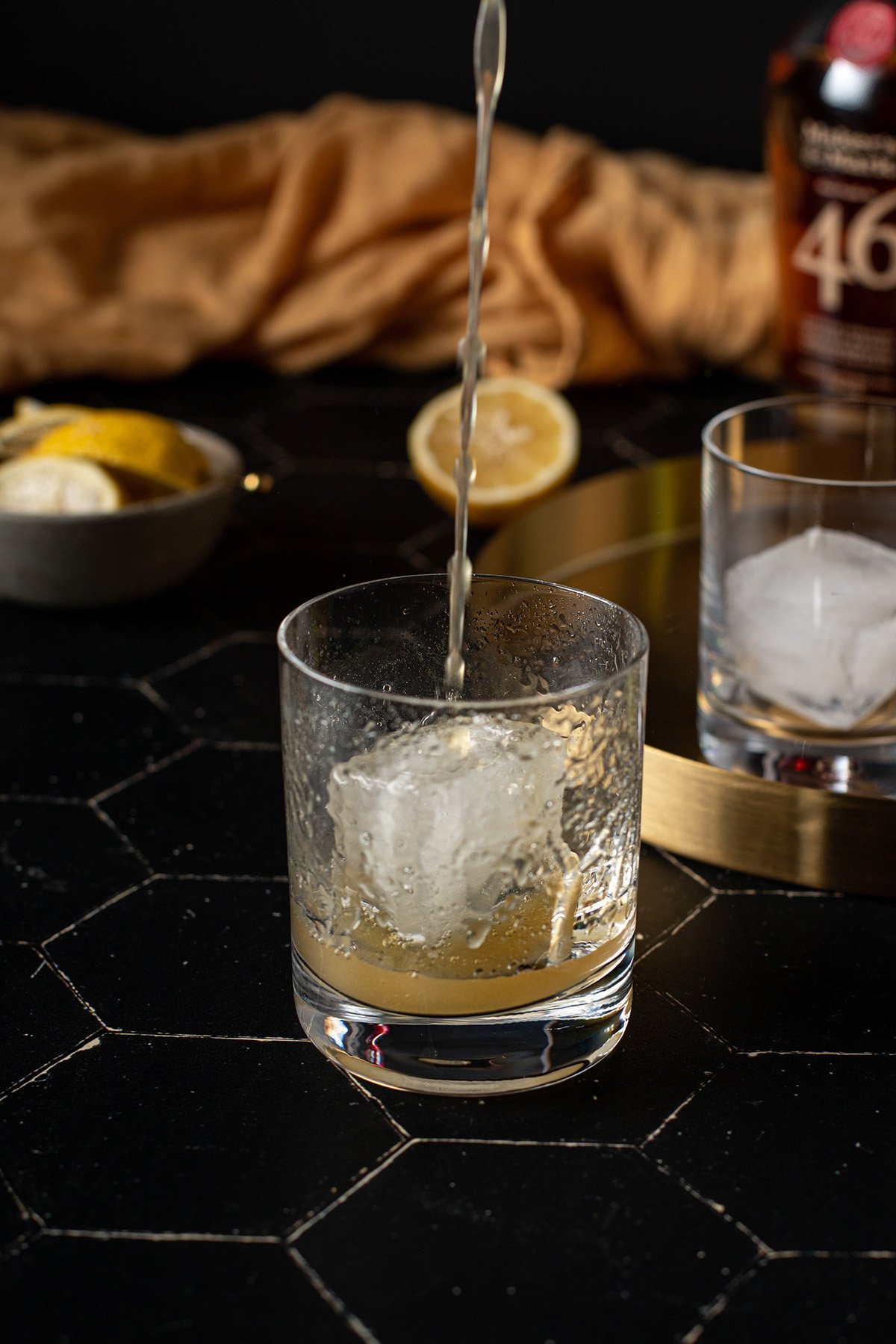 From there, all you'll do is garnish your Gold Rush with a lemon wedge. I popped mine onto a gold cocktail pick.
Of course, garnishing your drinks isn't required. I just think that it adds a lot to the overall presentation.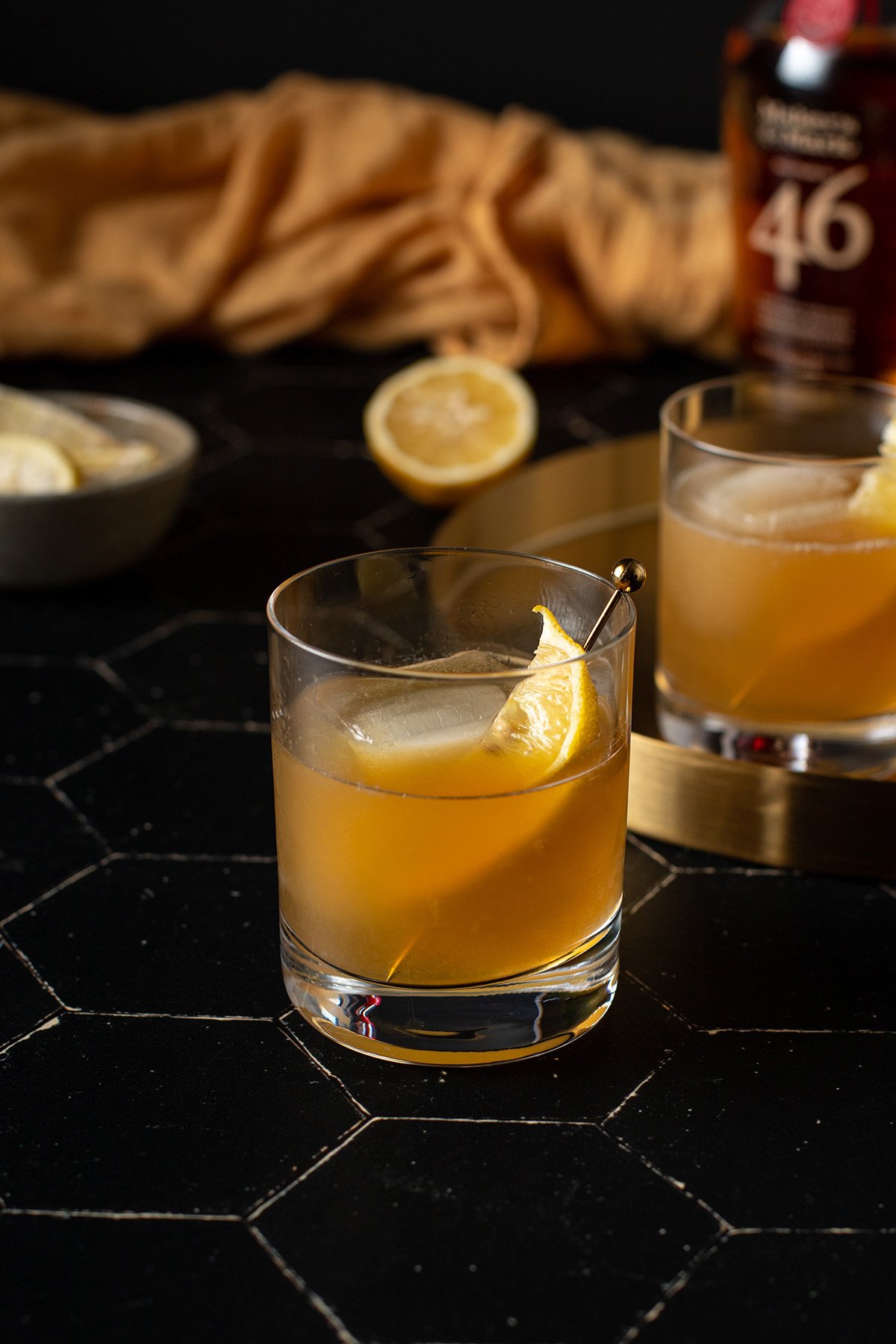 🔗 Other bourbon drinks
Looking for other drinks that are made with bourbon? Peruse the photos and links below from A Nerd Cooks, as well as from other fabulous bloggers.
❓ FAQs/Tips and tricks
What is the best bourbon to use in a Gold Rush cocktail?
Whatever you like to drink! But I think that this drink would benefit from a higher proof, maybe slightly aged, bourbon.
Can I use plain honey instead of honey syrup?
I wouldn't. Have you ever tried to dissolve honey into a cold drink? It doesn't go very well. The honey just kind of clumps up and doesn't incorporate into the liquid. Using honey syrup ensures that everything incorporates perfectly.
Can I batch this cocktail recipe?
Yes! You can definitely shake up multiple drinks at once. Just scale up the ingredients accordingly.
🖤 Share your creations and follow me on social media!
✨ Recipe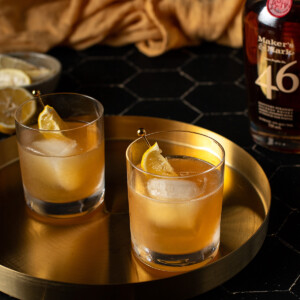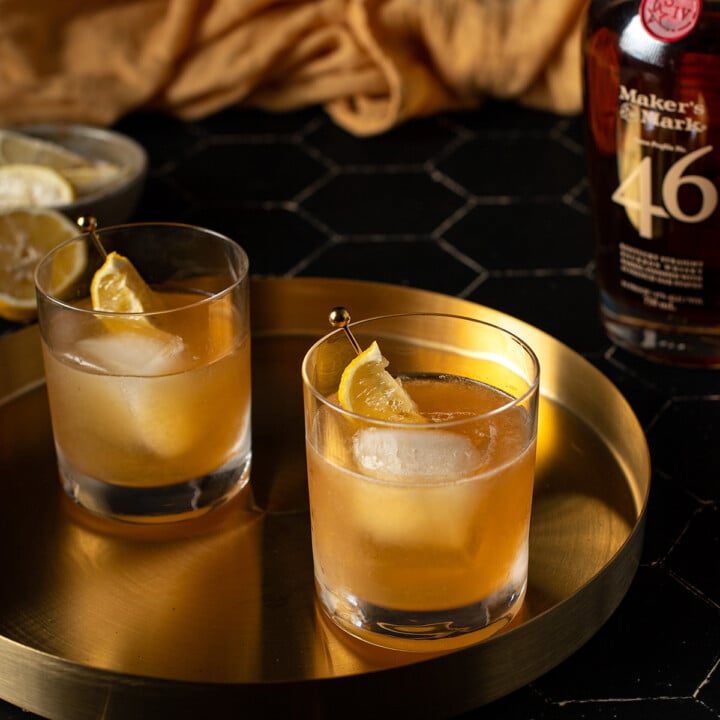 Gold Rush Cocktail
The Gold Rush Cocktail marries bourbon, honey syrup, & lemon juice in one delicious cocktail. It's a fabulous variation on the whiskey sour.
Ingredients
¾

ounce

lemon juice

¾

ounce

honey syrup

2

ounces

bourbon

lemon wedge

for garnish (optional)
Instructions
Add the lemon juice, honey syrup, and bourbon to a cocktail shaker.

Add ice and shake until very cold.

Strain into a rocks glass and garnish with a lemon wedge.
Nutrition
Serving:
1
Calories:
205
kcal
Carbohydrates:
22
g
Protein:
1
g
Sodium:
9
mg
Fiber:
3
g
Sugar:
16
g
Disclaimer: Nutritional information is a generated estimate and is not guaranteed to be accurate.
📌 Pin this recipe for later!