Last Updated on August 12, 2022 by laurenpacek
This post may contain affiliate links. A Nerd Cooks may collect a share of sales or other compensation from the links on this page. More information can be found here.
This Honey Syrup is a sweet and delicious addition to drinks, desserts, and more. It only requires two ingredients, and is so easy to make, too.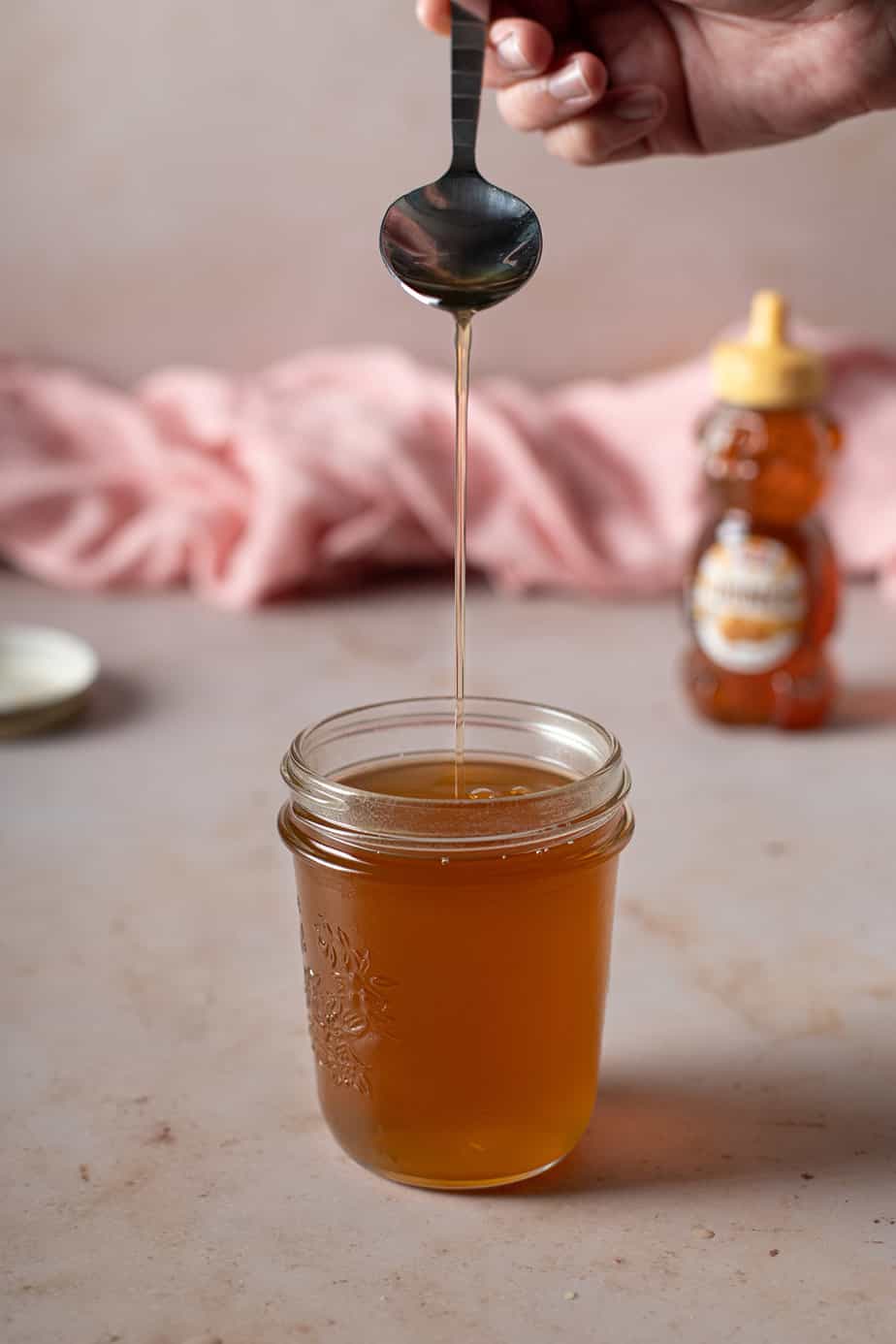 What is Honey Syrup?
We've been over what a simple syrup is before, but let's rehash it: a simple syrup is made up of water and sugar (you can use a variety of kinds of sugars) that's simmered so that the sugar dissolves into the water. You can use this syrup to sweeten drinks of all kinds, moisten layer cakes and cupcakes, drizzle on ice cream or waffles/pancakes, and so on.
Honey syrup is really similar! Just swap in some honey for the sugar in simple syrup and you've got yourself a honey syrup.
Ingredients
This recipe only requires TWO ingredients!
Water: Regular old water (tap or filtered, depending on your preference) will suffice here.
Honey: I used the store brand honey from my regular grocery store (think the honey that's in the little bear-shaped bottle) to make this syrup, and it worked out very well. You can use whatever honey you prefer. Just keep in mind that different honeys will have different flavor profiles, which will change the flavor of the honey syrup to a degree.
How to make Honey Syrup
It's very easy to make honey syrup! We've made lots of simple syrups together on this blog. And fortunately for you and for me, the methods for making a honey syrup is basically the same as making a simple syrup.
You'll start out by combining equal parts of water and honey in a heavy bottomed saucepan on your stovetop. Turn the heat up to medium and whisk it occasionally, making sure to thoroughly combine the water and the honey.
Once the water and honey comes to a simmer, and the honey is dissolved into the water, you'll want to kill the heat and allow the syrup to cool completely.
After it has completely cooled, just stash the syrup in an airtight container in the fridge and use it in all of your favorite drinks!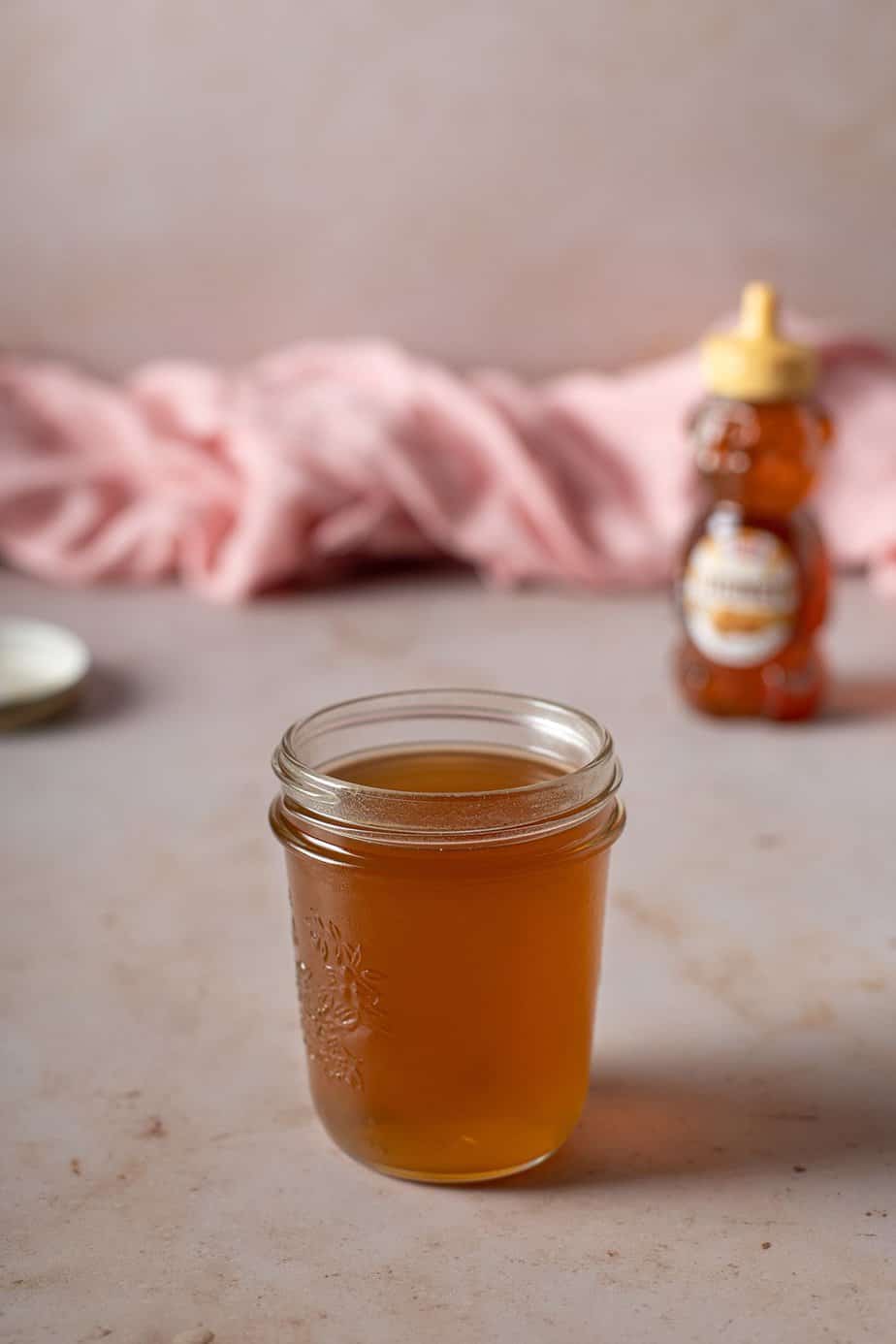 Recommended tools
Other syrup recipes
Looking for other simple syrup recipes? I have a bunch of them! Check out a few that are listed below, along with a couple from some other great bloggers.
FAQs/Tips and tricks
Does honey syrup need to be refrigerated?
Yes! It needs to be refrigerated.
Does honey syrup go bad?
Unfortunately, yes. It will go bad eventually. You can prolong the shelf life by keeping it in the refrigerator in an airtight container.
How long does honey syrup last?
It will keep in the refrigerator, stored in an airtight container, for about a month.
Can you infuse flavors into honey syrup?
Yes! Just like you can infuse flavors into a simple syrup made with regular sugar, you can infuse flavors into a honey syrup. Simply add herbs or fruit (or whatever you're interested in infusing) to the honey syrup once you've killed the heat, and strain it out once the honey syrup has cooled.
Share your creations and follow me on social media
Subscribe to the A Nerd Cooks Newsletter to have updates sent straight to your inbox.

I love seeing when you share my recipes! Please tag me on Instagram @anerdcooks so I can enjoy them virtually with you! You can also find me on Pinterest, Facebook, YouTube, and Twitter.

I'd love to know what you thought of this recipe! Don't forget to leave a comment and
⭐️ star rating below!
The Recipe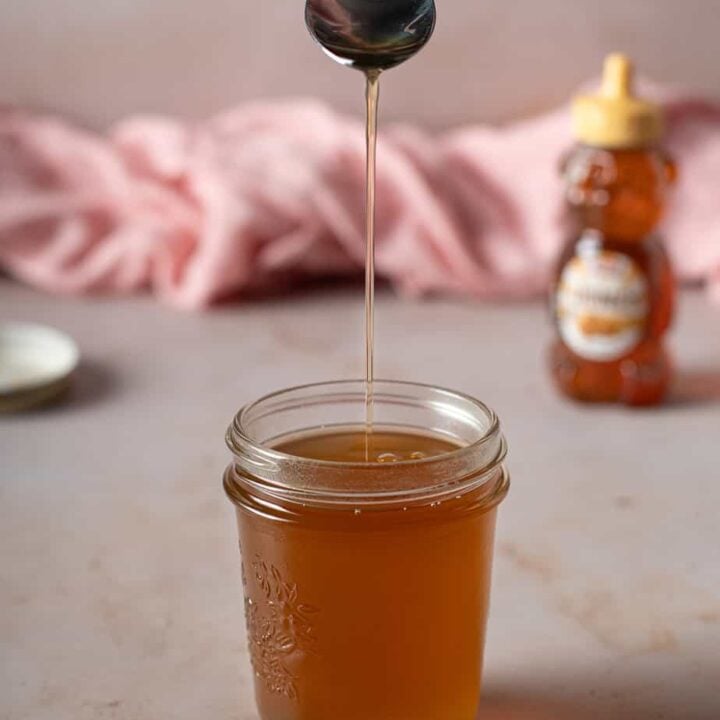 Honey Syrup
This Honey Syrup is a sweet and delicious addition to drinks, desserts, and more. It only requires two ingredients, and is so easy to make, too.
Instructions
Add the water and honey to a heavy-bottomed pot over medium heat. Whisk occasionally to combine the water and honey.
Bring the water and honey to a simmer, ensuring that the honey has completely dissolved into the water, before turning the heat off.
Allow the honey syrup to cool completely before storing it in an airtight container in the refrigerator.
Nutrition Information:
Yield:

8
Serving Size:

1
Amount Per Serving:
Calories:

129
Total Fat:

0g
Saturated Fat:

0g
Trans Fat:

0g
Unsaturated Fat:

0g
Cholesterol:

0mg
Sodium:

3mg
Carbohydrates:

35g
Fiber:

0g
Sugar:

35g
Protein:

0g
Pin this recipe for later!