Last Updated on August 16, 2021 by laurenpacek
The Maple Old Fashioned is a sweet, delicious Fall twist on the classic Old Fashioned cocktail. Raise a glass to the turnings of the season!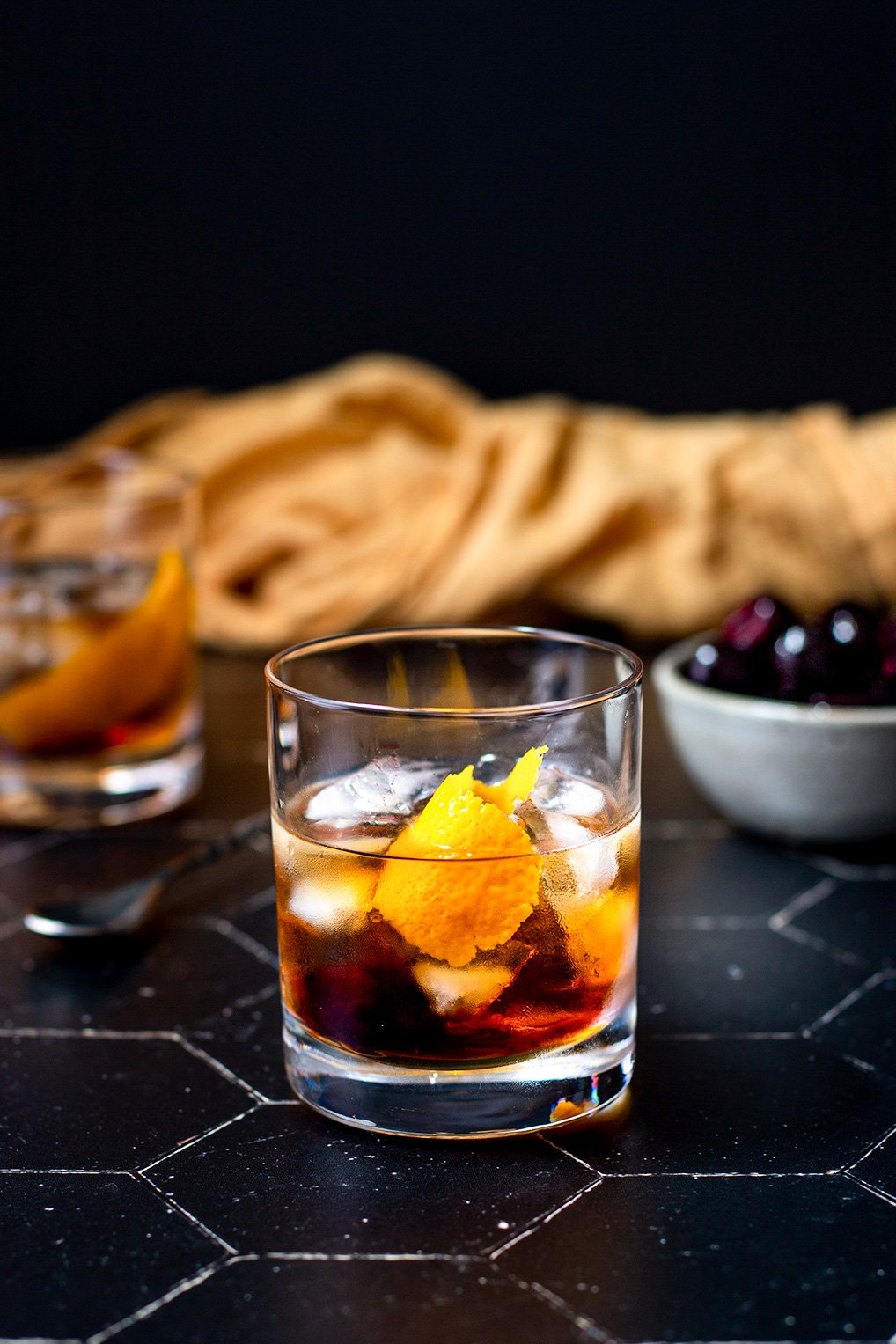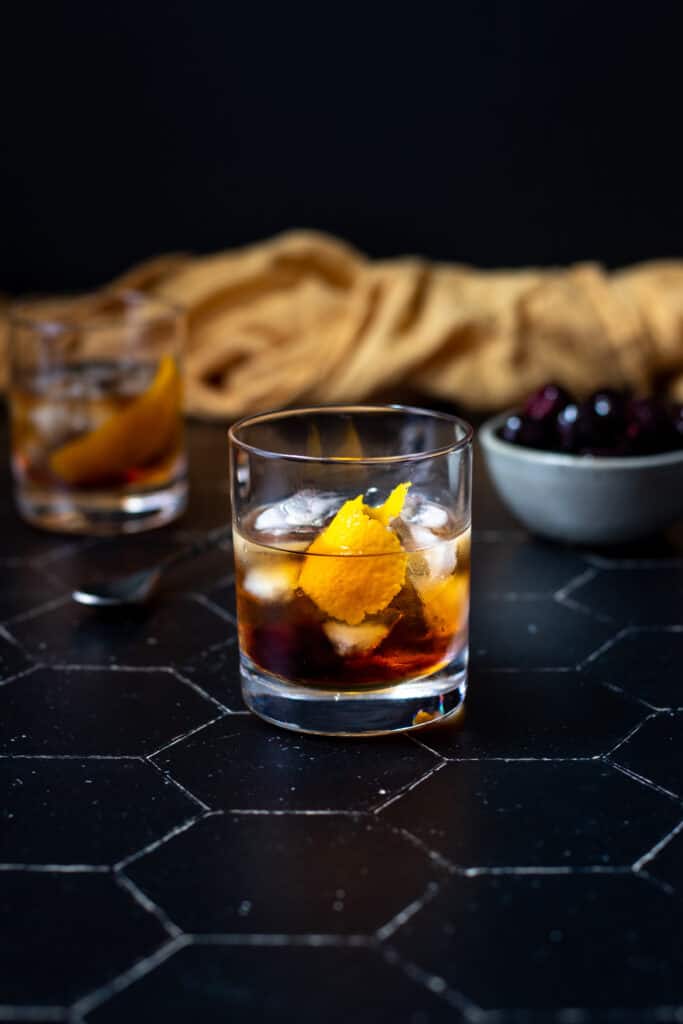 What is an Old Fashioned cocktail?
An Old Fashioned is a classic, booze-forward, cocktail with origins in the early 19th century.
Though the recipe has changed somewhat throughout the years, the modern formulation includes whiskey (or brandy, though this is less common), bitters, a sugar cube, and a splash of water. Garnishes include an orange slice or peel and a cocktail cherry.
What ingredients are in this cocktail?
Maple syrup: Please, please use real maple syrup in this cocktail. The good stuff.
Bitters: Angostura bitters would be my first choice, but orange bitters would work as well.
Bourbon: I used a smoked maple bourbon from Knob Creek. You could use a regular bourbon--because the maple syrup will impart some maple flavor--but the maple bourbon is really nice in this drink.
Garnishes: Though garnishes are technically optional, I'd highly recommend garnishing your cocktail with some orange peel and a Luxardo cherry.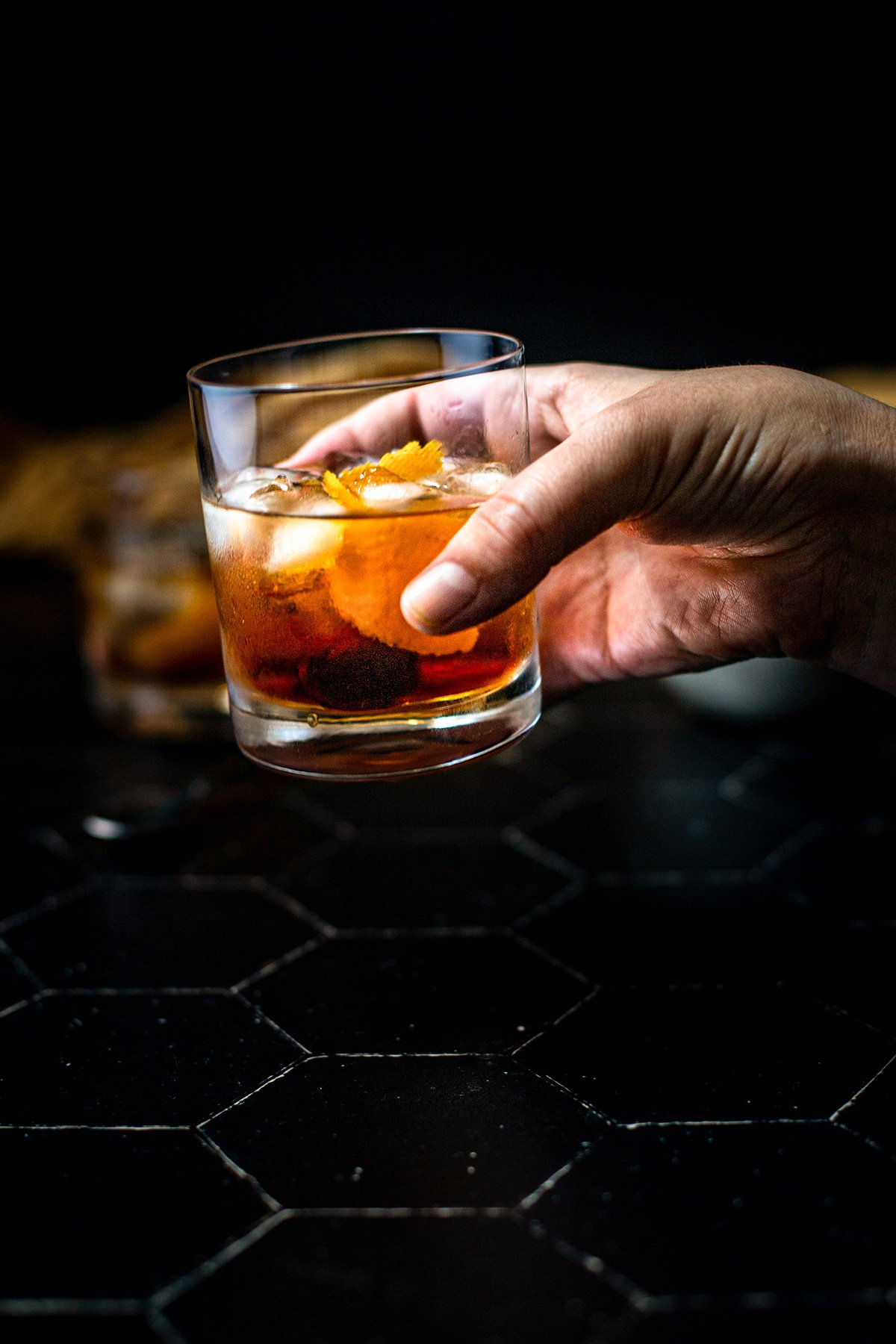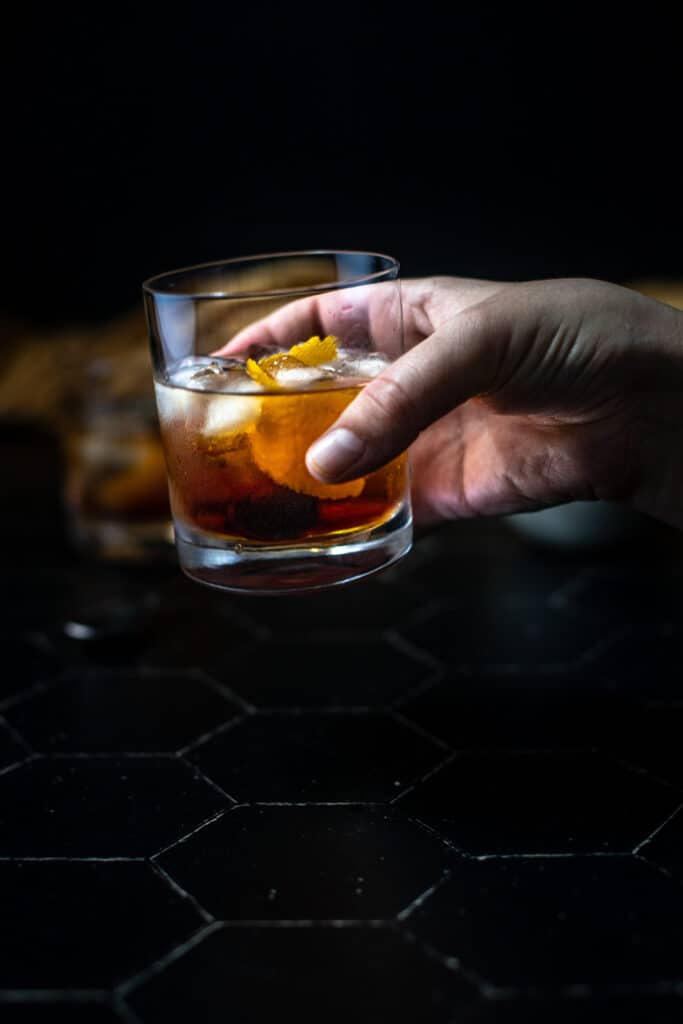 How do you make a Maple Old Fashioned?
In addition to being crazy delicious, putting a Maple Old Fashioned together is really easy and takes next to no time. An Old Fashioned gets built in the glass that you'll be drinking out of. No shaker or special mixing glass required.
You'll start by adding the maple syrup and bitters to the bottom of an Old Fashioned glass. If we were making a regular Old Fashioned, we would have used a sugar cube. But because this is a maple Old Fashioned, we're going with maple syrup. Next comes the bourbon and ice. Stir it all up and add your garnishes.
That's it!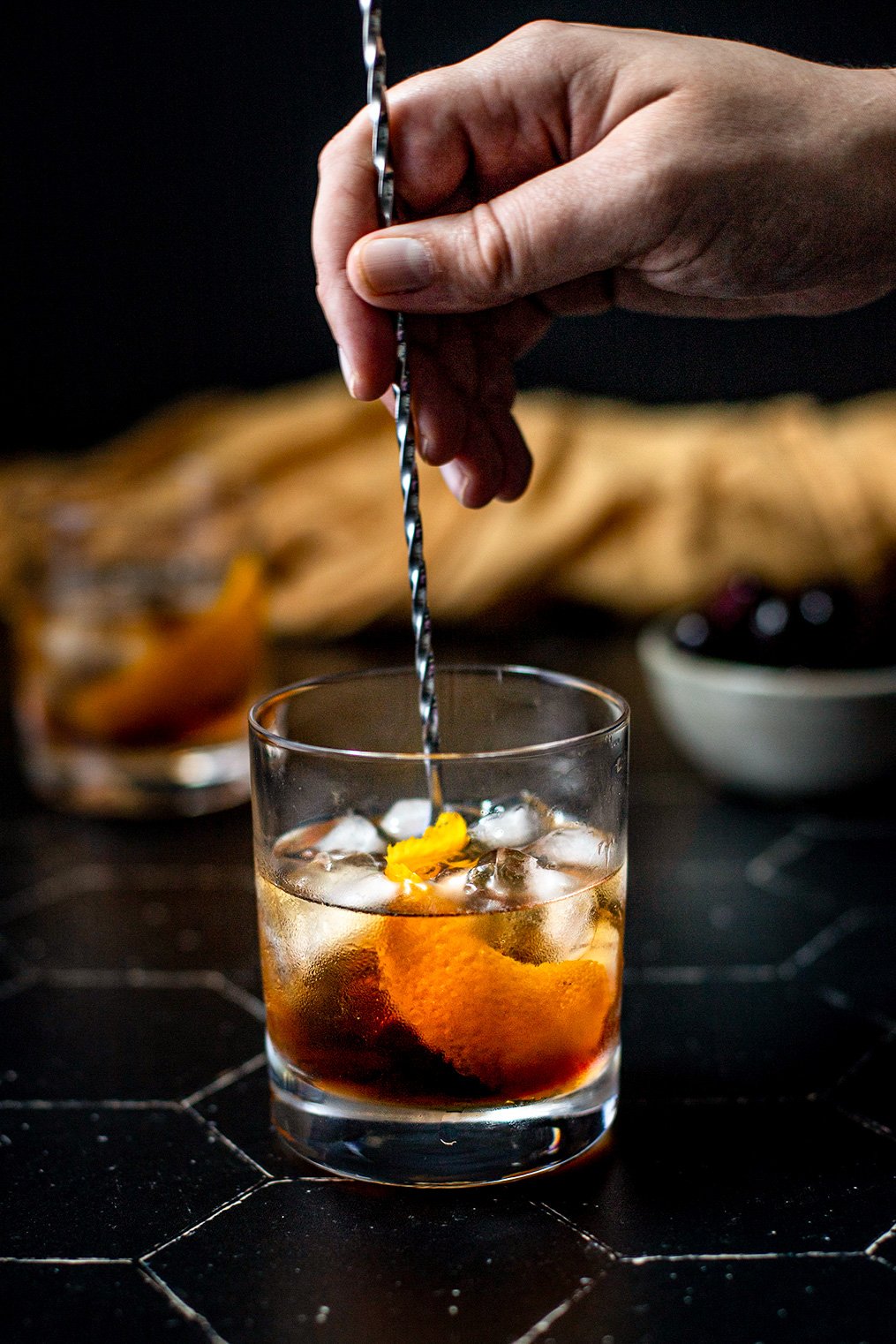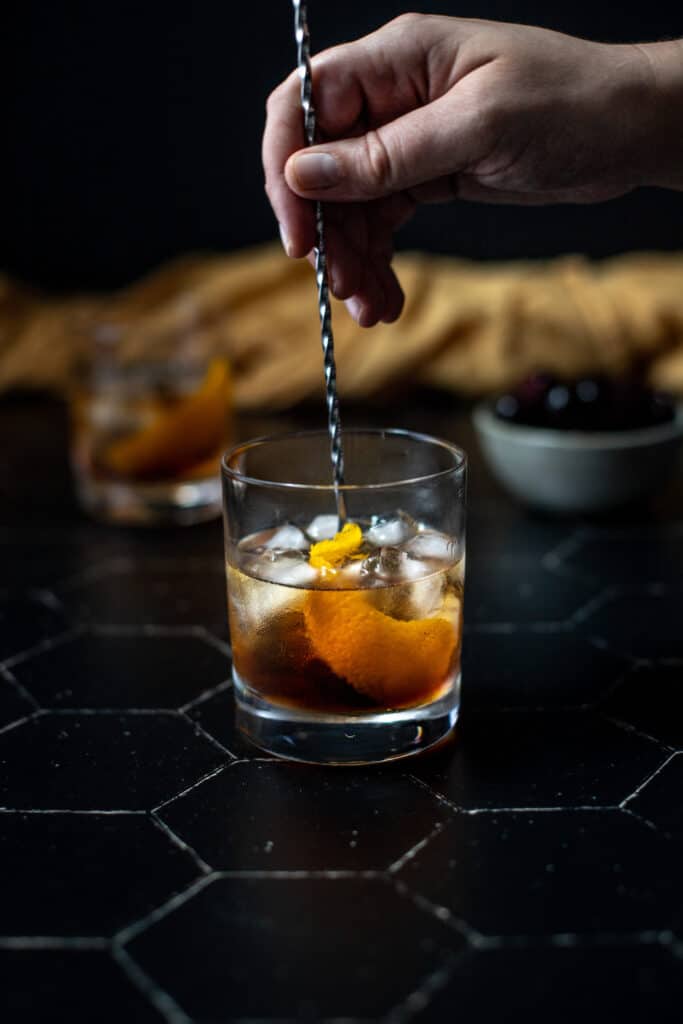 Other bourbon drinks
Okay first of all, there's the Classic Old Fashioned. It's one of my all time favorite cocktails. This Gold Rush cocktail is also a fav.
If you're looking for more Fall-ish bourbon drinks, check out my Maple Bourbon Moscow Mule (uses the same maple bourbon as this Old Fashioned) and Bourbon Moscow Mule (just regular bourbon this time).
Kentucky Bourbon Lemonade has more of a summery feel, but is great any time of year.
Other bourbon recipes
Bourbon isn't just for cocktails, you know! It's particularly good in desserts. Don't believe me? Check out the recipes below for some proof.
Maple Bourbon Chocolate Chunk Pecan Cookies are a mouthful to say, but they're delicious. Mini Bourbon Pecan Pies are as tasty as they are cute. And No-Bake Bourbon Balls are a classic holiday treat.
Frequently asked questions
Can I use regular bourbon instead of maple bourbon?
Sure can! You might just not get quite as much maple flavor. It will still be delicious.
Can I use rye instead of bourbon?
Yep! Just like the answer above, using rye might mean that you miss out on some maple flavor.
What if I don't have Angostura bitters?
Orange bitters would work well here, too.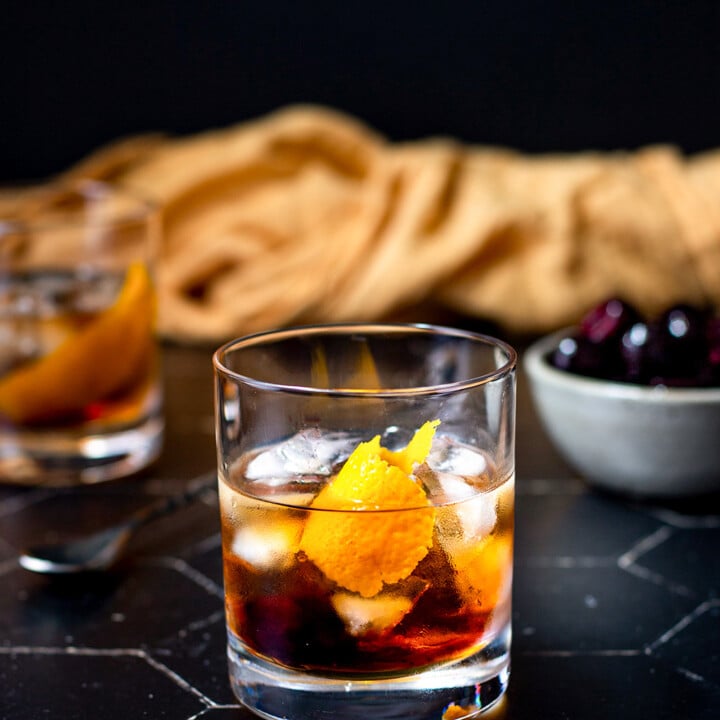 Maple Old Fashioned
The Maple Old Fashioned is a sweet, delicious Fall twist on the classic Old Fashioned cocktail.
Ingredients
1 teaspoon real maple syrup
3 dashes Angostura bitters (see notes)
orange peel, for garnish
Instructions
Add the maple syrup and bitters to the bottom of an old fashioned or rocks glass
Add ice
Pour the bourbon over the ice and stir gently to combine
Garnish with an orange peel and Luxardo cherry
Notes
Orange bitters can be substituted for the Angostura bitters
Nutrition Information:
Yield:

1
Serving Size:

1
Amount Per Serving:
Calories:

162
Total Fat:

0g
Saturated Fat:

0g
Trans Fat:

0g
Unsaturated Fat:

0g
Cholesterol:

0mg
Sodium:

2mg
Carbohydrates:

7g
Fiber:

1g
Sugar:

5g
Protein:

0g
What equipment should I have in order to make this?
Pin this recipe for later!