Move over whiskey, because this Tequila Sour cocktail is legit. A few ingredients and a couple of shakes are all it takes!
This Tequila Sour is sweet, tart, smooth, and all around fabulous. It's an impressive looking cocktail that's actually very easy to shake up. If you're intimidated by or skeptical of using a raw egg white in a drink, I understand. However, please do me a favor and give it a shot! I think you'll be very pleasantly surprised by the results.
Looking for more cocktails made with tequila? Try my Mexican Mule or Golden Margaritas!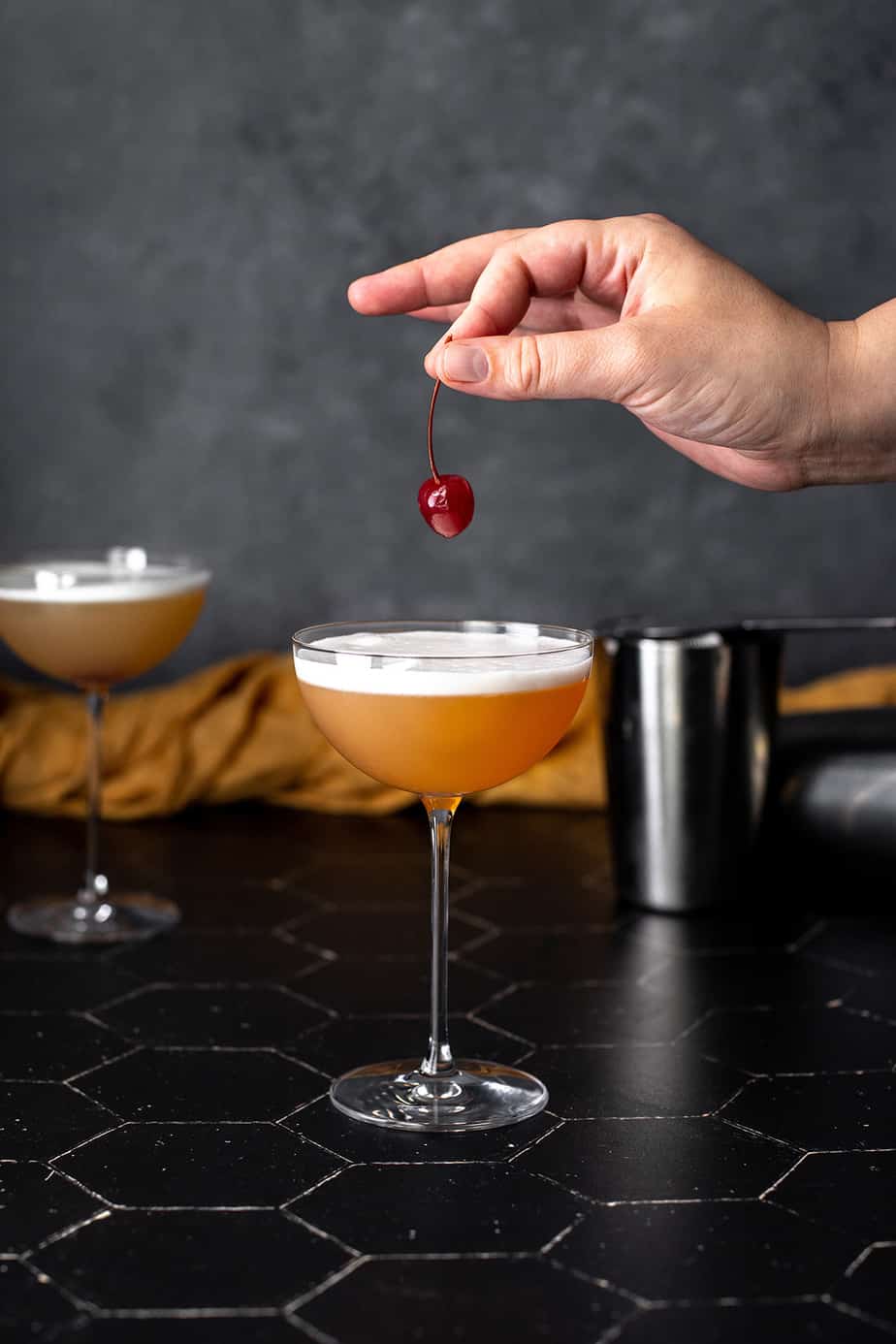 Jump to:
🌟 Why You'll Love This Recipe
It looks fancy as heck. Maybe it's the coupe glass, maybe it's the foam on top... either way, this drink looks super impressive!
It's easy to make. Despite how fancy it looks, this drink is actually very easy to shake up.
It's delicious. It tastes great, too.
💭 What is a tequila sour?
A Tequila Sour is a mixed drink that belongs to the family of sours cocktails. Sours are one of the oldest cocktails, originally written about in 1862. And they're still around today for very good reasons: they're timeless and delicious!
Sours, including this tequila sour, include a base spirit (ahem, tequila), lemon or lime juice, sweetener, and an egg white. Let's run through the specific ingredients in the next section.
📝 Ingredients
Egg white: Adding an egg white to your sour gives your cocktail a really creamy, luxurious mouthfeel and a pretty, fluffy foamy topping.
Tequila: Gotta have tequila in a tequila sour, amirite? For this drink, I'd opt for for a tequila reposado or añejo. Both varieties are aged, resulting in smoother and more flavorful sips. The aging process also results in a pretty golden hue. Check out this post to learn more about some options for affordable tequila, if you need some inspo!
Simple syrup or agave nectar: Either option will work well in this cocktail.
Lemon juice: Freshly squeezed, please. Fresh lime juice could also be substituted.
Bitters: I used Angostura bitters, but orange bitters would work nicely, if that's what you have on hand.
Maraschino cherry: This isn't mandatory, but a maraschino cherry makes for the perfect garnish in this cocktail.
👩🏻‍🍳 How to make
Making a sour cocktail requires only a few steps. The drink gets made in a cocktail shaker, and the shaking occurs in two parts: 1) a dry shake and 2) a wet shake.
The dry shake
You'll start out by doing what is called a "dry shake." Why is it a dry shake? I honestly don't know. BUT I can tell you that dry shaking involves shaking cocktail ingredients without ice.
So, what you'll do is add the egg white, tequila, simple syrup, lemon juice, and bitters to your cocktail shaker. Do not add ice yet. Cap the shaker and shake it for 30 seconds. Don't be stingy on the shaking.
You could omit this first dry shake, but I wouldn't recommend it. Doing this will really amp up the fluffiness of your cocktail foam. It's worth the extra effort, trust.
The wet shake
Now comes the "wet shake." You'll need to uncap your cocktail shaker and add a handful of ice before putting the cap back on.
Shake everything for another 30 seconds, until the cocktail is very, very cold.
Strain, garnish, and serve
Once you've done the wet shake, you will want to strain the drink into a coupe or sour glass. Just look at all of that fluffy, beautiful foam that you created by shaking the drink twice!
The last thing you'll need to do is drop a maraschino cherry into your glass. Then it's time to drink! Enjoy your Tequila Sour!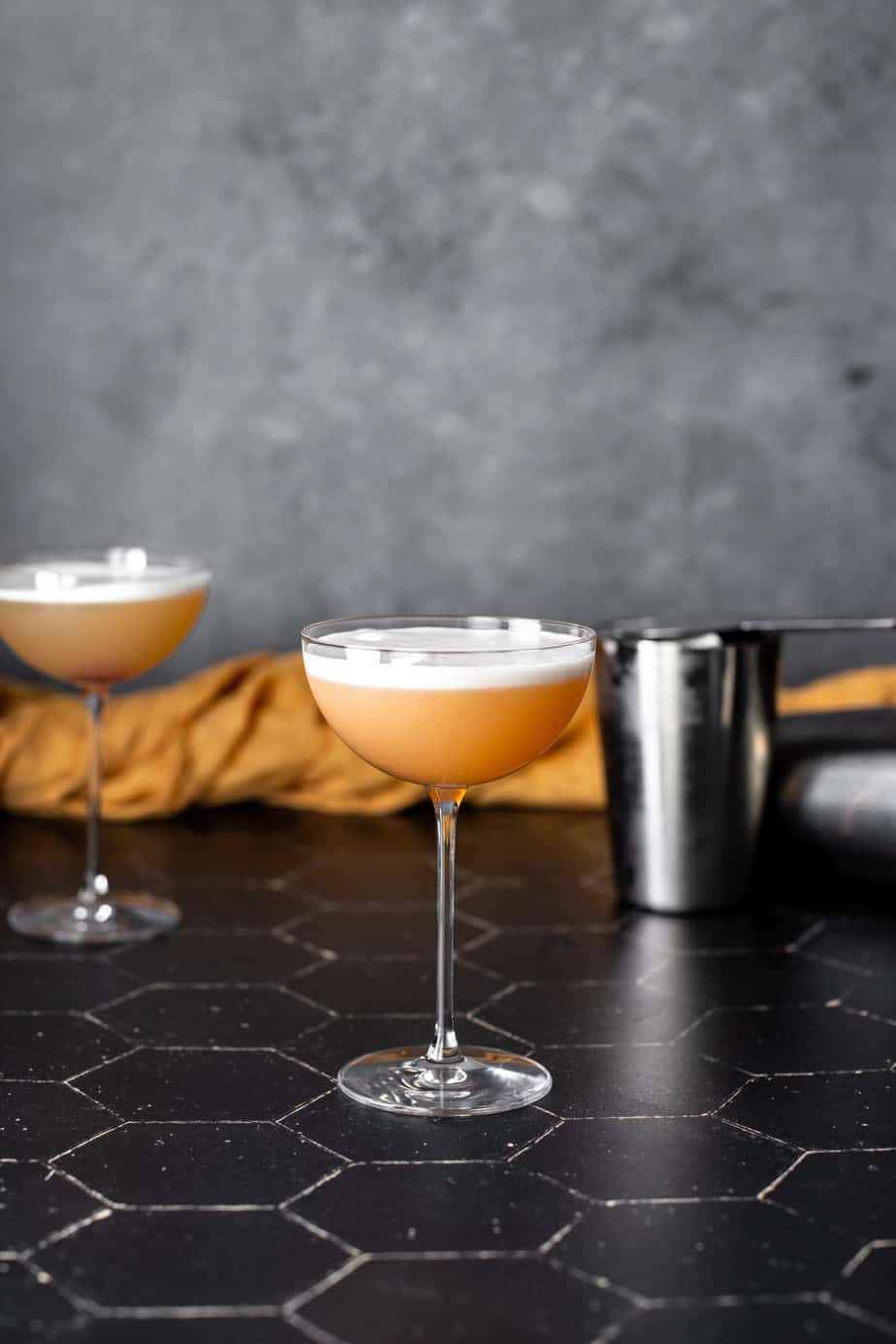 🔗 Other tequila drinks
Do you love tequila as much as I do? Check out some of the other tequila cocktails on A Nerd Cooks!
🔗 Other sour cocktail recipes
Can't get enough sours? Me either! Check out these other fabulous sours recipes.
❓ Frequently Asked Questions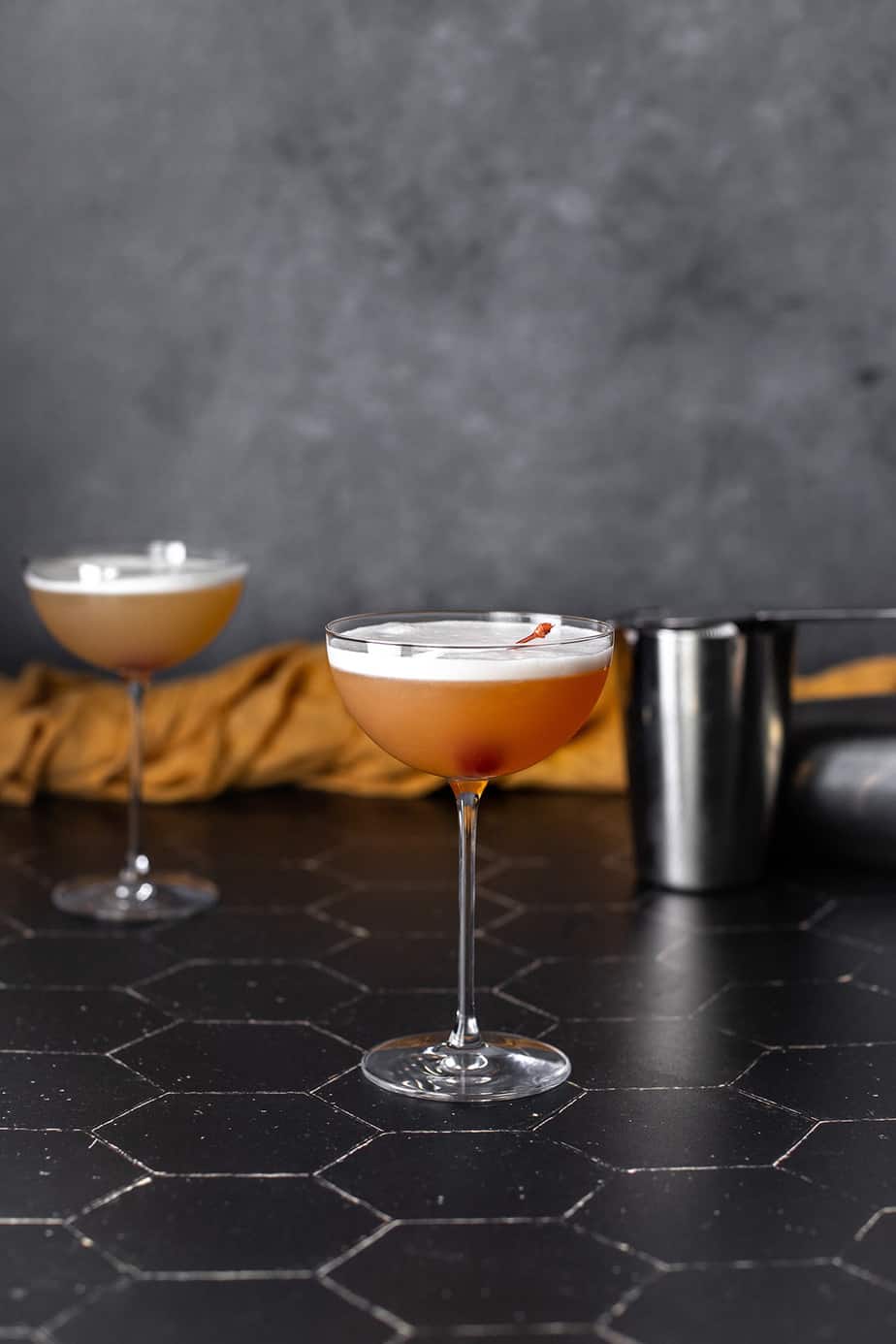 🖤 Share your creations and follow me on social media!
✨ Recipe
📌 Pin this recipe for later!