Last Updated on January 31, 2022 by laurenpacek
This post may contain affiliate links. A Nerd Cooks may collect a share of sales or other compensation from the links on this page. More information can be found here.
Move over whiskey, because this Tequila Sour cocktail is legit. A few ingredients and a couple of shakes are all it takes!
This Tequila Sour is sweet, tart, smooth, and all around fabulous. It's an impressive looking cocktail that's actually very easy to shake up. If you're intimidated by or skeptical of using a raw egg white in a drink, I understand. However, please do me a favor and give it a shot! I think you'll be very pleasantly surprised by the results.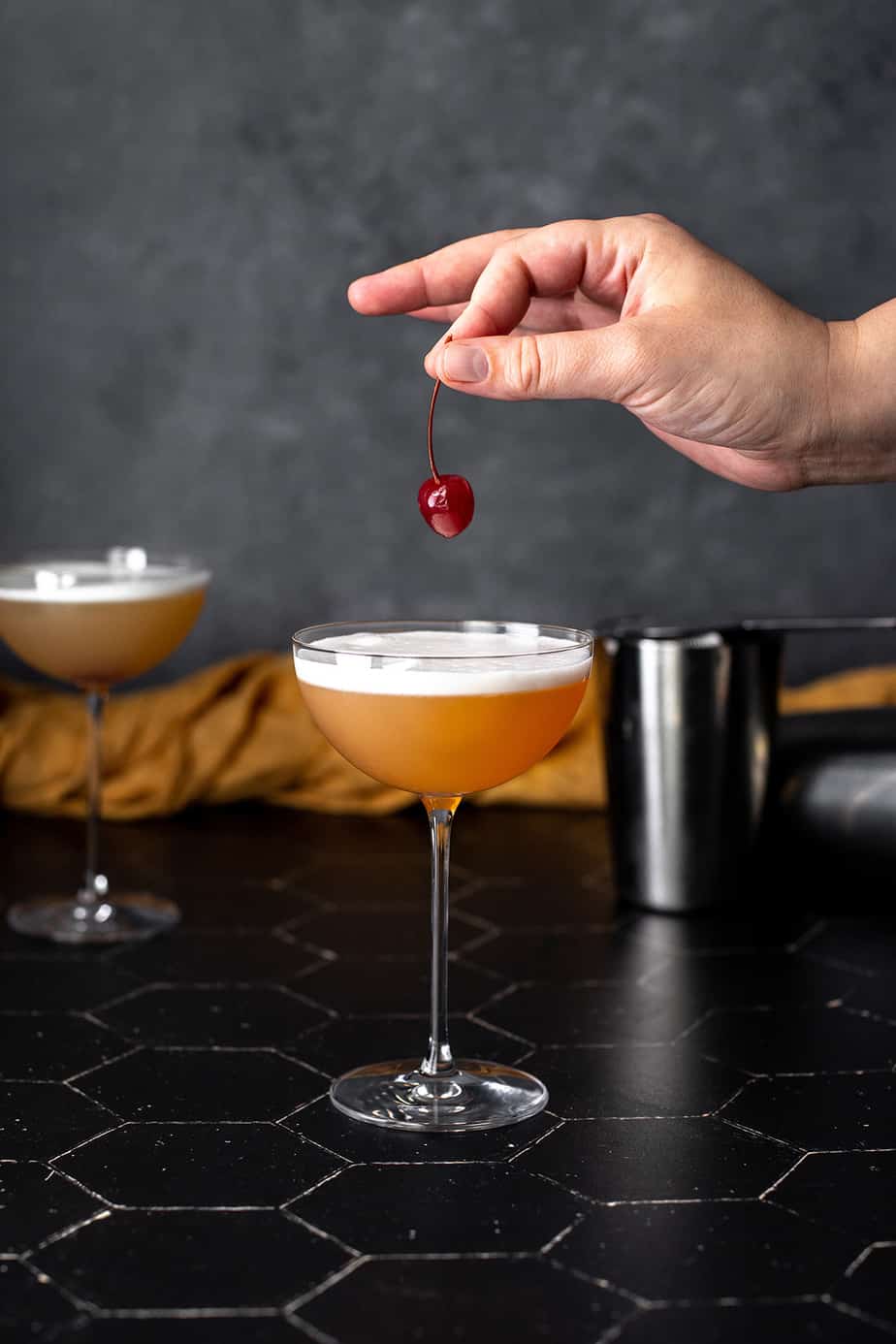 What is a tequila sour?
A Tequila Sour is a mixed drink that belongs to the family of sours cocktails. Sours are one of the oldest cocktails, originally written about in 1862. And they're still around today for very good reasons: they're timeless and delicious!
Sours, including this tequila sour, include a base spirit (ahem, tequila), lemon or lime juice, sweetener, and an egg white. Let's run through the specific ingredients in the next section.
Ingredients
How to make
Making a sour cocktail requires only a few steps. The drink gets made in a cocktail shaker, and the shaking occurs in two parts: 1) a dry shake and 2) a wet shake.
The dry shake
You'll start out by doing what is called a "dry shake." Why is it a dry shake? I honestly don't know. BUT I can tell you that dry shaking involves shaking cocktail ingredients without ice.
So, what you'll do is add the egg white, tequila, simple syrup, lemon juice, and bitters to your cocktail shaker. Do not add ice yet. Cap the shaker and shake it for 30 seconds. Don't be stingy on the shaking.
You could omit this first dry shake, but I wouldn't recommend it. Doing this will really amp up the fluffiness of your cocktail foam. It's worth the extra effort, trust.
The wet shake
Now comes the "wet shake." You'll need to uncap your cocktail shaker and add a handful of ice before putting the cap back on.
Shake everything for another 30 seconds, until the cocktail is very, very cold.
Strain, garnish, and serve
Once you've done the wet shake, you will want to strain the drink into a coupe or sour glass. Just look at all of that fluffy, beautiful foam that you created by shaking the drink twice!
The last thing you'll need to do is drop a maraschino cherry into your glass. Then it's time to drink!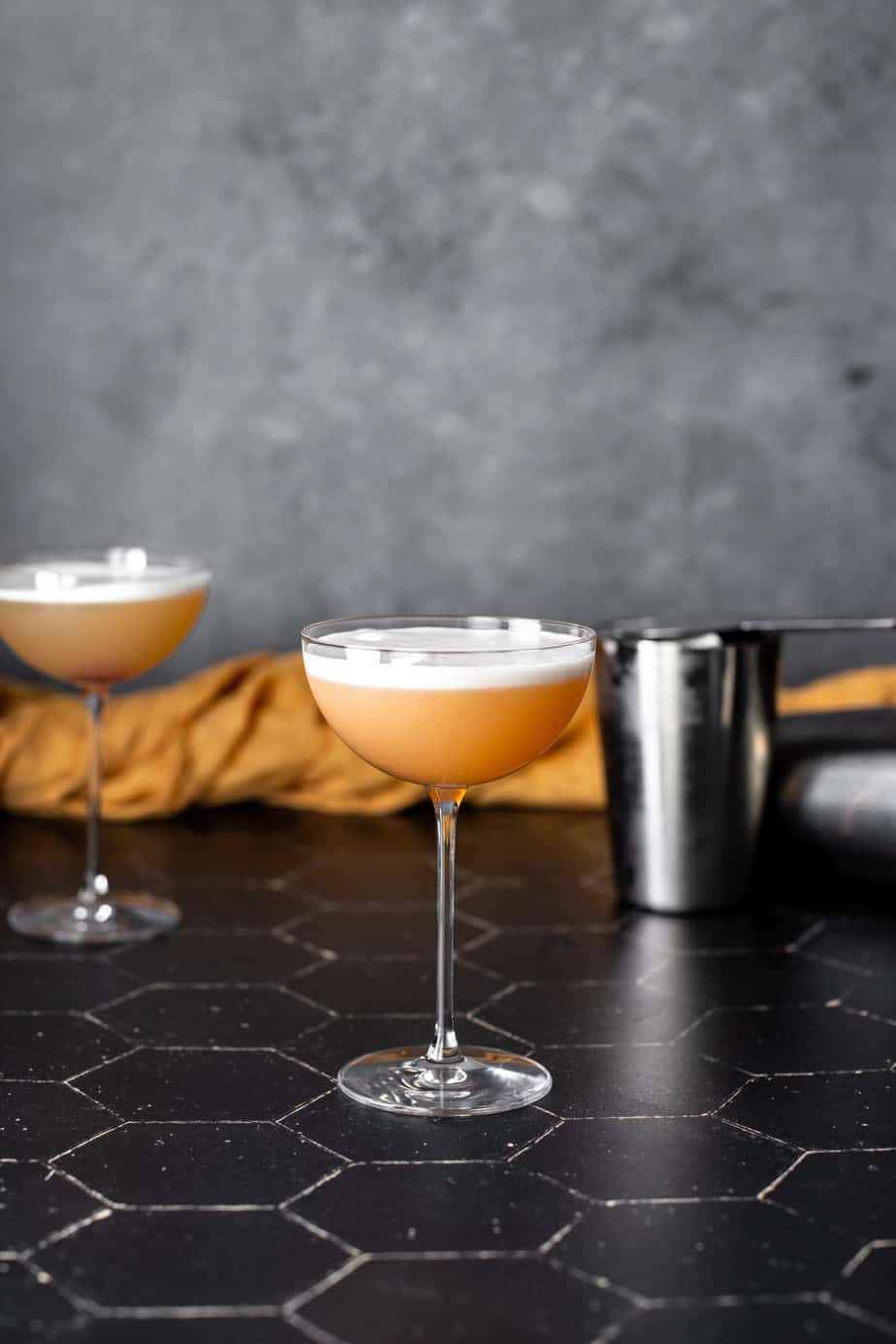 Recommended tools
Other tequila drinks
Do you love tequila as much as I do? Check out some of the other tequila cocktails on A Nerd Cooks!
Other sour cocktail recipes
Can't get enough sours? Me either! Check out these other fabulous recipes.
Frequently Asked Questions
Do I need to use an egg white?
Nope, you don't have to use an egg white. If you're vegan/can't eat eggs/generally opposed to the idea of it, you could also use aquafaba (the liquid in a can of chickpeas) as a substitute! This blog has a post that will tell you how to do it.

You can also just omit the egg white or aquafaba entirely, if that's your jam. I recommend including one of them, because they really do give the drink a luxurious texture and create pretty foam. But you do you!
Do I really need to shake the cocktail twice?
If you are looking to achieve a thick layer of fluffy foam, then yes! I'd definitely recommend shaking this cocktail twice (one dry shake, one wet shake).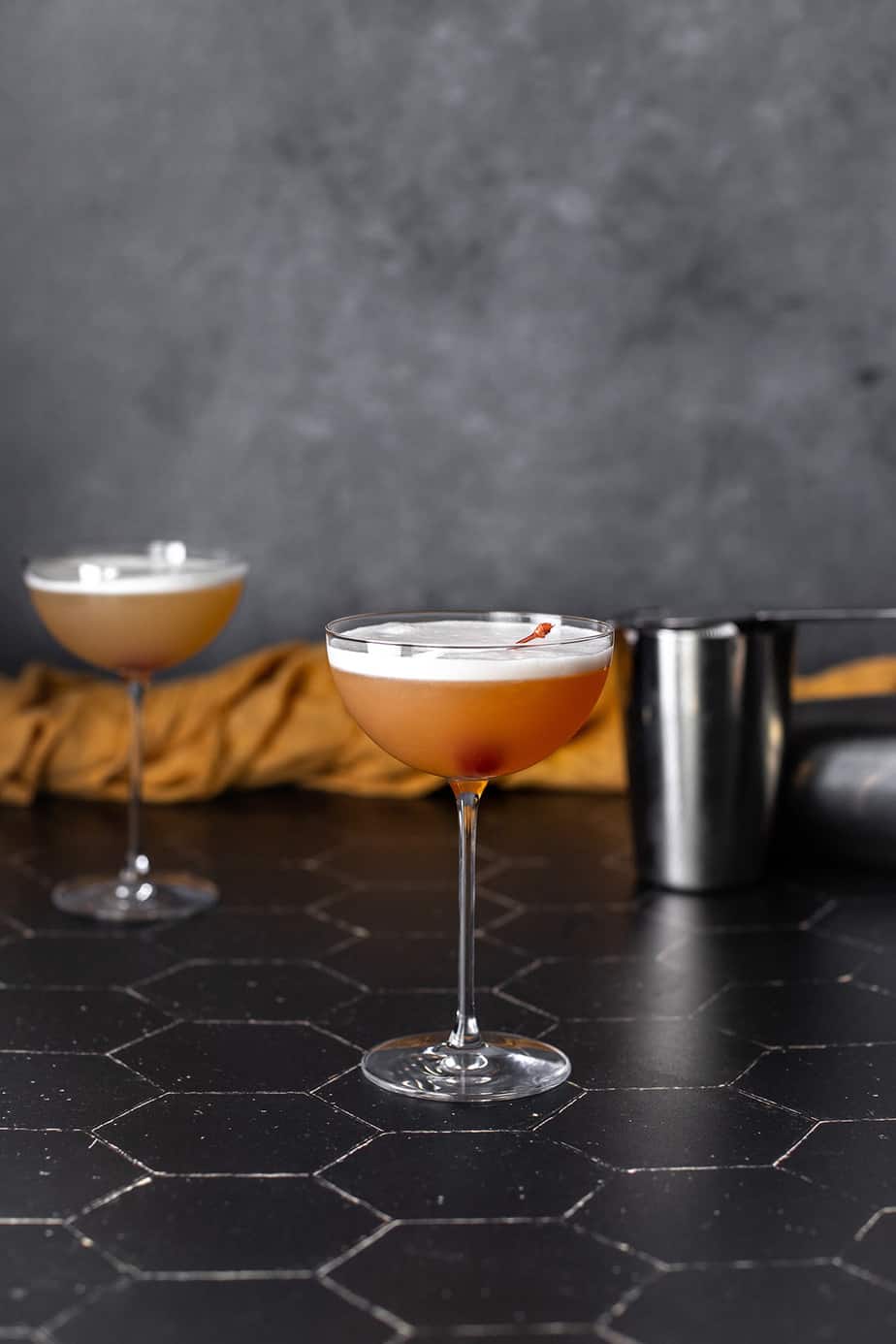 Don't forget to share your creations and follow me on social media!
Subscribe to the A Nerd Cooks Newsletter to have updates sent straight to your inbox.

I love seeing when you share my recipes! Please tag me on Instagram @anerdcooks so I can enjoy them virtually with you! You can also find me on Pinterest, Facebook, YouTube, and Twitter.

I'd love to know what you thought of this recipe! Don't forget to leave a comment and
⭐️ star rating below!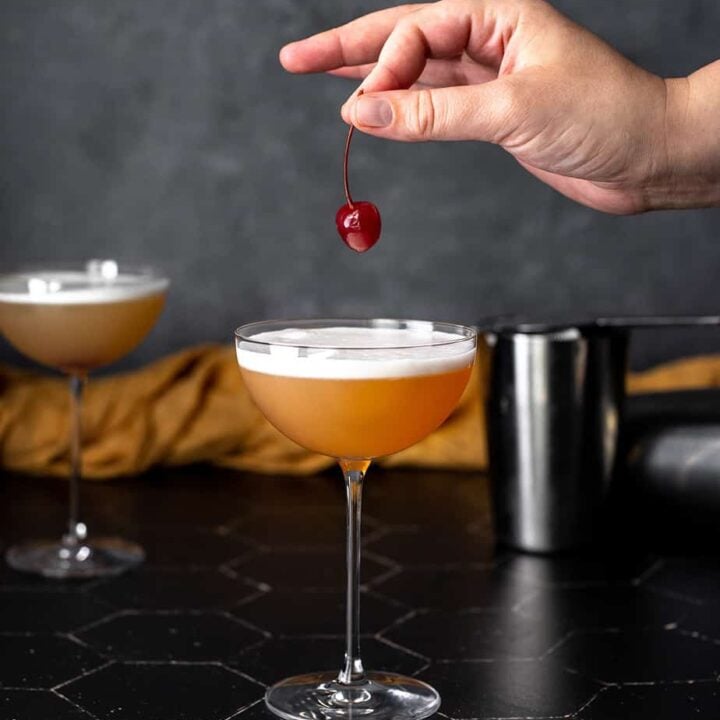 Tequila Sour
Move over whiskey, because this Tequila Sour cocktail is legit. A few ingredients and a couple of shakes are all it takes!
Ingredients
1 egg white (see notes)
2 ounces tequila reposado or añejo
1 ounce lemon juice, freshly squeezed
2-3 dashes Angostura or orange bitters
maraschino cherry, for garnish (optional)
Instructions
Add the egg white, tequila, sweetener, lemon juice, and bitters to a cocktail shaker. Place the cap on the shaker and shake WITHOUT ice for 30 seconds.
Uncap the shaker and add a handful of ice. Cap it again and shake for an additional 30 seconds.
Strain the drink into a coupe glass and garnish with a maraschino cherry.
Notes
As discussed in the FAQs, you can also substitute aquafaba for the egg white.
Nutrition Information:
Yield:

1
Serving Size:

1
Amount Per Serving:
Calories:

310
Total Fat:

0g
Saturated Fat:

0g
Trans Fat:

0g
Unsaturated Fat:

0g
Cholesterol:

0mg
Sodium:

64mg
Carbohydrates:

25g
Fiber:

0g
Sugar:

22g
Protein:

4g
Pin this recipe for later!