The Vodka Sour is a classic cocktail. It's pleasantly sweet and tart, with a luxuriously smooth texture and a fancy looking foamy topping.
Though the beautiful egg white foam and fancy garnishes can make this cocktail appear intimidating, it's actually very easy to shake up! Follow my step-by-step instructions below and I think that you just might be surprised at what you can create in your own home.
Looking for more cocktails made with vodka? Try my Cherry Vodka Sour or Raspberry Martini!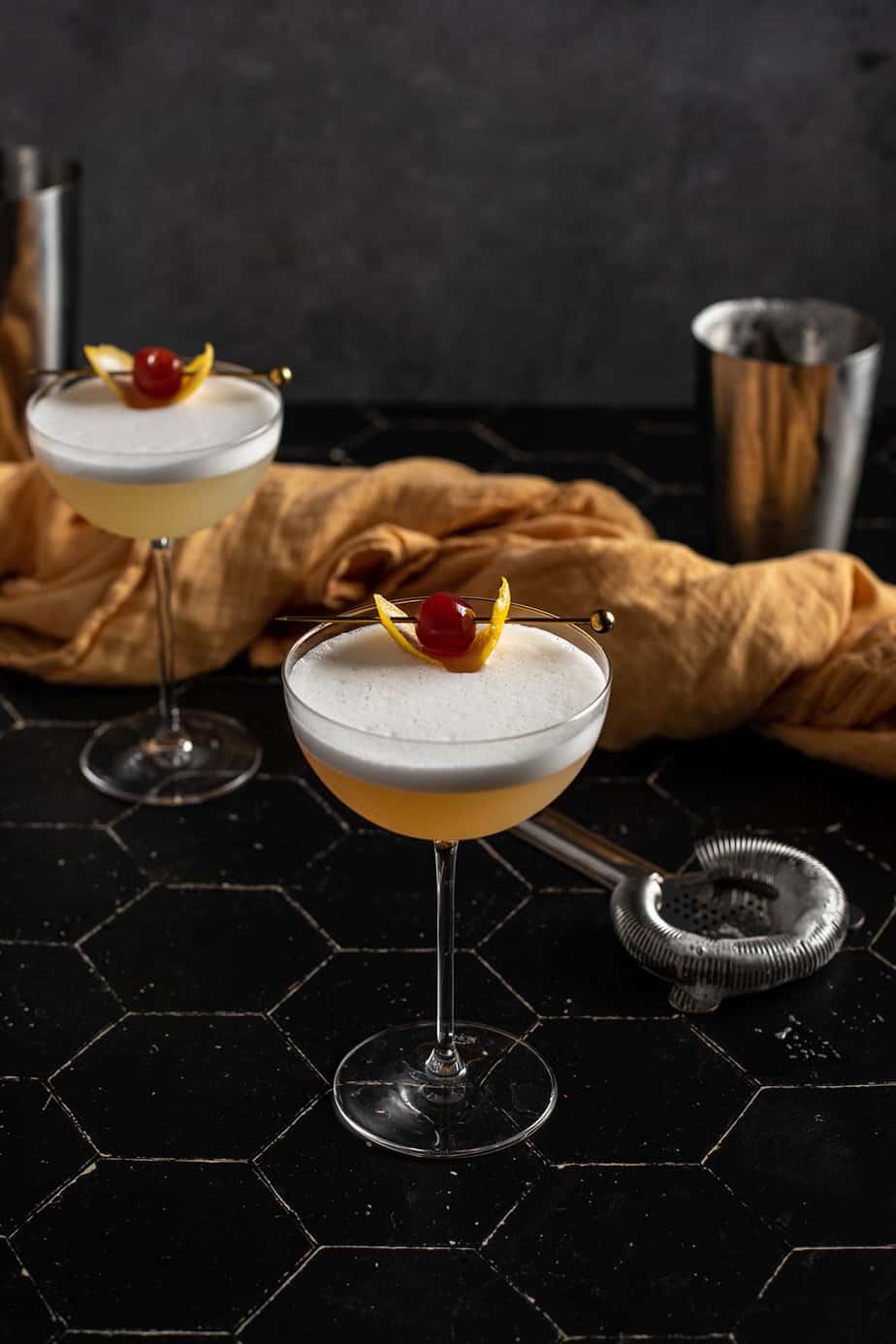 Jump to:
🌟 Why You'll Love This Recipe
It is elegant. I don't know if it's the coupe glass or the foam on top of this drink (or both), but she's a looker.
It's easy to make. Despite being a fancy looking drink, it's quite easy to shake up.
You can customize it. Don't like egg whites in drinks? You can use a substitute. Want a flavored drink? Use a flavored syrup!
💭 What is a Vodka Sour?
A Vodka Sour is a classic cocktail that belongs to the "family" of sour cocktails. Sours are typically composed of three key ingredients: a liquor, the juice of some kind of citrus fruit, and a sweetener. In this case, vodka is the liquor of choice.
Cocktail bitters and an egg white (see the FAQs if you're not into raw egg whites in cocktails) often feature prominently in sour cocktails, too.
📝 Ingredients
I mentioned the primary ingredients just a second ago, but let's talk about them a little more in depth.
Lemon juice: Freshly squeezed, please! This is the sour component of the Vodka Sour.
Vodka: Plain vodka will do the trick. I like to use something that's middle of the road or better in terms of quality. You want it to be something that you wouldn't mind drinking on its own. More often than not, I have Smirnoff or something comparable in my liquor cabinet. However, this time I happened to have a bottle of Ketel One, and it was very nice in this drink.
Simple syrup: Homemade simple syrup (seriously, it's so easy to make!) would be my preference here, but store bought can also work in a pinch.
Bitters: Angostura bitters are preferred here.
Egg white: Egg whites are what give your Vodka Sour a nice, silky, and foamy topping. Check out the FAQs below if you can't/don't want to use an egg white.
Garnishes: I opted for a lemon peel and maraschino cherry garnish for this cocktail.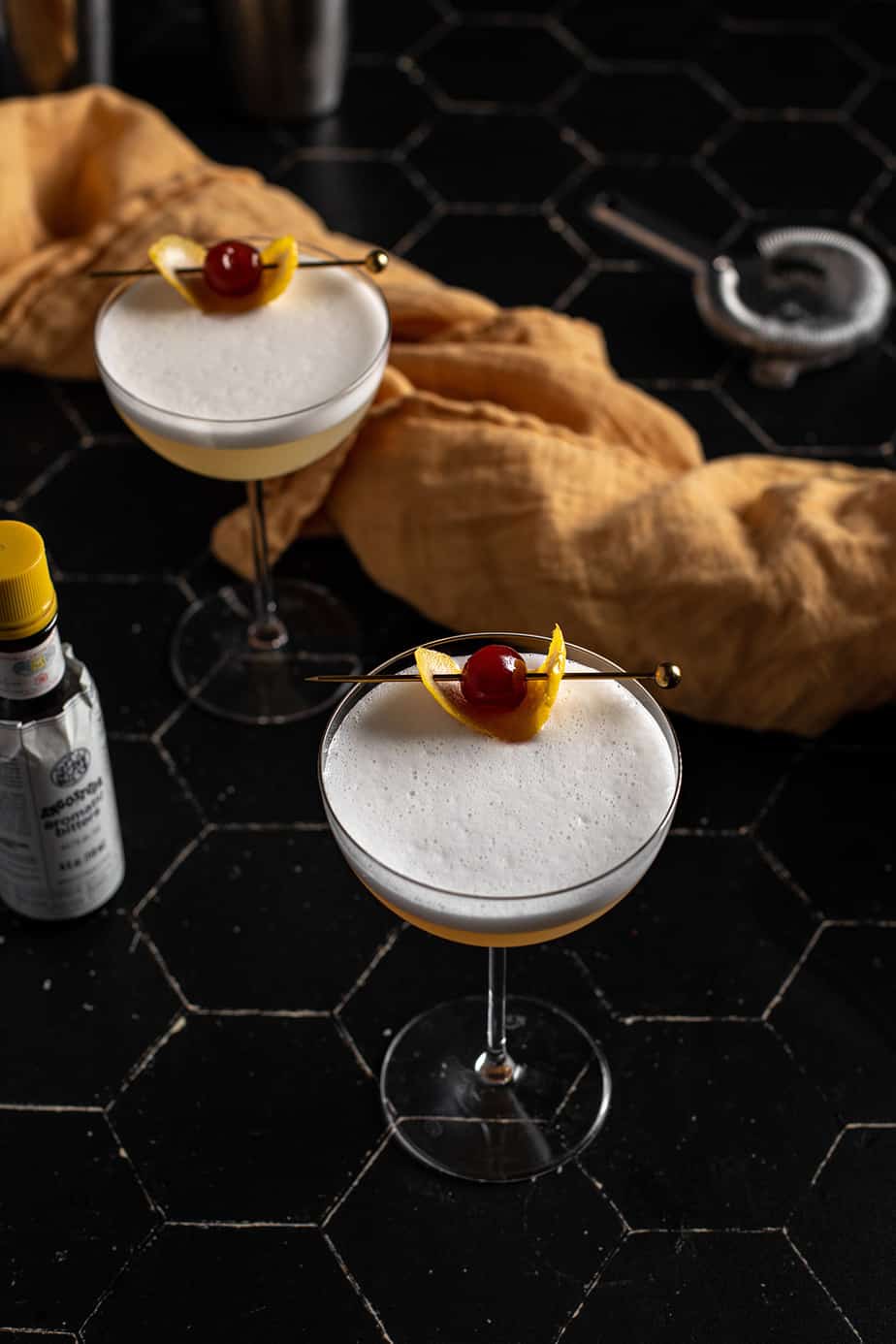 👩🏻‍🍳 How to make a Vodka Sour
Making this drink might require one more step than you're accustomed to when shaking up a cocktail, but please stay with me. It's totally worth it to put in a little additional effort. I mean, look at that foam! Fancy AF.
You'll start out by doing what is called a dry shake. To do this, you'll just pour your lemon juice, vodka, simple syrup, and bitters into a cocktail shaker WITHOUT ice. Cap the shaker and shake all of the ingredients for 30 seconds. Don't slack off here. Do it for the full 30.
Next, you'll do a wet shake. This is probably what you're more used to doing when you're making a shaken drink. Uncap the cocktail shaker (note all the foam that's already in there!) and add some ice. Cap the shaker and shake for another 30 seconds. I've found that after about 10 seconds of shaking, the shaker will become very cold. Be strong! Keep shaking!
Strain the twice shaken cocktail into a coupe or sour glass and garnish it all with a lemon peel and/or a maraschino cherry. It's a beautiful drink on its own, but the garnish really makes everything pop. I've really
🔗 Recipes for other Sours Cocktails
If you're on the hunt for other sour cocktail recipes, I have you covered. Check out the photos and linked recipes below. Some are from A Nerd Cooks, others are from some lovely blogger friends.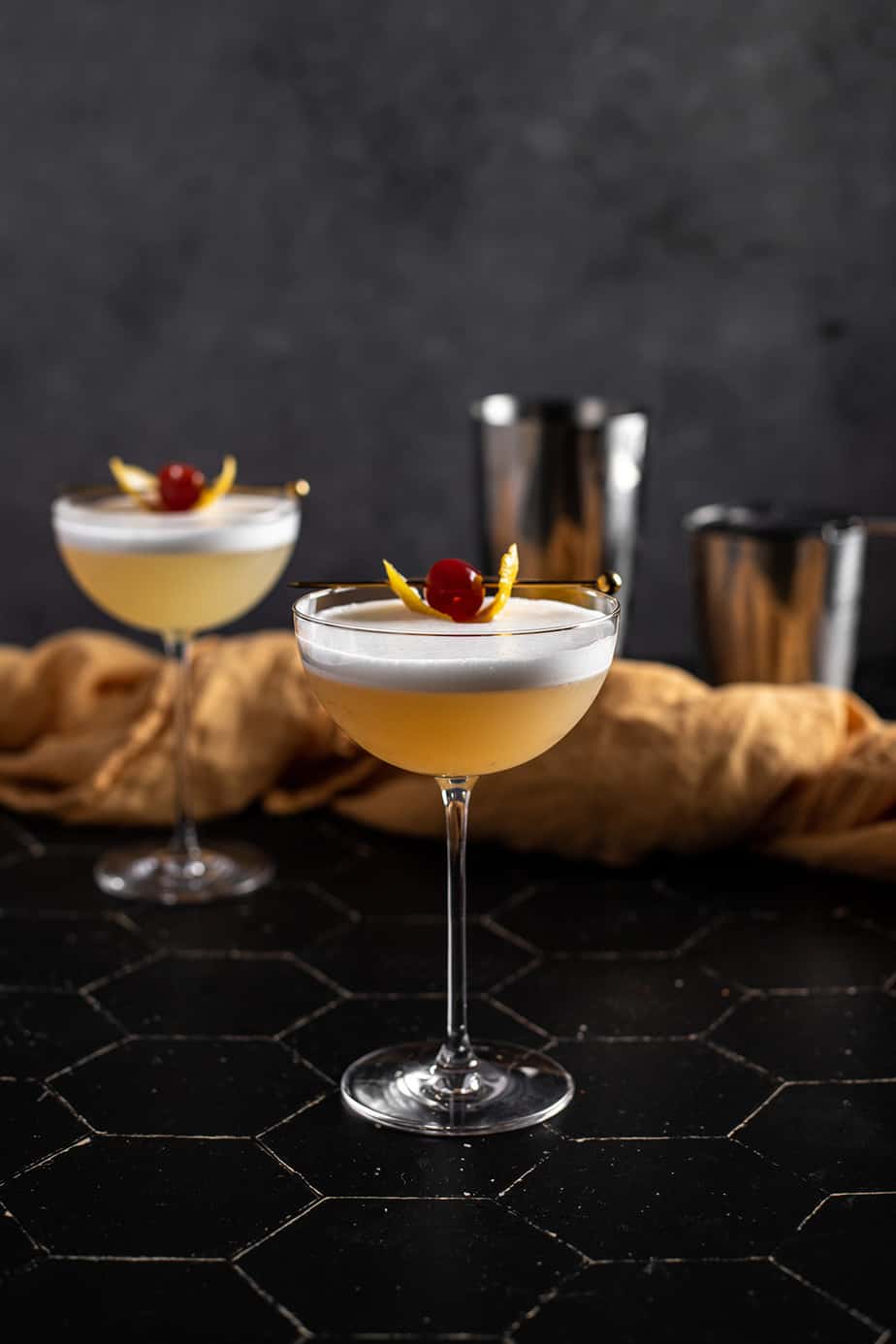 ❓ FAQ/Tips and tricks
Do I have to use egg whites in this cocktail?
No, you don't have to use egg whites. If you're vegan/can't eat eggs/generally opposed to the idea of it, you could also use aquafaba (the liquid that's in a can of chickpeas) as a substitute! This blog post will tell you how to do it.

You can also just omit the egg white or aquafaba entirely. I recommend including one of them, because they really do give the drink a luxurious texture and create pretty foam.
Does it really need to be shaken TWICE?
Yes! If you are looking to achieve a thick layer of fluffy foam on top, then I definitely recommend shaking this drink twice (first the dry shake, then the wet shake). It's a bit of an arm workout, but 100% worth it.
Can this drink be made using a different liquor?
Sure! There are many variations on sour cocktails. I have a recipe for Tequila Sours, in fact. If you're looking for others, scroll up a bit to the "recipes for other sours cocktails" subheading.
What if I don't have a coupe or sours glass?
No worries! You can drink this cocktail out of pretty much any kind of glass. The coupe/sours glass are just particularly well suited to these kinds of cocktails.
🖤 Share your creations and follow me on social media
✨ Recipe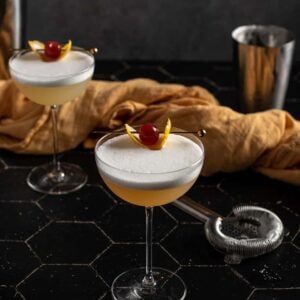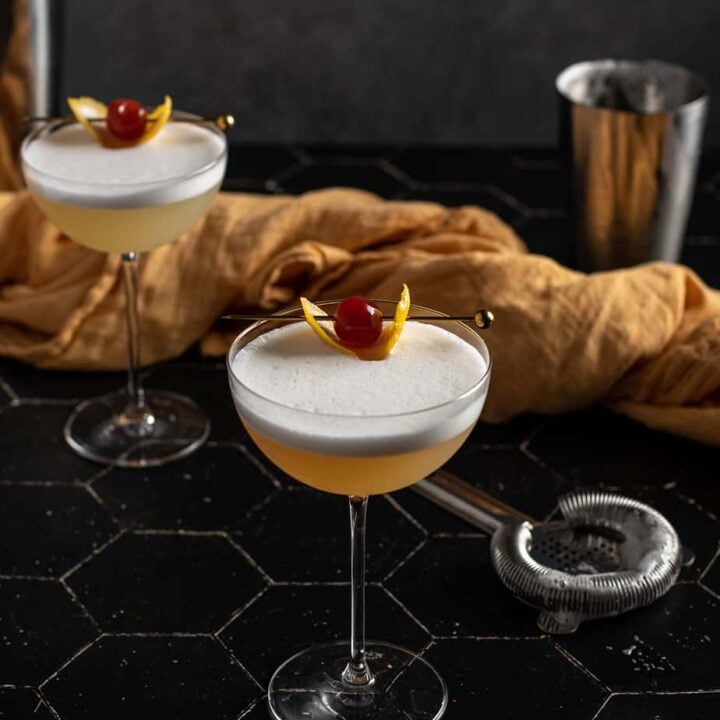 Vodka Sour
The Vodka Sour is a classic cocktail. It's pleasantly sweet and tart, with a luxuriously smooth texture and a fancy looking foamy topping.
Ingredients
1

ounce

lemon juice

freshly squeezed

1

ounce

simple syrup

2

ounces

vodka

3

dashes Angostura bitters

1

egg white

lemon peel and maraschino cherry

for garnish
Instructions
Add the lemon juice, simple syrup, vodka, bitters and egg white to a cocktail shaker without ice. Shake for 30 seconds.

Open the shaker and add ice. Recap the shaker and shake for 30 more seconds.

Strain the cocktail into a coupe or sour glass.

Garnish with a strip of lemon peel and a maraschino cherry.
Notes
If you prefer to not use egg whites in your cocktail, you can use a bit of aquafaba to mimic the foam.
Nutrition
Serving:
1
Calories:
217
kcal
Carbohydrates:
18
g
Protein:
4
g
Sodium:
64
mg
Fiber:
1
g
Sugar:
16
g
Disclaimer: Nutritional information is a generated estimate and is not guaranteed to be accurate.
📌 Pin this recipe for later!