You only need a handful of ingredients to make this refreshing Golden Margarita (sometimes called a Grand Marnier Margarita). The combination of top shelf liquor and fresh lime juice will ensure that you never want to touch a bottled marg mix again.
Looking for more margarita recipes? Try my Pineapple Margarita and Cadillac Margarita!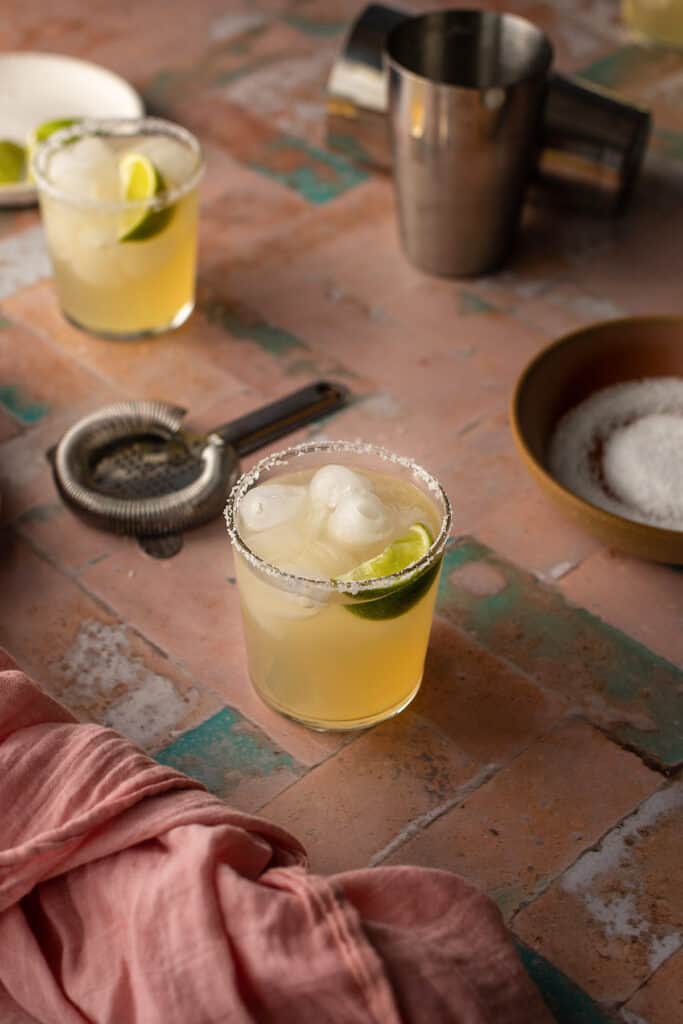 Jump to:
🌟 Why You'll Love This Recipe
It's made with top shelf liquor. High quality alcohol makes for a high quality beverage.
It's easy to make. All you need to do is shake up some ingredients and strain them into a glass with ice!
It tastes great. This margarita is sweet, tart, and completely delicious.
💭 What is a Golden Margarita?
A Golden Margarita--sometimes also called a Grand Marnier Margarita--is a delicious, refreshing, and golden-hued rocks margarita. All of the ingredients are fresh and top shelf. These cocktails are smooth, with sweet and sour flavors in perfect balance.
Please trust me when I tell you that it is so easy to make a truly fantastic margarita at home, all without even thinking about touching a bottle of pre-made margarita mix. Seriously, step away from the mix and give this drink a try. You'll never go back.
📝 Ingredients
One of the beautiful things about the recipe is that you really only need a handful of very good ingredients. You'll need:
Reposado tequila: Reposado tequila (or tequila reposado, more accurately) is tequila that has been rested and aged in oak barrels for 2-12 months, giving it a golden color ("reposado" means "rested" in Spanish). The golden color of the tequila is what gives this cocktail its signature golden hue. In addition to the different color, aged tequila has a smoother flavor profile than silver (or blanco) tequila, which is bottled directly after being distilled.
Grand Marnier liqueur: If you want to call this a Grand Marnier Margarita, you gotta use Grand Marnier. Cointreau or triple sec will also get the job done, if you happen to have either of those on hand. However, the flavor won't be quite the same.
Simple syrup or agave nectar: Either of these sweeteners would be a welcome addition to this margarita. No matter what you use, it's important that you choose something with a relatively neutral flavor so as not to overpower the flavors of the liquors. For instance, I probably wouldn't go with a flavored simple syrup. It's also important to go with a liquid sweetener, like simple or agave. That will ensure that the sweetener can be incorporated seamlessly into the drink. Granulated sugar, for instance, would make for a gritty margarita.
Lime juice: Freshly squeezed, please. It really does make a big difference in terms of flavor.
Kosher salt: You gotta have some kosher salt on the rim of your margarita, right? Right.
👩🏻‍🍳 How to make a Golden Margarita
Like I said above, it is very easy to whip up one (or more) of these refreshing margaritas.
You'll start by rimming your glass of choice with kosher salt and carefully adding some ice to your glass. You don't want to dislodge the salt!
Next, ice, tequila, orange liqueur, freshly squeezed lime juice, and simple syrup (or agave nectar) will get shaken up in a cocktail shaker.
After that, you'll strain your cocktail into the prepared glass and garnish it all with a wedge of lime, if you're feeling fancy (you know that you are).
And that's it. You can totally do this. The little bit of effort that it requires is WAY worth the reward of sipping a fabulous, homemade, top shelf margarita.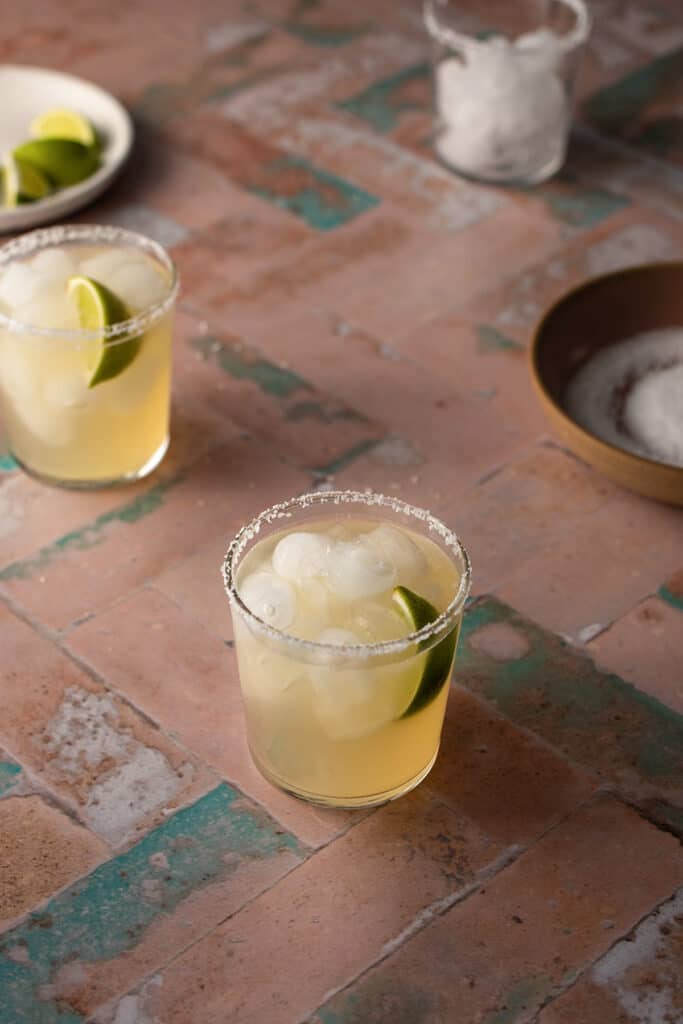 🔗 Other Margarita and Tequila/Mezcal Recipes
Looking for other margarita and tequila recipes? Because you know I've got 'em. I even have some that use tequila/mezcal that aren't margaritas. Peep some of them below.
❓ Frequently Asked Questions
Can I use a different kind of tequila?
Sure! Just know that if you aren't using gold tequila, you won't be drinking a golden margarita.
Do I *need* to use Grand Marnier?
It is definitely the preferred orange liqueur, but you can also sub in some Cointreau or triple sec. However, just like for the tequila question above, if you don't use Grand Marnier, you can't technically call this a Grand Marnier Margarita.
Can I batch this recipe?
Sure! Just scale the ingredients up based on the number of drinks that you want to make!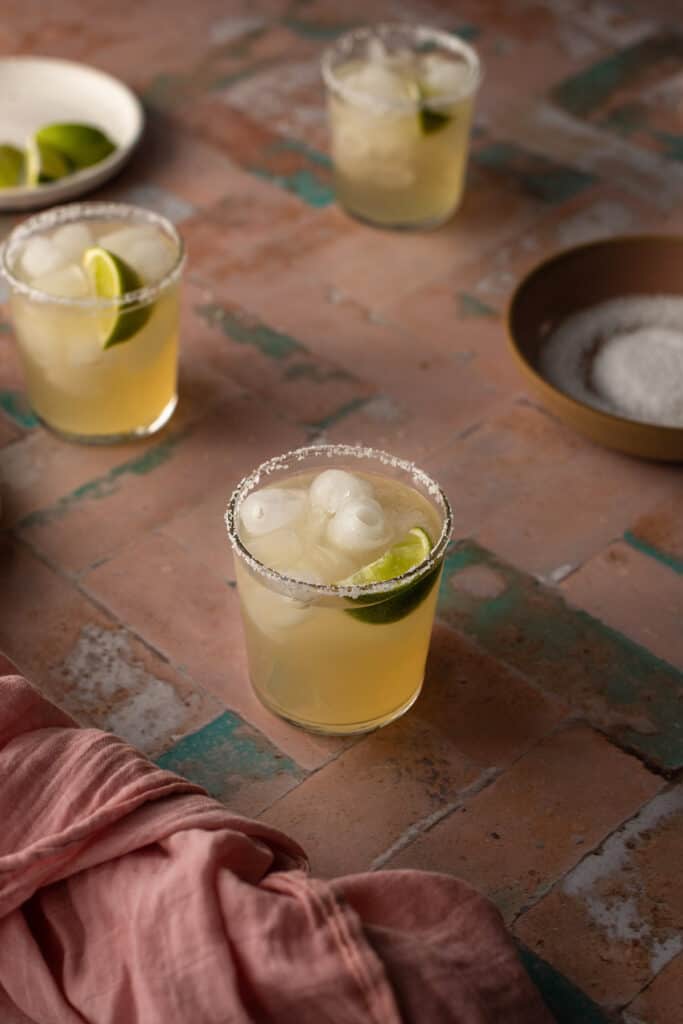 🖤 Share your creations and follow me on social media!
✨ Recipe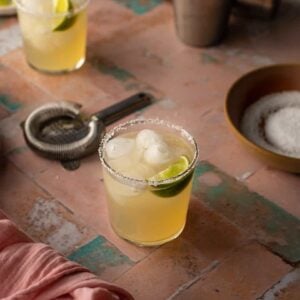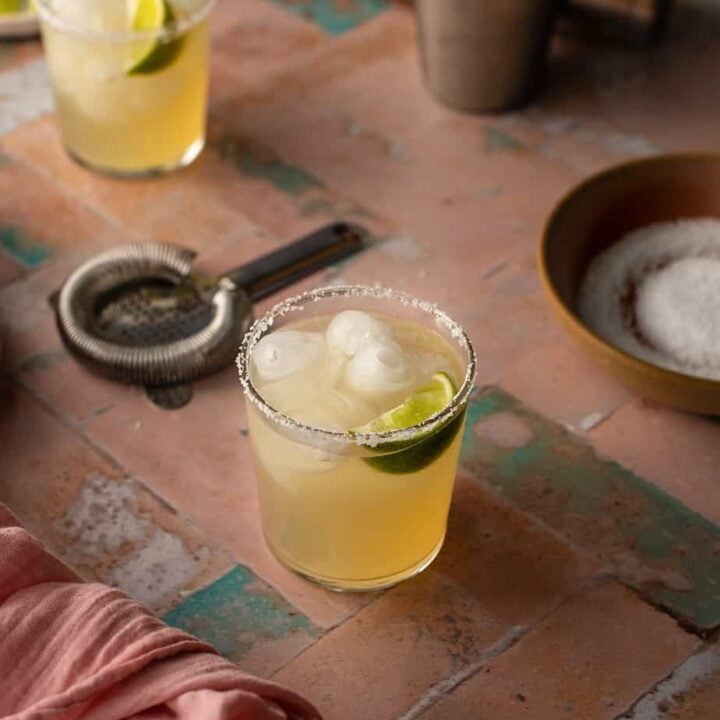 Golden Margarita
You only need a handful of ingredients to make this refreshing Golden Margarita (sometimes called a Grand Marnier Margarita).
Ingredients
kosher salt

1.5

ounces

reposado tequila

1.5

ounces

Grand Marnier liqueur

see notes

1.5

ounces

lime juice

freshly squeezed

lime wedge

for garnish (optional)
Instructions
Run a wedge of lime around the rim of your glass. Spread about 1 tablespoon of kosher salt onto a small plate or shallow bowl. Dip the juice-moistened rim of the glass into the salt, creating a salt rim.

Add ice to the glass and set aside.

Add a handful of ice to a cocktail shaker. Add reposado tequila, orange liqueur, lime juice, and simple syrup. Seal the shaker and shake until very cold.

Strain the margarita into the prepared glass.

Garnish with a lime wedge, if desired.
Notes
You can use another kind of orange liqueur, such as Cointreau or triple sec, if that's what you have on hand.
Nutrition
Serving:
1
Calories:
375
kcal
Carbohydrates:
54
g
Protein:
1
g
Sodium:
321
mg
Fiber:
2
g
Sugar:
40
g
Disclaimer: Nutritional information is a generated estimate and is not guaranteed to be accurate.
📌 Pin this recipe for later!