Last Updated on April 26, 2021 by laurenpacek
Cranberry Margaritas are beautiful and festive, sweet-tart, and delicious. They require only a handful of ingredients, and come together in a snap!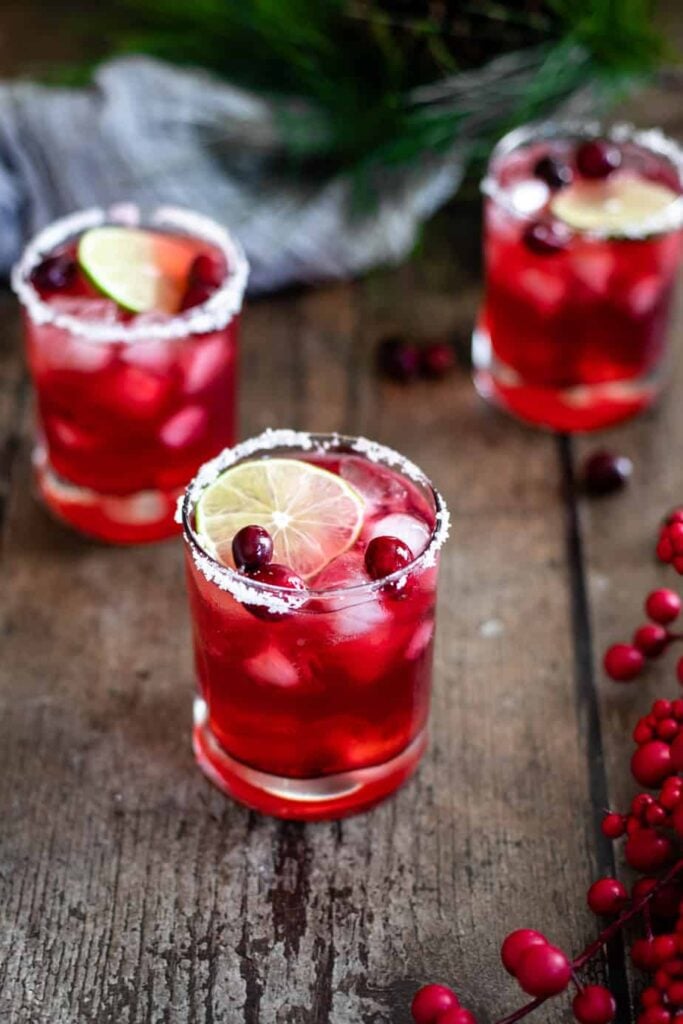 What ingredients go into this drink?
Tequila - In general, I prefer to use an añejo tequila, but use whatever floats your boat! You could go super premium with your tequila selection, but something middle-of-the-road would work nicely, too.
Triple sec - Triple sec is a sweet, orange-flavored liqueur. Maybe I'm a cheapskate, but I usually go with something cheaper here. If you have and love Grand Marnier, by all means, have at it! But a less expensive brand will work, as well.
Cranberry juice - Use pure cranberry juice OR cranberry juice cocktail, according to your preference. I used cranberry juice cocktail. Just keep in mind that whichever one you use will influence how tart or sweet the cocktail is.
Lime juice - Fresh juice, please!
Kosher salt - Chunky kosher salt is key. Rim the glass with this, and don't be afraid to be heavy handed.
Lime slices and fresh cranberries - These aren't a necessity, but garnishing the glass with them sure does add to the wow factor of this drink.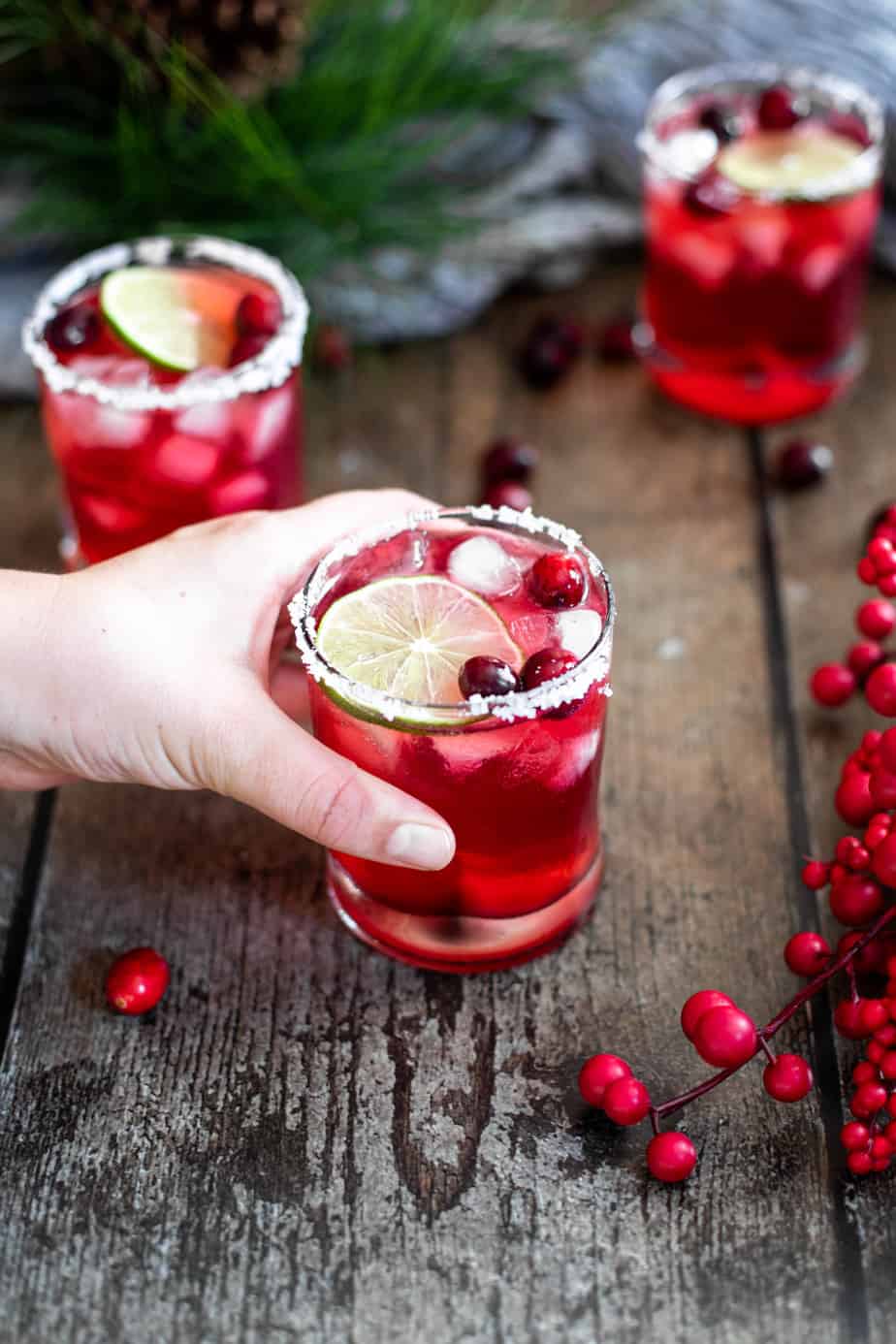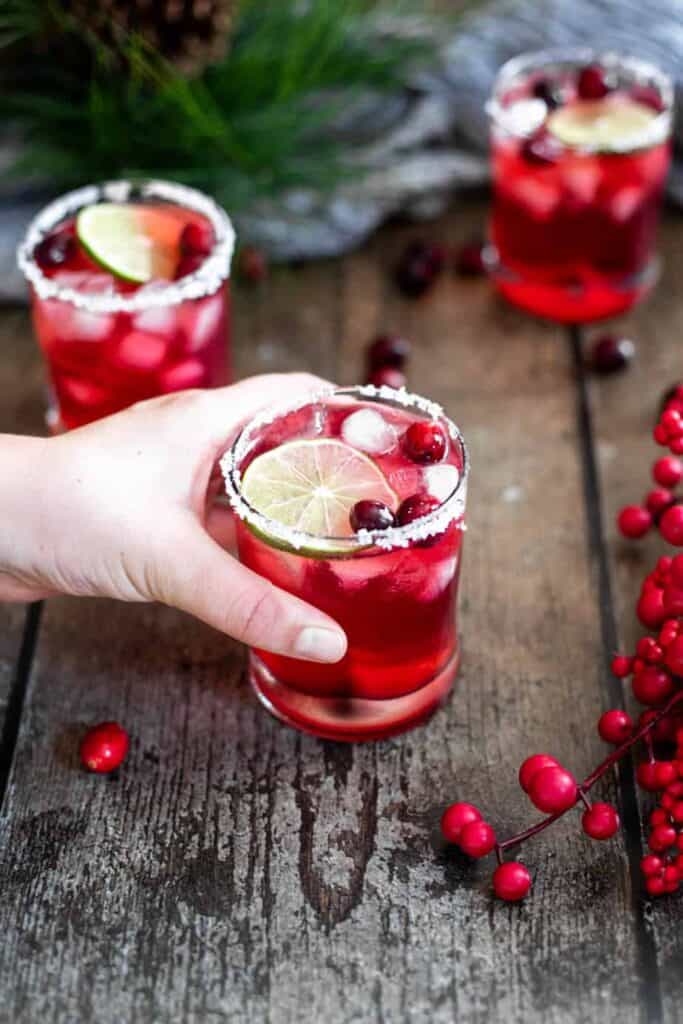 How do you make a cranberry margarita?
Start by rimming your glass(es) with some nice, chunky kosher salt. The salt will contrast really nicely with the sweet-tart margarita. You could also use granulated sugar instead of salt, or a mixture of the two, if you'd prefer! I'm a purist and only use salt, while my husband prefers a sugar rim. You do you.
Next, add the liquid ingredients to a cocktail shaker with some ice. Now shake shake shake that marg until it is very cold. Once things are nice and cold, strain your drink into your prepared glass (make sure to add some ice cubes!).
Before you start sipping away, make sure to garnish your drink with a lime slice and a few fresh cranberries. It's not 100% necessary, but I think it really makes the cocktail look quite pretty.
Can you make multiples of this marg at one time, or even a
pitcher

?

Sure! This margarita should scale up very nicely. Just multiply the ingredients listed below by whatever amount you're looking to make and there you go.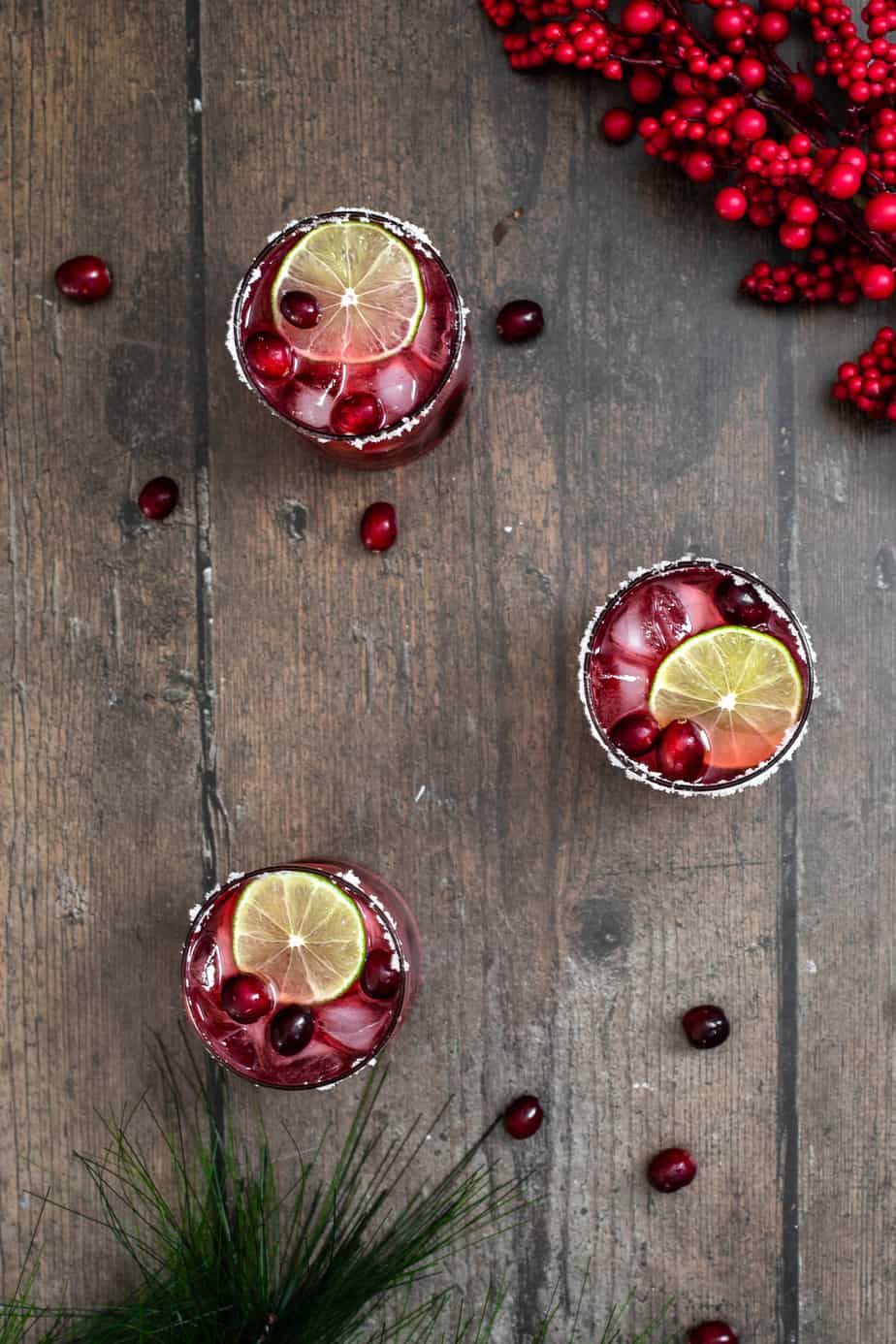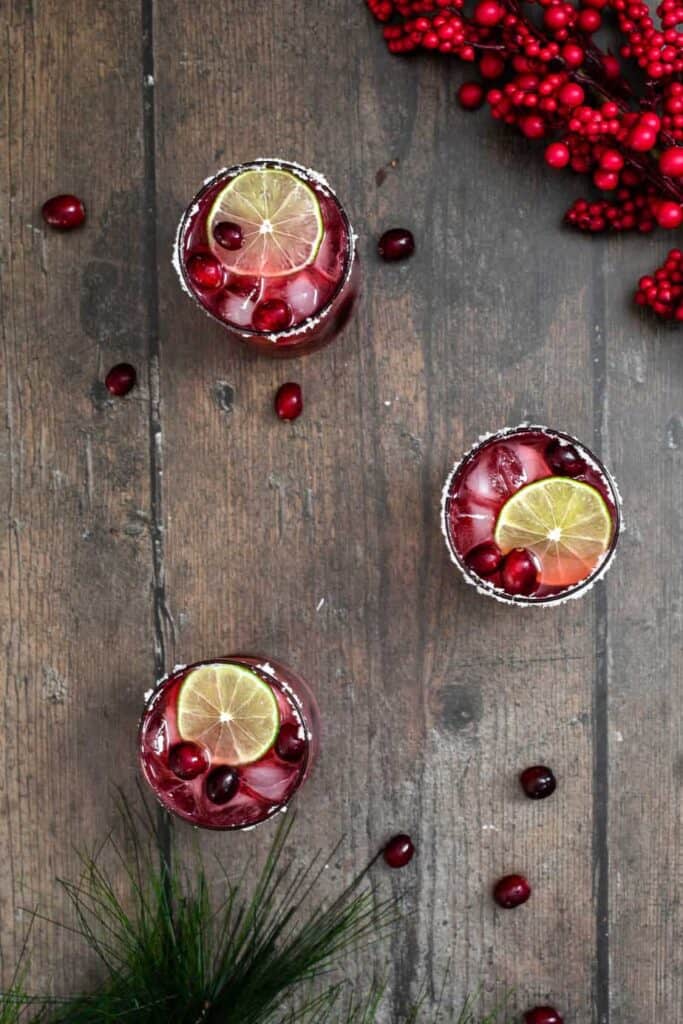 When is the best time to indulge in one (or two) of these adult beverages?
The short answer is: any time. Within reason. Make smart choices.
Despite what I just said, I find that the winter holidays are a great time to enjoy a cranberry margarita. There's a halfway decent chance that you're already consuming some other kind of cranberry treat (maybe cranberry sauce?) during this time anyway. Not at all coincidentally, cranberries are in season during this time. It just fits.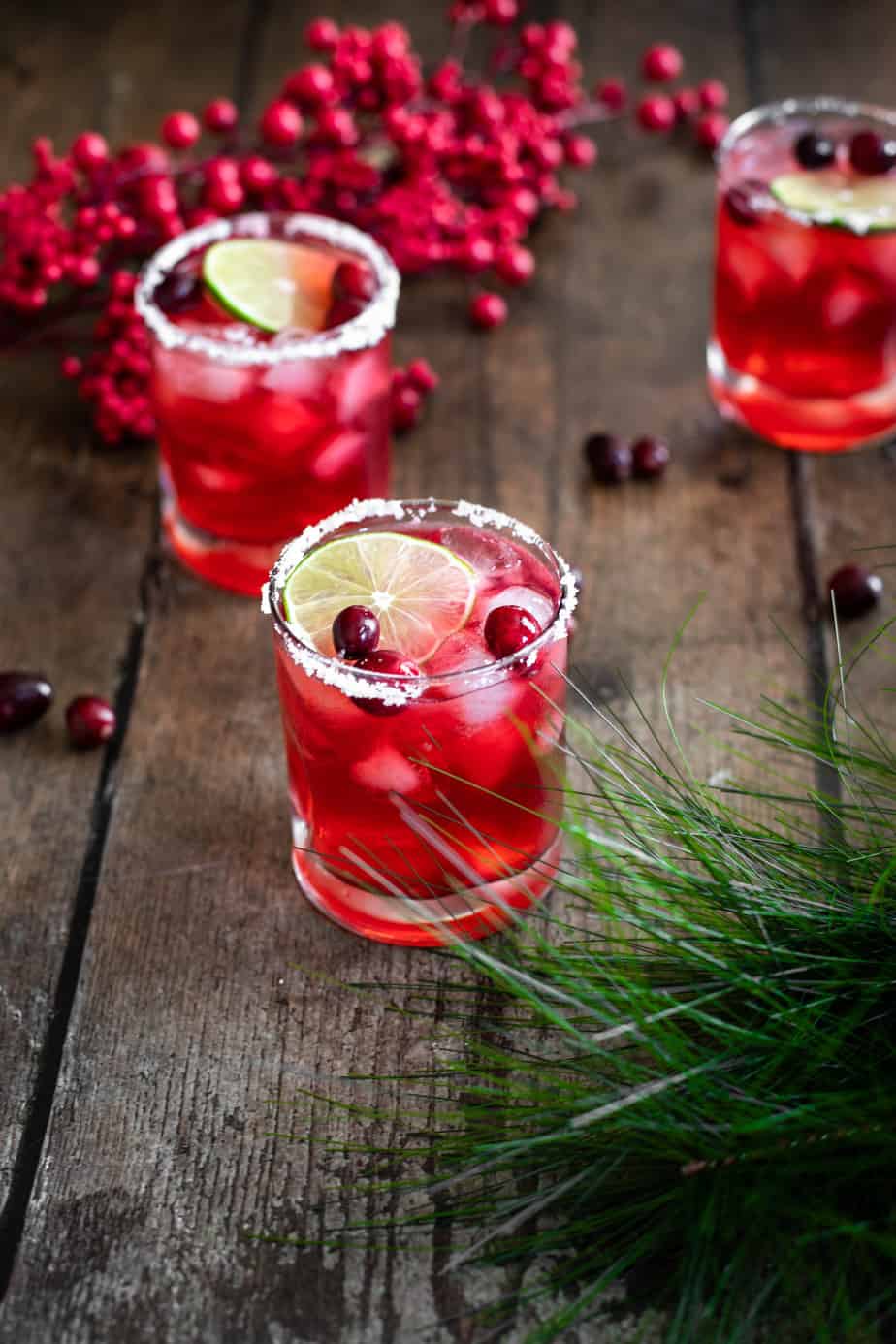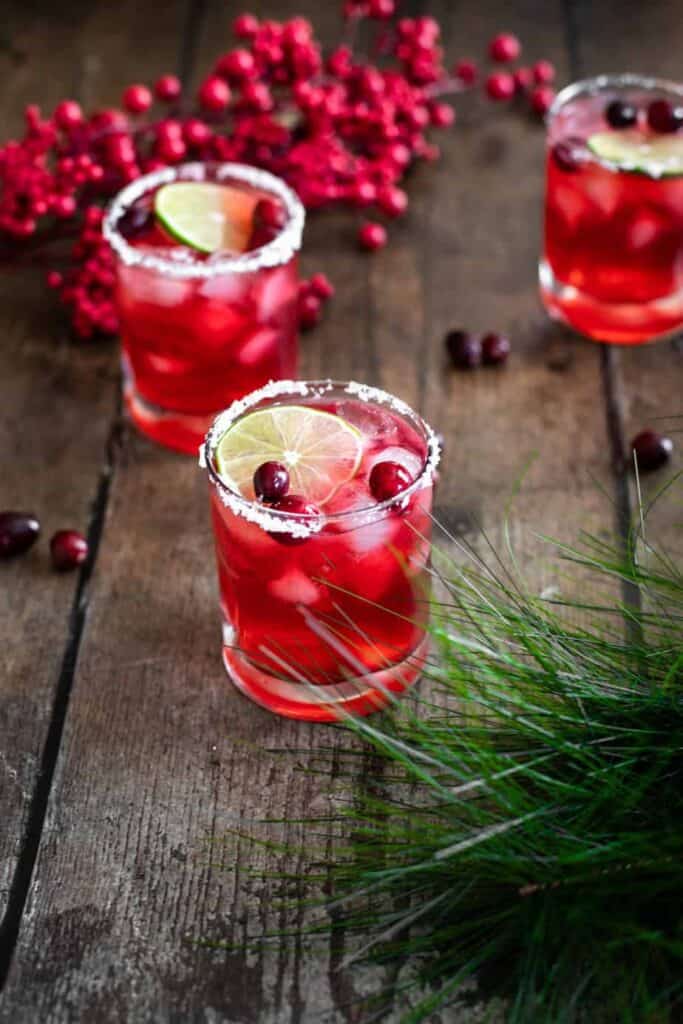 In need of other cranberry-based cocktail recipes?
Oh, I have those.
This Cranberry Rosemary French 75 looks fancy and impressive, but is very easy to make. Similarly, this Holiday Gin Moscow Mule AND this Cranberry Vanilla Moscow Mule are super festive looking, but requires a bit of pouring and stirring. That's it!
This Cranberry Gin and Tonic is also super simple, but so delicious. And so great during the holidays, too!
What about other margarita recipes?
Because I have those, too!
Apple Cider Mezcal Margaritas are 10/10 during the Fall months. Smoky mezcal and sweet apple cider were meant to be together. These Grilled Mezcal Margaritas are excellent as well.
If straight up tequila is more your thing (rather than mezcal), try these Cara Cara Orange Margaritas and Pomegranate Margaritas on for size! OR check out my Cadillac Margaritas if you're feeling extra fancy!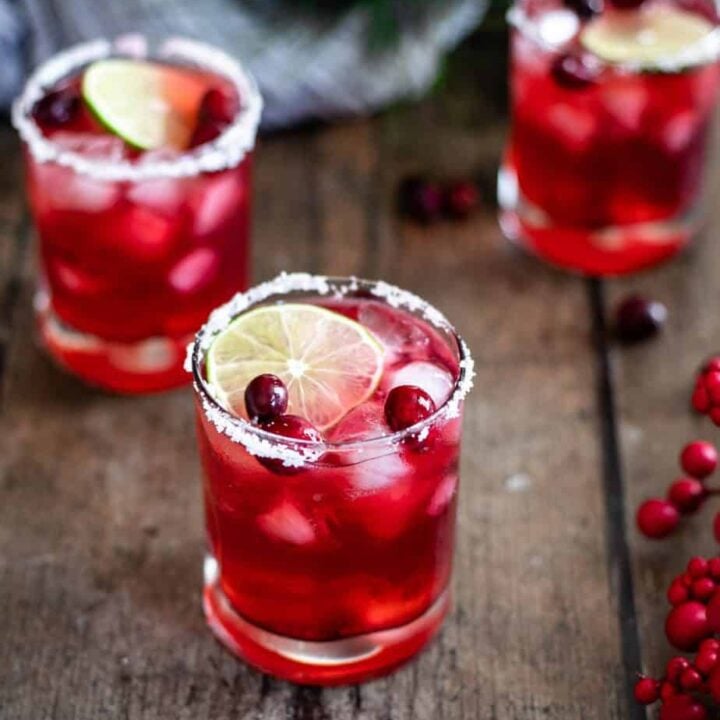 Cranberry Margaritas
Cranberry Margaritas are beautiful and festive, sweet-tart, and delicious. They require only a handful of ingredients, and come together in a snap!
Ingredients
1 tsp kosher salt
1 ½ oz tequila
¾ oz triple sec
3 oz cranberry juice (see notes)
juice of ½ lime
lime slices, and fresh cranberries, for garnish (optional)
Instructions
Moisten the rim of a rocks glass with water or lime juice. Turn the glass upside down into a small plate filled with kosher salt. Rim the glass with the salt. Carefully add ice cubes to the glass. Set aside.
Add all of the ingredients (minus the garnish) to a cocktail shaker with ice. Shake until very cold.
Strain into the prepared glass and garnish with lime slices and fresh cranberries, if desired.
Notes
Use pure cranberry juice or cranberry juice cocktail, according to your preference. Cranberry juice cocktail will obviously be sweeter, so keep this in mind (this is what I used).
Nutrition Information:
Yield:

1
Serving Size:

1
Amount Per Serving:
Calories:

396
Total Fat:

0g
Saturated Fat:

0g
Trans Fat:

0g
Unsaturated Fat:

0g
Cholesterol:

0mg
Sodium:

2480mg
Carbohydrates:

70g
Fiber:

7g
Sugar:

49g
Protein:

2g
What equipment will I need in order to make these drinks?
A jigger, to measure your booze
Pin this recipe for later!