This Pomegranate Margarita is tart, not too sweet, and a beautiful vibrant color. They're great any time, but perfect for the winter holidays or Cinco de Mayo.
Margaritas are a good idea pretty much all of the time, right? But the rich, fabulous color really makes these drinks a no-brainer around Christmastime. Red pomegranate juice and seeds, green lime wedges... I mean, come on.
But don't let their appearance pigeonhole them as strictly a holiday beverage! These margs are so so good on any number of occasions: Cinco de Mayo, Taco Tuesday, summer BBQs, a random Wednesday evening... the list goes on and on.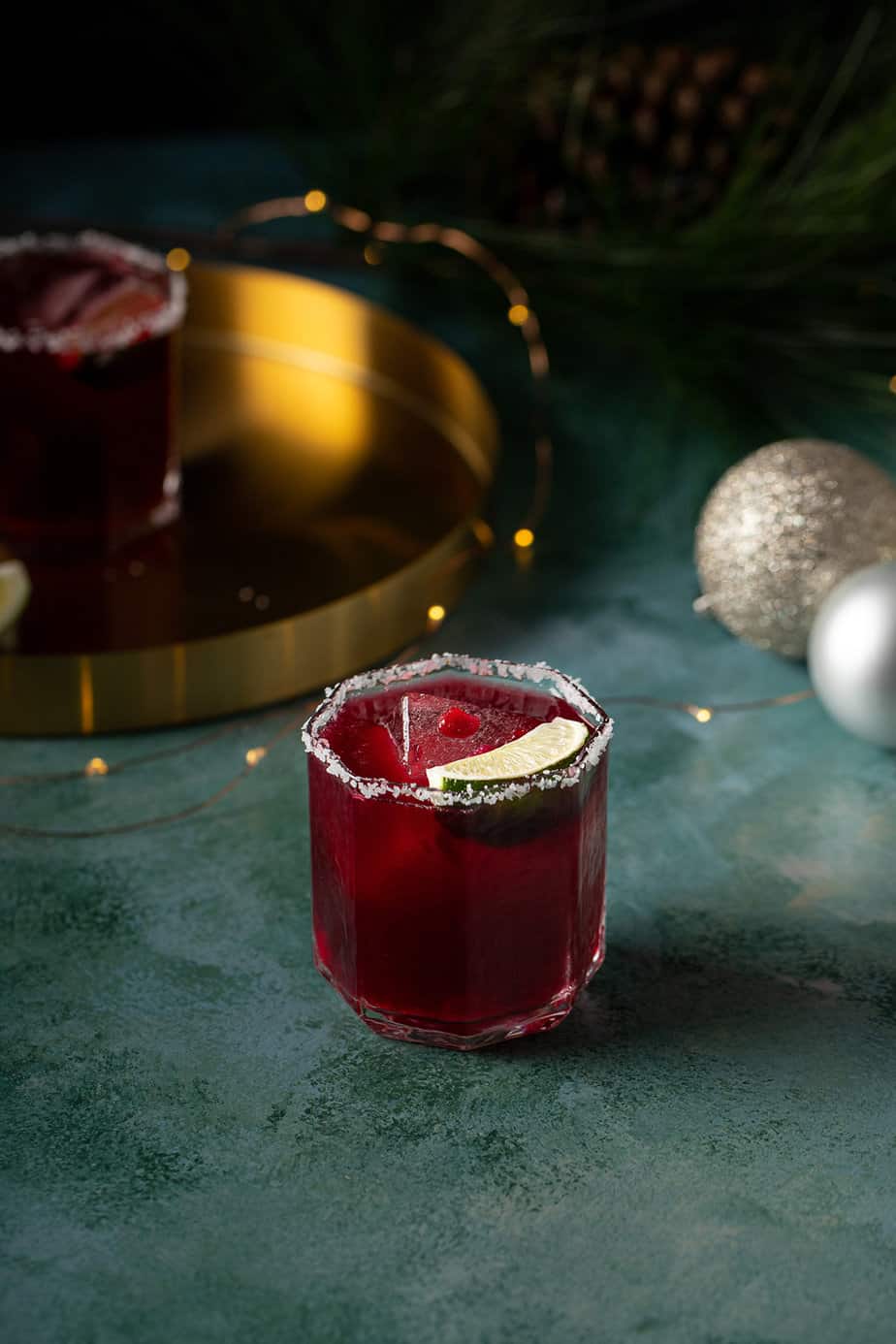 What is a pomegranate margarita?
A pomegranate margarita takes a classic margarita preparation (tequila, orange liqueur, lime juice) and adds sweet, vibrant pomegranate juice. There's no doubt that this drink is fabulous any time of the year, but it's color lends itself very well to winter holiday sipping.
Ingredients
Lime juice and kosher salt: For rimming the glass(es). You could also use water and/or sugar, depending on your preference.
Tequila: Use whatever tequila you prefer. I like something with a little age on it, but you do you.
Orange liqueur: Admittedly, I don't go for anything very expensive, and these margs turn out delicious nonetheless. I usually use an inexpensive triple sec, but anything of higher quality will only improve the margs.
Pomegranate juice: Just buy the bottled stuff. It's the easiest way.
Lime juice: Freshly squeezed, please!
Garnish: They're not mandatory but make the drink look so pretty. Garnish your glasses with some pomegranate arils and/or lime wedges if desired.
How to make a pomegranate margarita
As with most margaritas, it's very easy to shake up a pomegranate margarita or two.
Start by rimming your intended drinking glass with lime juice (or water) and salt (or sugar, if you prefer a sweet rim). Add some ice to the prepared glass, being careful to not dislodge any of the salt or sugar rim. I like to use a single large cube (or sphere) of ice. This keeps the drink cold, without diluting it too quickly or unnecessarily.
Next, add the pomegranate juice, lime juice, orange liqueur, and tequila to a cocktail shaker, followed by some ice. I also like to use a single large cube for shaking my drinks. It gets everything frosty cold, but doesn't dilute the drink too much. Shake until the drink is very cold, or about 10 seconds or so.
Carefully strain your margarita into the prepared glass and garnish with some pomegranate seeds and a lime wedge, if you're feeling festive. You are. I just know it.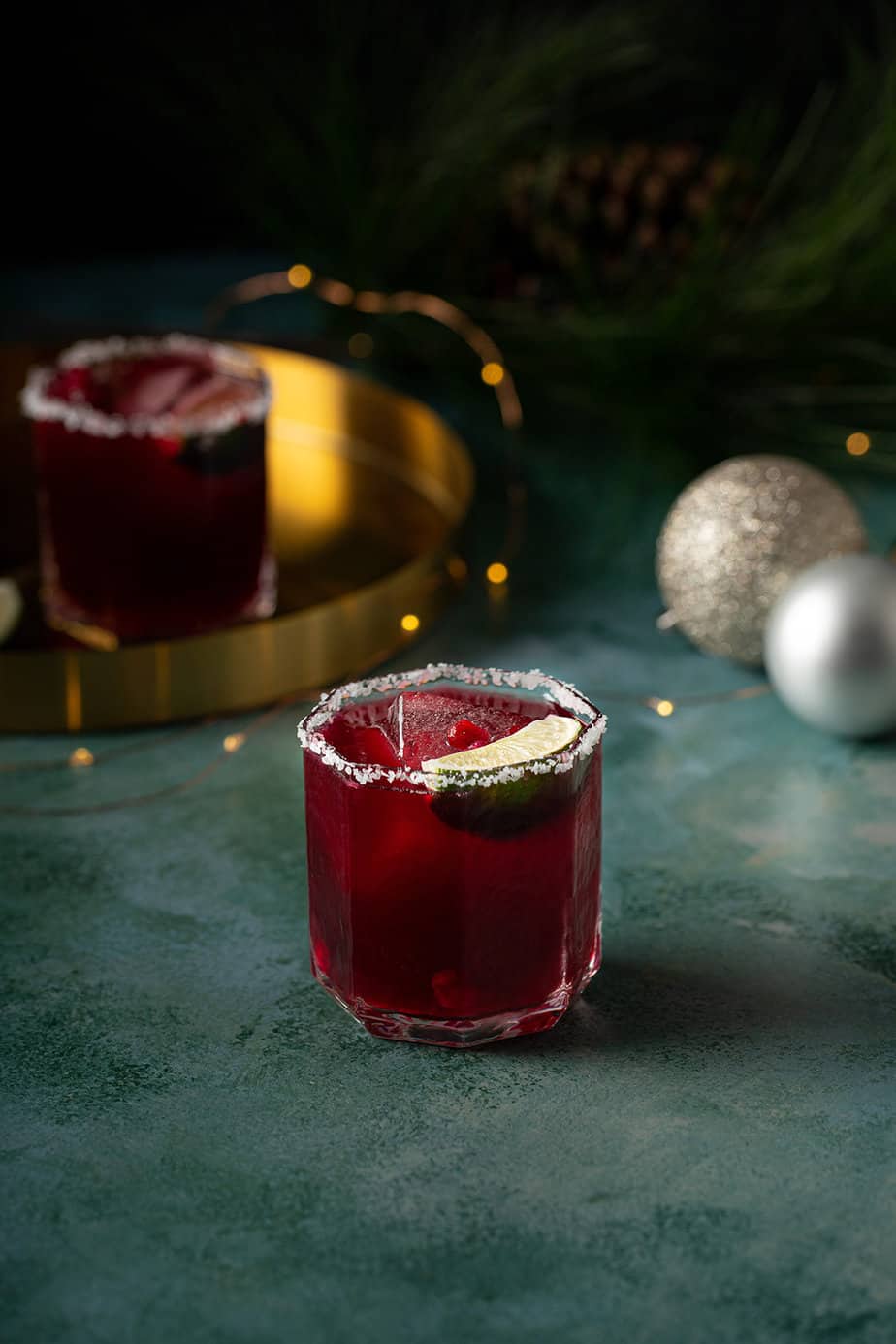 Recommended tools
Other cocktails made with tequila
Looking for more tequila drinks? Can't say that I blame you there. I've pulled some links from this blog, as well as other bloggers, and listed them out for you below. Peruse them and find a new favorite!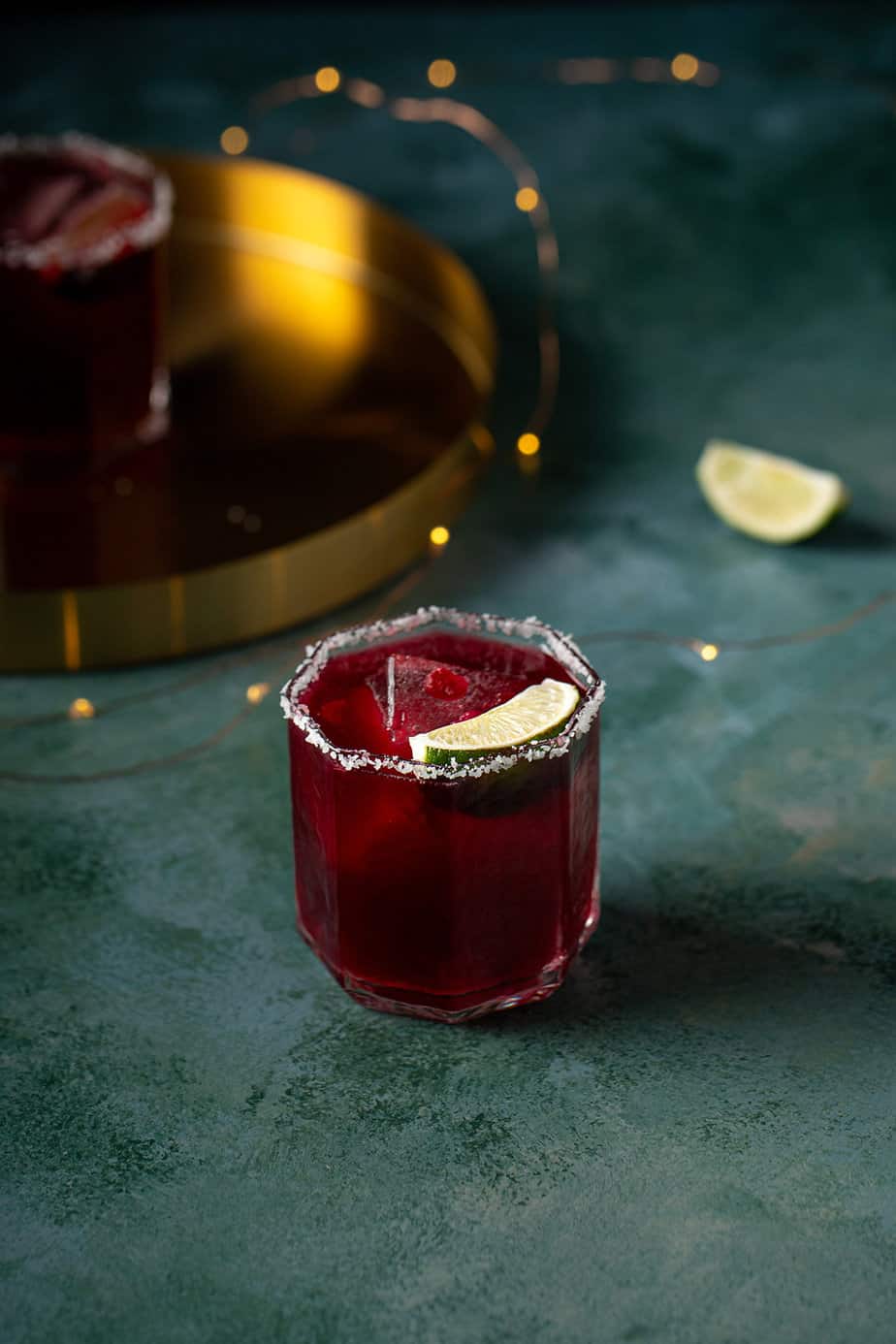 FAQs/Tips and tricks
Can I make a big batch of these margaritas?
Yes! Just scale up the ingredients according to how many drinks you want to make.
What kind of tequila should I use?
Long story short: you should use whatever kind of tequila that you like to drink. I tend to favor tequila añejo (an aged tequila) but tequila blanco (the clear kind) would also be very good. I don't think that you need to necessarily splurge on something super fancy, but you want to use a good quality tequila.
Where can I find pomegranate juice?
I find mine in the regular grocery store. Pom Wonderful makes a good quality juice.
Share your creations and follow me on social media!
Subscribe to the A Nerd Cooks Newsletter to have updates sent straight to your inbox.

I love seeing when you share my recipes! Please tag me on Instagram @anerdcooks so I can enjoy them virtually with you! You can also find me on Pinterest, Facebook, YouTube, and Twitter.

I'd love to know what you thought of this recipe! Don't forget to leave a comment and ⭐️ star rating below!
The Recipe
✨ Recipe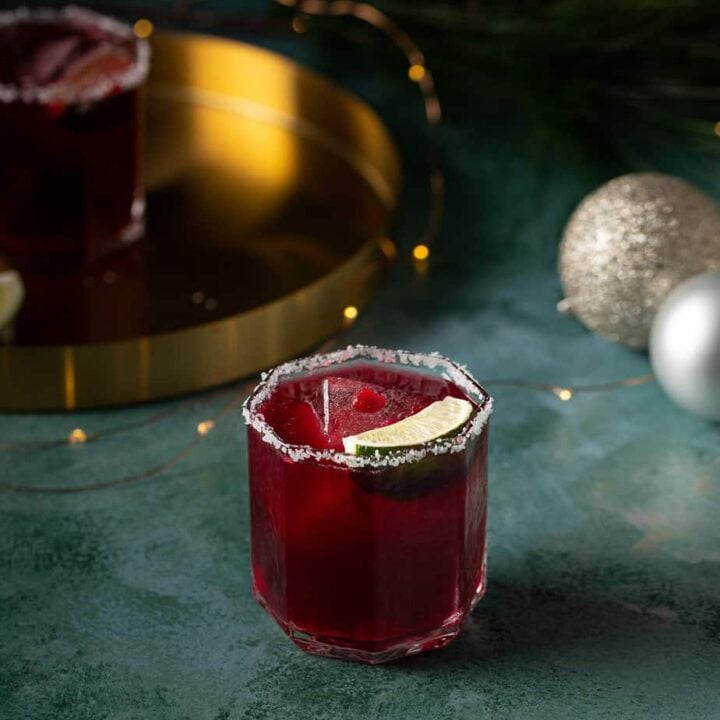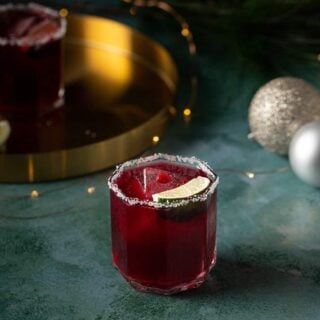 Pomegranate Margaritas
This Pomegranate Margarita is tart, not too sweet, and a vibrant color. They're great any time, but perfect for holidays or Cinco de Mayo.
Ingredients
lime wedge for rimming the glass

optional

kosher salt or sugar for rimming the glass

optional

3

ounces

pomegranate juice

1.5

ounces

tequila

¾

ounce

orange liqueur

½

lime

juiced

pomegranate arils and lime wedge

for garnish (optional)
Instructions
Rub a wedge of lime around the rim of a margarita or rocks glass. Turn the glass upside down and press the rim into the coarse salt or sugar. Carefully add ice to the glass. Set it aside.

In a cocktail shaker with ice, combine the pomegranate juice, tequila, orange liqueur, and lime juice. Shake until very cold and strain into the prepared glass.

Garnish with pomegranate arils and a lime wedge, if desired.
Nutrition
Serving:
1
Calories:
555
kcal
Carbohydrates:
107
g
Protein:
7
g
Fat:
4
g
Polyunsaturated Fat:
1
g
Sodium:
338
mg
Fiber:
20
g
Sugar:
65
g
Disclaimer: Nutritional information is a generated estimate and is not guaranteed to be accurate.
Pin this recipe for later!