Last Updated on November 30, 2021 by laurenpacek
These Pumpkin Chocolate Chip Oatmeal Cookies are chewy, sweet, and full of pumpkin and Fall spices.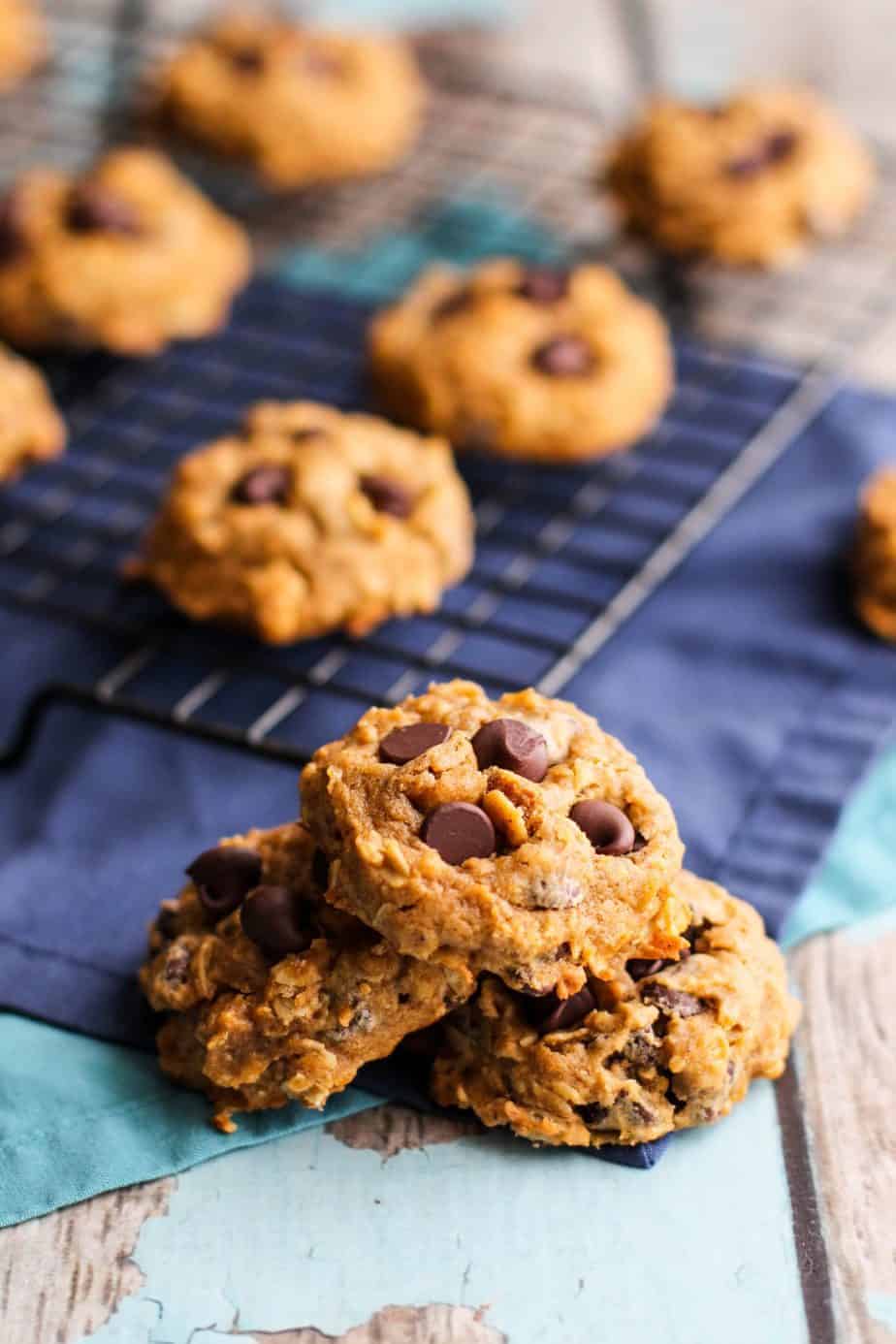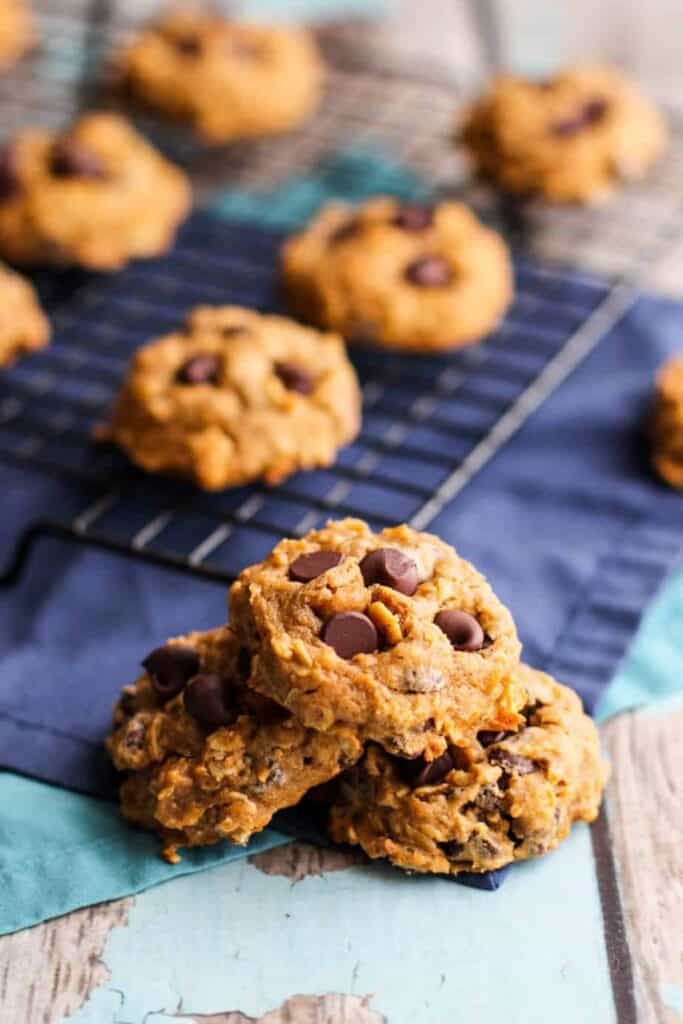 These cookies are chewy, not cake-y
Calling all chewy cookie lovers!!
Unlike many pumpkin cookies (like these Pumpkin Chocolate Chip Cookies), these Pumpkin Chocolate Chip Oatmeal Cookies are chewy, not cake-y.
You have the oats and drained/blotted pumpkin (see instructions below) to thank for that. Beyond that, these cookies are full of pumpkin spice flavor as well as chocolate chips.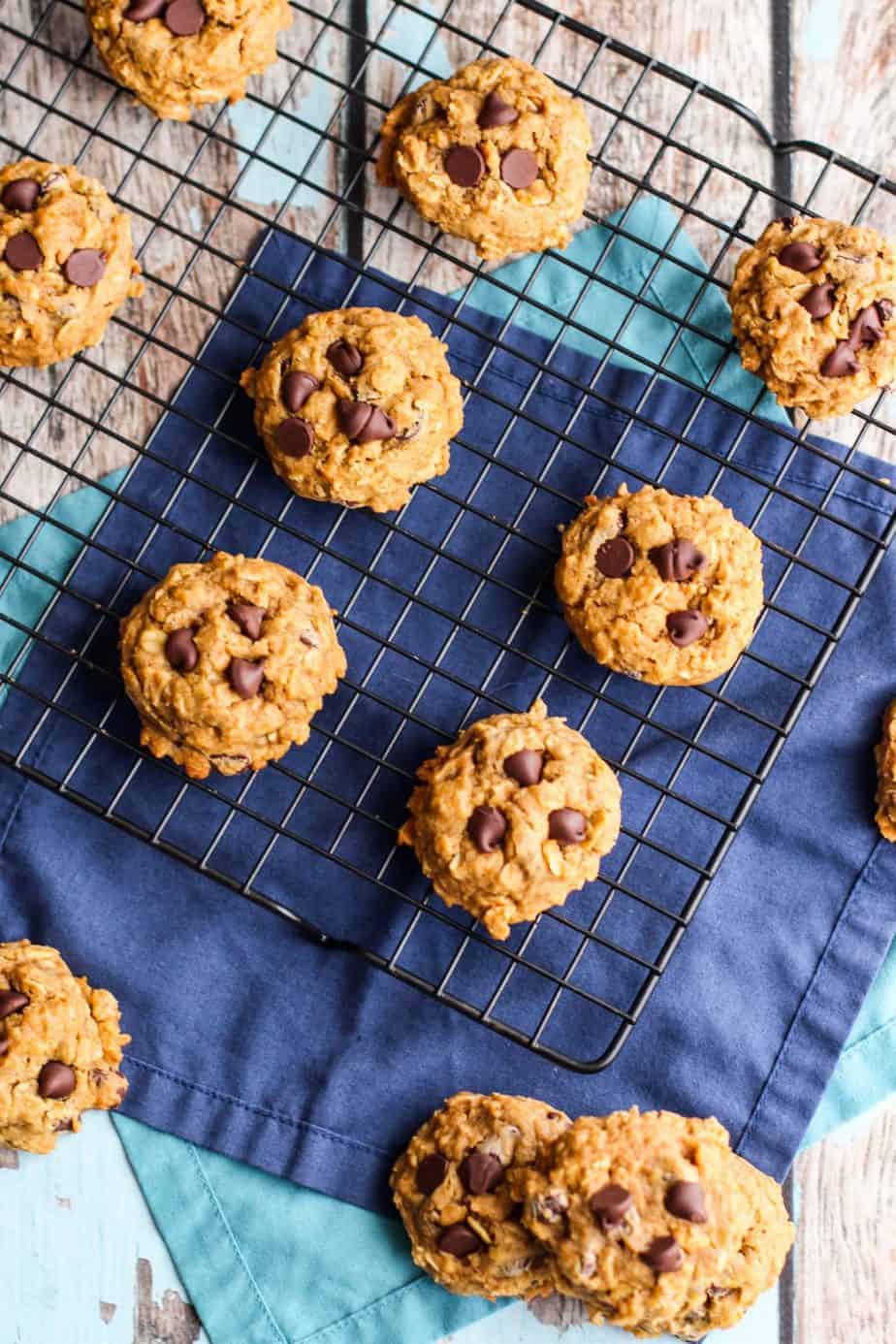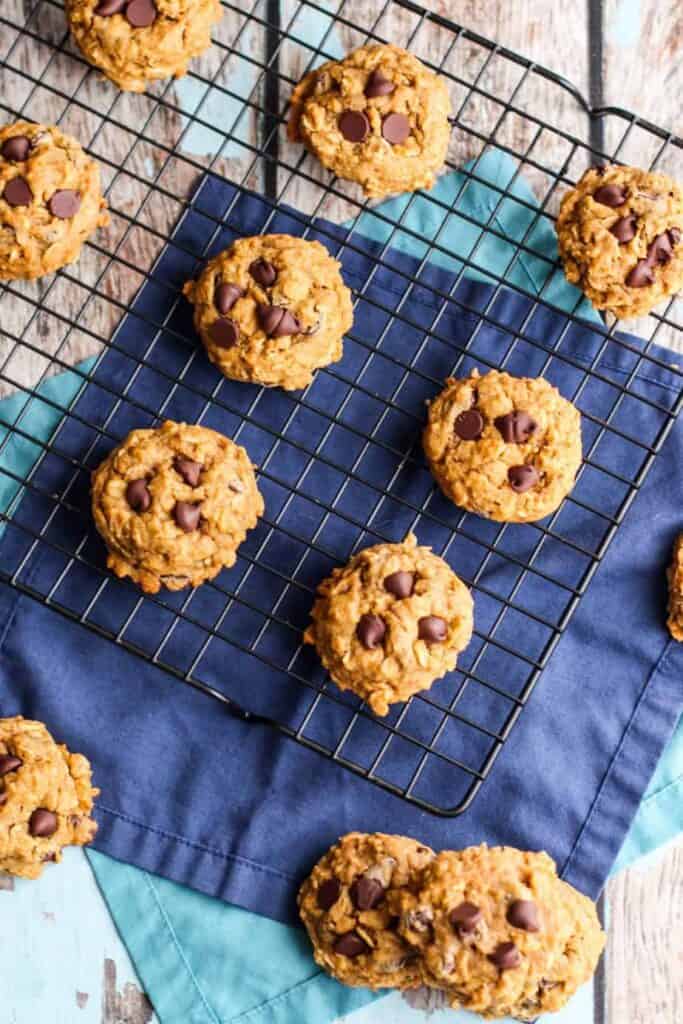 What ingredients go into these cookies?
Pumpkin puree: Make sure that you pick up a can of pumpkin puree and not pumpkin pie mix (this one has spices already added to it).
All-purpose flour: Nothing fancy here.
Baking soda: Baking soda gives these cookies some lift.
Spices: You'l want to use a mixture of ground cinnamon, ginger, nutmeg, allspice, cloves, and kosher salt.
Old-fashioned oats: Find 'em in the cereal aisle.
Butter: Unsalted butter, please.
Maple syrup: Even though this recipe doesn't call for a ton of it, I'd advise that you use the good stuff (i.e., real maple syrup). There's just no comparison between real maple syrup and the other stuff.
Sugar: This recipe calls for both brown and white granulated sugars.
Egg yolk: Just the yolk.
Vanilla extract: You can use store bought or homemade. Either way, make sure that it's of good quality.
Chocolate chips: I used semi-sweet chips, but use whatever you prefer. They will go into the cookies themselves as well as get pressed into the tops.
How do these cookies come together?
Before getting to the standard cookie assembly procedure that we're all familiar with, we're going to do one thing that's a bit out of the ordinary: press some of the liquid out of the pumpkin puree. Doing this will help us achieve a chewy cookie, rather than a cake-y one.
After that, you need to whisk all of the dry ingredients together before setting them aside for just a minute. Combine the wet ingredients in another bowl, then introduce them to the dry ingredients.
Once everything is combined, the chocolate chips can come to the party. Most will go into the cookie dough itself. But make sure to reserve some chips to press into the top of teh cookies just before they go into the oven.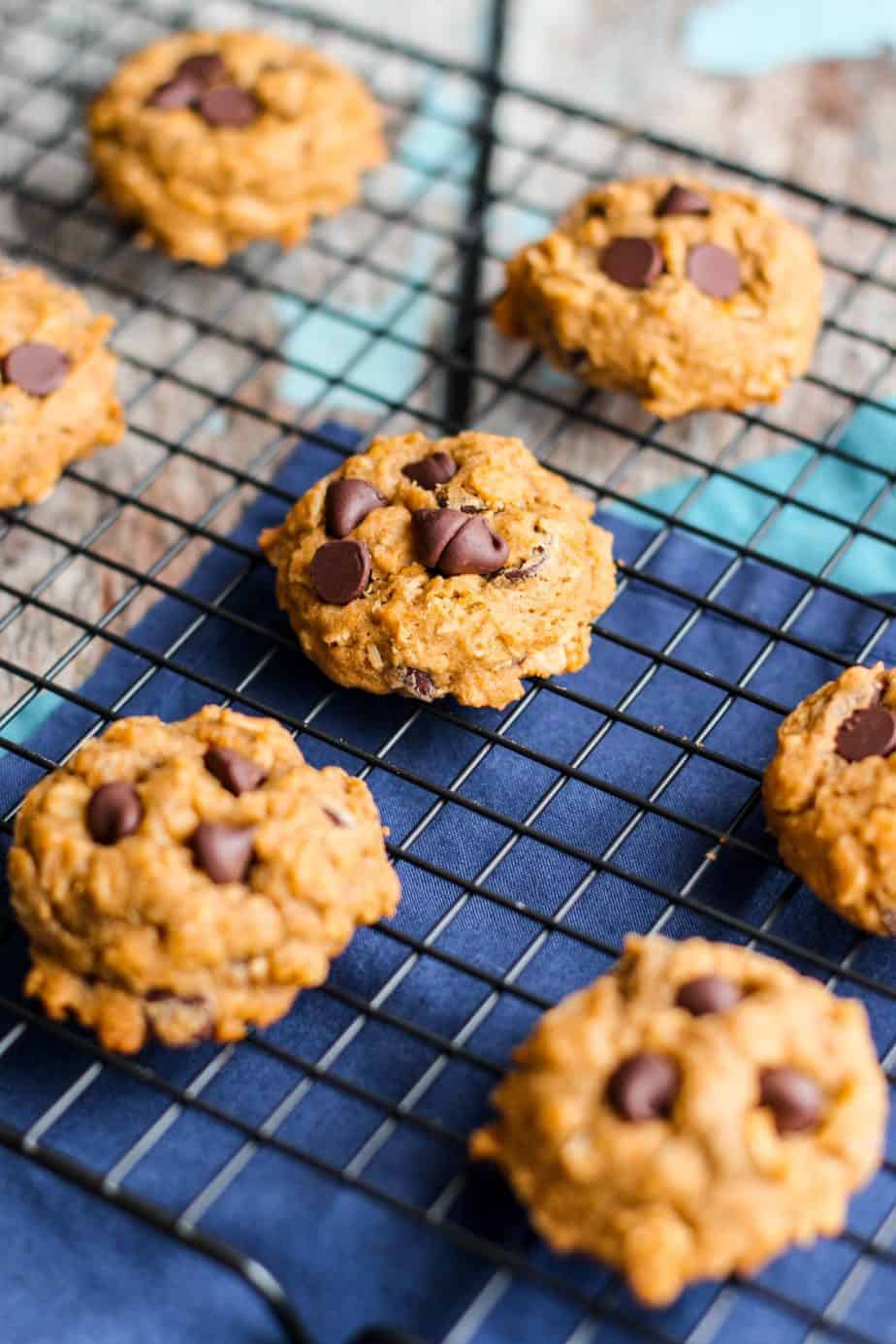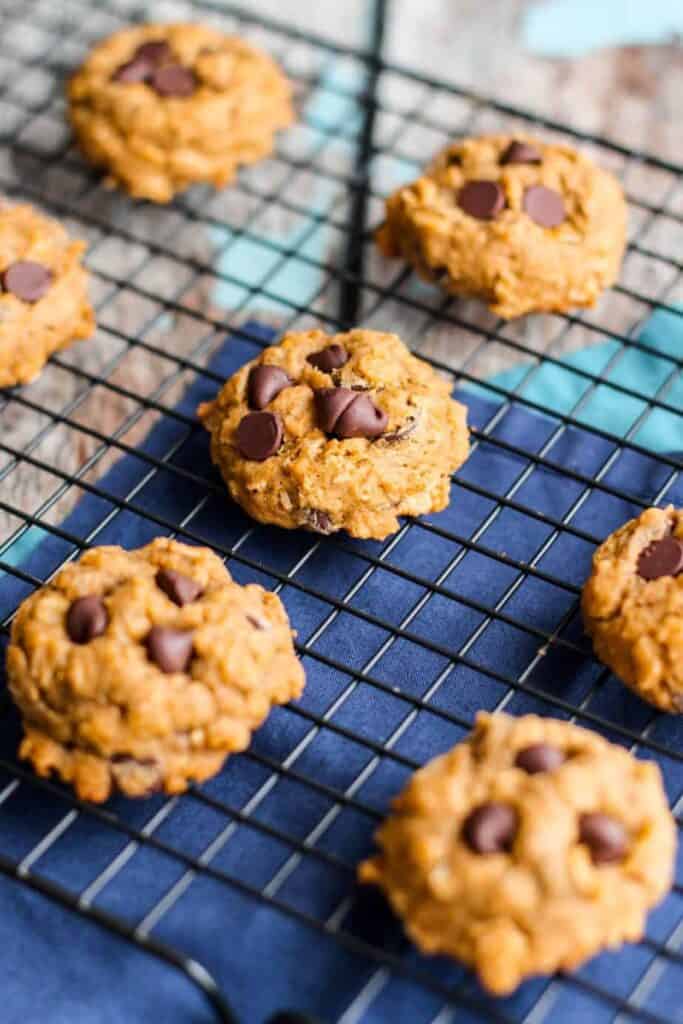 Looking for other pumpkin recipes?
If you're like me, then yes, yes you are looking for more pumpkin recipes. Check out the following sweet and savory treats:
Where does this recipe come from?
This recipe comes from the blog Sally's Baking Addiction.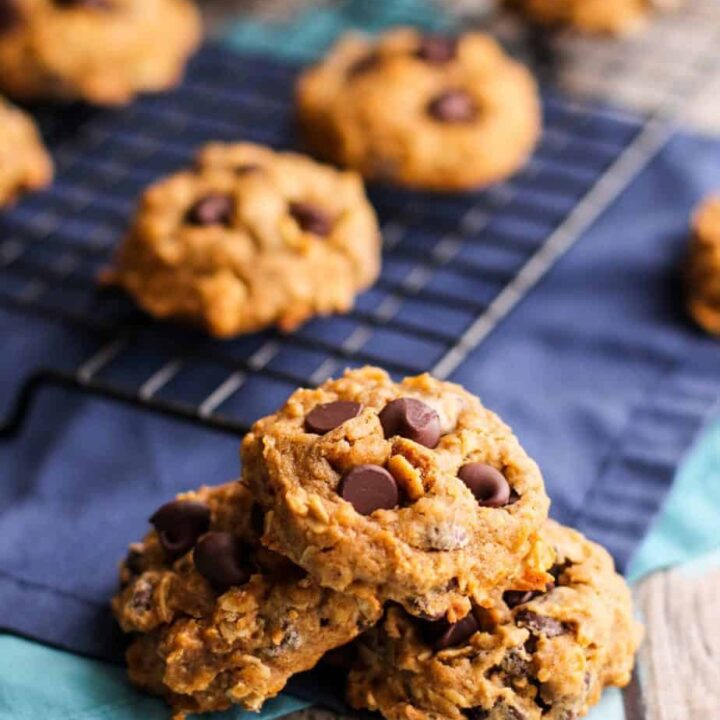 Pumpkin Chocolate Chip Oatmeal Cookies
These Pumpkin Chocolate Chip Oatmeal Cookies are chewy, sweet, and full of pumpkin and Fall spices.
Ingredients
¾ cup pumpkin puree
2 cups + 1 tbsp all-purpose flour
1 tsp baking soda
2 ¼ tsp ground cinnamon
½ tsp ground ginger
½ tsp ground nutmeg
½ tsp ground allspice
¼ tsp ground cloves
½ tsp kosher salt
1 ½ cups old-fashioned oats
16 tbsp unsalted butter, melted and cooled slightly
3 tbsp pure maple syrup
¾ cup brown sugar, packed
½ cup granulated sugar
1 egg yolk
2 tsp vanilla extract
1 ½ cups semi-sweet chocolate chips, plus more for pressing into the top
Instructions
Preheat the oven to 350 degrees F. Line a baking sheet with parchment paper and set aside.
Line a medium-sized bowl with paper towels. Add the pumpkin puree to the lined bowl. Using the paper towels, squeeze a bit of the moisture out of the canned pumpkin. Check out Sally's blog for a visual. Removing some of the moisture from the pumpkin helps produce a less cake-like cookie. Which is what we're going for here.
In another medium-sized bowl, whisk the flour, baking soda, spices, salt, and oats together. Set this aside.
In yet another medium-sized bowl, whisk the melted butter, maple syrup, sugars, egg yolk, pumpkin, and vanilla extract together.
Pour the wet ingredients into the dry ingredients and mix until combined. Fold in the chocolate chips.
Using a cookie scoop, scoop ~1.5 tbs-sized balls of dough onto the prepared baking sheets. Smoosh the dough balls down slightly with your fingers. They don't spread much on their own, so they need some help in this department. Bake for 12-13 minutes, or until lightly browned on the edges.
Remove the baking sheets from the oven. Press a few chocolate chips into the tops of the cookies while they are still warm. Allow the cookies to cool for 5 minutes on the baking sheets before removing them to a wire rack to finish cooling completely.
Nutrition Information:
Yield:

36
Serving Size:

1
Amount Per Serving:
Calories:

128
Total Fat:

8g
Saturated Fat:

5g
Trans Fat:

0g
Unsaturated Fat:

3g
Cholesterol:

19mg
Sodium:

71mg
Carbohydrates:

15g
Fiber:

1g
Sugar:

12g
Protein:

1g
Pin this recipe for later!