Last Updated on December 2, 2021 by laurenpacek
These cupcakes are so. good.
These Lemon Poppy Seed Cupcakes have tender yellow cake, zingy lemon curd, and sweet buttercream studded with poppy seeds. They are the perfect Springtime dessert!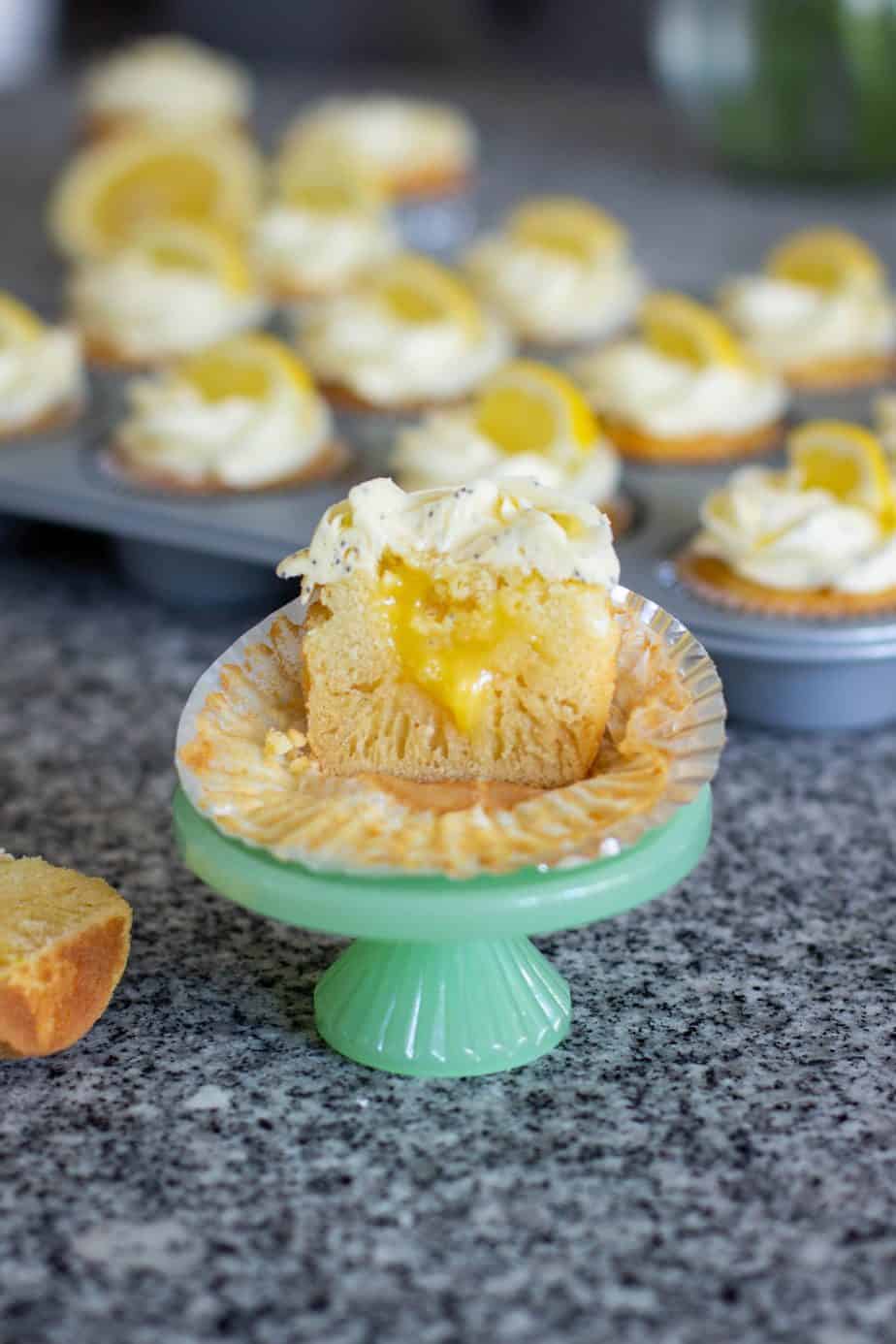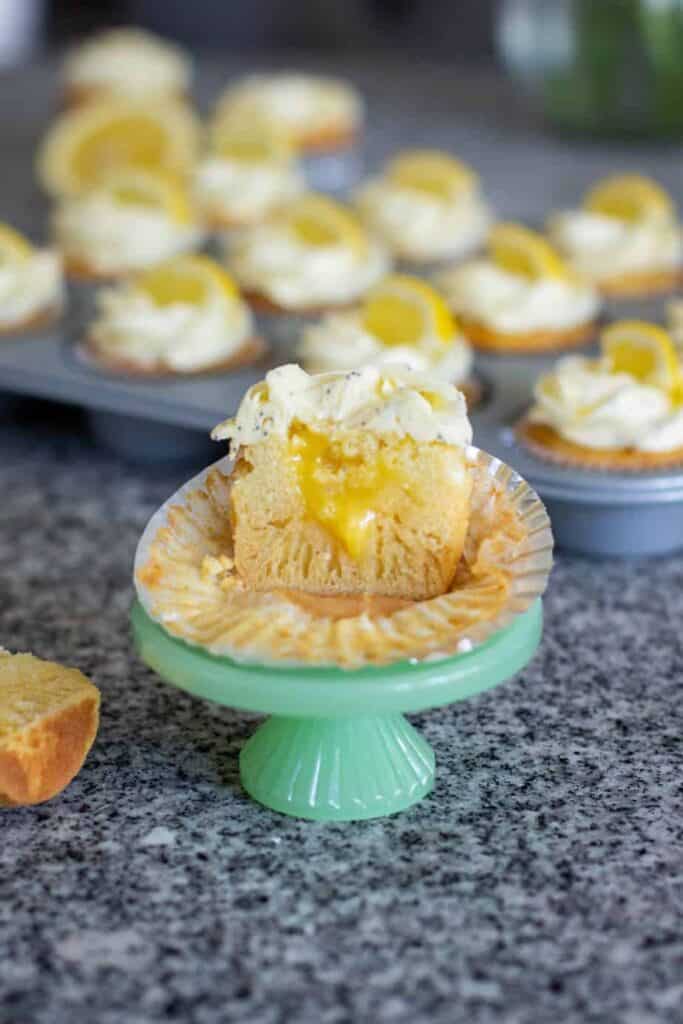 What says "Springtime" more than lemon??
Not many things, in my opinion.
I know that Winter is technically citrus season, but I think that lemony desserts are pretty Spring-y. Especially these cupcakes. They get their lemony flavor from rich, tangy, homemade lemon curd. It's the perfect complement to sweet cake and buttercream frosting.
But really, even though these cupcakes are packed with Springtime flavor, please don't limit your consumption of them to a single season. They're great year round!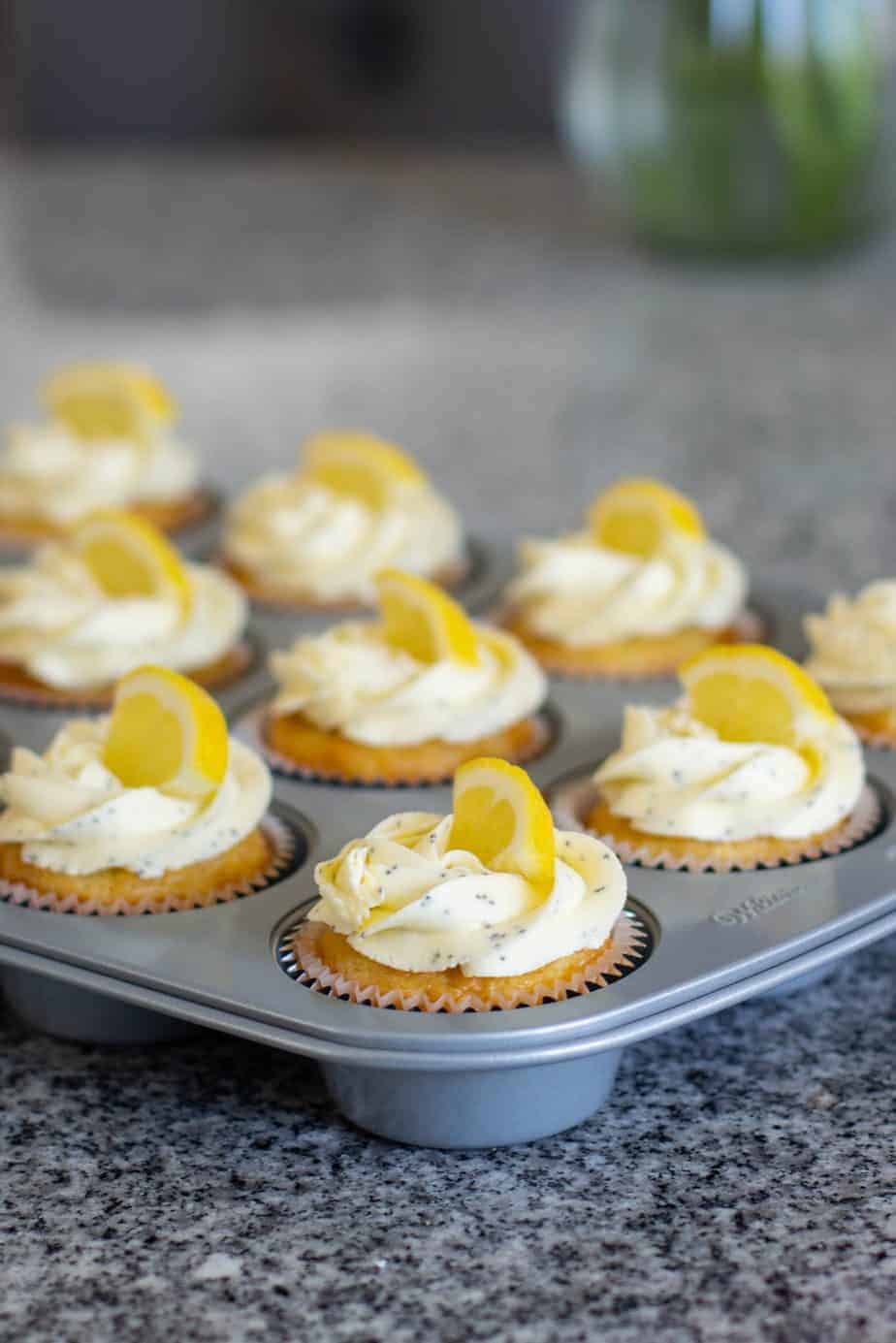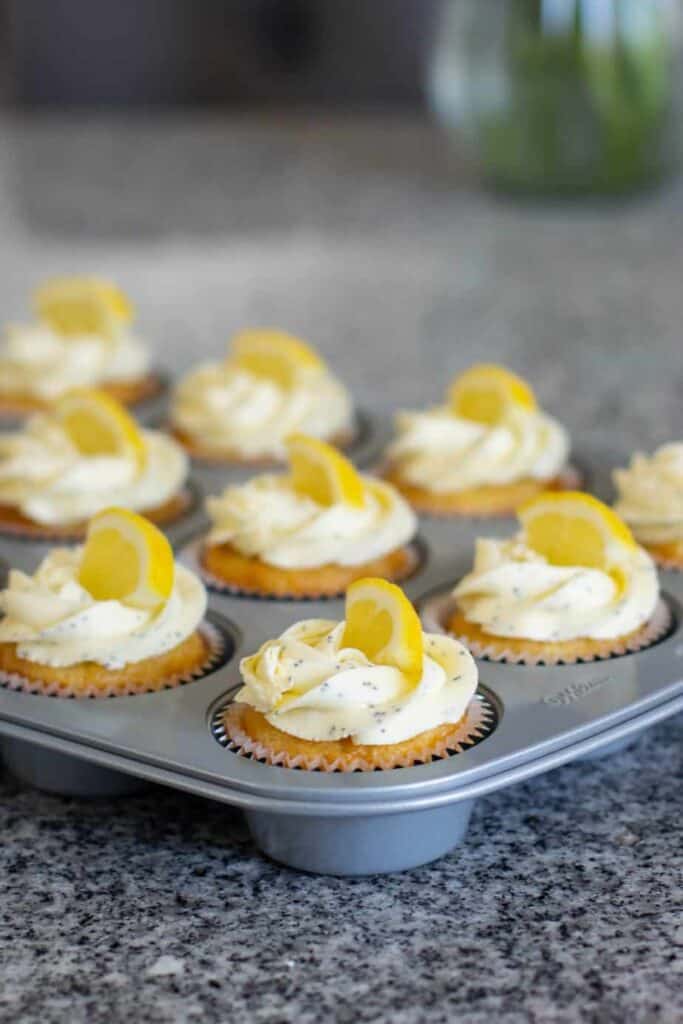 These cupcakes may look complicated, but please don't be intimidated!
I know that there are quite a few steps involved assembling these cupcakes. But trust me, none of them are difficult. Plus, the payoff is more than worth it. You just need to break it down.
Can you bake a cupcake? Yes, you can. I know that you can. You got this! You'll start by baking some delicious yellow cake cupcakes. Easy peasy.
Next, you'll cut some holes into the top of those cupcakes and fill them with delicious lemon curd. You can do it with a spoon. Couldn't be easier.
Last, you'll whip up an American buttercream frosting and frost these bad boys. You can pipe the frosting with a piping bag and tips if you're feeling fancy, but can also just use an offset spatula or knife if you want to keep it simple.
You got this.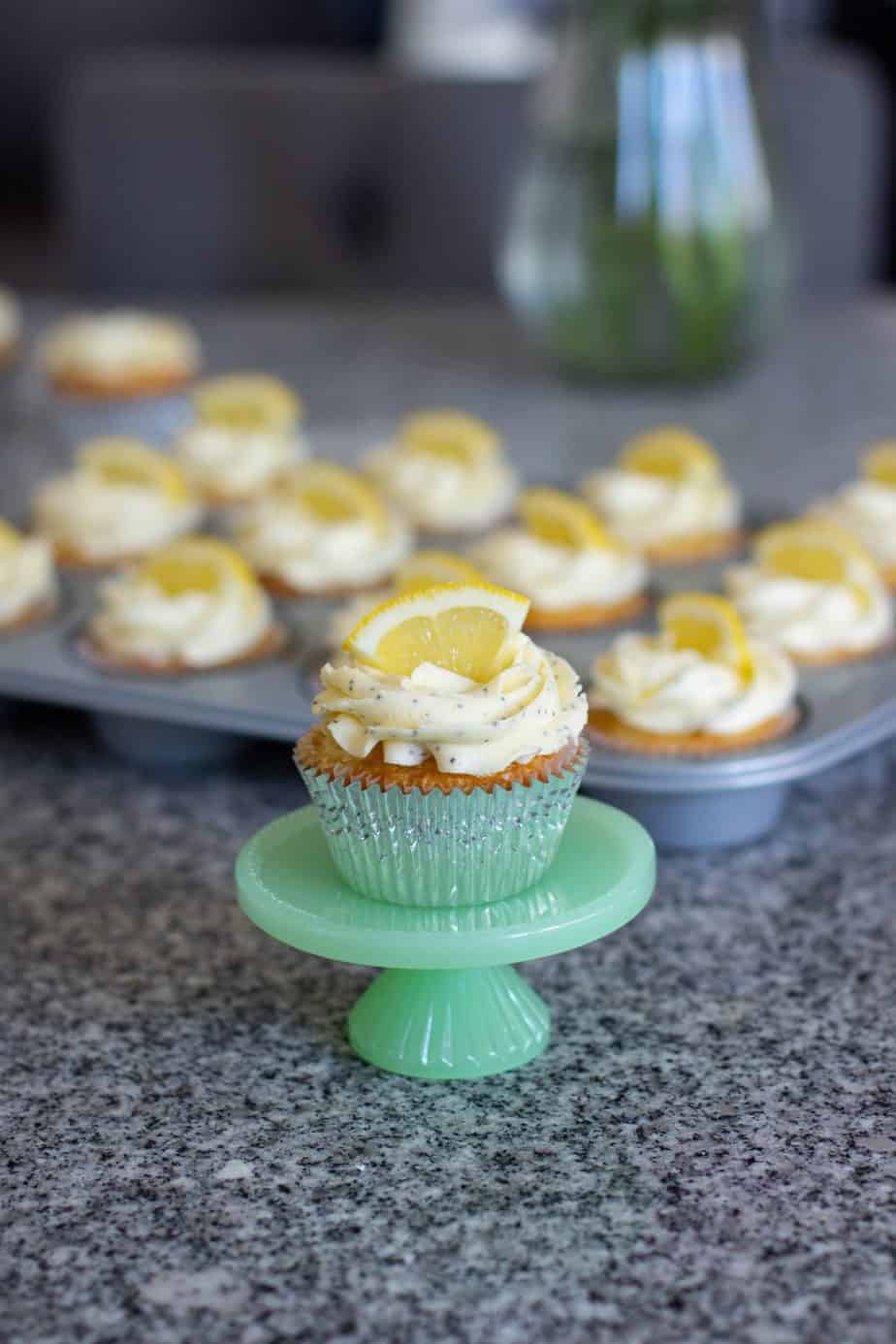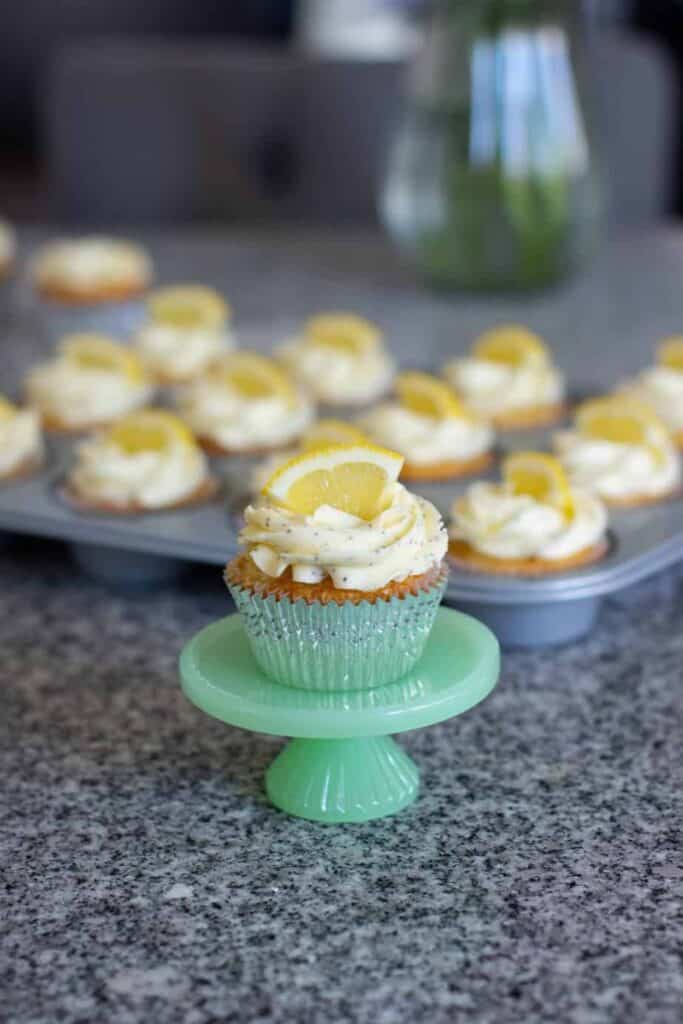 Looking for more lemony desserts?
Try these Lemon White Chocolate Chip Pudding Cookies! These Whole Lemon Bars are pretty great, too.
Don't forget about Homemade Lemonade and Kentucky Bourbon Lemonade, too!
Last but not least, this recipe makes excellent use of the Homemade Lemon Curd that I shared with you earlier in the week. If you haven't already eaten all of it with a spoon (no judgement), I highly recommend filling these cupcakes with it!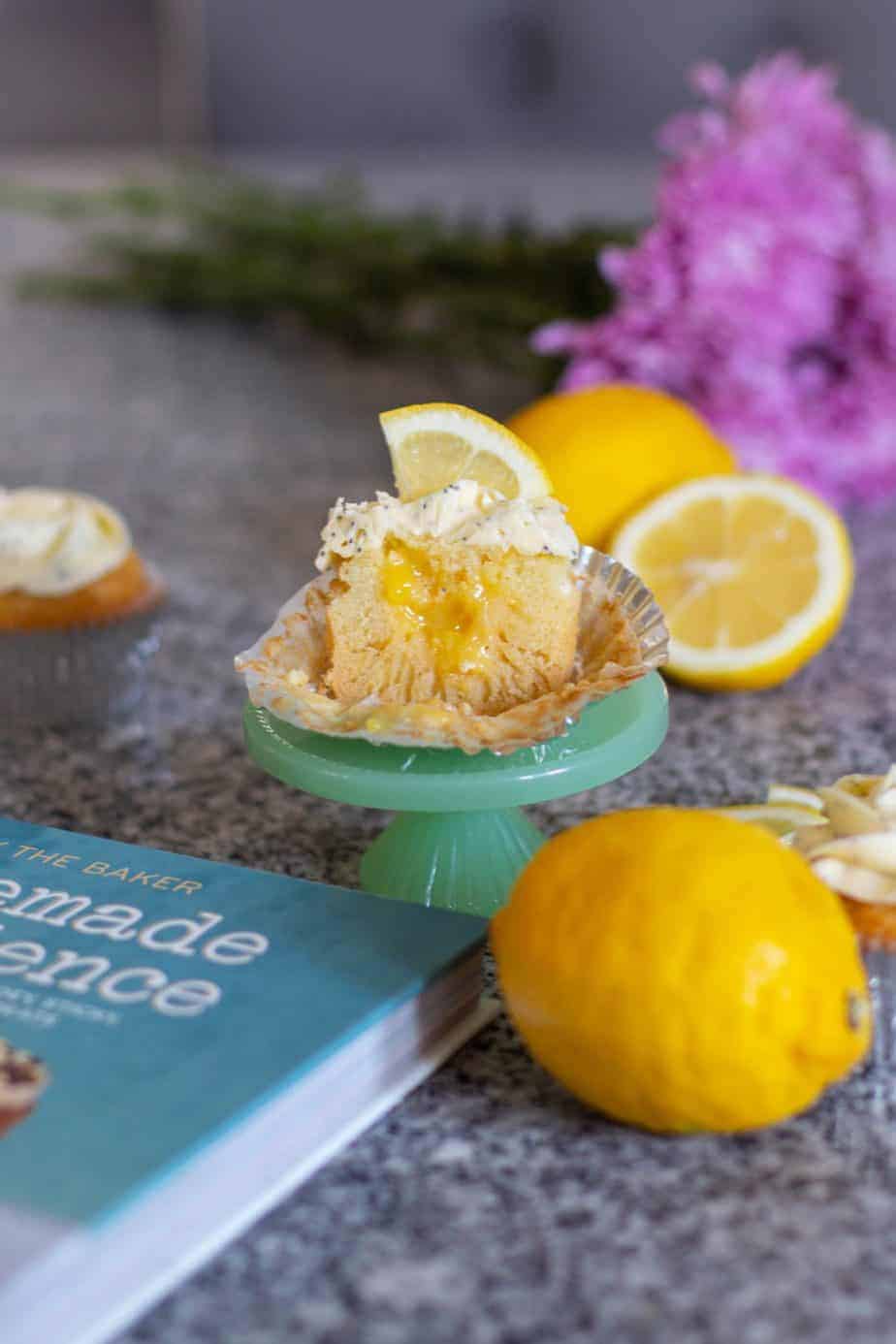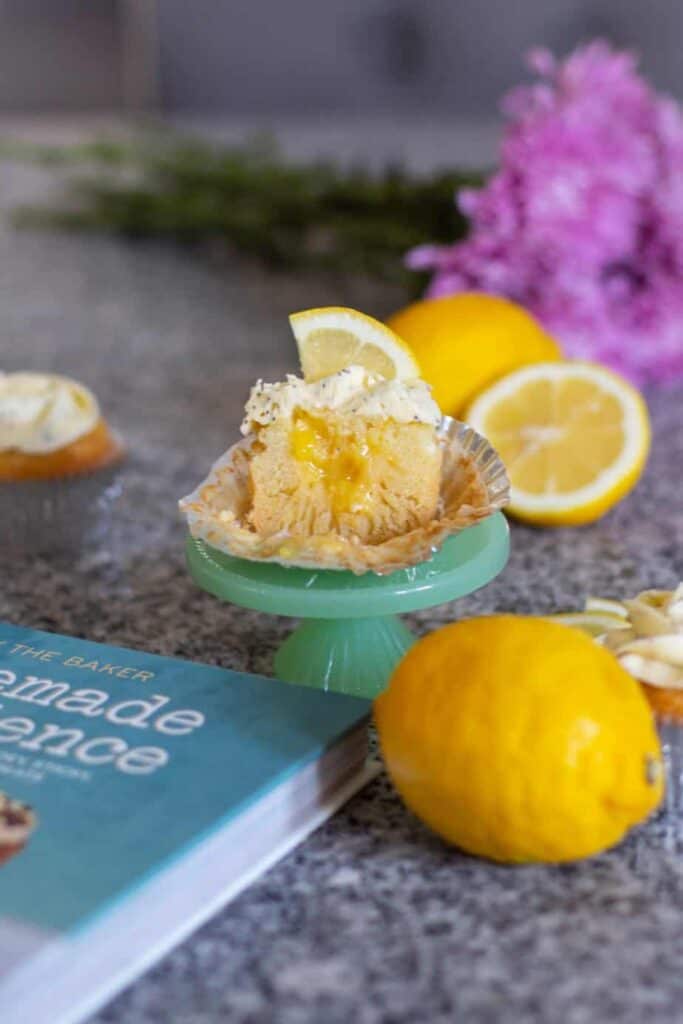 Where did the recipe(s) come from?
The yellow cake recipe comes directly from the cookbook Homemade Decadence, and the buttercream is a variation of the recipe in that book, too.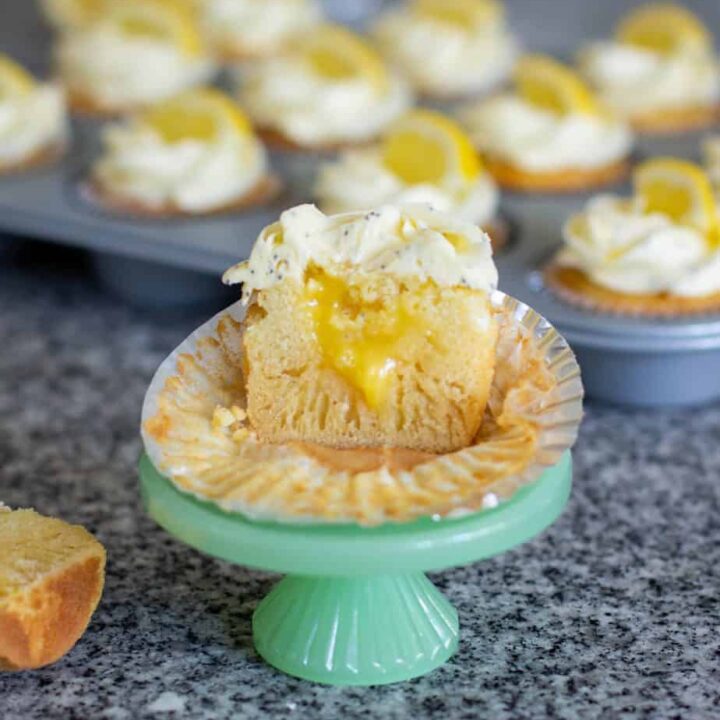 Lemon Poppy Seed Cupcakes
These Lemon Poppy Seed Cupcakes have tender yellow cake, zingy lemon curd, and sweet buttercream studded with poppy seeds. They are the perfect Springtime dessert!
Ingredients
For the cupcakes
4 cups cake flour (see notes)
2 tsp baking powder
1.5 tsp baking soda
1 tsp kosher salt
16 tbs unsalted butter, room temperature
2 cups granulated sugar
1 tbs vanilla extract
4 eggs
2 cups buttermilk
For the lemon curd
For the buttercream (makes more than you will likely need)
32 tbs unsalted butter, room temperature
5-6 cups powdered sugar
¼ tsp kosher salt
3 tsp vanilla extract
4 tbs milk or heavy cream
2 tbs poppy seeds
Instructions
To make the cupcakes
Preheat the oven to 350 degrees F. Line 3, 12 cup muffin tins with liners (or use fewer muffin tins and work in batches) and set aside.
In a medium-sized bowl, whisk the flour, baking powder, baking soda, and kosher salt together. Set aside.
In the bowl of a stand mixer, fitted with the paddle attachment, cream the butter and sugar on medium speed until it is light and fluffy.
Add the eggs, one at a time, beating to fully incorporate. Add the vanilla extract.
Next, add half of the flour mixture, and beat well. Add the buttermilk in a slow stream, and beat well. Add the remaining flour mixture and beat until just combined.
Divide the batter evenly between the 36 cups of the muffin tins. Bake for 20-25 minutes, or until the top is golden brown and a toothpick, when inserted into the center, comes out clean. Allow the cupcakes to cool in the muffin tins for 15 minutes before removing them to a wire rack and allowing them to cool completely.
To make the poppy seed buttercream
In the bowl of a stand mixer, fitted with the paddle attachment, beat the butter for a couple of minutes, or until soft.
Add 2 cups of powdered sugar, along with the kosher salt and vanilla extract. Beat on low to combine. Add another 2 cups of powdered sugar and beat to combine along with 2 tbs of the milk/cream.
Next, add the remaining 2 cups of powdered sugar and 2 tbs of milk/cream to achieve the desired consistency of frosting.
Beat on medium speed for a few minutes until the frosting is smooth and fluffy.
To assemble the cupcakes
Insert a paring knife into the top of a cupcake at a 45 degree angle. Insert the knife only about ⅔ of the way into the cupcake, so that the filling won't leak out of the bottom.
Cut a cone out of the top of the cupcake. Keep the tip of the knife inside the center of the cupcake. Rotate the cupcake while cutting around the top of the cupcake in a circle. Aim to make the hole about 1 inch wide. Pull the cone of cake out of the cupcake.
Next, cut the cone in half and discard (or eat!) the pointed part. You will use the top, flat part to plug the hole at the end.
Spoon the prepared (or store bought) lemon curd into the holes in the cupcake, filling not quite the whole way. Top with the reserved flat part of the cored out cupcake.
Frost as desired.
Notes
I've found that using cake flour (vs. all-purpose flour) really does make a difference here. When using all-purpose flour, the cupcakes can be a little dense.
The recipe for homemade lemon curd can be found here. You could also substitute your favorite store bought lemon curd.
Nutrition Information:
Yield:

36
Serving Size:

1 cupcake
Amount Per Serving:
Calories:

633
Total Fat:

18g
Saturated Fat:

11g
Trans Fat:

0g
Unsaturated Fat:

6g
Cholesterol:

72mg
Sodium:

212mg
Carbohydrates:

118g
Fiber:

0g
Sugar:

104g
Protein:

3g
What gear should you have to make these cupcakes?
Pin this recipe for later!