Last Updated on December 2, 2021 by laurenpacek
These cupcakes are so delicious
These Hot Chocolate Cupcakes are taste just like a big mug of hot chocolate! They have fudgy chocolate cake, marshmallow creme filling, and a generous swirl of whipped cream frosting!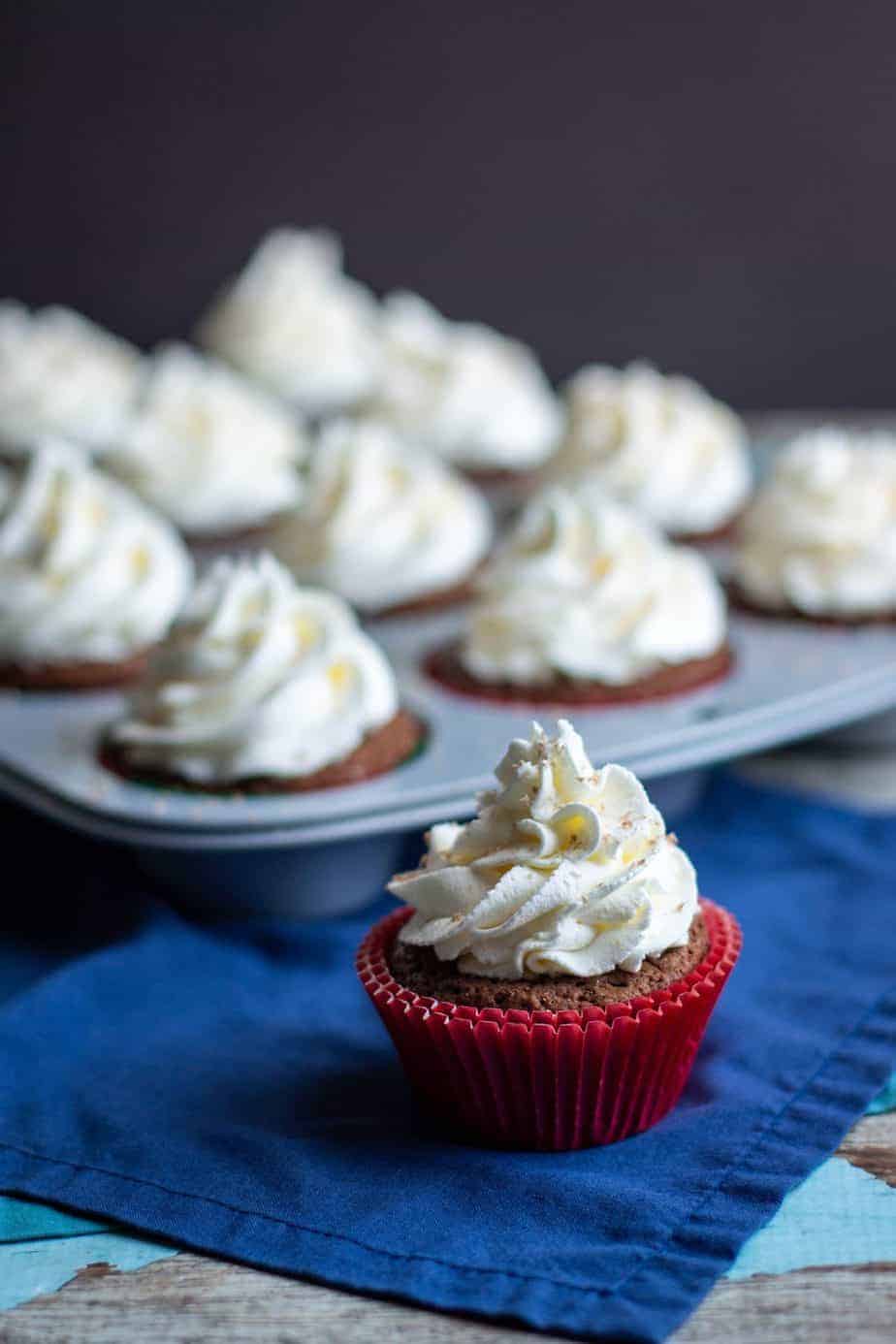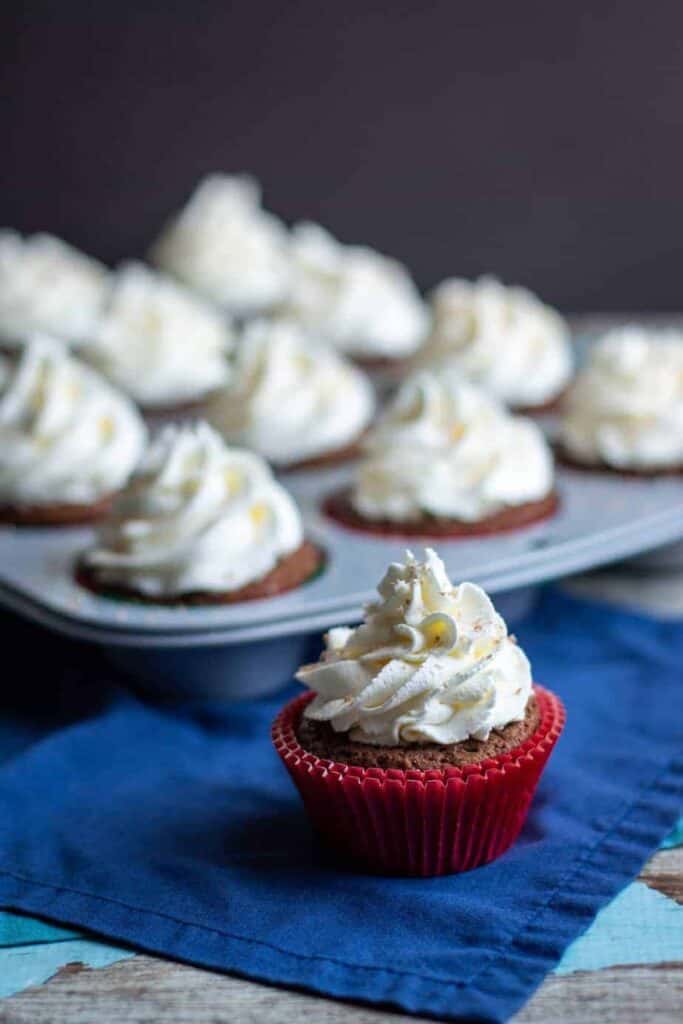 These cupcakes seriously taste like hot chocolate
And really, what could be better? At this time of year, when cold weather abounds, I'd argue that almost nothing can beat it. Except, maybe, having a mug of hot chocolate along with your hot chocolate cupcakes.
The base of these cupcakes is actually a brownie cupcake, so it's sweet and dense. And what's hot chocolate without marshmallow AND whipped cream? Almost not worth drinking, I'd argue. Or eating, in this case.
Fortunately, these cupcakes have it all!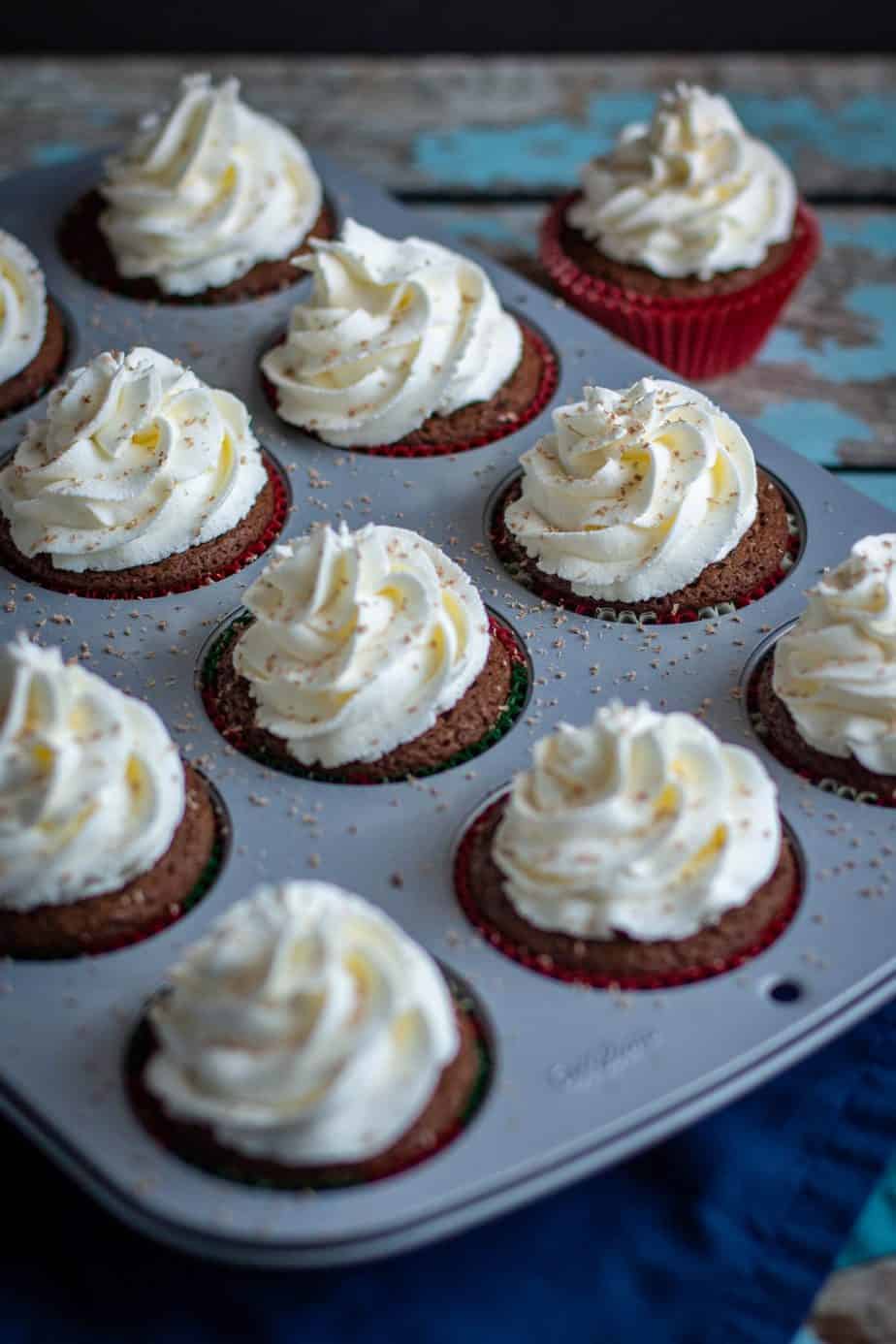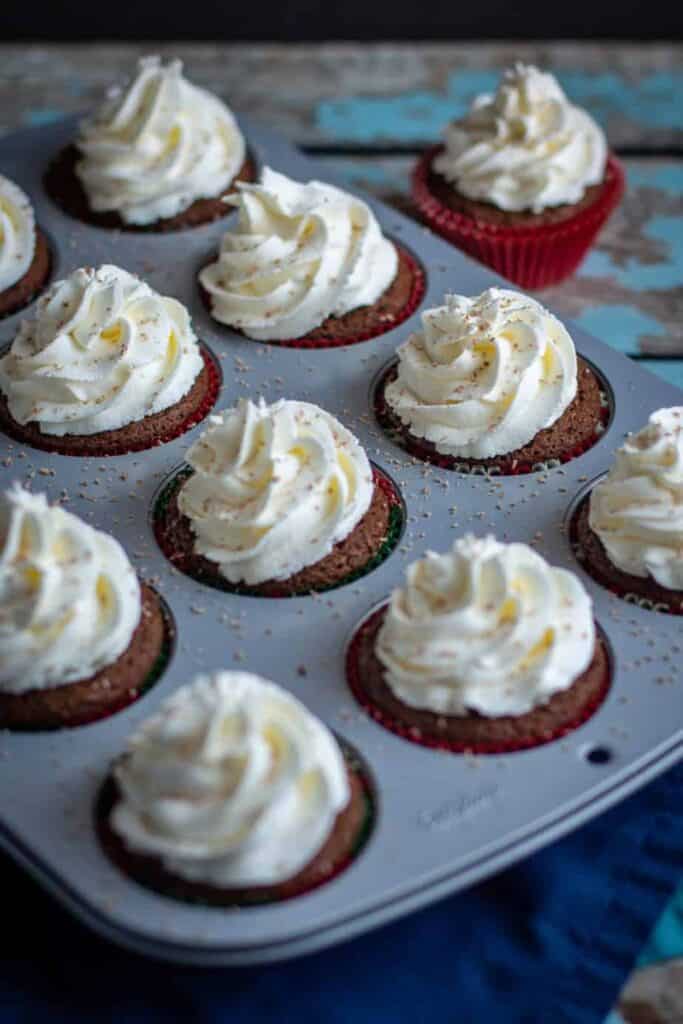 How do these cupcakes come together?
You'll start out by making some fudgy chocolate brownie cupcakes, with an important twist: you'll add hot chocolate mix right into the cupcake batter!
Once the cupcakes have cooled completely, you'll hollow them out and fill them with marshmallow creme. See the picture below--I left a couple of them unfrosted for the picture so you could get an idea. I found that putting the marshmallow creme into a piping bag (with no tip, just the end of the bag snipped off) made the cupcakes really easy to fill.
Next, you'll make an easy stabilized whipped cream frosting and frost these bad boys! I gave these cupcakes a generous, tall swirl of frosting.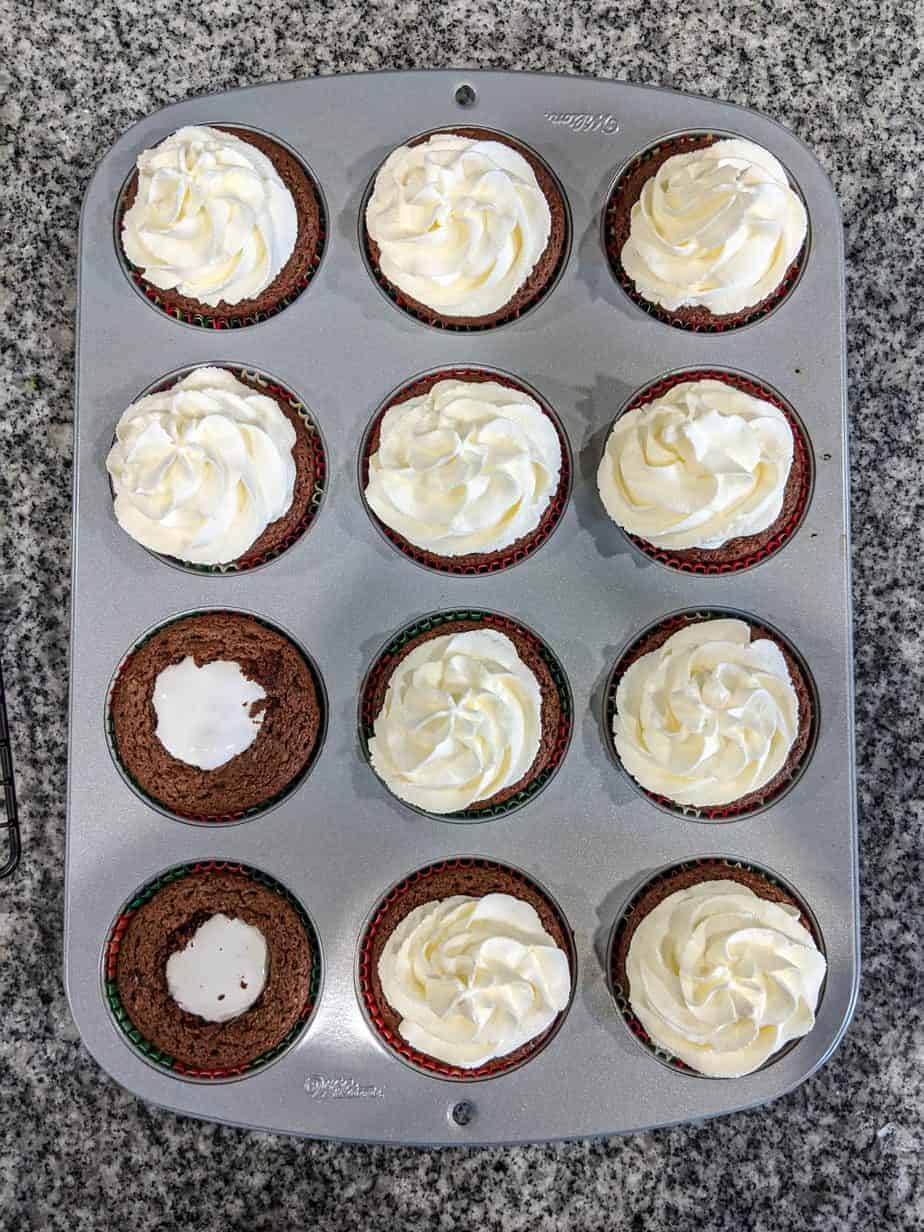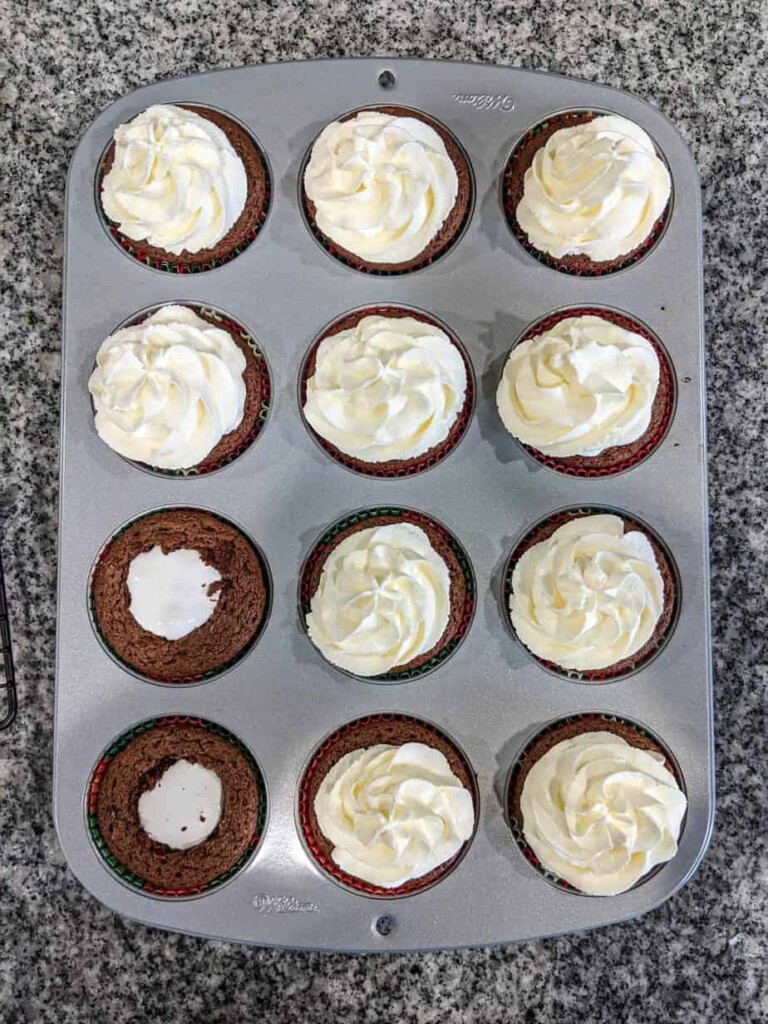 Why stabilized whipped cream?
Have you ever made whipped cream (intended to be used as frosting or otherwise), but after a while, it kind of deflated and got weepy?
Well, using unflavored gelatin to make stabilized whipped cream helps to overcome these issues. It will stay basically the same way you piped it without deflating or starting to get watery.
Show us a cross-section of the cupcake!
I took a quick photo after taking a big bite of this cupcake while in my office the other day. It's not the best quality photo, but you can see the marshmallow creme in the middle.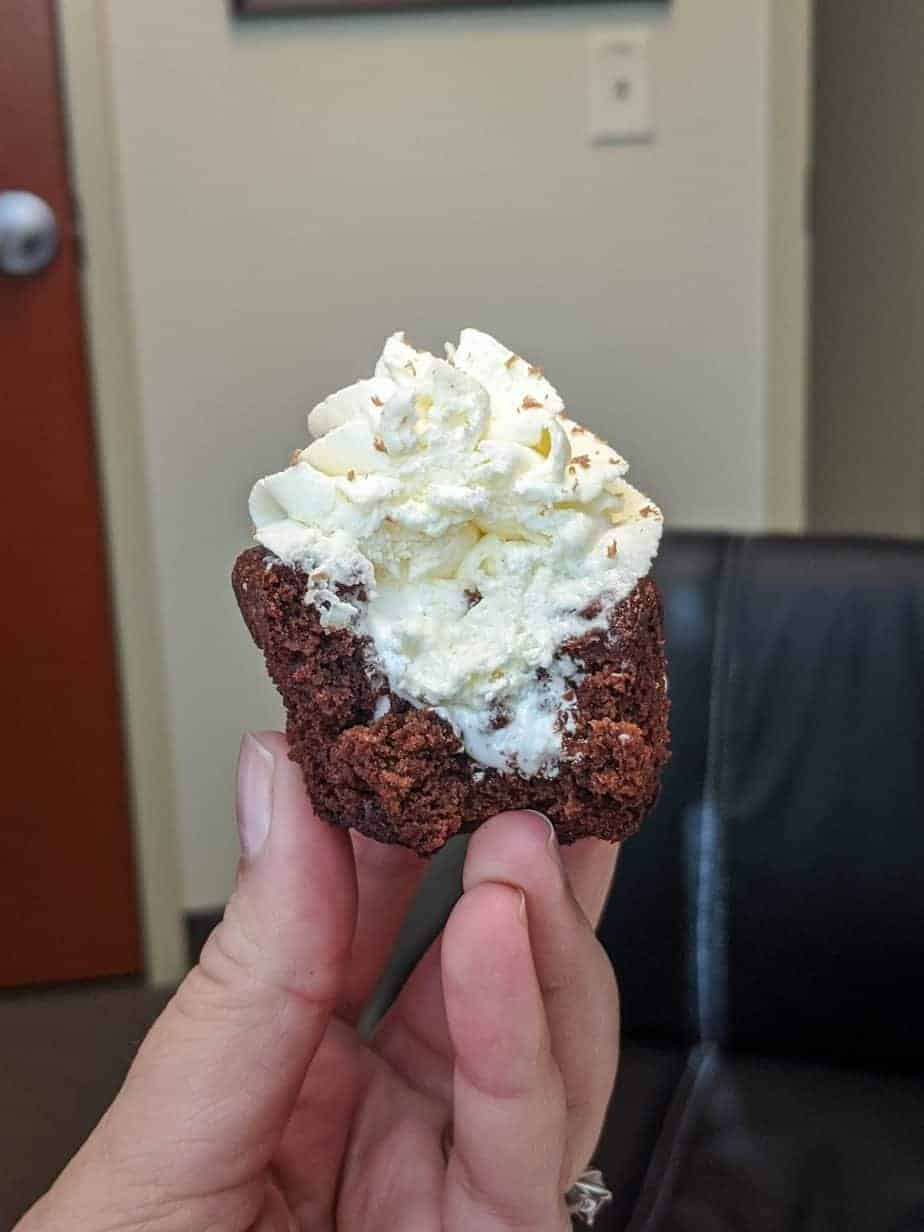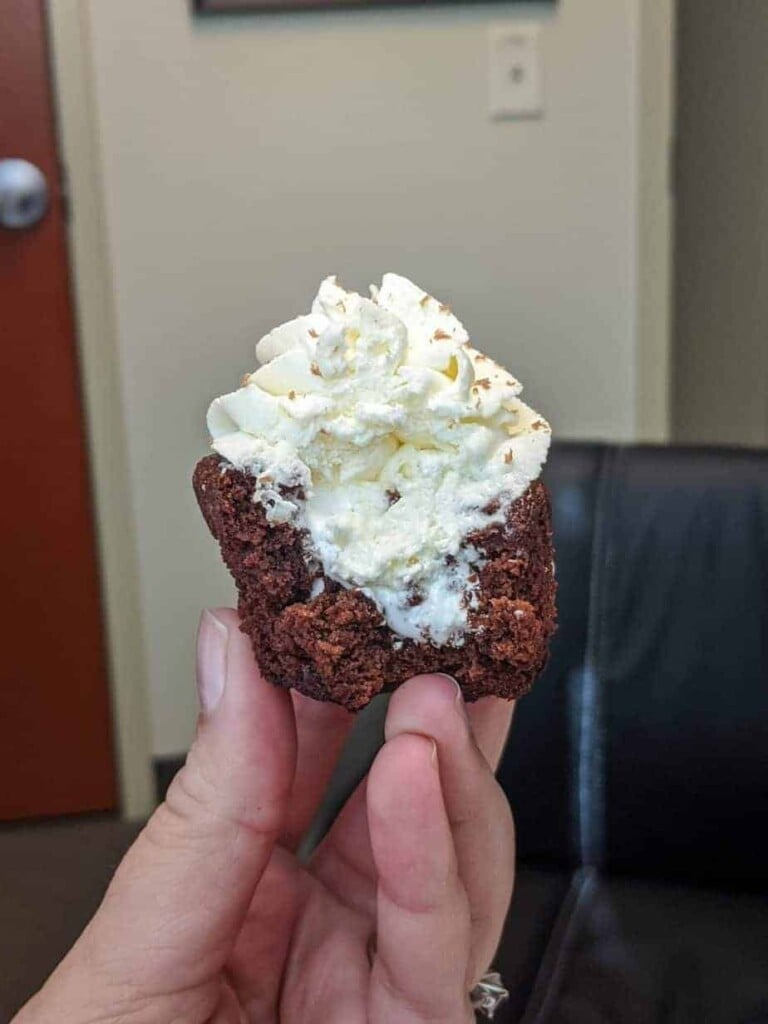 Interested in other hot chocolate-y recipes?
Check out these Hot Chocolate No Bake Cookies!
And please, let's not forget about my Perfect Hot Chocolate or Red Wine Hot Chocolate.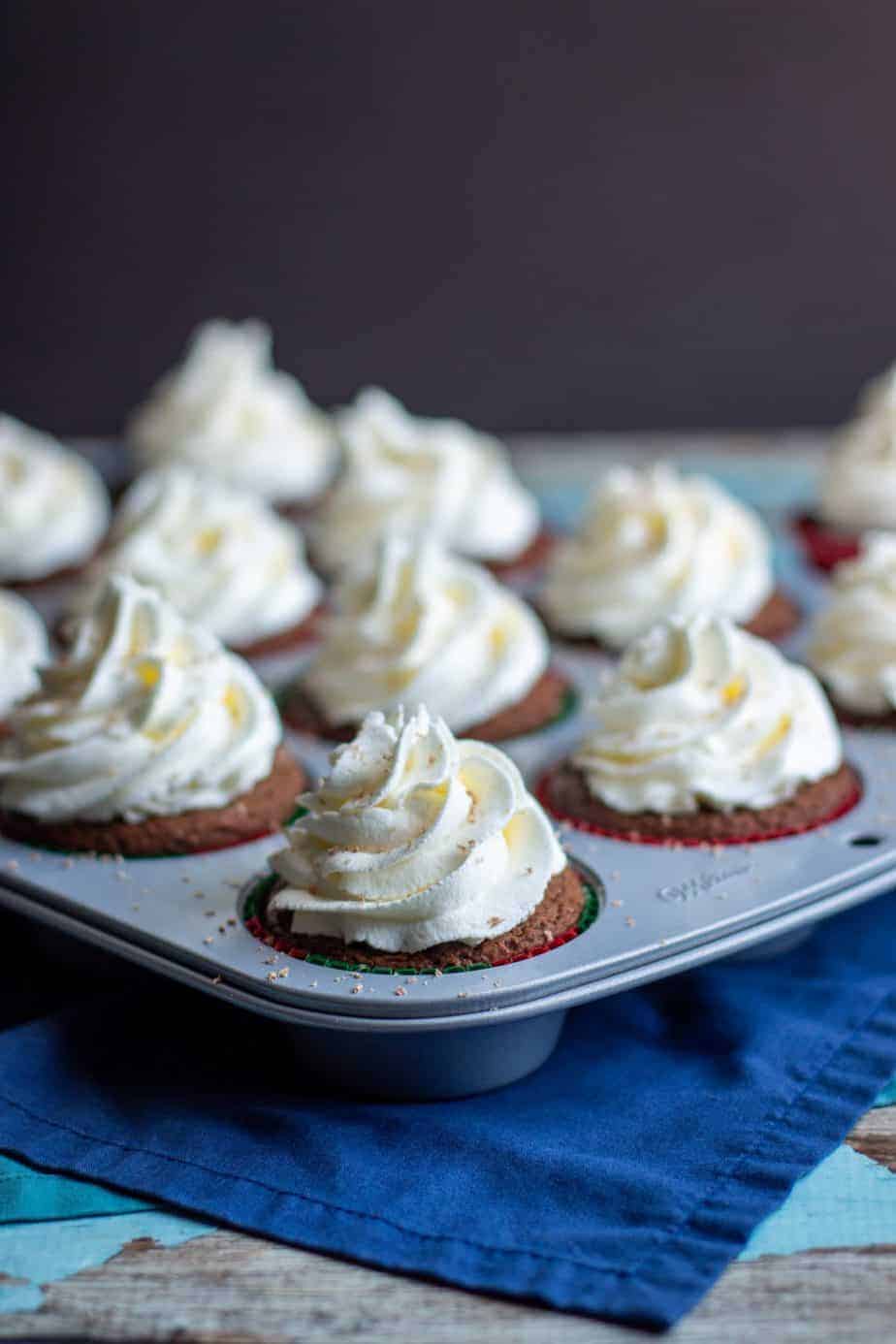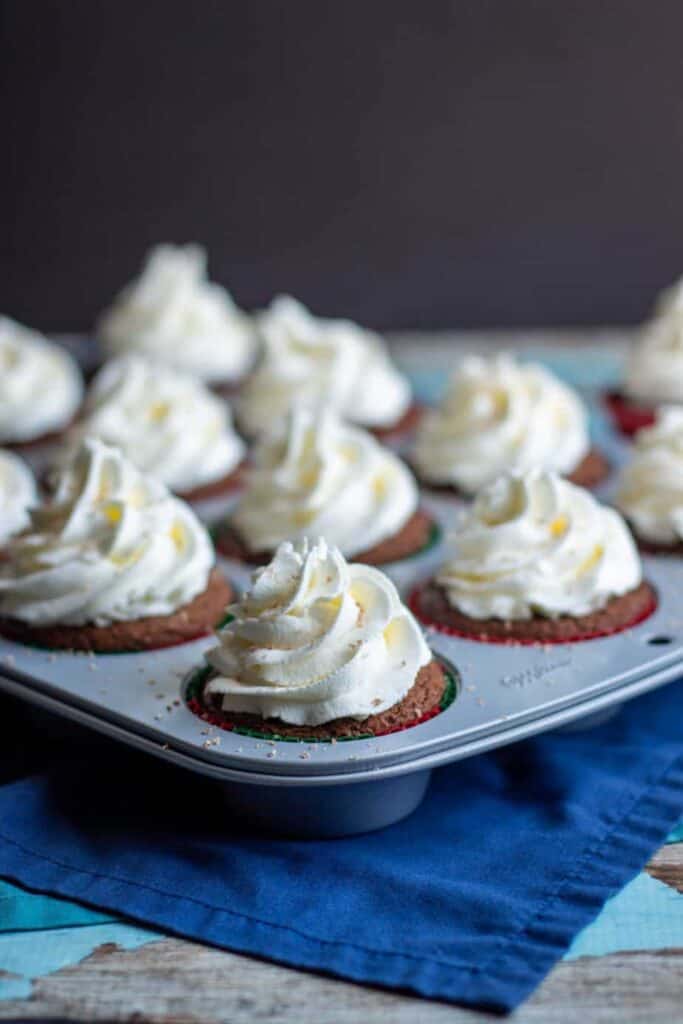 What inspired this recipe?
The cupcake base is a slight variation on the Double Chocolate Brownie Cupcakes I've showed you before. Live Well Bake Often has a great tutorial and recipe for stabilized whipped cream.
The combination of the two + the marshmallow creme came from my food brain.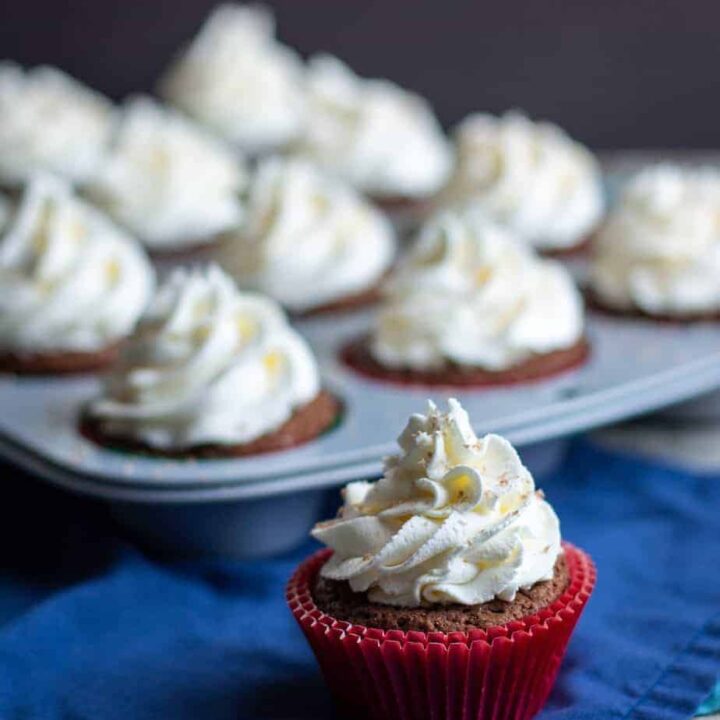 Hot Chocolate Cupcakes
These Hot Chocolate Cupcakes are taste just like a big mug of hot chocolate! They have fudgy chocolate cake, marshmallow creme filling, and a generous swirl of whipped cream frosting!
Ingredients
For the cupcakes
16 tbs butter, softened and cut into chunks
8 oz semisweet chocolate, roughly chopped
1 cup light brown sugar, packed
2 packets hot chocolate mix, approximately .7 oz each
4 large eggs
1 cup all-purpose flour
1 tsp kosher salt
¼ tsp baking powder
7 oz marshmallow fluff
For the stabilized whipped cream frosting
8 tsp water
2 tsp unflavored gelatin
2 cups whipping cream, very cold
½ cup powdered sugar
chocolate shavings, for garnish
Instructions
To make the cupcakes
Preheat the oven to 350 degrees F. Line a muffin tin with paper or foil liners and set it aside.
Put the softened butter and chopped chocolate in a heat-proof bowl over a saucepan of simmering water.
Stir the butter and chocolate together until they are completely melted and combined.
Whisk the brown sugar, vanilla extract, and hot chocolate mix into the chocolate and butter. Remove the bowl from the heat, set it aside, and allow it to cool slightly.
After the chocolate mixture has cooled slightly, whisk in the eggs one at a time, making sure that they are each thoroughly combined before adding another.
Whisk in the flour, salt, and baking powder.
Divide the batter among the prepared muffin tins.
Bake for 20-25 minutes, or until a toothpick, when inserted into the center, comes out mostly clean.
Allow the cupcakes to cool in the pan for 10 minutes before removing them to a wire rack to finish cooling completely.
Once they have cooled, use a paring knife to cut out the centers of the cupcakes (be careful to not cut all the way through to the bottom). Remove the cupcake innards (snack for later!).
Fill the cupcake holes with marshmallow creme until level, or just about level, with the top of the cupcake.

To make the stabilized whipped cream frosting
Place the mixing bowl and beaters/whisk attachment in the fridge for 10-15 minutes.
Add the water to a small microwave safe bowl and sprinkle the gelatin on top. Allow it to sit for a few minutes.
Transfer the gelatin mixture to the microwave and microwave until the gelatin is fully dissolved, this will only take 10-15 seconds. Stir the mixture, then set it aside to cool slightly.
In the refrigerated bowl of a stand mixer fitted with the whisk attachment (or in a large mixing bowl, using an electric mixer) combine the heavy whipping cream, powdered sugar, and vanilla extract.
Whip the cream until it starts to thicken and soft peaks form. Turn the mixer to low speed.
Slowly pour the gelatin mixture in until it is well combined. Increase the mixer to medium speed and continue mixing until stiff peaks form.
To assemble the cupcakes
Pipe the whipped cream frosting onto the prepared cupcakes.
Garnish the cupcakes with shaved chocolate, if desired.



Nutrition Information:
Yield:

16
Serving Size:

1
Amount Per Serving:
Calories:

424
Total Fat:

28g
Saturated Fat:

17g
Trans Fat:

1g
Unsaturated Fat:

9g
Cholesterol:

111mg
Sodium:

226mg
Carbohydrates:

42g
Fiber:

1g
Sugar:

31g
Protein:

5g
What gear will I need to make these cupcakes?
Pin this recipe for later!