Last Updated on February 21, 2021 by laurenpacek
Chocolate + peanut butter = a match made in heaven
These Chocolate Cupcakes with Peanut Butter Buttercream are nothing short of delicious. This flavor combination is a classic for a reason.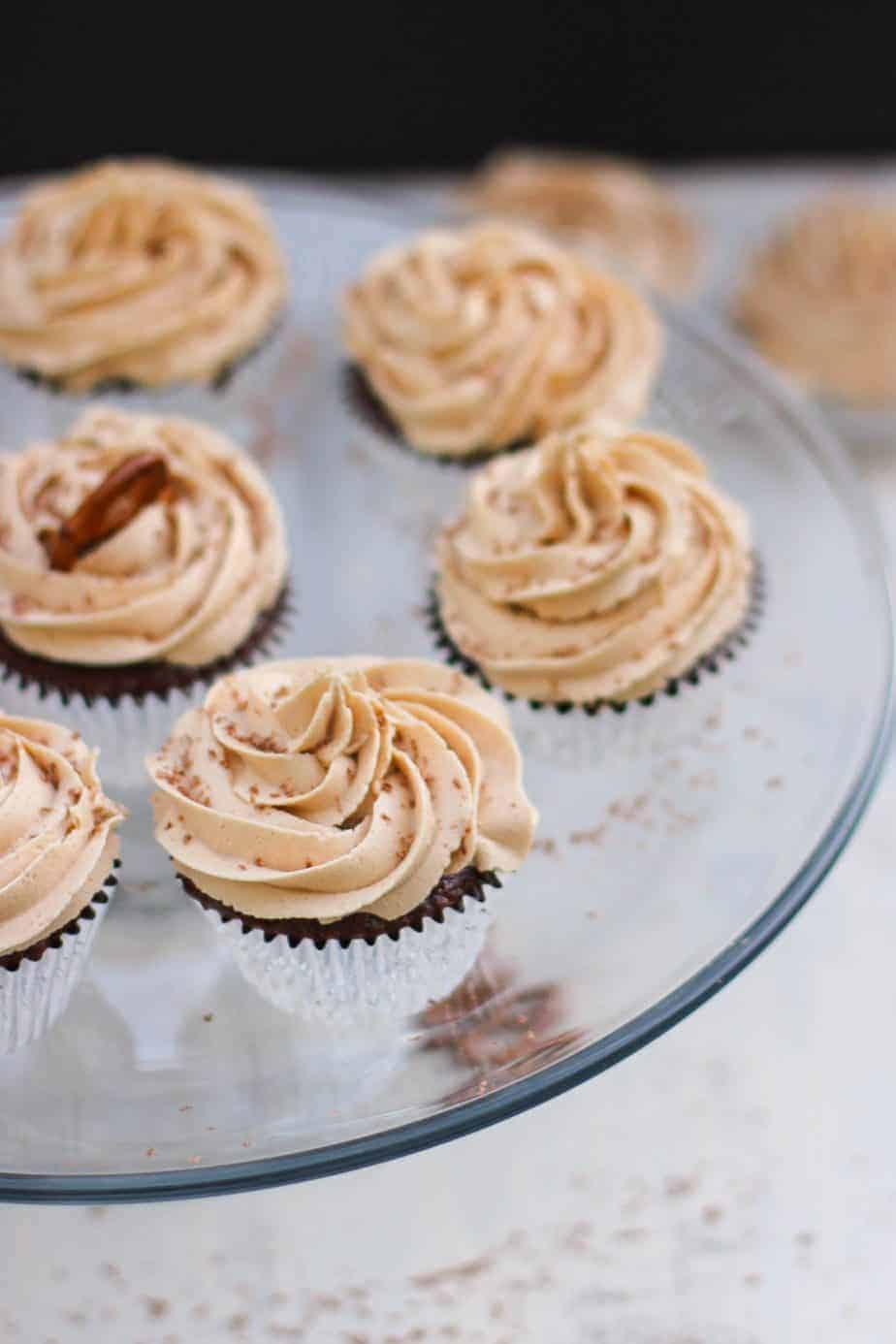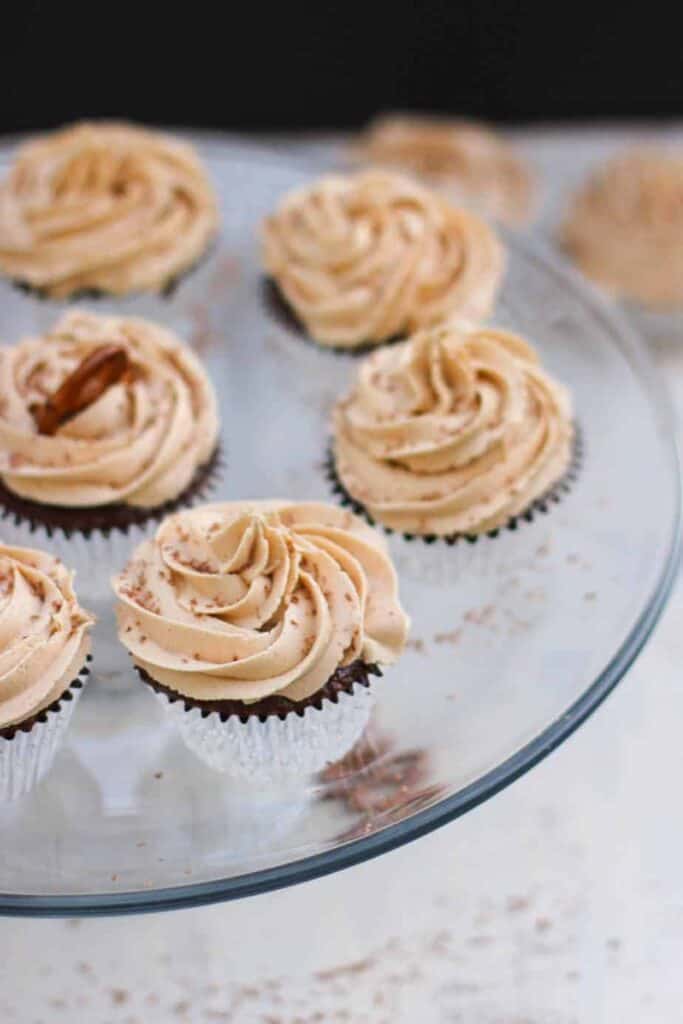 These cupcakes are bonkers good.
To paraphrase the late Anthony Bourdain: These cupcakes definitely don't suck.
In fact, I'm slightly obsessed with these cupcakes. Not only are they delicious, but I think they look pretty, too! I finally bit the bullet and decided to try to use a piping bag! Not a professional job, by any means, but I think they don't look too shabby.
Using a piping bag was actually one of the "resolutions" I discussed at the beginning of 2014 in my post about Butternut Squash and Kale Salad. Since I baked these at the end of December, it still counts as having fulfilled that resolution.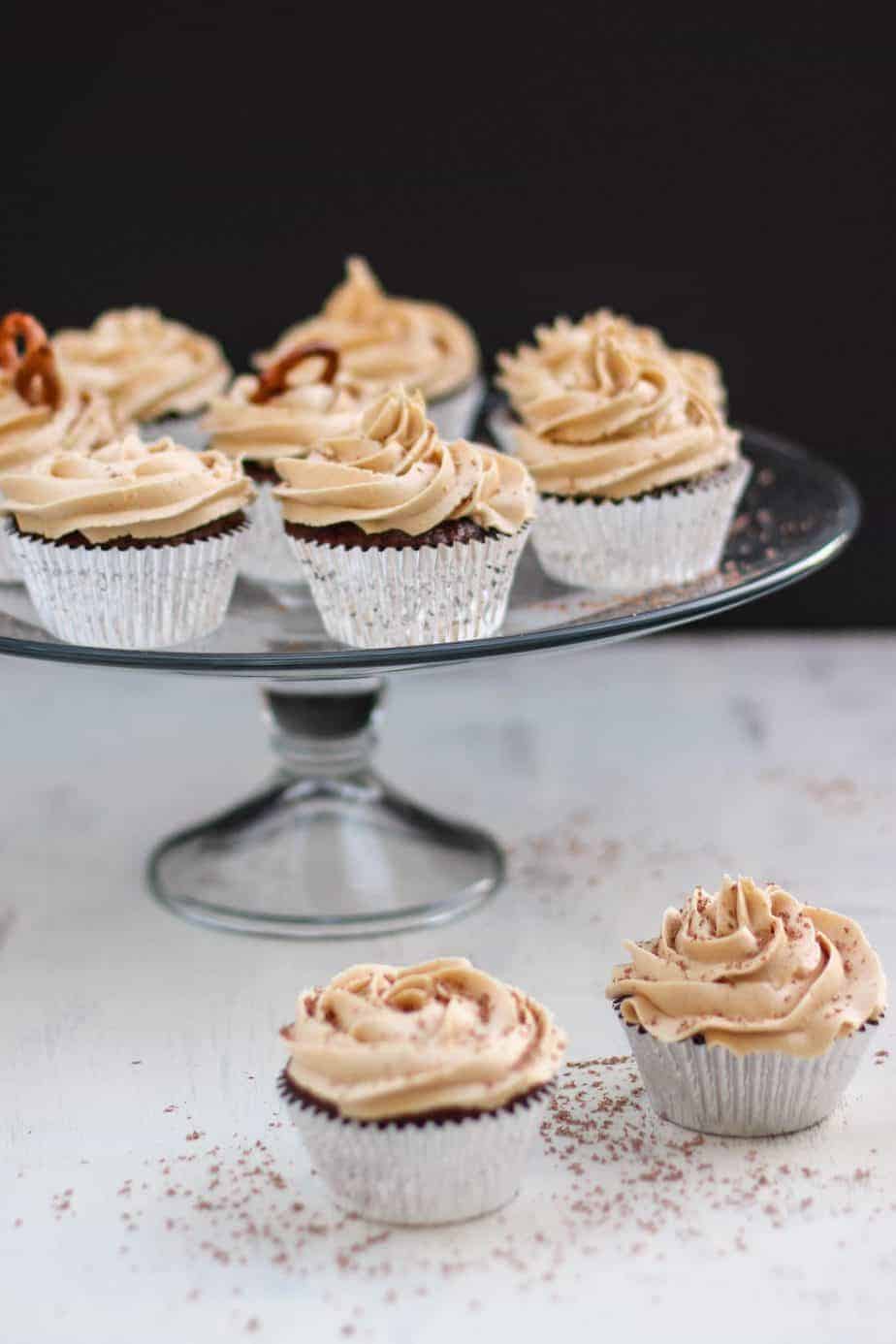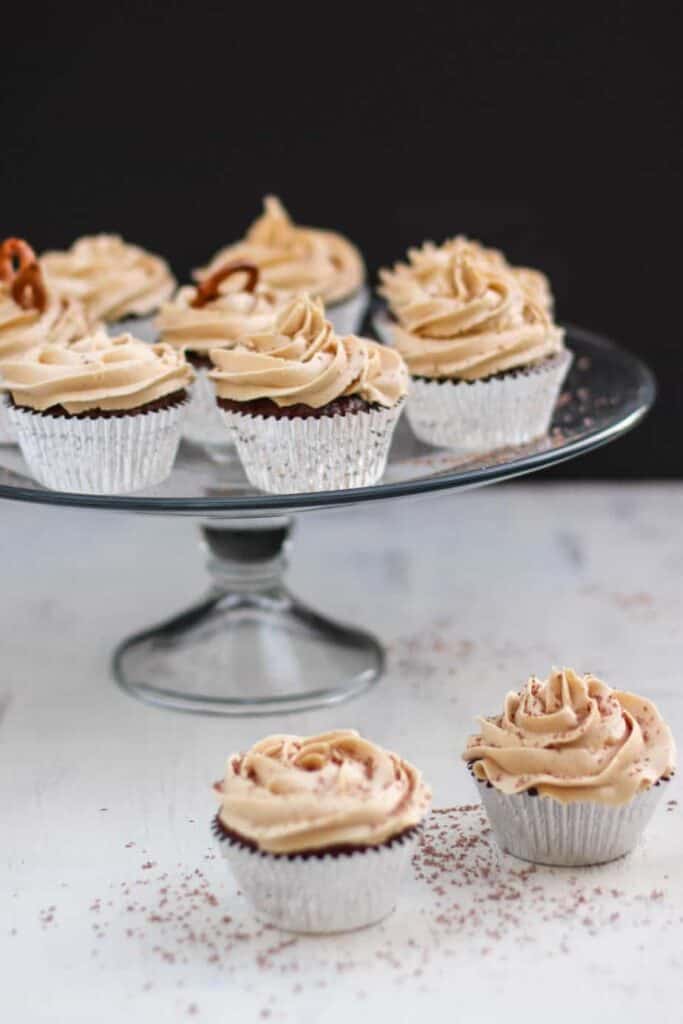 Once I frosted them, it was getting to be a little late in the day and the light was starting to fade in my kitchen. I actually ended up photographing these on my back deck on new year's eve. I set up on the table beside our charcoal grill and got to shooting. Not sure if anyone saw me out there...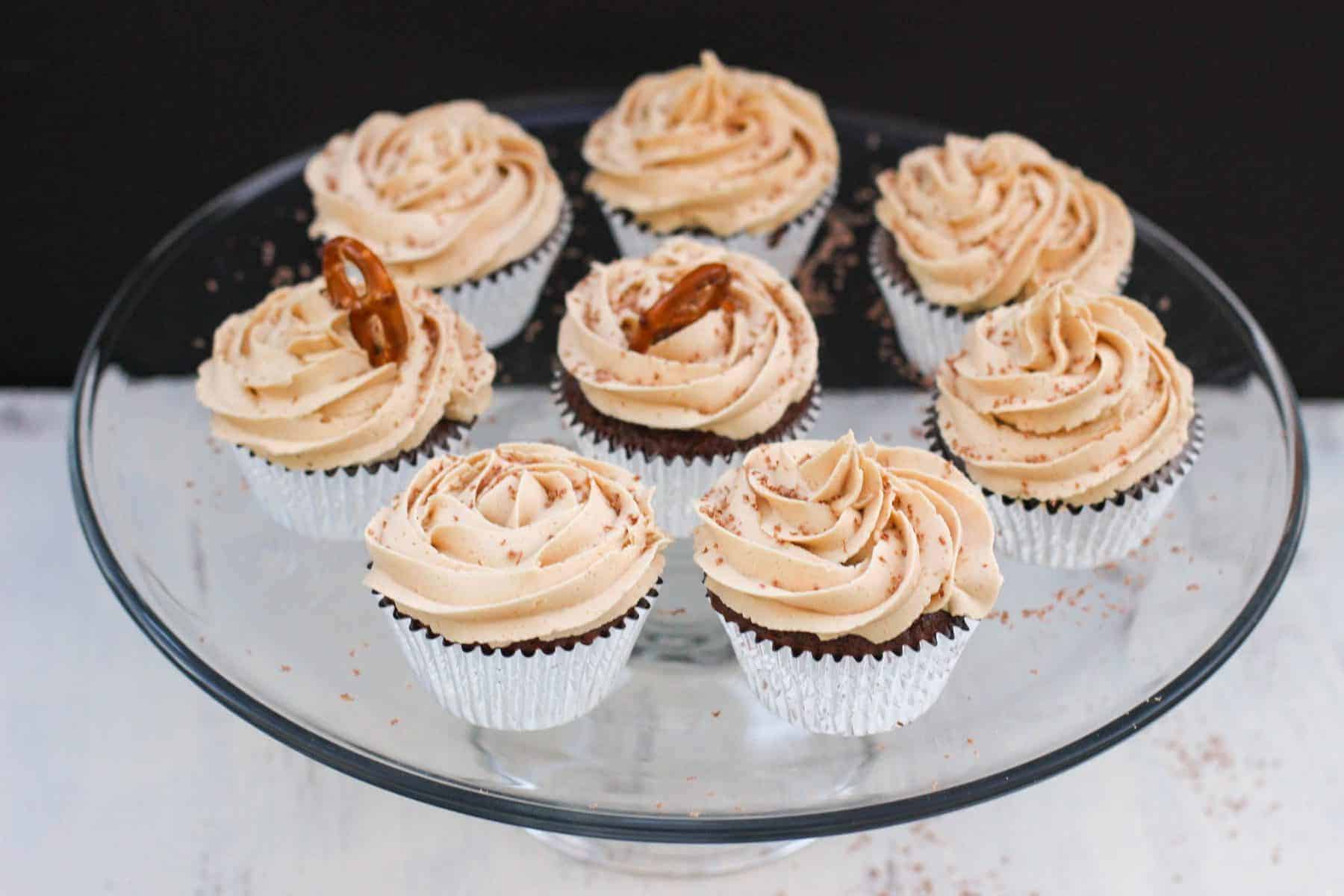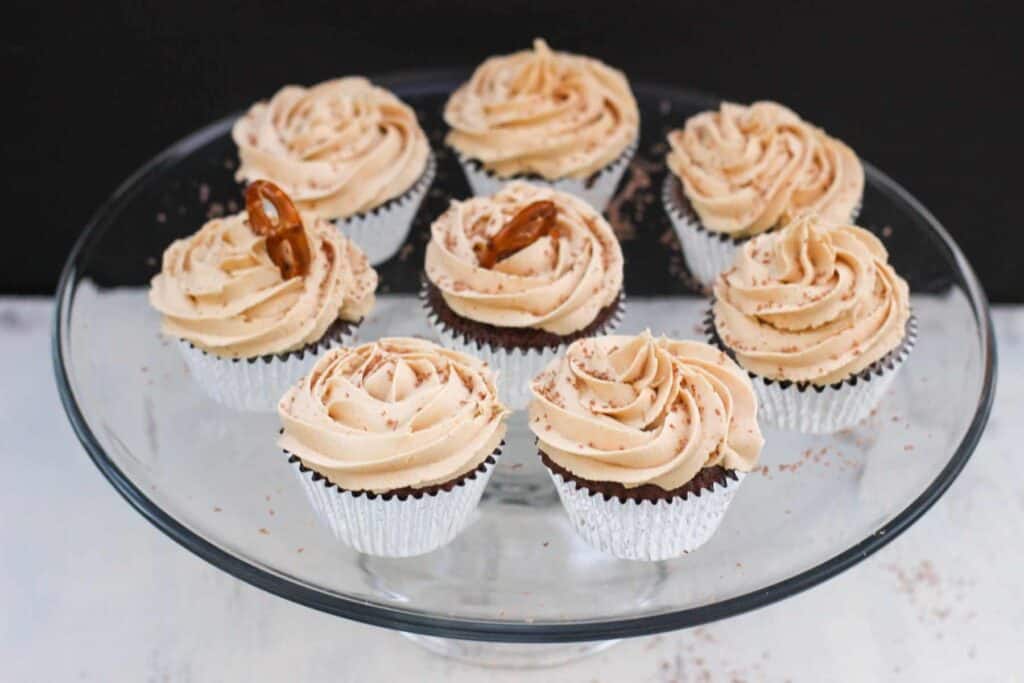 Need more chocolate and/or peanut butter goodness?
Need more chocolate? This Double the Chocolate Cake is 10/10.
How about PB? Try these Peanut Butter and Jelly Bars!
Want them together? What about this Almost No Bake Chocolate Peanut Butter Pie? Don't forget about this Peanut Butter Marshmallow Pie with Pretzel Crust, either. There's this Peanut Butter Cheesecake with Dark Chocolate Ganache, too.
What inspired this recipe?
Both the cake and frosting recipes come from Joy the Baker's cookbook, Homemade Decadence.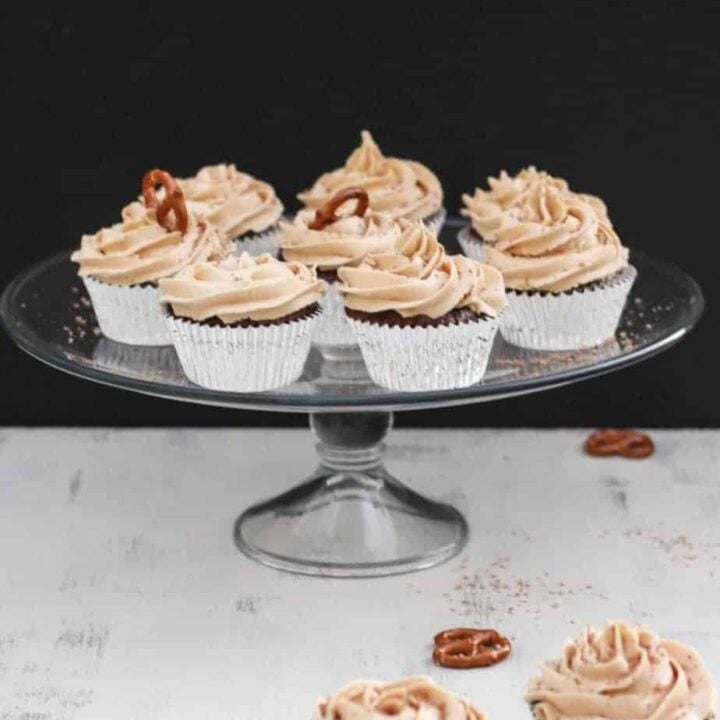 Chocolate Cupcakes with Salted Peanut Butter Buttercream
Ingredients
For the chocolate cupcakes
3 cups cake flour
¾ cup unsweetened cocoa powder
2 tsp baking powder
1 ½ tsp baking soda
1 tsp salt
16 tbs unsalted butter, room temperature
1 ½ cups light brown sugar, packed
1 ½ cups granulated sugar
4 eggs, room temperature
1 tbs vanilla extract
2 cups buttermilk
For the salted peanut butter buttercream frosting 
32 tbs unsalted butter, room temperature
1 ½ cups smooth peanut butter
½ tsp kosher salt
1 tbs vanilla extract
6-7 cups powdered sugar
3-4 tbs heavy cream or milk
Instructions
To make the cupcakes
Preheat the oven to 350 degrees F. Line two muffin tin with liners. Set aside.
In a medium bowl, whisk the flour, cocoa powder, baking powder, baking soda, and kosher salt together. Set aside.
In the bowl of a stand mixer fitted with the paddle attachment, beat the butter and sugars together on medium speed for 3-4 minutes. Add the eggs, one at a time, beating for a minute or so after adding each egg. Add the vanilla extract.
Lower the speed of the mixer to low, add half of the flour mixture, and beat until it is well-incorporated. Slowly stream in the buttermilk until it is all combined. Add the remaining flour mixture and beat until it is just combined. Finish stirring everything with a spatula, if necessary.
Fill the liners ⅔ of the way full. Bake for 20-25 minutes, or until a knife/toothpick, when inserted into the center of the cupcake, comes out clean.
Allow the cupcakes to cool for 10 minutes in the pan, then remove and place them on a wire rack to finish cooling completely.
To make the frosting
Using a stand mixer fitted with the paddle attachment, beat the butter on medium speed until it is softened (about 1 minute).
Add the peanut butter, salt, and vanilla extract and beat well.
Add 2 cups of the powdered sugar and beat on low until well combined.
Add another 2 cups of sugar along with 3 tbs of heavy cream/milk. Beat until combined.
Add the remaining 2-3 cups of sugar (depending on your desired consistency) and remaining cream/milk and beat until the frosting reaches the desired thickness.
Beat on medium speed until the frosting is smooth and fluffy (about 4 minutes).
Once the cupcakes have cooled completely, frost them.
Nutrition Information:
Yield:

24
Serving Size:

/1
Amount Per Serving:
Unsaturated Fat:

0g
What gear should I have on hand to make these cupcakes?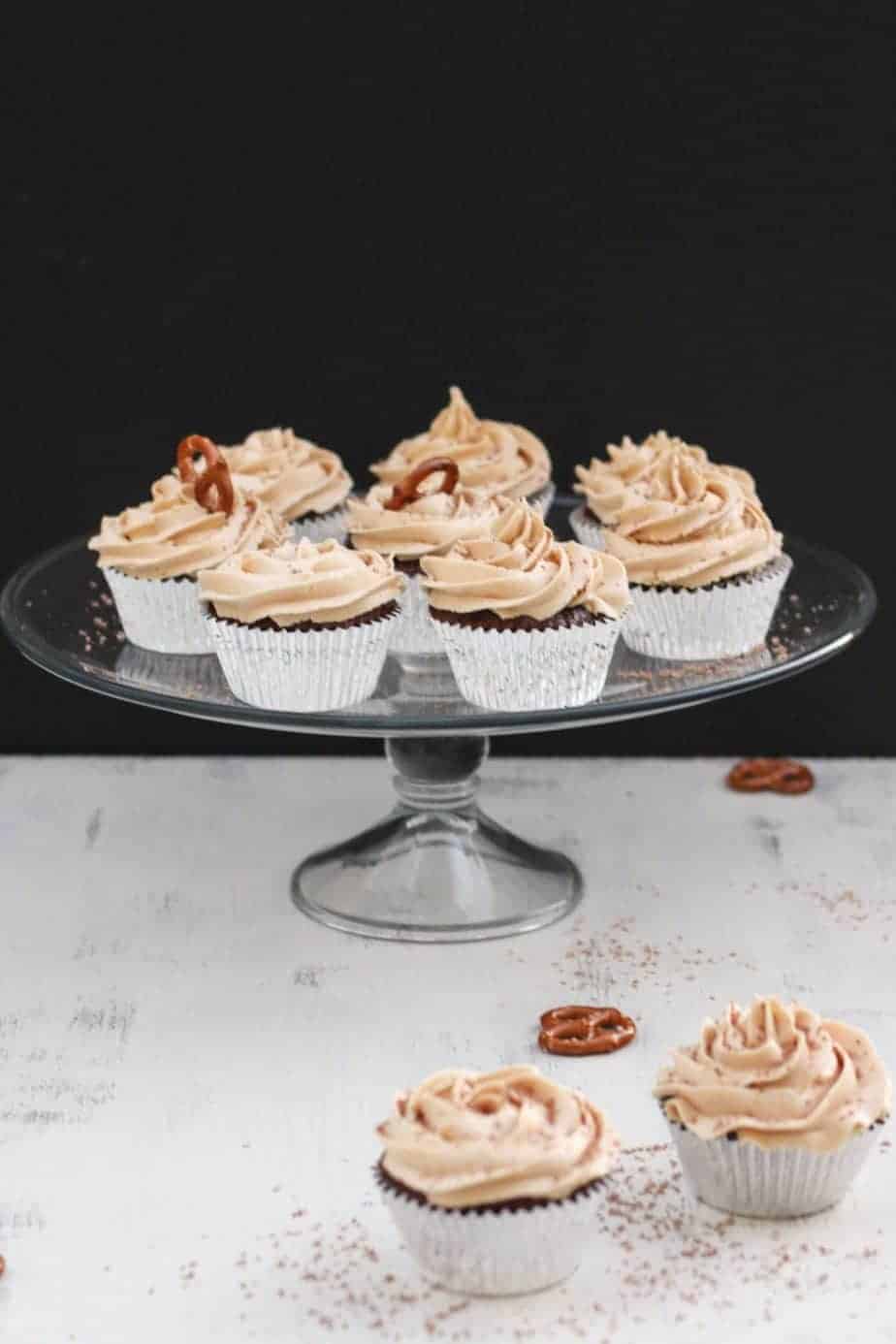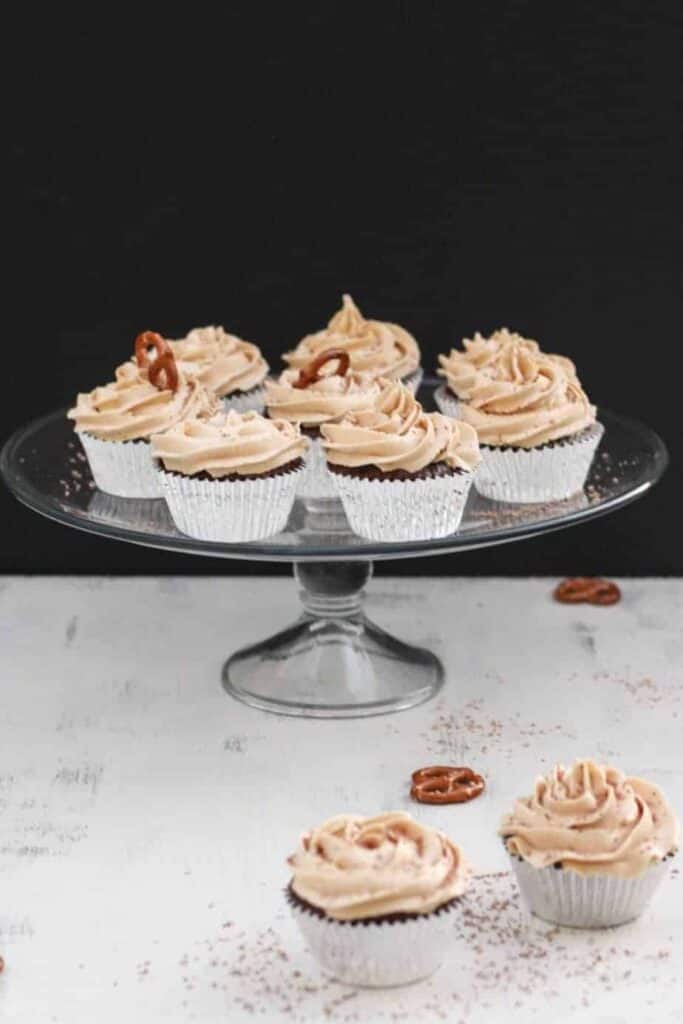 Pin this recipe for later!