These Grilled Mezcal Margaritas are equal parts sweet, tart, and smoky. Honey syrup lends a pleasant sweetness, the grilled lemon juice is tart and complex, and the mezcal adds a boozy smokiness.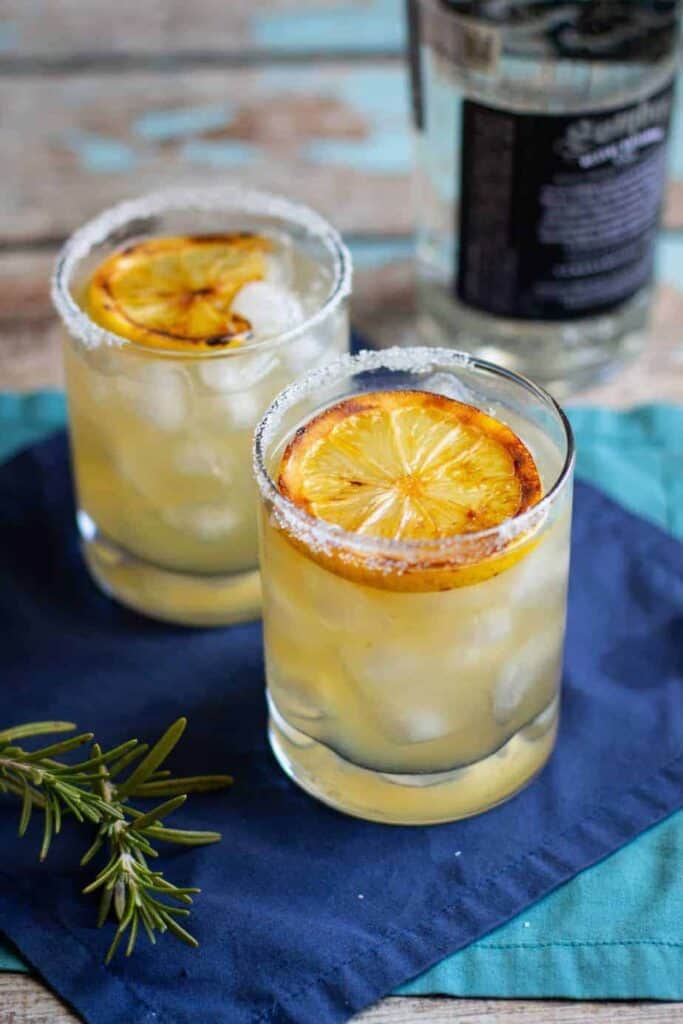 These margaritas are easy to make & require a handful of ingredients!
Our good friends gave us the book The One Bottle Cocktail: More than 80 Recipes with Fresh Ingredients and a Single Spirit as a Christmas gift. Let it be known that I am by no means averse to mixing up a somewhat complicated drink. However, it can be a little annoying when all you want is a quick cocktail and don't want to have to drag out every bottle in your bar. This cookbook is great for that reason: you only need a single bottle of booze for every recipe.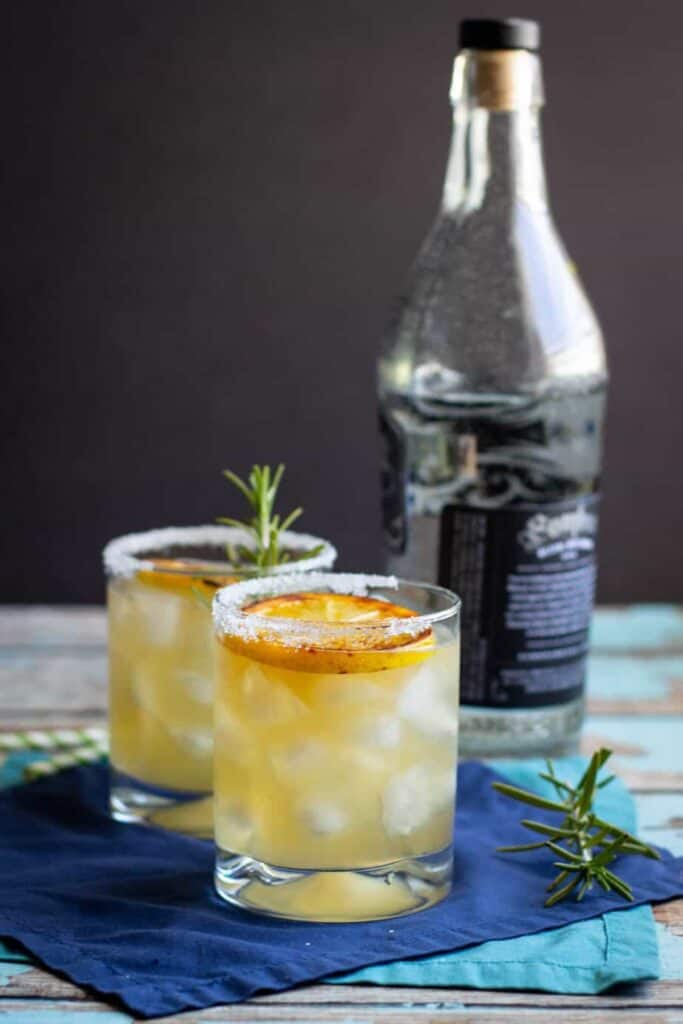 Have you ever grilled fruit for a margarita?
One recipe that caught my eye when first flipping through the book was Grilled Margaritas. I love margaritas. You know that if you've spent some time on this blog. First, there were Apple Cider Margaritas (great for Fall!), then Pomegranate Margaritas, and most recently, I showed you Cara Cara Orange Margaritas. Anyway, I thought that a grilled marg could be a fun twist on this already tasty drink.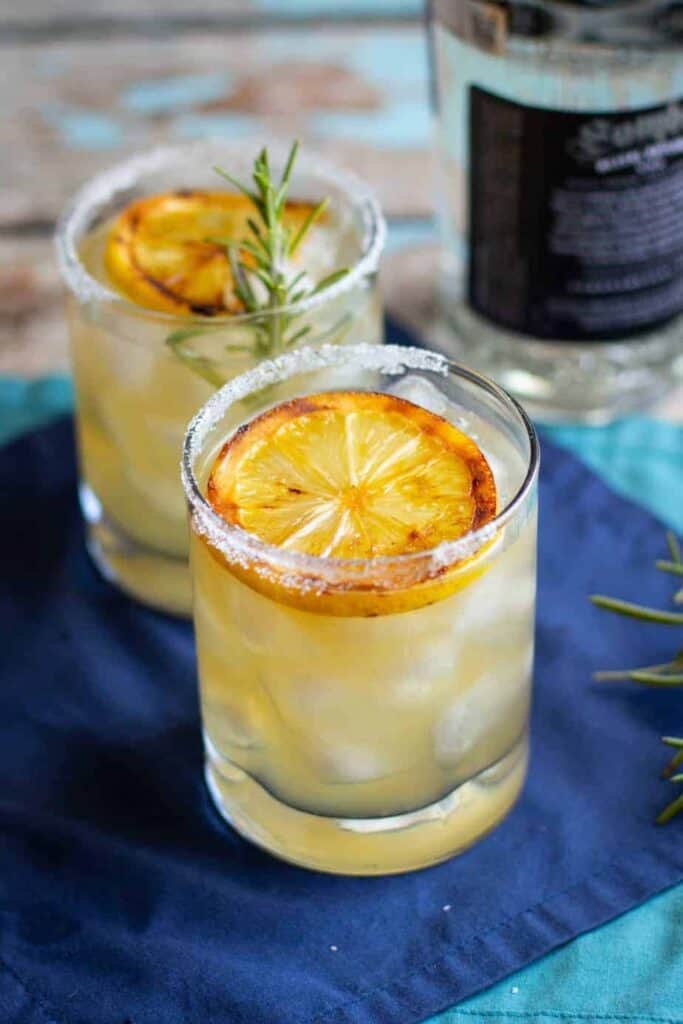 Mezcal can be an interesting substitute for tequila.
On top of that, I recently picked up a bottle of mezcal that I was eager to play with. If you aren't familiar with it, mezcal is sort of similar to tequila in that they are both distilled from agave. However, mezcal is much smokier than tequila. I've seen the following comparison used to help highlight the difference: mezcal is to tequila as scotch it is to whiskey. Does that make sense?
Given its similarities to tequila, along with the already smoky grilled fruit, mezcal was a logical choice for this margarita. These mezcal margaritas are modified from a recipe found in the cookbook The One Bottle Cocktail.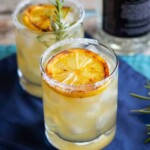 Grilled Mezcal Margaritas
Cuisine:
American, Mexican
Ingredients
For the honey syrup (makes more than needed)
1/2

cup

honey

1/4

cup

hot water
For the grilled lemon juice and lemon wheels
2

lemons,

halved

2

lemon wheels
For the margaritas
sugar or kosher salt,

for rimming the glasses

2.5

oz

grilled lemon juice

4

oz

mezcal

1

oz

lime juice

1.5

oz

honey syrup

2

sprigs

rosemary,

for garnish
Instructions
To make the honey syrup
Combine the honey and hot water. Whisk to combine.
To make the grilled lemon juice and lemon wheels
Place the lemon halves, cut side down, on either a grill or a skillet over medium-high heat. Add the lemon wheels. Cook until the flesh of the lemons is browned. Set aside to cool.

Once cooled, juice the grilled lemon halves.
To make the margaritas
Rim two glasses with sugar or kosher salt, depending upon your preference. Add ice to the glasses. Set aside.

Add the grilled lemon juice, mezcal, lime juice, and honey syrup to a cocktail shaker with ice. Shake until very cold. Strain into the prepared glasses.

Add a grilled lemon wheel to each glass. Garnish with a sprig of fresh rosemary.
Recipe Notes
Notes: Meyer lemons would be great in this cocktail, too. 
Looking for more margarita recipes?
Of course you are. They're delicious. Check out my Cara Cara Orange Margaritas, Pomegranate Margaritas, and Apple Cider Margaritas for more ideas!
And while they're not margaritas… these Mexican Moscow Mules are made with tequila. And they're pretty dang good, if I do say so myself.