Strawberry Mojitos are sweet, refreshing, and perfect for summertime. Take advantage of sweet summer fruit and fresh herbs and mix one up!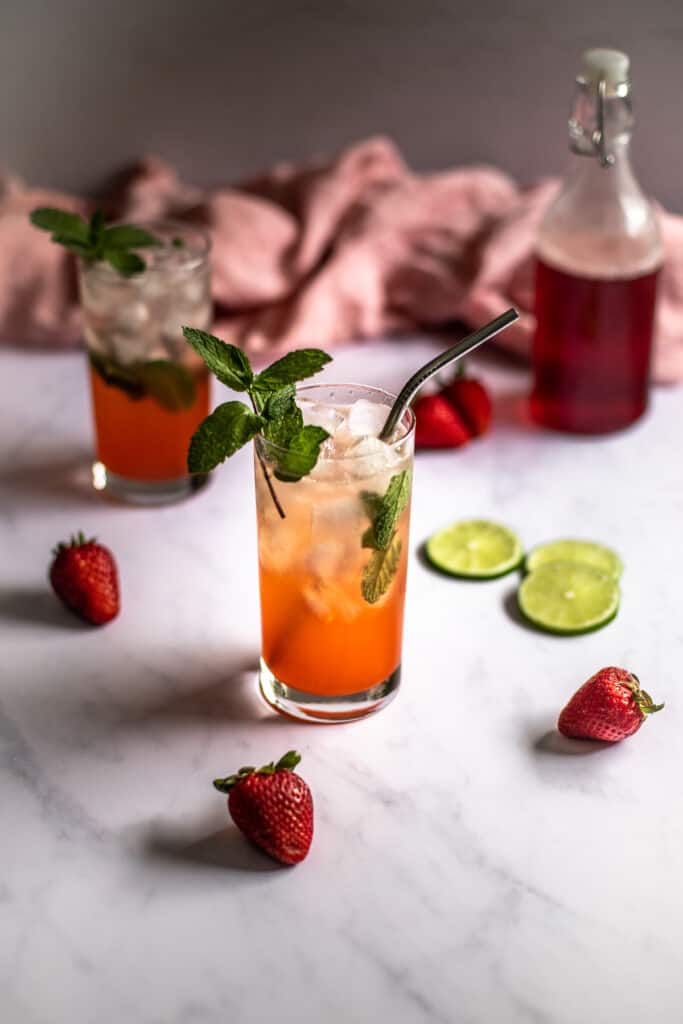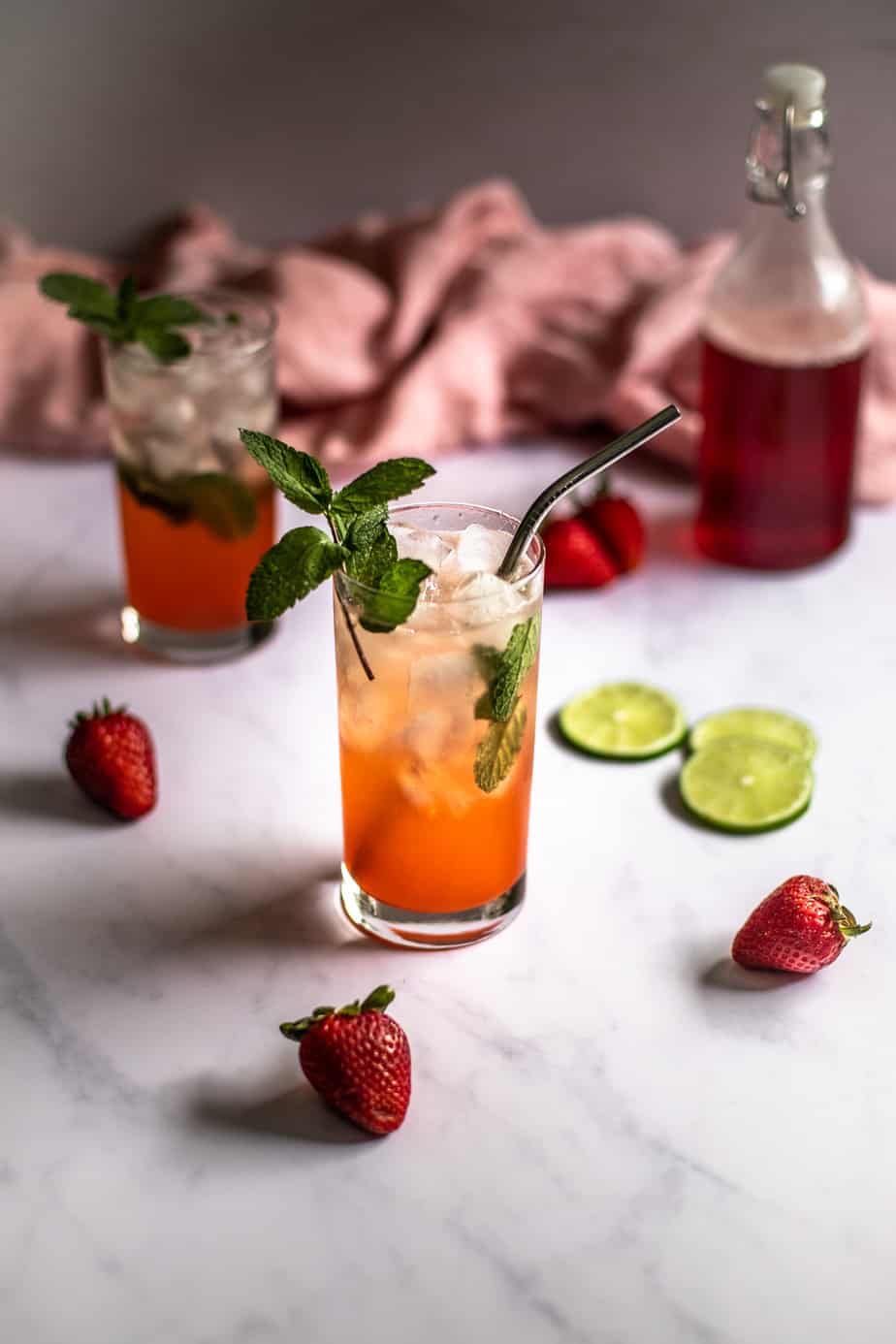 Jump to:
What is a mojito?
A mojito is a classic cocktail that hails from Cuba. It's typically served in a highball (i.e., tall) glass and is rum-based.
Though there are a number of variations on the mojito (there's even a mocktail version called a "no-jito"!), it's usually made with the following ingredients: rum, sugar, lime juice, soda water, and mint.
What ingredients go into this Strawberry Mojito?
Okay so, we just talked about what goes into the classic version of this cocktail. But what goes into a strawberry mojito? Let's talk about it:
Mint: Spearmint is what's usually called for here. I've actually been growing a variety called "mojito mint", and used it in this drink. Perfect, right?
Strawberry simple syrup: This simple syrup is, well, simple to make! Check out the recipe here. You can also take a look at the FAQs (lower down in this post) for an alternative to using strawberry simple syrup.
Lime juice: Freshly squeezed, please.
White rum: I used Captain Morgan white rum in this drink. Whatever you use, just make sure that it isn't spiced rum. That would drastically change the flavor and appearance of this mojito.
Club soda: Just regular old club soda.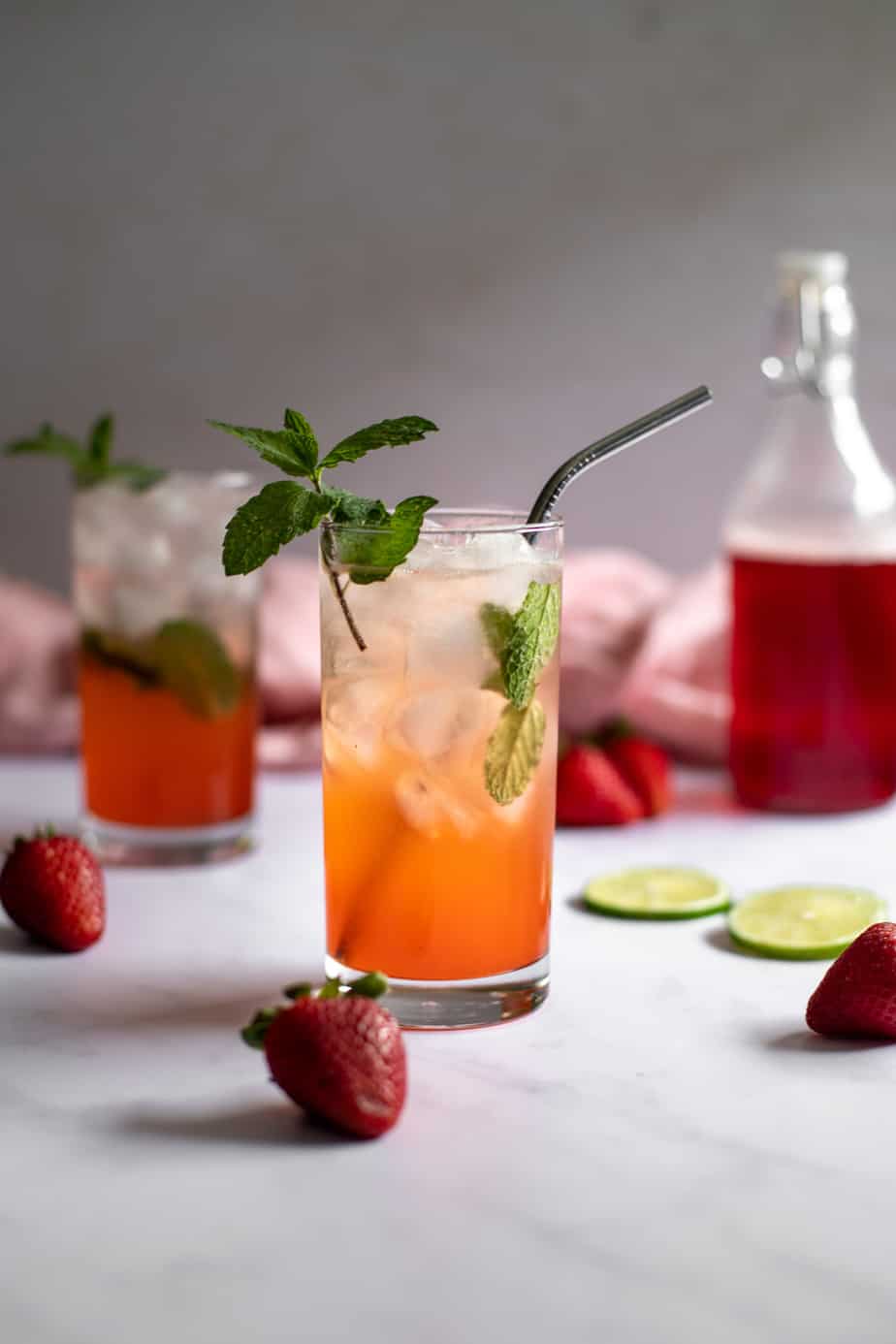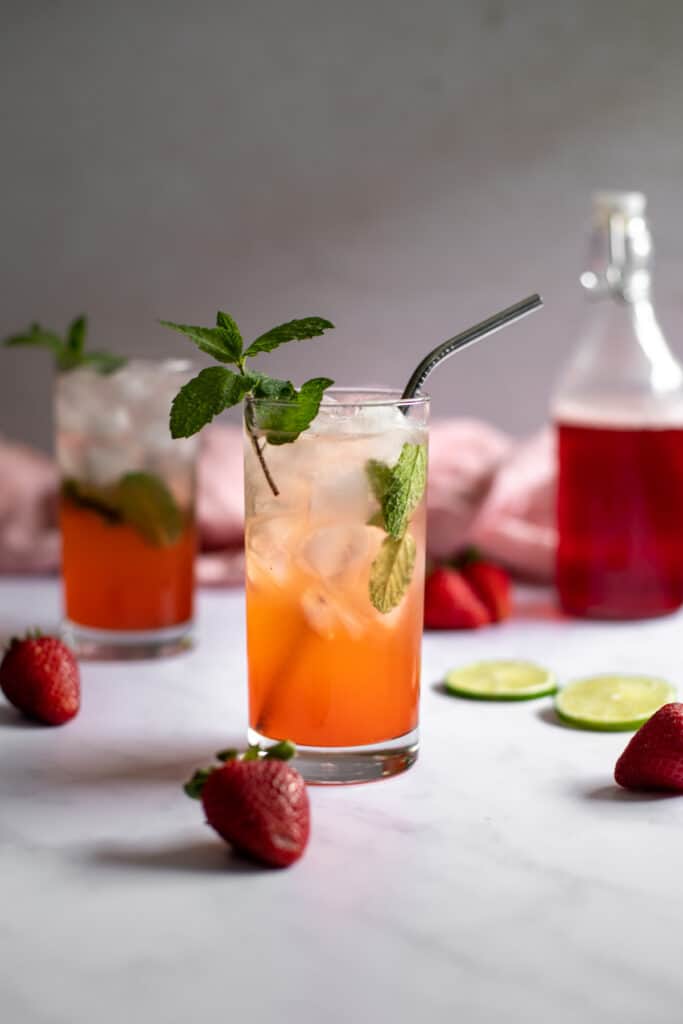 How do I make this cocktail?
Start out by putting your fresh mint leaves in the bottom of your highball glass, followed by the simple syrup and lime juice. Gently muddle the mint leaves in order to release their oils. But be sure to avoid obliterating the mint while muddling.
Add the rum and give everything a bit of a stir. Add ice to the glass and top it all off with some cold club soda.
You'll definitely want to garnish this drink with a big sprig of fresh mint. But don't forget lime wedges or wheels and fresh strawberries as other potential garnishes. Make it pretty and do it up big.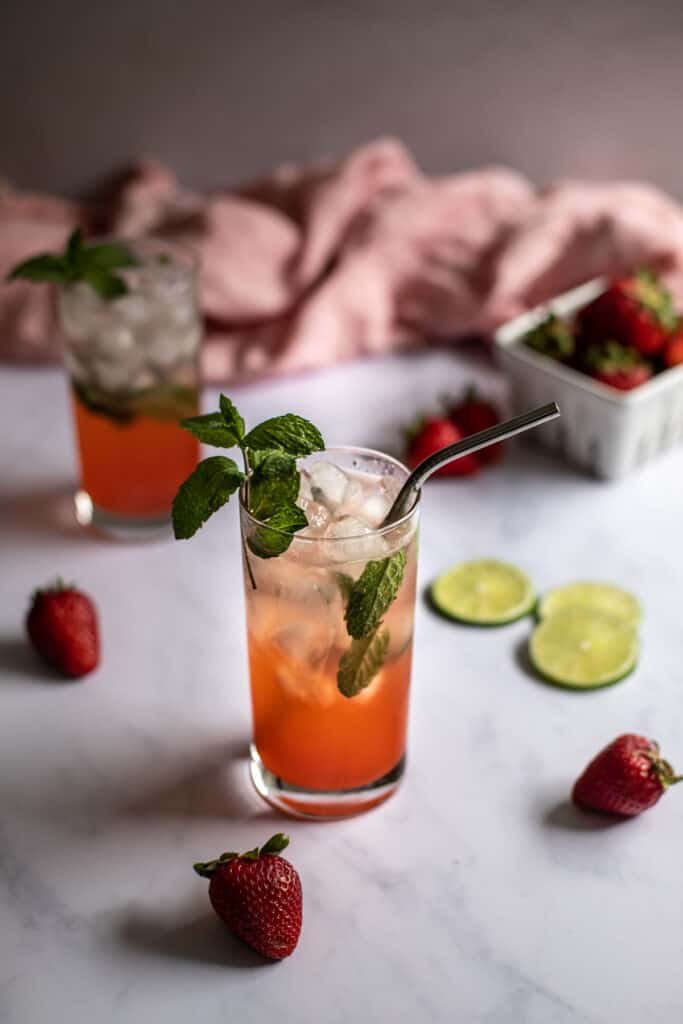 Looking for other strawberry recipes?
Cocktail recipes
You HAVE to try this Strawberry Cucumber Gimlet. It is 100% delicious and happens to use the same strawberry simple syrup that goes into the strawberry mojito.
This Strawberry Basil Vodka Collins uses fresh strawberries and basil. It's basically summer in a glass.
AND my Rossini Cocktail (otherwise known as a Strawberry Bellini) uses fresh, ripe strawberries and bubbly to make a delicious, brunch-ready cocktail.
Non-cocktail strawberry recipes
Strawberries are so great in this frozen Strawberry Margarita Pie (complete with tequila!), too.
My Strawberry Crisp is also basically everything you could want in a spring/summer dessert. Top it with vanilla (or whatever flavor floats your boat) ice cream. Trust.
Don't forget about savory recipes, too! My Strawberry Caprese Salad is a fun and really tasty way to riff on the classic Caprese Salad.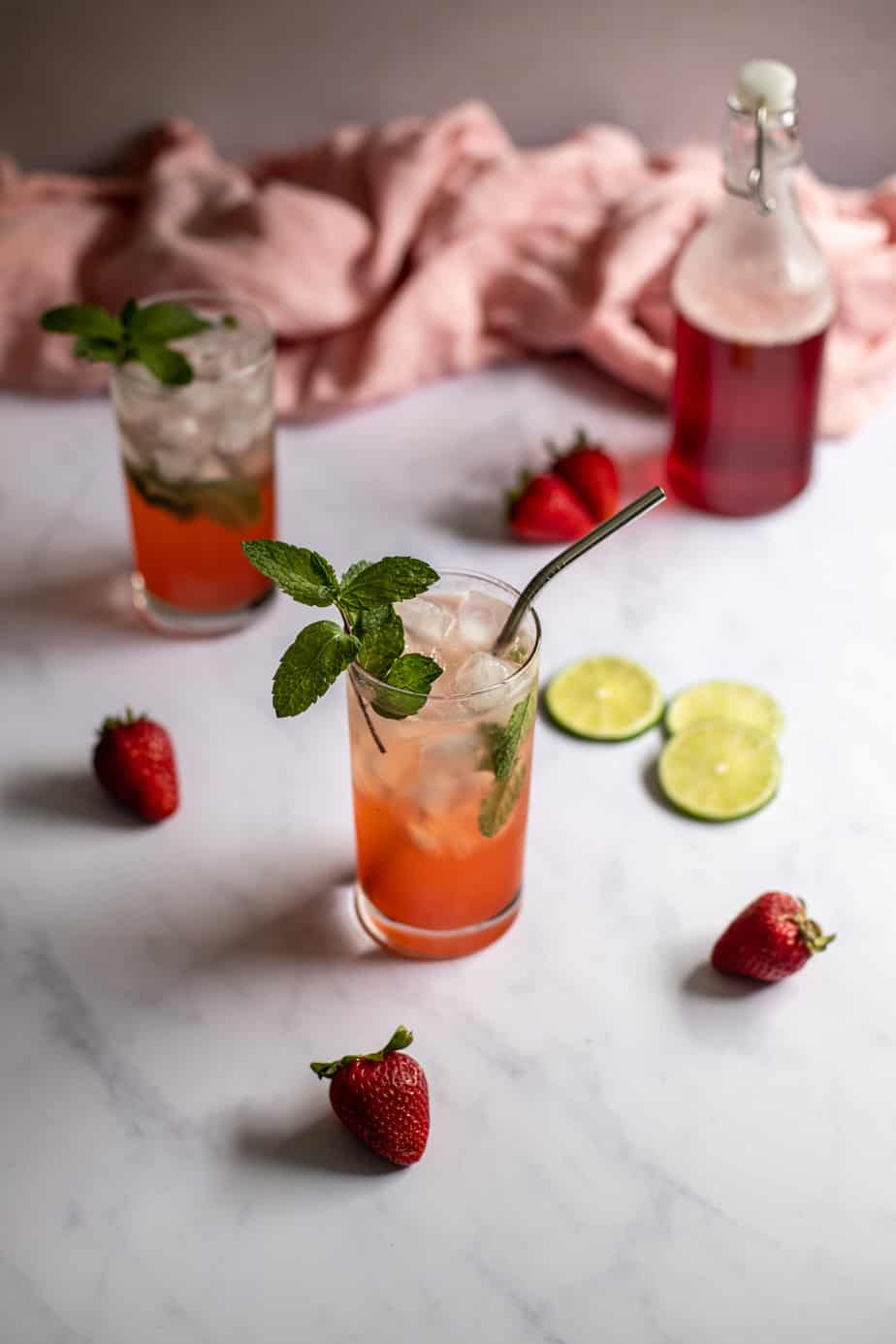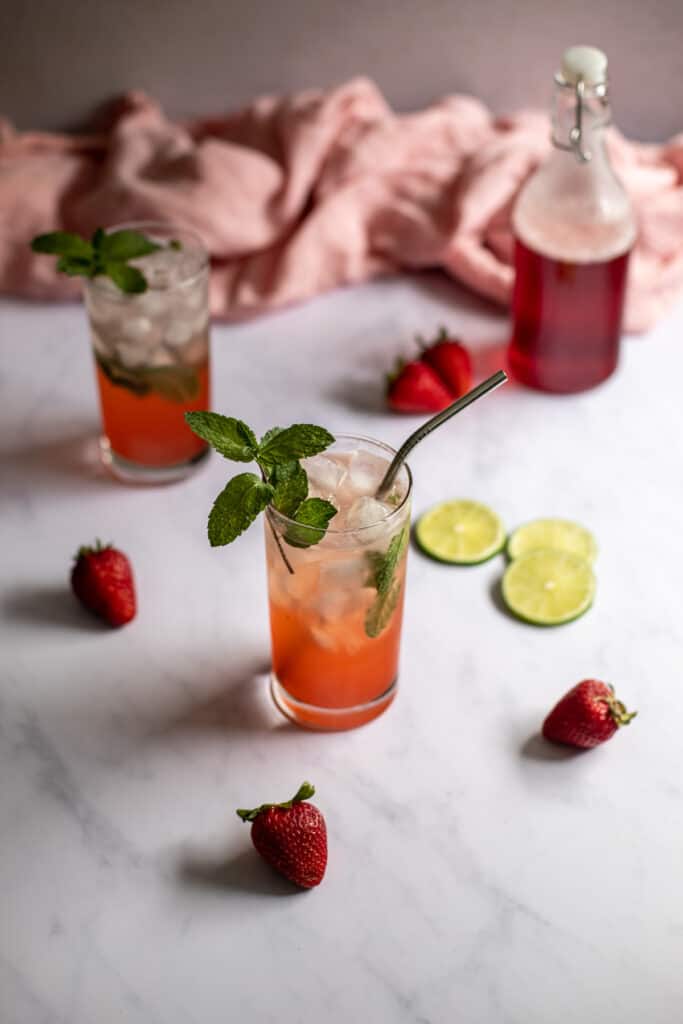 Frequently Asked Questions
Can I use fresh strawberries instead of a strawberry simple syrup?
Sure! Hull and quarter like... fresh strawberries and plunk them into the glass on top of your mint leaves, then add plain simple syrup and lime juice. Muddle the strawberries and mint gently. Proceed with the rest of the recipe as written in the recipe card.
Can I use bottled lime juice instead of fresh?
You could, but I wouldn't recommend it. There's nothing like fresh lime juice in cocktails.
What's the best kind of rum to use in a mojito?
Definitely use white rum. Make sure to stay away from spiced rum, as it will change the flavor and appearance of the drink in a big (and probably not desirable) way.
Can I make a pitcher of these instead of making them one at a time?
I haven't personally tried it, but I don't see why not! Just scale up the ingredients and make these drinks in a pitcher.
✨ Recipe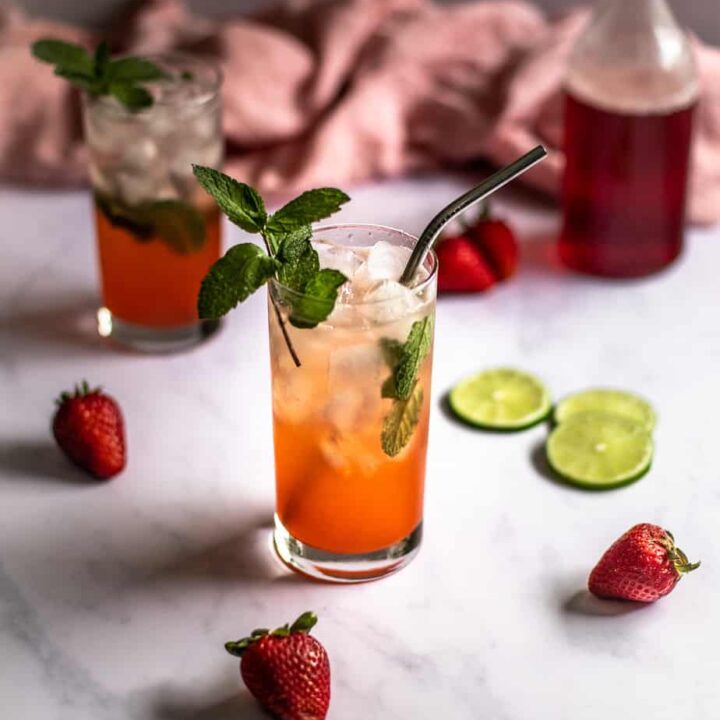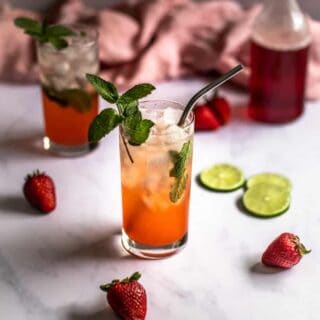 Strawberry Mojitos
Strawberry Mojitos are sweet, refreshing, and perfect for summertime. Take advantage of sweet summer fruit and fresh herbs and mix one up!
Instructions
Add the mint leaves, strawberry simple syrup, and lime juice to the bottom of a highball or Collins glass. Gently muddle the mint leaves.

Add the rum and give everything a gentle stir.

Fill the glass most of the way with ice.

Top with club soda and garnish with your desired garnishes.
Nutrition
Serving:
1
Calories:
774
kcal
Carbohydrates:
164
g
Protein:
4
g
Fat:
1
g
Polyunsaturated Fat:
1
g
Sodium:
40
mg
Fiber:
8
g
Sugar:
151
g
Disclaimer: Nutritional information is a generated estimate and is not guaranteed to be accurate.
Gear to have on hand
Pin this recipe for later!