The AMF Drink (aka Adios MF Drink, Adios Mother F Drink, Adios Motherfucker, etc.) is as strong as it is pretty and tasty. It packs a wallop, thanks to FIVE different kinds of alcohol. Think of it as a Long Island Iced Tea's prettier cousin.
This drink is also sometimes called a Walk Me Down or an Adios, Motherfucker. Call it whatever you want - it's boozy and citrusy and delicious. Watch out, though. Despite the abundance of alcohol, these babies go down pretty easily.
This boozy little number is perfect for Summertime sipping. Looking for more Summer cocktails? Try my Strawberry Lemonade Vodka Cocktail or Limoncello Gin Collins!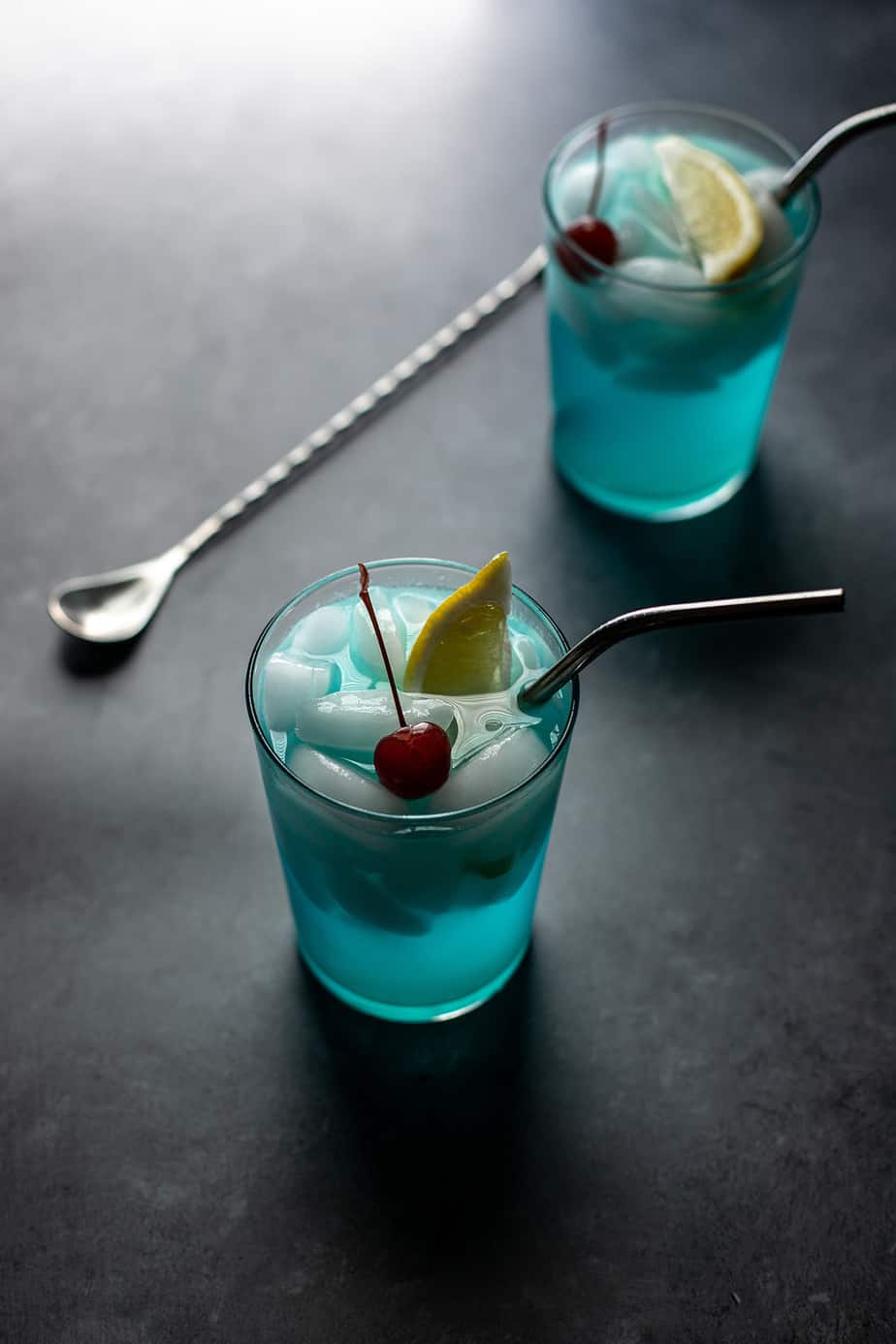 Jump to:
🌟 Why You'll Love This Recipe
It's a beautiful blue color. This drink is a really fun, electric blue color!
It's easy to make. Even though it calls for quite a few ingredients, all you need to do is combine them in a tall glass.
It's boozy as heck. If you're looking for a drink that packs a punch, this one is for you.
💭 What is an Adios MF Drink?
This drink is a vibrant blue color, super boozy, and also bright and citrusy. It's kind of like a Long Island Iced Tea--especially in terms of booziness. Is that a word? Booziness? If not... can we just roll with it?
We'll get into the exact ingredients in just a bit, but if you swapped the blue curaçao and lemon lime soda out for triple sec and cola, you would have a Long Island. So the Adios MF Drink and the Long Island are cousins, of sorts.
This drink goes by many different names
Content warning: There's a bit of rough language ahead, but only for the purposes of telling you the many, many names that this drink goes by.
You may know this cocktail by one of MANY names. AHEM, it goes by: AMF Drink, Walk Me Down, Blue Motherfucker, Adios Mofo, Adios Motherfucker, Adios MF...
So... call it what you will! I went with AMF Drink so that it would be a recognizable name but not so... in your face with the profanity. But, as always, you do you.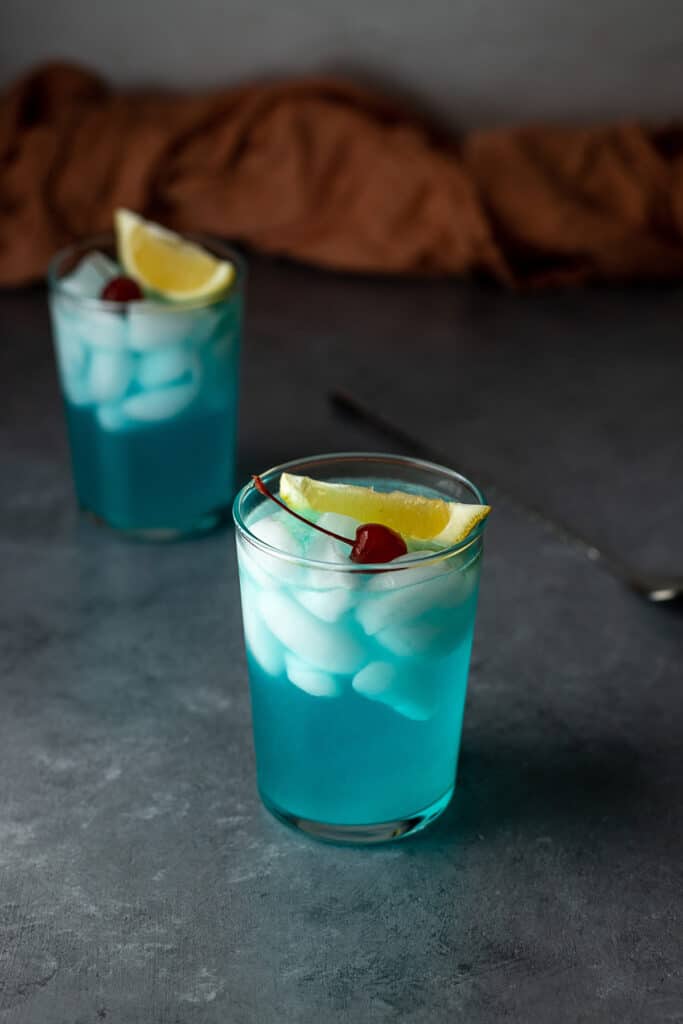 📝 Ingredients
The AMF Drink requires kind of a lot of ingredients, but they're all common and you won't need very much of any of each individual component.
Vodka: Plain vodka will work here.
Rum: Light rum, please!
Tequila: I like a gold tequila, but if blanco is more your speed, use it.
Gin: Use your favorite.
Blue curaçao: Blue curaçao is similar to triple sec, in that it's a citrus-flavored liqueur. The addition of blue food coloring gives it that signature blue hue.
Sour mix: I'd like to put in a plug for making your own, homemade sour mix! It's so worth it. If you can't/don't feel like it, there's always store bought sour mix.
Lemon lime soda: Use whatever you like. I typically use Sprite.
Garnish: These aren't mandatory, but I think they make the drink look nice. Garnishes for this cocktail include a lemon wedge and a maraschino cherry (store bought or homemade!).
For all of the liquors used in this recipe, there's no real need to use top shelf alcohol. But I'd definitely recommend that you use something middle-of-the-road. Basically, if you're okay with drinking it in a mixed drink (like a rum and coke or vodka cranberry), then you can use it in this cocktail.
👩🏻‍🍳 How do you make an Adios MF?
The Adios MF is a cocktail that gets built in the class out of which you drink it. This means that you don't need a cocktail shaker or mixing glass, or anything like that.
You'll start by adding ice to a tall glass. Next, all of the various kinds of alcohol and the sour mix make their way into the glass.
Next, you'll top everything off with lemon lime soda and give it a gentle stir. Plop a lemon wedge and a maraschino cherry into the glass and have at it!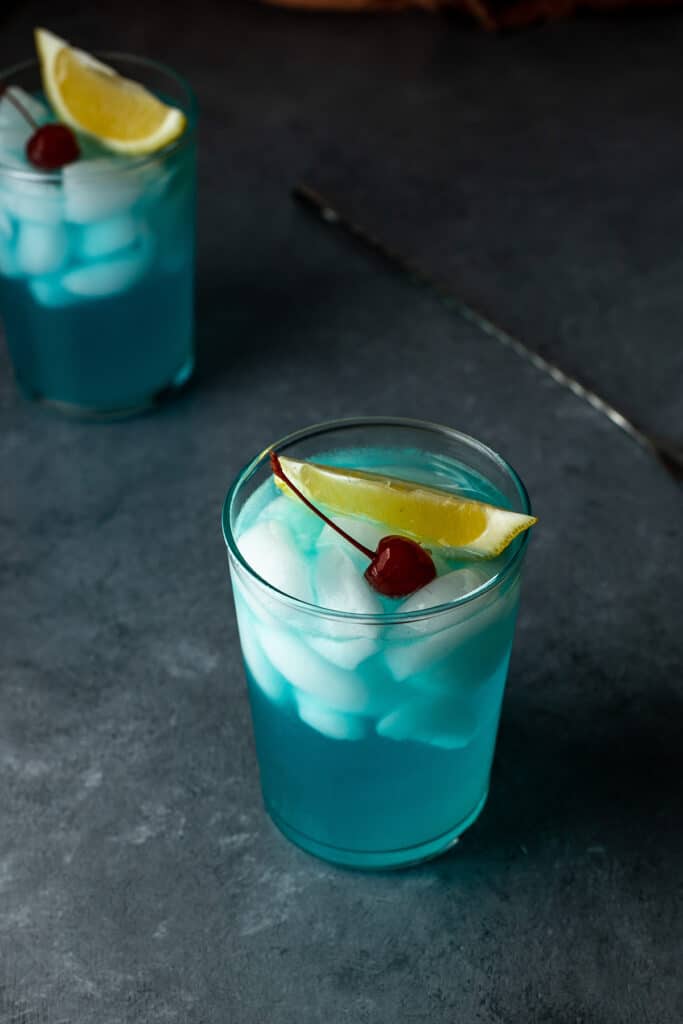 🔗 Other Sumer cocktail recipes
An Adios Mofo is a pretty unique cocktail, so it's hard to identify drinks that are similar to it (other than maybe a Long Island). But do yourself a favor and check out some of my other Summery cocktails. I think you'll like them too.
❓ Frequently Asked Questions
What makes this different than a Long Island Iced Tea?
The key differences between this drink and a Long Island are that this one uses blue curaçao and lemon lime soda, while a Long Island uses triple sec and cola.
Can I batch this drink?
If you dare! Just scale the ingredients up proportionally.
When should I drink an Adios MF?
Any time you're feeling a hankering for a strong, pretty drink! Based on appearance alone, this would be a great summertime sip. I'd also consider whipping one up for the Super Bowl.
🖤 Share your creations and follow me on social media!
✨ Recipe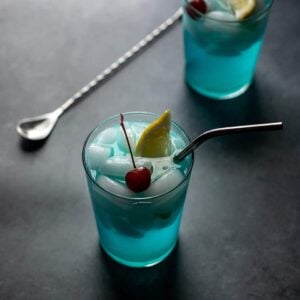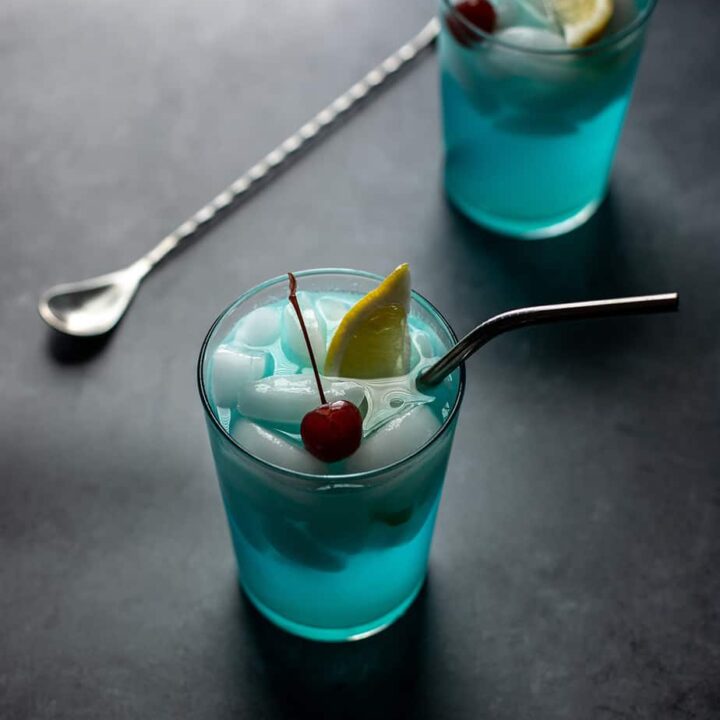 AMF Drink
The AMF Drink is as strong as it is pretty and tasty. It packs a wallop, thanks to FIVE different kinds of alcohol.
Ingredients
0.5

ounces

vodka

0.5

ounces

light rum

0.5

ounces

tequila

0.5

ounces

gin

0.5

ounces

blue curaçao

2

ounces

sour mix

4

ounces

lemon lime soda

lemon wedge

for garnish (optional)

maraschino or Luxardo cherry

for garnish (optional)
Instructions
Add ice to a tall glass.

Pour in all of the various alcohols and sourmix, and top with lemon lime soda. Give everything a gentle stir.

Garnish with a wedge of lemon and a cherry.
Notes
If you'd rather have a Long Island Iced Tea, substitute triple sec for the blue curaçao and cola for the lemon lime soda
Nutrition
Serving:
1
Calories:
286
kcal
Carbohydrates:
42
g
Protein:
1
g
Sodium:
18
mg
Fiber:
3
g
Sugar:
35
g
Disclaimer: Nutritional information is a generated estimate and is not guaranteed to be accurate.
📌 Pin this recipe for later!