These Slutty Brownies are everything you could want them to be ... and more!
Have you ever had Slutty Brownies? If you have, you know what the hype is all about. If not... boy are you in for a treat!

Chocolate chip cookies + brownies + Oreos = one delicious and decadent food baby
These brownies are amazing. There's no doubt about that. They're a mash-up of some classic treats (helloooo chocolate chip cookies, brownies, and Oreos!). Somehow the whole is greater than the sum of its delicious parts.
How? IDK, but it's true.
Make them and you will not be sorry. Neither will your friends, family, and/or coworkers with whom you share. I know that mine were quite pleased.
What inspired these crazy bars?
By now, Slutty Brownies are a pretty well-known dessert phenomenon. Right? I think I might have first seen them on What's Gaby Cooking? (side note: she has a Slutty Brownie Layer Cake, too!) Doesn't matter, really. They're all over the Internet.
I was attracted to them because, first of all, they look insanely good. But they also reminded me of something that I used to bake while I was in college: the "Cookie Brownie."
Basically, I'd take a box of brownie mix, prepare it according to the directions on the package, and spread it into an 8x8-inch pan. Next, I'd mix up a bag of pre-measured chocolate chip cookie dough and drop globs of it throughout the brownie batter. Bake it up, and you have the "Cookie Brownie"!
To be honest, they were pretty good (pre-made mix and all). I'd take them with me when I visited Sean on the weekends. His roommates were pretty pleased about it.
Since that time, I've stepped up my game a little bit. This homemade version, with the addition of Oreos, is truly next-level.
But... what's with the name?
To be honest, I have no idea. I didn't come up with the name.
It's not the best but... I'm rolling with it because these bars are crazy delicious.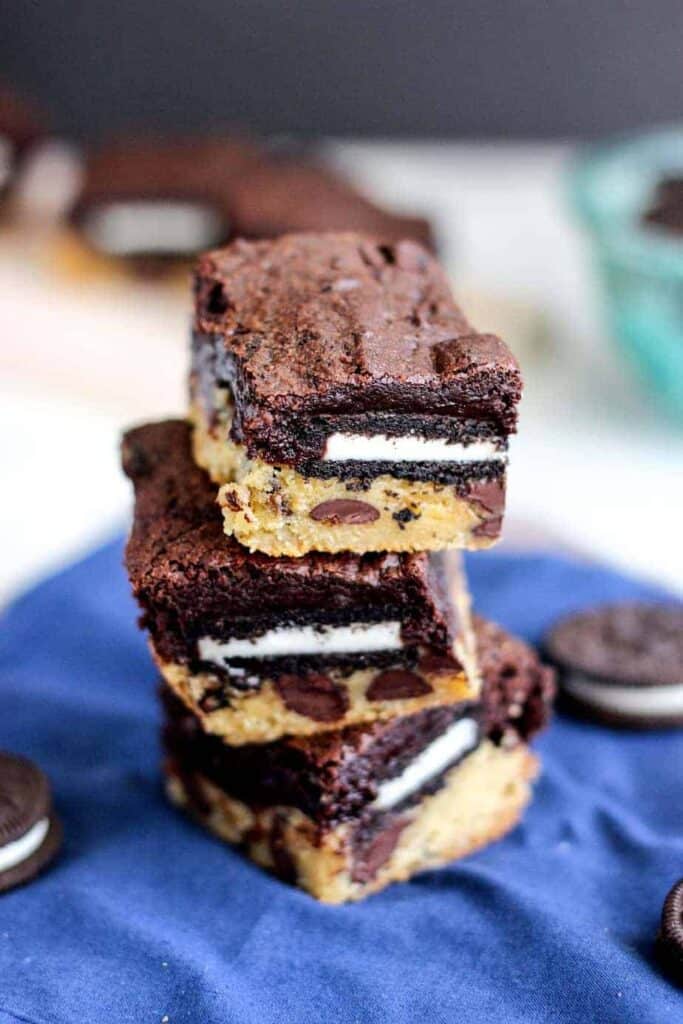 Need other brownies/bars/blondies in your life? Yes, yes you do.
So how do I put these Slutty Brownies together?
Basically what you'll do is whip up the chocolate chip cookie dough layer and press it into the bottom of a 9x13-inch baking dish. Lay some (or a lot of) Oreos on top of the cookie dough in an even layer.
I like to use Double Stuf Oreos, but I'm not here to tell you how to live your life.
Mix up the thick and fudgy brownie batter and pour it over top of the Oreos and and cookie dough layer. Smooth it all out with a spatula.
Bake, wait as long as possible for them to cool, cut, and eat!
✨ Recipe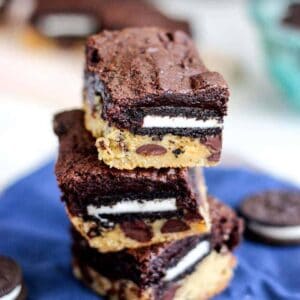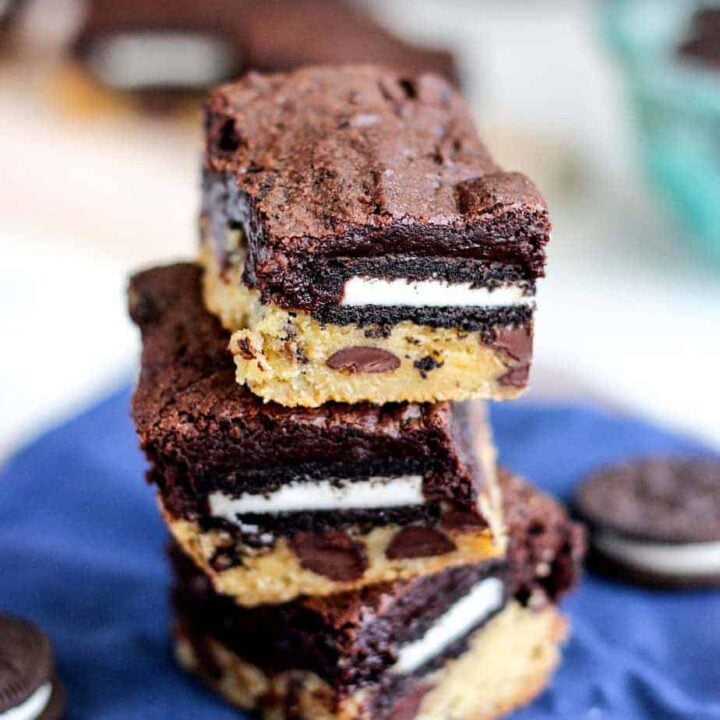 Slutty Brownies
Have you ever had Slutty Brownies? If you have, you know what the hype is all about. If not... boy are you in for a treat!
Ingredients
For the cookie layer
2 ½

cups

all-purpose flour

1

teaspoon

salt

1

teaspoon

baking soda

1

teaspoon

baking powder

16

tablespoon

unsalted butter

softened

½

cup

brown sugar

½

cup

granulated sugar

2

large eggs

2 ½

teaspoon

vanilla extract

2

cups

chocolate chips

24

Double Stuffed Oreo cookies
For the brownie layer
4

eggs

1 ¼

cups

cocoa powder

1

teaspoon

salt

1

teaspoon

baking powder

1

tbs

vanilla extract

16

tablespoon

unsalted butter

melted and cooled slightly

2 ¼

cups

granulated sugar

1 ½

cups

all-purpose flour
Instructions
Preheat the oven to 350 degrees F. Line a 9x13-inch baking pan with foil. Spray the foil with cooking spray.  Set it aside.
To make the cookie layer
In a medium bowl, whisk together the flour, salt, baking soda, and baking powder. Set aside.

In the bowl of a stand mixer, cream the butter and sugars together until light and fluffy. Add the eggs, one at a time, mixing thoroughly between additions, followed by the vanilla extract.

Add the dry ingredients, little by little, to the wet. Scrape down the sides of the bowl as necessary. Mix in the chocolate chips.

Press the cookie dough into the bottom of the prepared baking dish in an even layer. Top with the Oreo cookies, pressing them into the dough slightly.
To make the brownie layer
Mix the eggs, cocoa powder, salt, baking powder, and vanilla extract together in a medium bowl. 

Add the granulated sugar to the melted butter and stir until combined. Add the butter/sugar to the cocoa/egg mixture and stir until combined.

Add the flour, stirring until the flour just disappears and everything is smooth. Spread the brownie batter over the Oreo and chocolate chip cookie layers.

Bake for 30-35 minutes, or until a toothpick comes out clean when inserted into the center. Cool completely before cutting into squares.
Nutrition
Serving:
1
Calories:
515
kcal
Carbohydrates:
67
g
Protein:
6
g
Fat:
26
g
Saturated Fat:
15
g
Polyunsaturated Fat:
9
g
Cholesterol:
105
mg
Sodium:
379
mg
Fiber:
3
g
Sugar:
42
g
Disclaimer: Nutritional information is a generated estimate and is not guaranteed to be accurate.
What gear should you have on hand?
Pin this ridic recipe for later!