A Roy Rogers Drink is a classic mocktail made up of cola and grenadine. Since it's non-alcoholic, it's totally kid-friendly. But I have a feeling that the adults will love this drink, too!
This is a sweet and satisfying sip. The kiddos will like it because it's sweet. Plus the addition of grenadine and a maraschino cherry make plain cola feel downright fancy. And the adults will like it, too, because it tastes good, of course. Plus, if the big kids feel the need to make this into an adult beverage, all one would need to do is add a shot of vodka or other liquor into the mix.
Looking for other non-alcoholic drink recipes? Try my Blueberry Lemonade or Cookies and Cream Milkshake!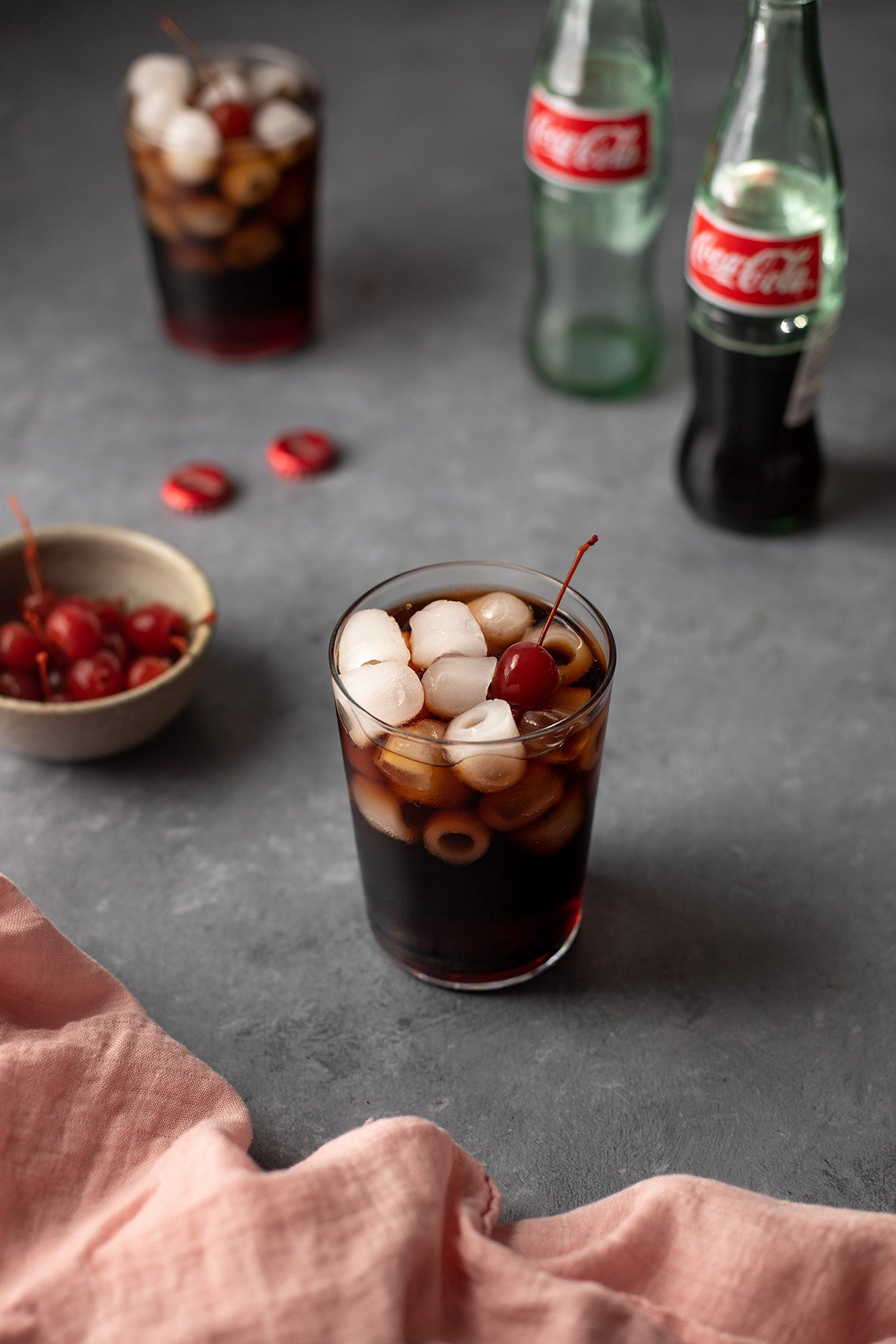 Jump to:
🌟 Why You'll Love This Recipe
It's so easy to make. All you have to do is pour a couple of ingredients into a glass over ice!
It's sweet and delicious. Cola + grenadine = sweet and tasty.
It can be made into a cocktail, if desired. Add a shot of vodka if you'd prefer a cocktail instead of a mocktail.
💭 What is a Roy Rogers Drink?
A Roy Rogers Drink is a non-alcoholic mixed drink (sometimes called a "mocktail") named after the actor and singer Roy Rogers.
It's a sweet concoction that's somewhat similar to another famous mocktail, the Shirley Temple.
Who was Roy Rogers?
The man, the myth, the legend... But no, really. Who is Roy Rogers? I didn't know who he was (let alone if he was a real, actual person) when I first discovered this drink. I had to do a bit of googling. Here's what I learned:
Roy Rogers was an American singer and actor, often starring in Westerns, who was known as the"King of the Cowboys." He even had his own radio, and later television, show that was aptly titled The Roy Rogers Show. In his later years, he also lent his moniker to the chain of Roy Rogers restaurants.
📝 What's in a Roy Rogers Drink?
Just two ingredients! Well, three if you include the garnish.
Grenadine: Grenadine is a sweet pomegranate-flavored bar syrup. Many people mistakenly think that grenadine is cherry-flavored. Nope, it's pomegranate! Try to find a good quality grenadine or make your own.
Cola: Coke would be a natural choice here. I prefer MexiCoke (Mexican Coca Cola) because it's made with cane sugar instead of high-fructose corn syrup (like the Coke that's made in the U.S.). You can't miss it, as it's sold in glass bottles. We tend to find ours at Costco.
Maraschino cherry: Just because we're making a mocktail doesn't mean that we shouldn't try to make the drink look as pretty as possible, right?
👩🏻‍🍳 How do you make it?
This one is an easy one to make.
Start out by pouring the grenadine into a tall glass with ice.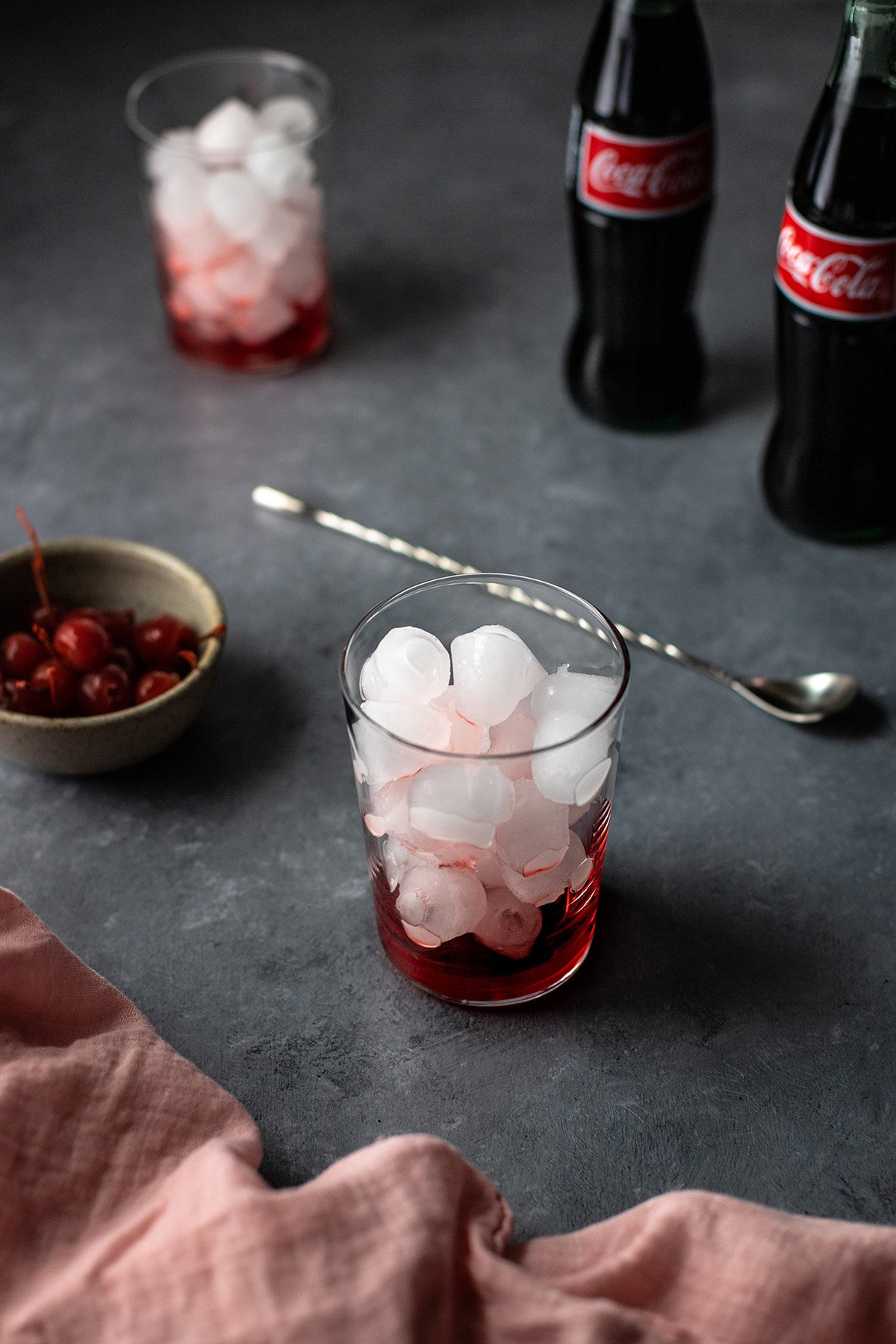 Top it off with some cola. Watch out for the fizz.
Give everything a gentle stir so that the grenadine gets incorporated throughout the drink. If you don't do this, you run the risk of having some VERY sweet sips and an unbalanced drink. You can totally use a regular spoon, but I like to use a bar spoon when stirring my drinks, regardless of whether they're cocktails or mocktails.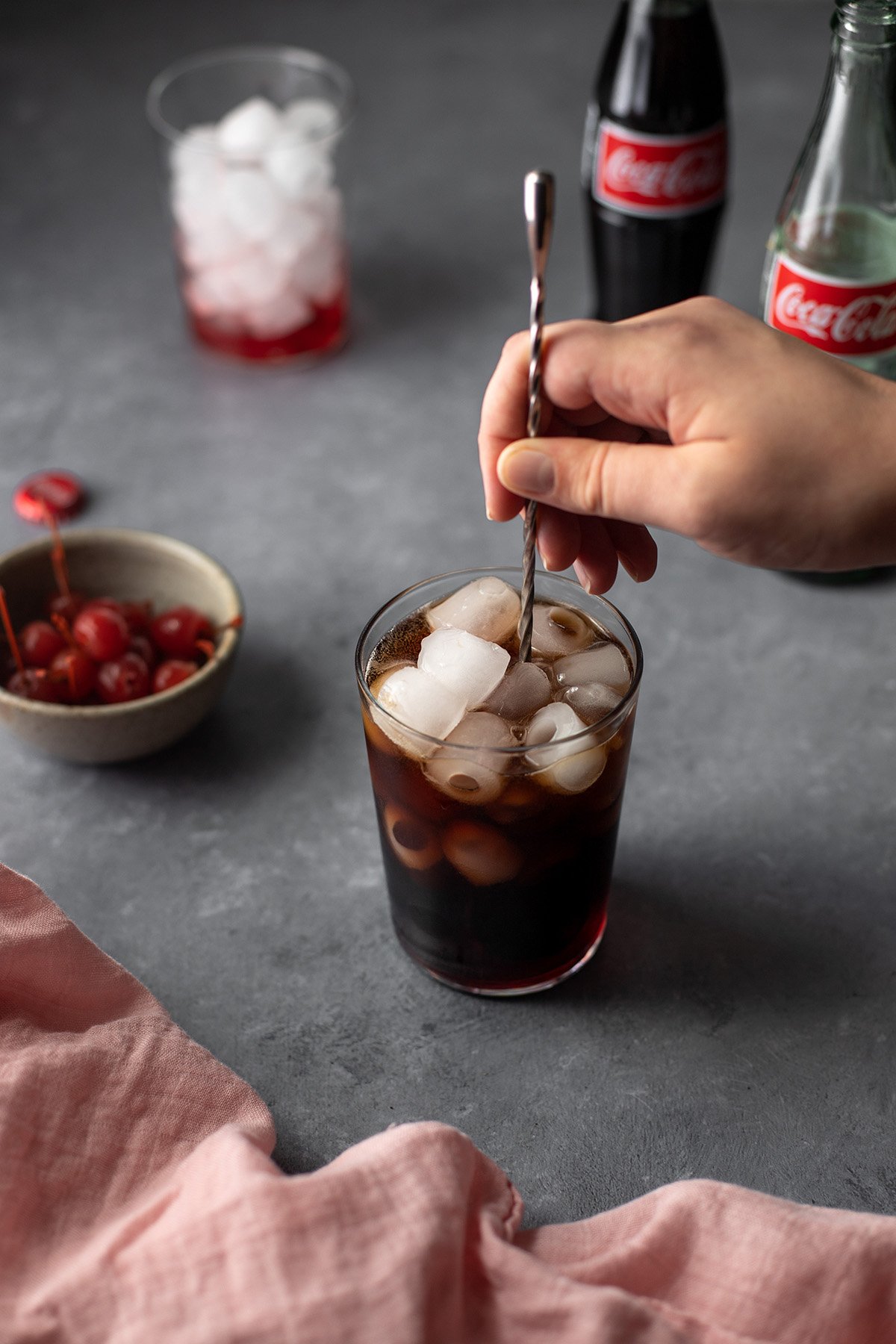 Garnish with a maraschino cherry and stick a paper or reusable straw in there and have at it! I was a little hasty and didn't end up using straw, but it'd be a useful and cute addition, if you feel like it.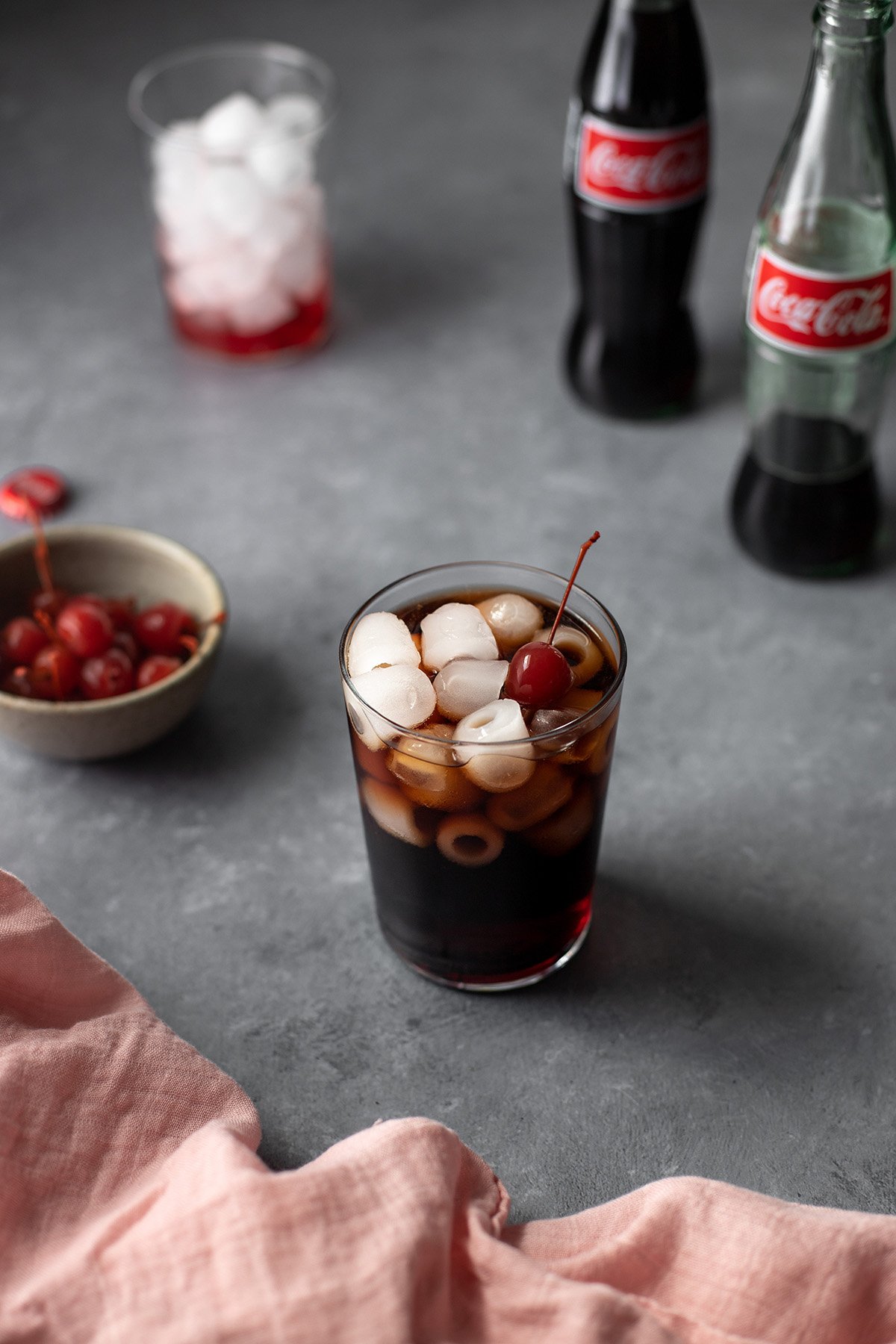 Even though this is a very kid-friendly drink as written, you could certainly add 1.5 ounces of vodka to the mix if you wanted to make it an adult beverage.
🔗 Other family- and kid-friendly drinks
On the lookout for other delicious and fun non-alcoholic drinks? Check these out:
Cheerwine Ice Cream Floats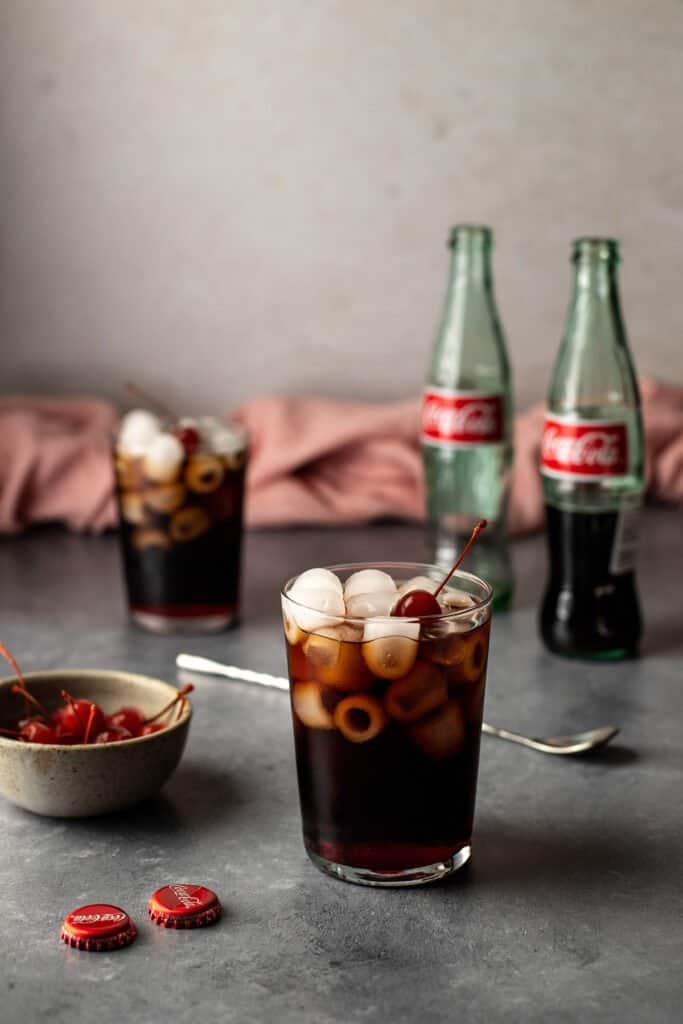 ❓ Frequently Asked Questions
Can I use diet cola in this recipe?
Sure, if you like. If the sugar content is a concern (e.g., if you have diabetes), you can also seek out a sugar-free grenadine.
What makes this different than a Shirley Temple?
A Shirley Temple uses lemon lime soda, whereas a Roy Rogers uses cola. Other than that, they're pretty much the same!
Can this be turned into a cocktail?
Sure can! I mentioned that you could toss a shot of vodka into this drink, if you so desired, but feel free to use whatever liquor you fancy.
🖤 Share your creations and follow me on social media!
✨ Recipe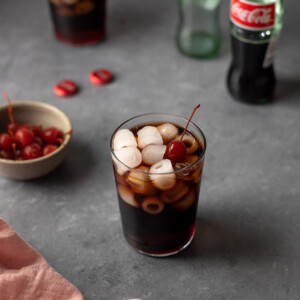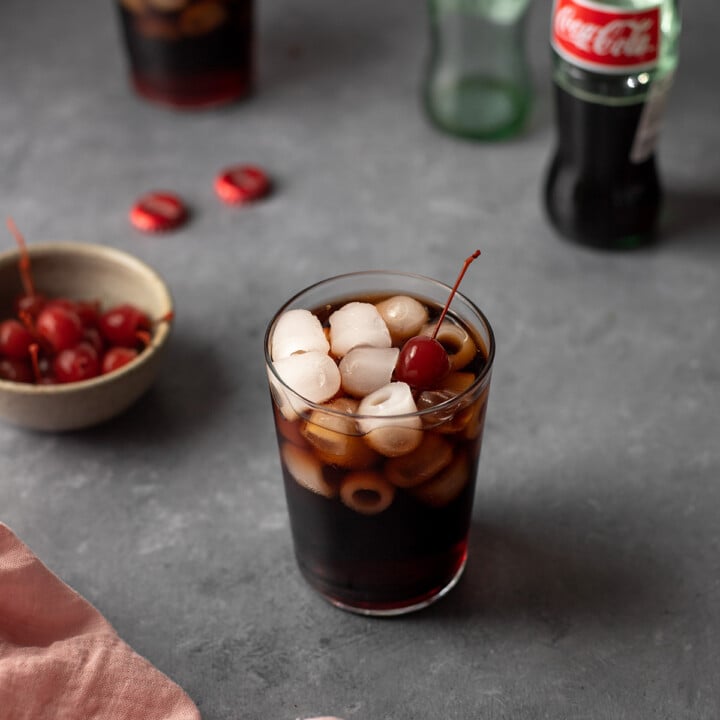 Roy Rogers Drink
A Roy Rogers Drink is a classic mocktail made up of cola and grenadine. Since it's non-alcoholic, it's totally kid-friendly. But I have a feeling that the adults will love this drink, too!
Ingredients
0.5

ounces

grenadine

6

ounces

cola

maraschino cherry

for garnish
Instructions
Pour the grenadine into a tall glass filled with ice.

Top with cola and stir gently.

Garnish with a maraschino cherry.
Notes
You can make this a cocktail by adding a shot of vodka
Nutrition
Serving:
1
Calories:
124
kcal
Carbohydrates:
31
g
Sodium:
10
mg
Sugar:
27
g
Disclaimer: Nutritional information is a generated estimate and is not guaranteed to be accurate.
📌 Pin this recipe for later!