Last Updated on November 9, 2022 by laurenpacek
This post may contain affiliate links. A Nerd Cooks may collect a share of sales or other compensation from the links on this page. More information can be found here.
The Southside Cocktail is a sweet-tart, citrusy, gin drink. It's a classic cocktail that's very much worth knowing and drinking.
Know what makes it even better? It requires only a handful of ingredients and is super easy to shake up. But don't be deceived by its simplicity. It's delicious and quite refreshing.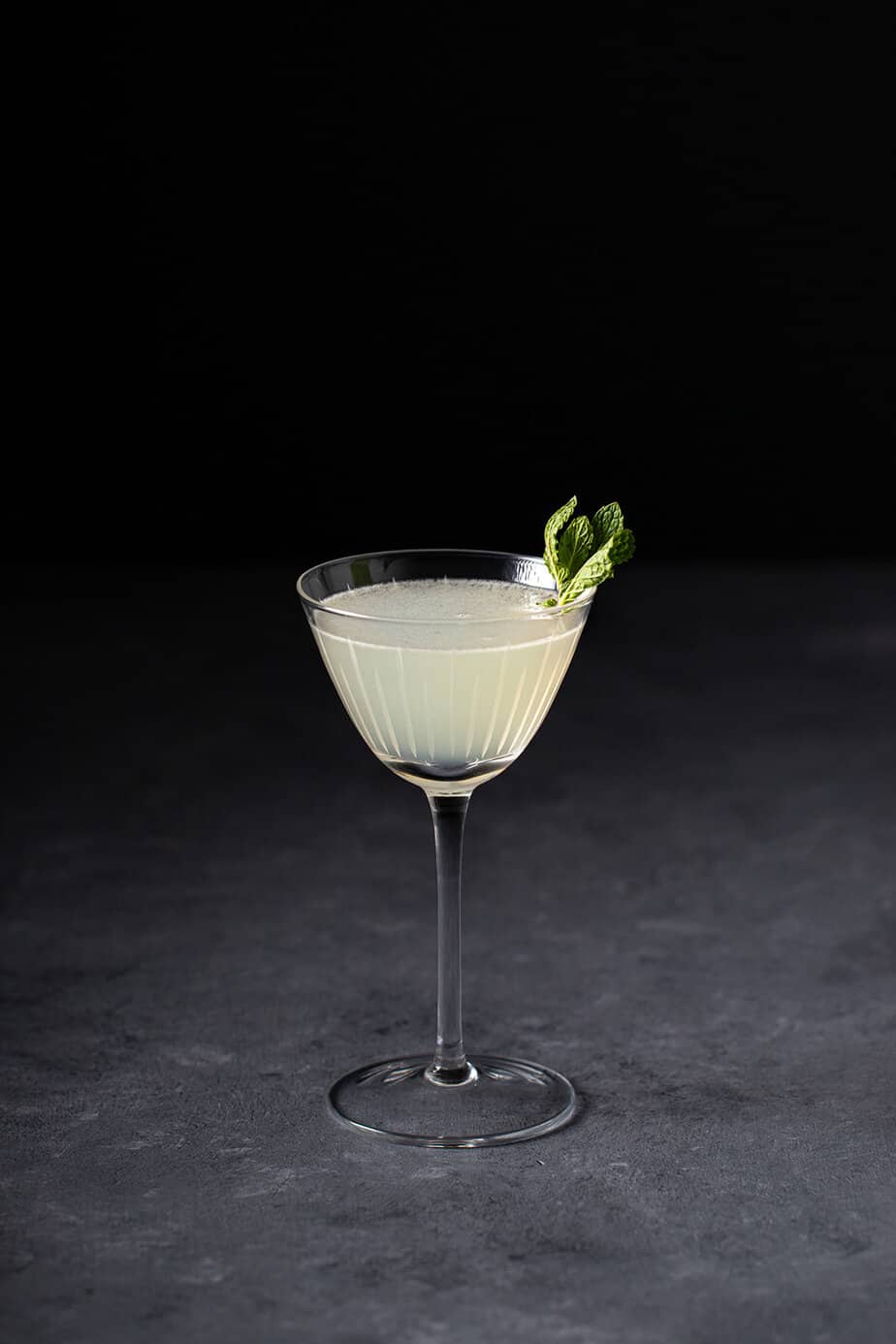 What is a Southside cocktail?
The Southside is a classic drink that dates back to at least 1916. Was it named after the south side of Chicago? Or maybe the Southside Sportsmen's Club on Long Island, NY? The answer to both of those questions is a resounding "maybe." It's up for debate.
The Southside is made with fresh mint, lemon juice, simple syrup, and gin, and is typically served "up" in a Nick and Nora or coupe glass. Serving a drink "up" means that the drink is shaken/stirred/combined with ice to chill it, and then served without ice.
It's important to double strain this drink into your glass. That means that you'll strain the drink out of a hawthorne strainer (or the cap of your shaker, if that's the kind that you have) and through a fine mesh strainer. This will keep any bits of mint and shards of ice out of your drink.
Don't skip the garnish! Adding a sprig of fresh mint to your glass really makes the drink pop. Plus the aroma of the mint while you sip is lovely.
Ingredients
Mint leaves: This recipe requires that you gently muddle fresh mint leaves in the bottom of your cocktail shaker. During the warmer months, I'll pop out to my garden and snip some fresh mint. Otherwise, I'll pick some up at the grocery store (it's in the produce section).
Lemon juice: Freshly squeezed, please!
Simple syrup: You can use store bought simple syrup or you can make your own at home! It's so easy and cost effective to do it at home, that I highly recommend it.
Gin: Use your gin of choice. This isn't an ad, but I've been using Bar Hill Gin lately.
Garnish: Use a sprig of fresh mint to garnish the drink.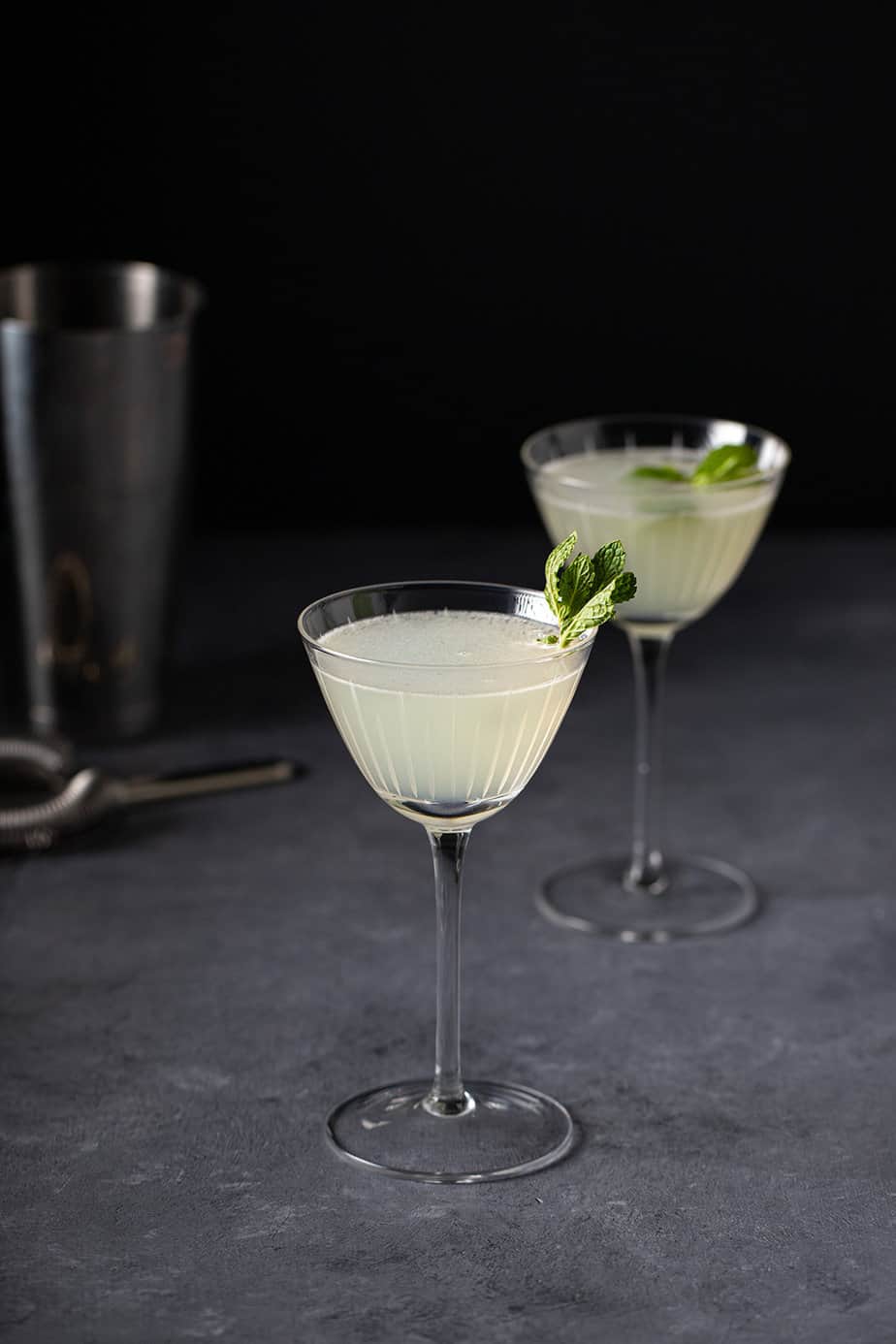 How to make a Southside cocktail
It's very easy to shake this drink up! Start by gently muddling your mint with the lemon juice. You don't want to beat your mint up too much. It will result in bitter flavors that you don't want in your drink.
Add simple syrup and gin to the cocktail shaker, along with ice. I like to use a single big cube. This allows the drink to get chilled without being diluted unnecessarily. Shake until cold and double strain the drink into a coupe glass or Nick and Nora glass. Your choice.
Last, garnish your drink with a nice sprig of fresh mint.
Recommended tools
Other gin cocktails
Looking for more cocktails made with gin? I have more! And so do other excellent bloggers. Check out the links below and find another new favorite!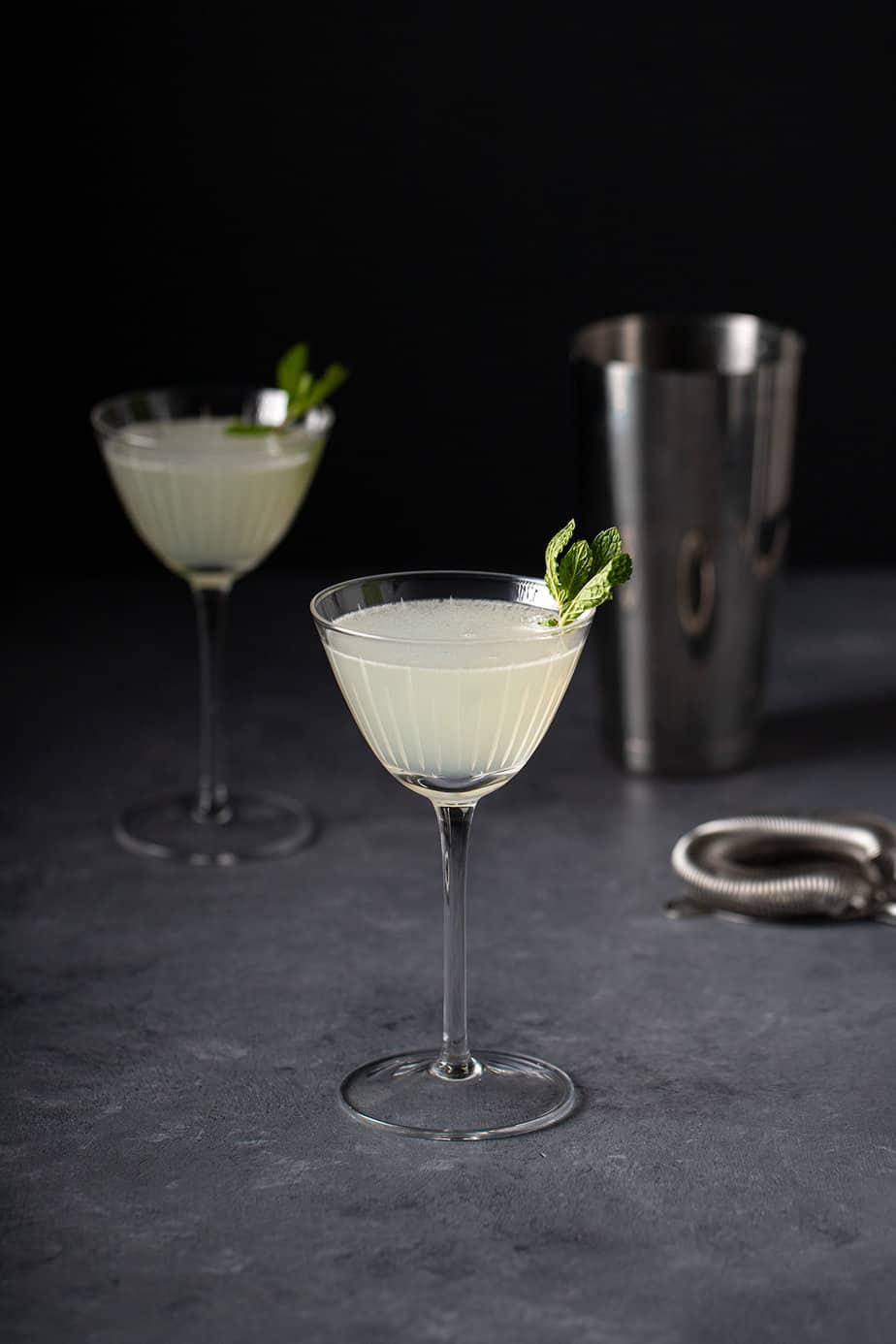 FAQs/Tips and tricks
What kind of gin should I use?
In short, use whatever you like! Keep in mind, the better quality gin you use, the better the drink will taste.
Can I make a bigger batch of these drinks?
Yes. Just scale up the amounts of each ingredient proportional to the number of drinks that you'd like to make.
What if I add soda water this drink?
Then you have yourself a Southside Fizz!
Share your creations and follow me on social media
Subscribe to the A Nerd Cooks Newsletter to have updates sent straight to your inbox.

I love seeing when you share my recipes! Please tag me on Instagram @anerdcooks so I can enjoy them virtually with you! You can also find me on Pinterest, Facebook, YouTube, and Twitter.

I'd love to know what you thought of this recipe! Don't forget to leave a comment and
⭐️ star rating below!
The Recipe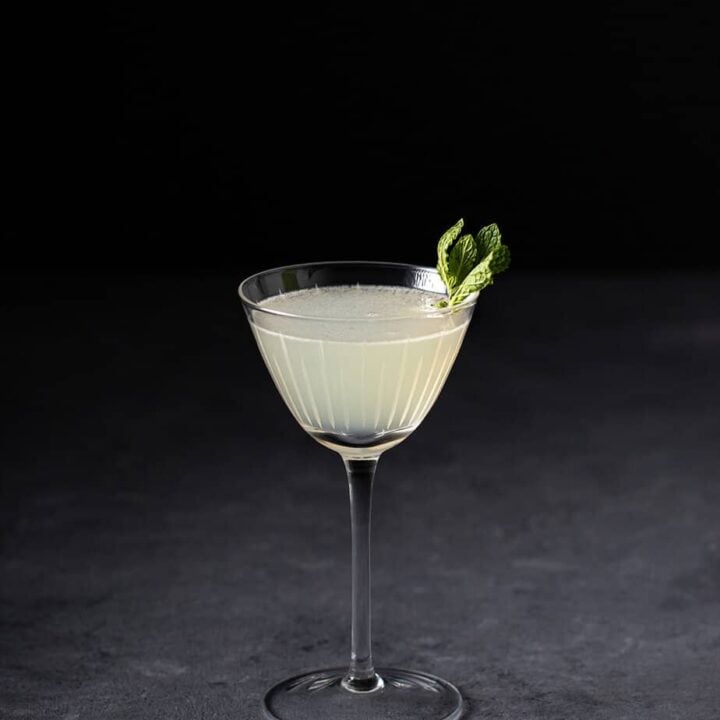 Southside Cocktail
The Southside Cocktail is a sweet-tart, citrusy, gin drink. It's a classic cocktail that's very much worth knowing and drinking.
Ingredients
5 mint leaves
1 ounce lemon juice
2 ounces gin
sprig of fresh mint, for garnish
Instructions
Place the mint leaves in the bottom of a cocktail shaker. Add the lemon juice. Muddle the mint leaves gently.
Add the gin and simple syrup to the shaker.
Add ice to the cocktail shaker and shake until very cold.
Double strain the drink into a Nick and Nora or coupe glass. Garnish with a sprig of fresh mint.
Nutrition Information:
Yield:

1
Serving Size:

1
Amount Per Serving:
Calories:

214
Total Fat:

1g
Saturated Fat:

0g
Trans Fat:

0g
Unsaturated Fat:

0g
Cholesterol:

0mg
Sodium:

29mg
Carbohydrates:

20g
Fiber:

5g
Sugar:

13g
Protein:

2g
Pin this recipe for later!