Last Updated on November 15, 2022 by laurenpacek
This post may contain affiliate links. A Nerd Cooks may collect a share of sales or other compensation from the links on this page. More information can be found here.
A French Gimlet is a delightfully floral riff on the classic gimlet cocktail. It's both elegant and quite easy to shake up.
This drink has a lot of herbaceous and floral notes, the former from the gin and the latter from both the gin and elderflower liqueur. It's a light and refreshing sip. Strain it into a coupe or Nick and Nora glass for some extra added fanciness.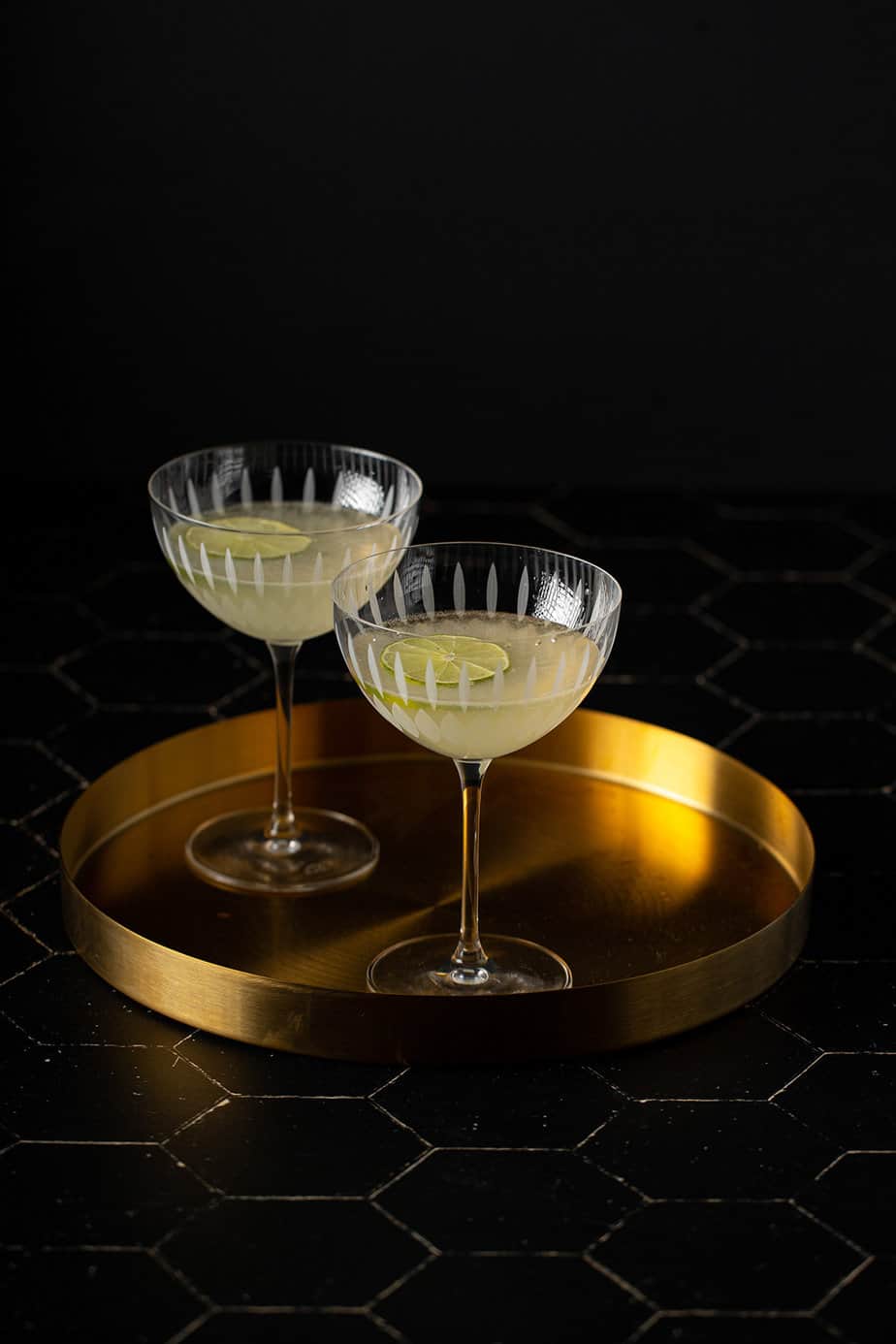 What is a gimlet?
A gimlet is a cocktail that is historically made up of gin and lime cordial (i.e., sweetened lime juice). It can also be made with lime juice and simple syrup, instead of the cordial.
There are lots of delicious variations on the original recipe, including the French Gimlet.
What is a French Gimlet?
A French Gimlet is a riff on the original gimlet cocktail. It keeps the gin and lime juice, but adds sweet, floral elderflower liqueur to the mix.
Ingredients
Lime juice: Freshly squeezed, please.
Elderflower liqueur: Elderflower liqueur is made from the flowers of the elderberry plant. It's light, sweet, and floral in taste. St. Germain is the most popular and widely-known brand. There are other brands; I've been using St. Elder.
Gin: Use whatever gin that you prefer. I've been on a Bar Hill kick of late.
Garnish: I like to garnish my French Gimlet with a bit of lime wheel. Just float it on the top of the cocktail.
How to make a French Gimlet
Start by adding your lime juice, elderflower liqueur, and gin to a cocktail shaker, along with some ice. I tend use a single large cube instead of a bunch of smaller ice cubes. This allows the drink to get sufficiently cold without diluting it unnecessarily.
Cap the shaker and shake until very cold, or about 10 seconds.
Strain the drink into a coupe glass (or a Nick and Nora glass, if you prefer those instead). Float a thin lime wheel on top of the drink, if you're feeling fancy. And I know that you are.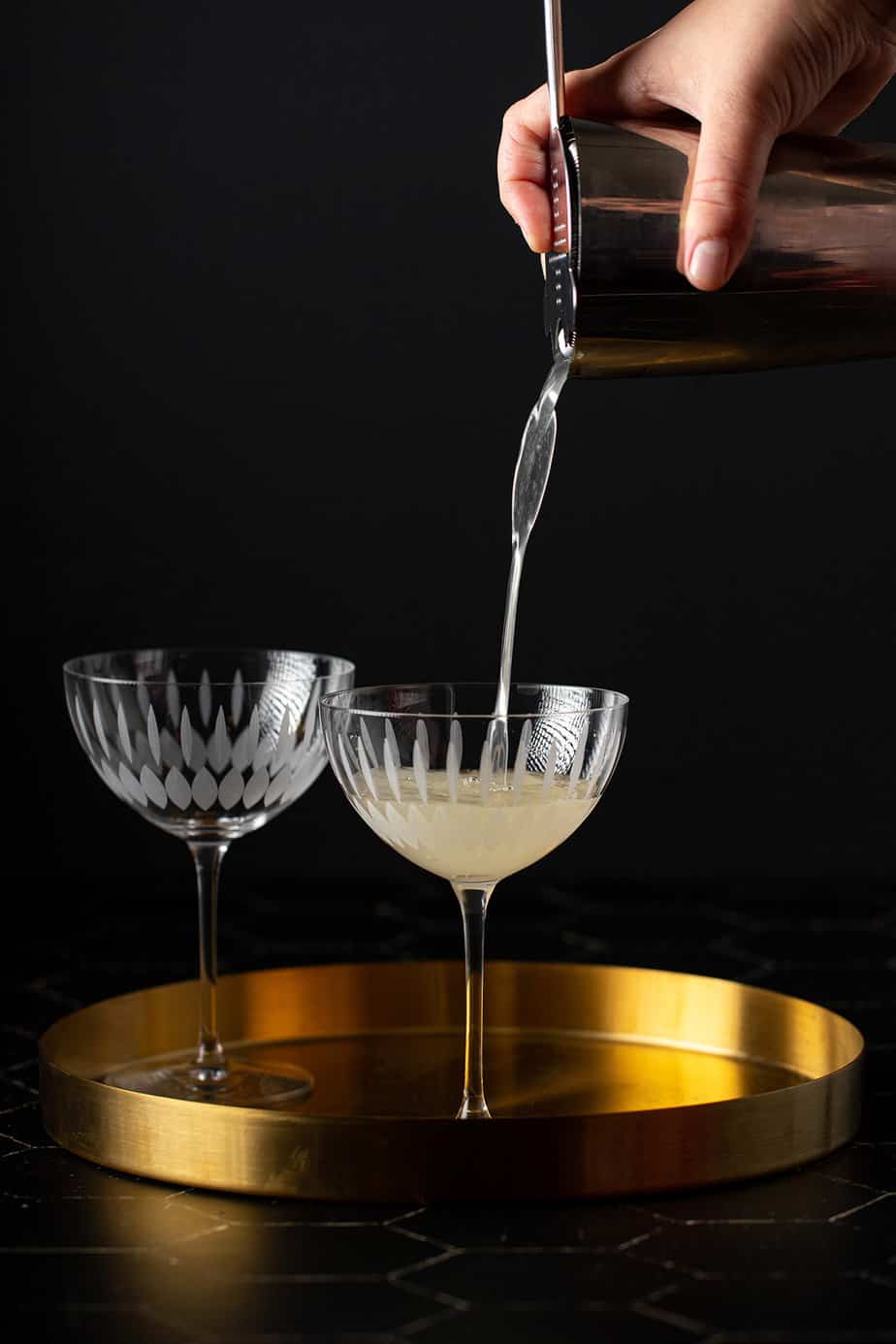 Recommended tools
Other gimlet recipes
There's a wide world of gimlets out there. I have a few others on this blog, which I've shared below, along with some links to recipes from other fantastic bloggers.
FAQs/Tips and tricks
Can I make a bigger batch of these drinks?
Sure! Just scale the ingredients up proportional to the number of drinks that you want to make.
Do I have to use gin?
If you want to adhere strictly to the original recipe, then yes. But you could also easily sub in vodka for the gin. You could also sub in light rum for the gin to make an interesting twist on the classic daiquiri.
What kind of gin should I use?
In short, use whatever gin you like! I will say that the better your quality of gin, the better your cocktail will be.
What is elderflower liqueur?
Elder flower liqueur is a liqueur that's made from the flowers of the elderberry plant. It's sweet and floral in flavor. St. Germain is the most popular brand, but St. Elder is another option.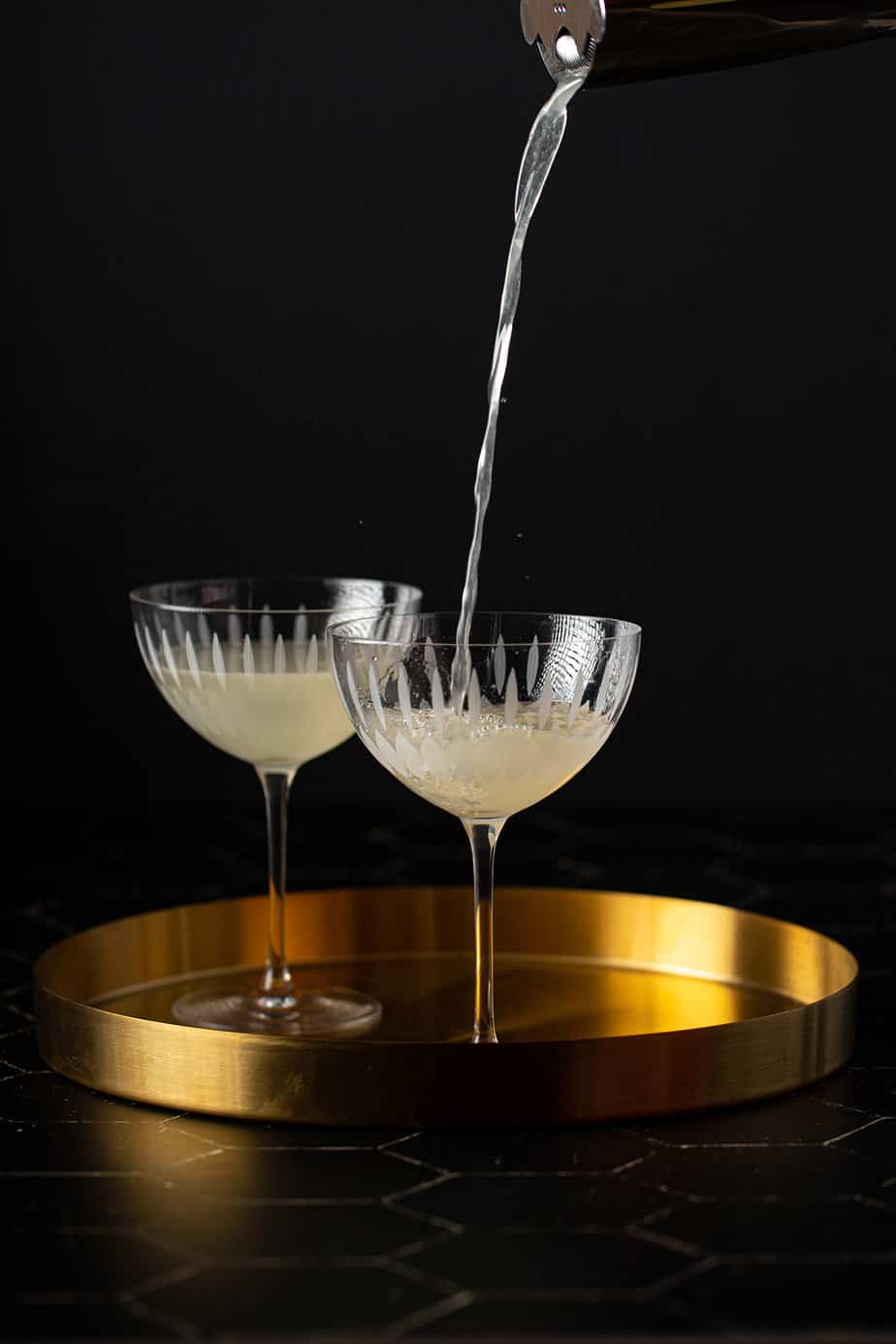 Share your creations and follow me on social media!
Subscribe to the A Nerd Cooks Newsletter to have updates sent straight to your inbox.

I love seeing when you share my recipes! Please tag me on Instagram @anerdcooks so I can enjoy them virtually with you! You can also find me on Pinterest, Facebook, YouTube, and Twitter.

I'd love to know what you thought of this recipe! Don't forget to leave a comment and
⭐️ star rating below!
The Recipe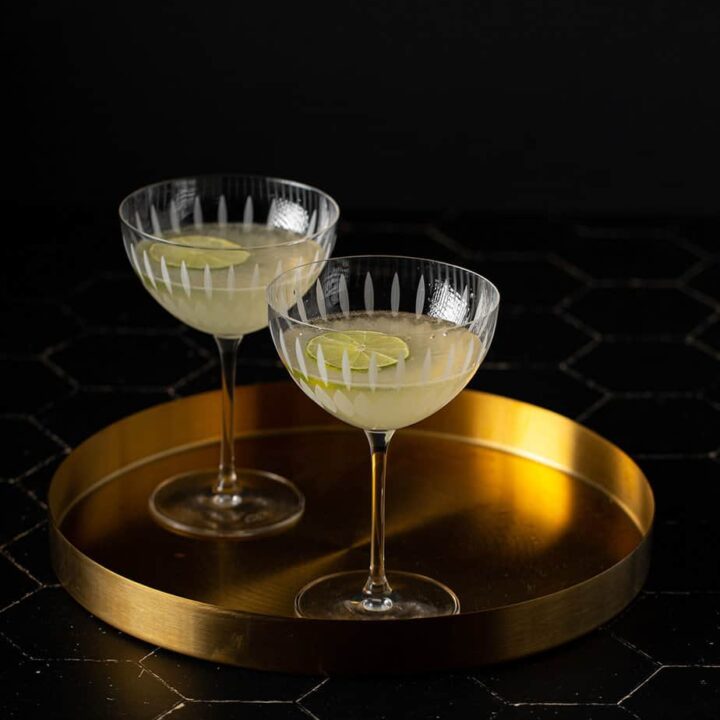 French Gimlet
Ingredients
½ ounce lime juice, freshly squeezed
1.5 ounces elderflower liqueur
2 ounces gin
lime wheel, for garnish (optional)
Instructions
Add the lime juice, elderflower liqueur, and gin to a cocktail shaker. Add ice.
Cap the shaker and shake until very cold, about 10 seconds.
Strain the drink into a coupe glass or Nick and Nora glass.
Garnish with a lime wheel, if desired.
Nutrition Information:
Yield:

1
Serving Size:

1
Amount Per Serving:
Calories:

328
Total Fat:

0g
Saturated Fat:

0g
Trans Fat:

0g
Unsaturated Fat:

0g
Cholesterol:

0mg
Sodium:

6mg
Carbohydrates:

33g
Fiber:

2g
Sugar:

21g
Protein:

1g
Pin this recipe for later!