Last Updated on February 8, 2022 by laurenpacek
This post may contain affiliate links. A Nerd Cooks may collect a share of sales or other compensation from the links on this page. More information can be found here.
A Pink Starburst Shot tastes just like a pink Starburst candy! You only need 3 ingredients to whip up a batch of these sweet shooters!
Well... 5 ingredients if you're including the optional (but oh so pretty) sugared rim on the shot glasses. I mean, look at them! How cute and fun do these shots look? They're sweet and go down very easily. They'd be great during a bachelorette party, for Valentine's Day, or pretty much any other festive occasion!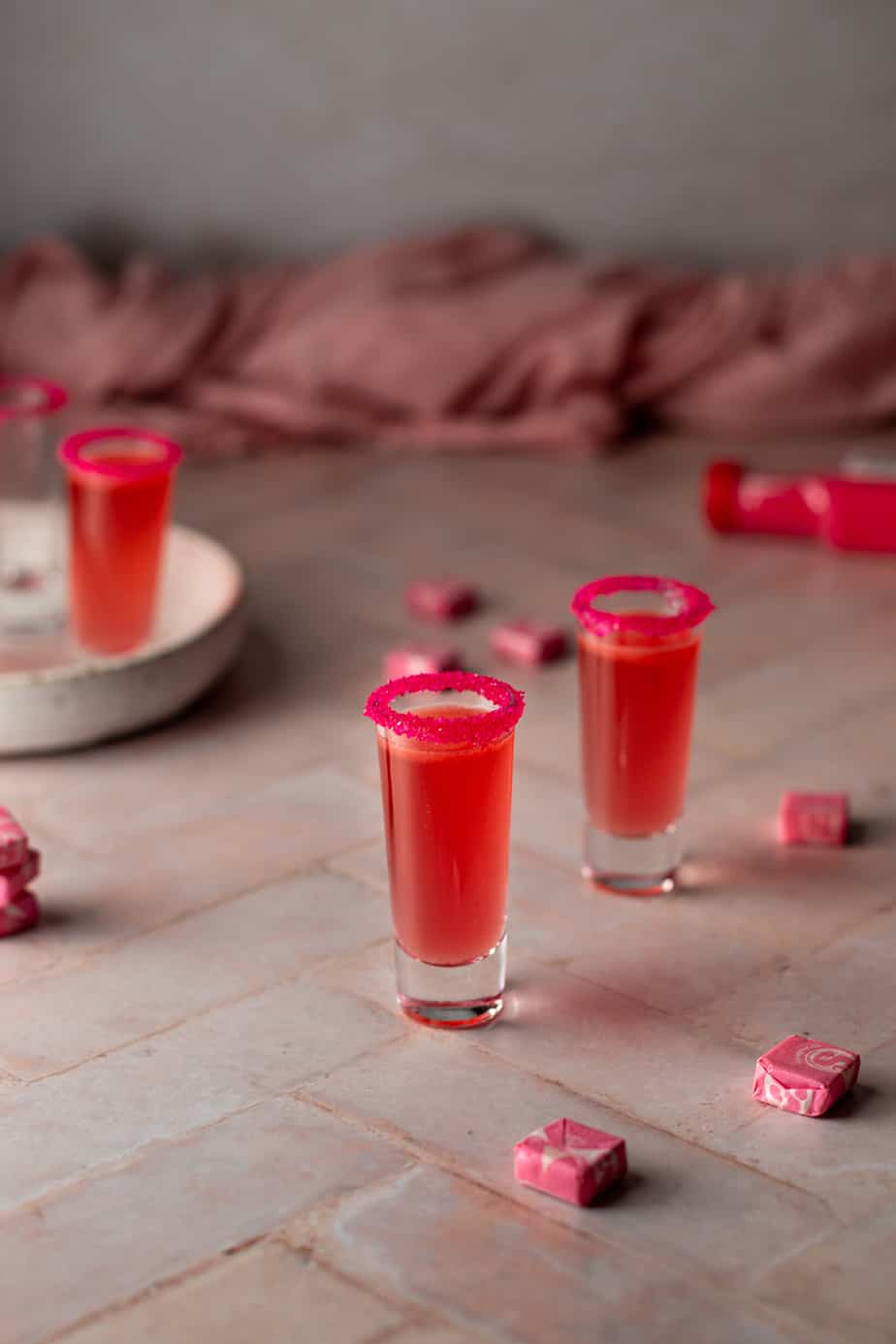 What is a Pink Starburst Shot
A Pink Starburst Shot is a shot--or shooter--that is concocted to taste like a pink Starburst candy! It's also a vibrant pink color, just like the bite-sized sweet treat.
We can all agree that the pink Starbursts are the best, right? I mean, yeah. Have you ever seen that meme that's like "Don't let anyone tell you that you're a yellow Starburst. You are a pink Starburst"? The Internet has spoken.
What's in a Starburst Shot?
Just three ingredients! Well, five if you include what's needed for the sugared rim. Let's talk about them below.
Watermelon schnapps: Watermelon schnapps is a fruity, watermelon flavored liqueur. It's what gives these shots their vibrant pink color. You might more commonly hear this referred to as Watermelon Pucker (a variety made by the brand DeKuyper).
Vanilla vodka: I typically use Smirnoff Vanilla, but use whatever you prefer.
Sour mix: I highly recommend using my homemade sour mix in this recipe and any time sour mix is called for. If you can't or don't feel like it, you can also use store bought.
Light corn syrup: This will help to ensure that the sprinkles really adhere to the rim of the shot glass. You will only need a tiny bit.
Pink sanding sugar or sprinkles: I went with some pretty fine, hot pink, sprinkles.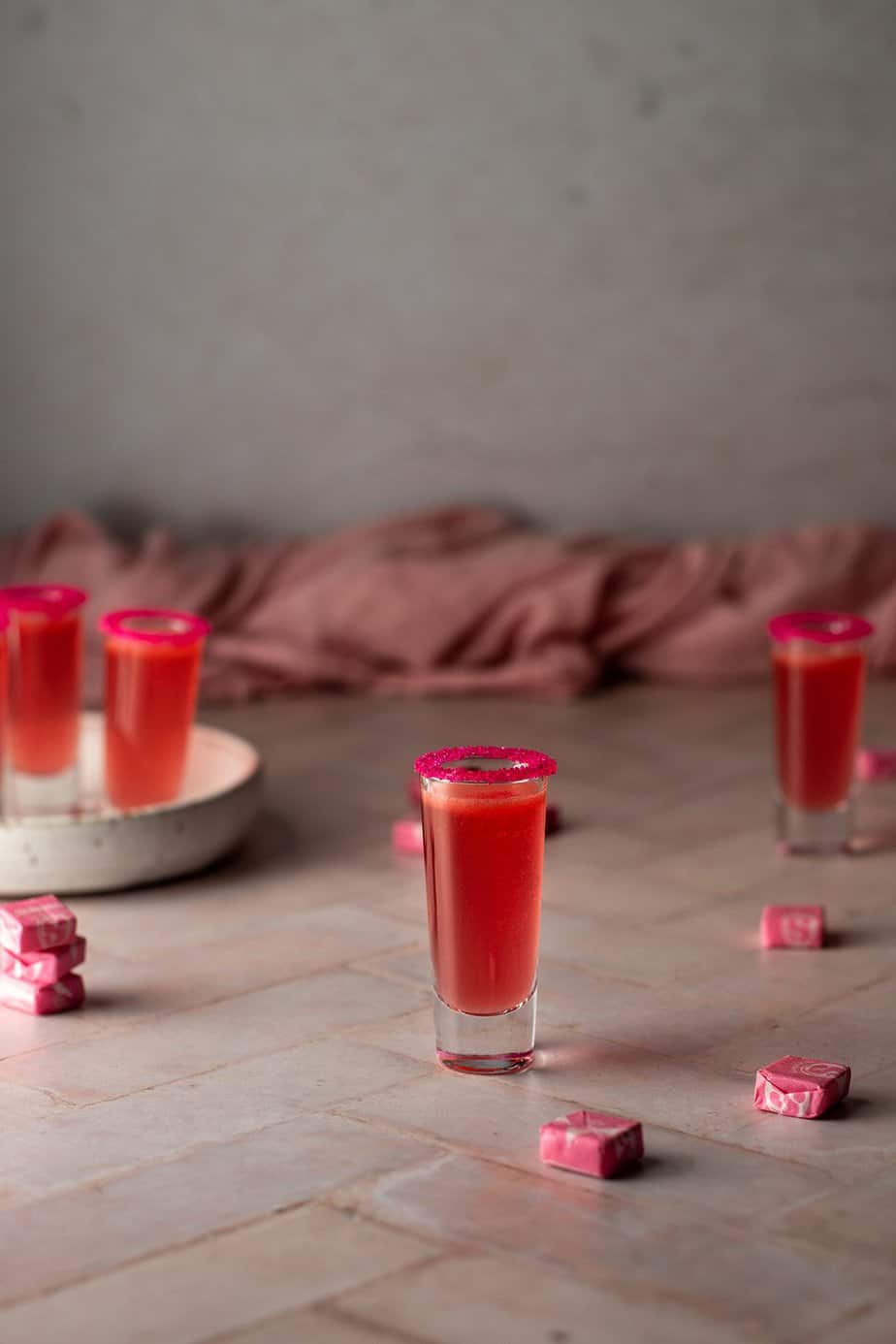 How to make a Pink Starburst Shot
It's so easy to put one (or a batch) of these sweet shots together.
First you'll rim the rim of your shot glass(es) with corn syrup and pink sprinkles/sugar. The corn syrup will help the sprinkles to really adhere to the shot glass. This is technically optional, but like, look at them! You definitely want to go through with this step. It's worth it from a presentation point of view.
After making your shot glass(es) look v pretty, set them aside.
Next, put the remaining ingredients into a cocktail shaker with ice. Cap the shaker and shake everything up until very cold.
Next, carefully strain the contents of the shaker into the shot glass(es). You want to make sure to not mess up the pretty sugar rim that you've created when pouring.
And, there you have it. You've just whipped up your very own Pink Starburst Shot(s). Cheers!
Once you've tossed one or two of these back, you'll need to do some dishes. I was initially a bit worried about how hard it would be to wash the corn syrup and sprinkles off of the glasses themselves. Worry not, though! It all comes off pretty easily with some hot water (and then dish soap, of course).
Recommended tools
Related recipes
If you're looking for other shots, try these Baby Guinness Shots! They look just like a tiny glass of Guinness stout. These Peanut Butter and Jelly Shots aren't half bad, either! They taste just like your favorite sandwich from childhood. But with booze.
White Gummy Bear Shots are super fruity and delicious, too.
I mentioned above that these shots would be great as a Valentine's Day treat. If you want other V-Day drinks, check out my Rossini Cocktails (strawberry Bellinis!) and Red Wine Hot Chocolate.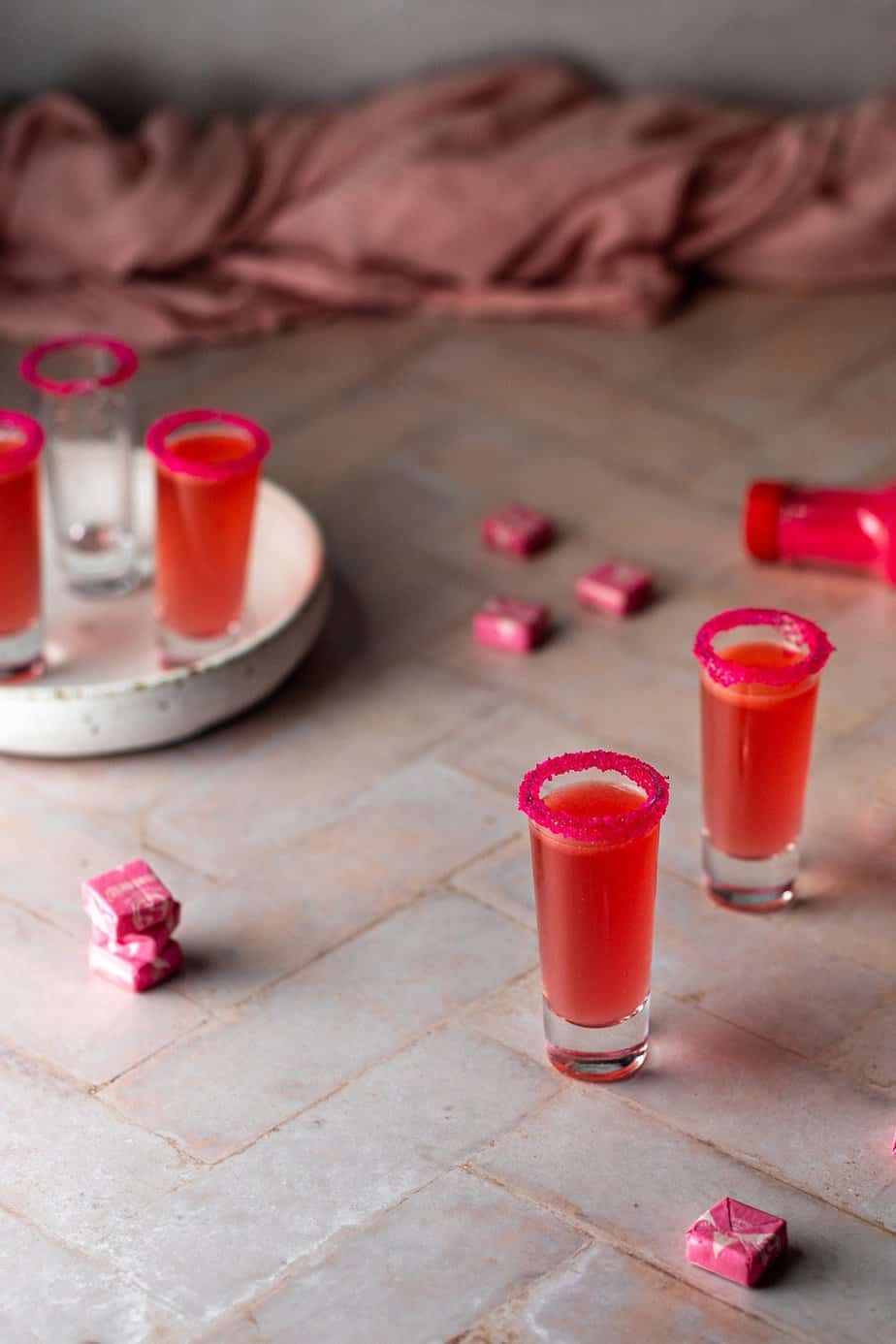 Frequently Asked Questions
Can I batch these shots?
Yep, sure can! Just scale the amounts of each ingredient up proportionally.
Could I make these into a drink instead of a shot?
Sure, if you like! Just scale the amounts of each ingredient up proportionally and pour them into a glass over ice.
Can I make these shots with a different flavor of schapps?
Yeah, of course! You just won't be drinking a Pink Starburst Shot. But you could probably get pretty creative and come up with some delicious shooters if you wanted to try mixing and matching the flavored schnapps that you use.
Don't forget to share your creations and follow me on social media!
Subscribe to the A Nerd Cooks Newsletter to have updates sent straight to your inbox.

I love seeing when you share my recipes! Please tag me on Instagram @anerdcooks so I can enjoy them virtually with you! You can also find me on Pinterest, Facebook, YouTube, and Twitter.

I'd love to know what you thought of this recipe! Don't forget to leave a comment and
⭐️ star rating below!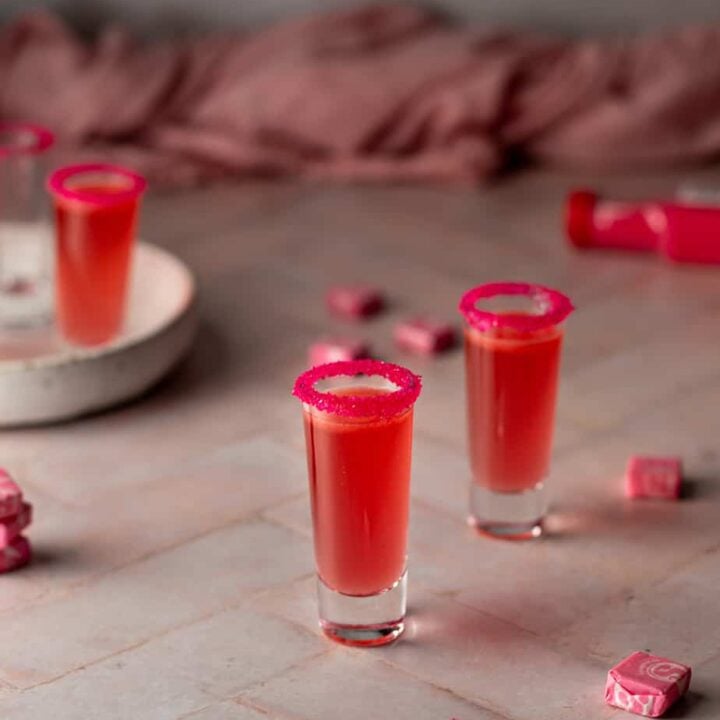 Pink Starburst Shot
Shots taste just like a pink Starburst candy! You only need 3 ingredients to whip up a batch of these sweet shooters!
Ingredients
light corn syrup and pink sugar, for garnish (optional)
0.5 ounces watermelon schnapps
0.5 ounces vanilla vodka
Instructions
If rimming the shot glasses, pour a bit of light corn syrup onto a plate and dip the rim into it. Spread some sprinkles out onto another plate and dip the corn syrup-ed rim of the shot glass into the sprinkles. Set aside.
Pour the watermelon schnapps, vanilla vodka, and sour mix into a cocktail shaker with ice. Shake until very cold.
Strain the contents of the cocktail shaker into the prepared shot glass(es).
Nutrition Information:
Yield:

1
Serving Size:

1
Amount Per Serving:
Calories:

183
Total Fat:

0g
Saturated Fat:

0g
Trans Fat:

0g
Unsaturated Fat:

0g
Cholesterol:

0mg
Sodium:

16mg
Carbohydrates:

35g
Fiber:

0g
Sugar:

34g
Protein:

0g
Pin this recipe for later!