Last Updated on February 21, 2021 by laurenpacek
Peppermint Mocha Cookies are just like your favorite Winter coffee drink in chewable form!
Do you like grabbing a Peppermint Mocha from Starbucks? If you said "yes", then you'll love these cookies. These Peppermint Mocha Cookies taste just like that classic wintertime coffee drink.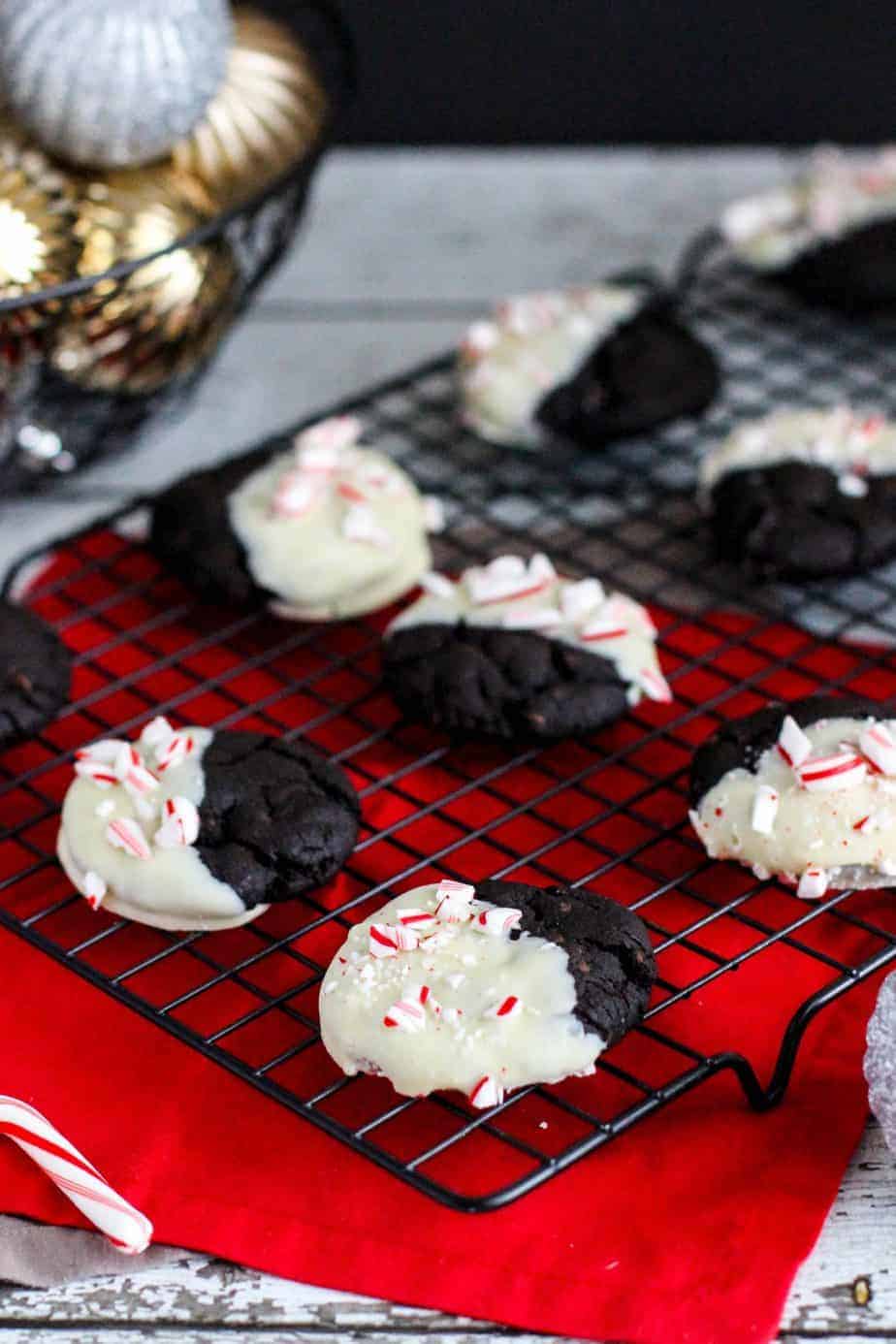 If you like the Peppermint Mocha drink, then you'll LOVE Peppermint Mocha Cookies
Do you like grabbing a Peppermint Mocha from Starbucks? If you said "yes", then you'll love these cookies.
These cookies are better than they have any right to be. They're fudge-y and full of mini chocolate chips, and are flavored with cooling peppermint extract and bold dark roast instant coffee. A little white chocolate and crushed candy canes are the cherry on top of the sundae, so to speak.
I can't stop eating them, and frankly it's getting to be a little problematic. It's a good thing that I can bring them to work and pawn them off on the folks in the lab.
Add them to your holiday cookie tray, bake them for a cookie swap, or just bake up a batch for some friends. You will not be disappointed.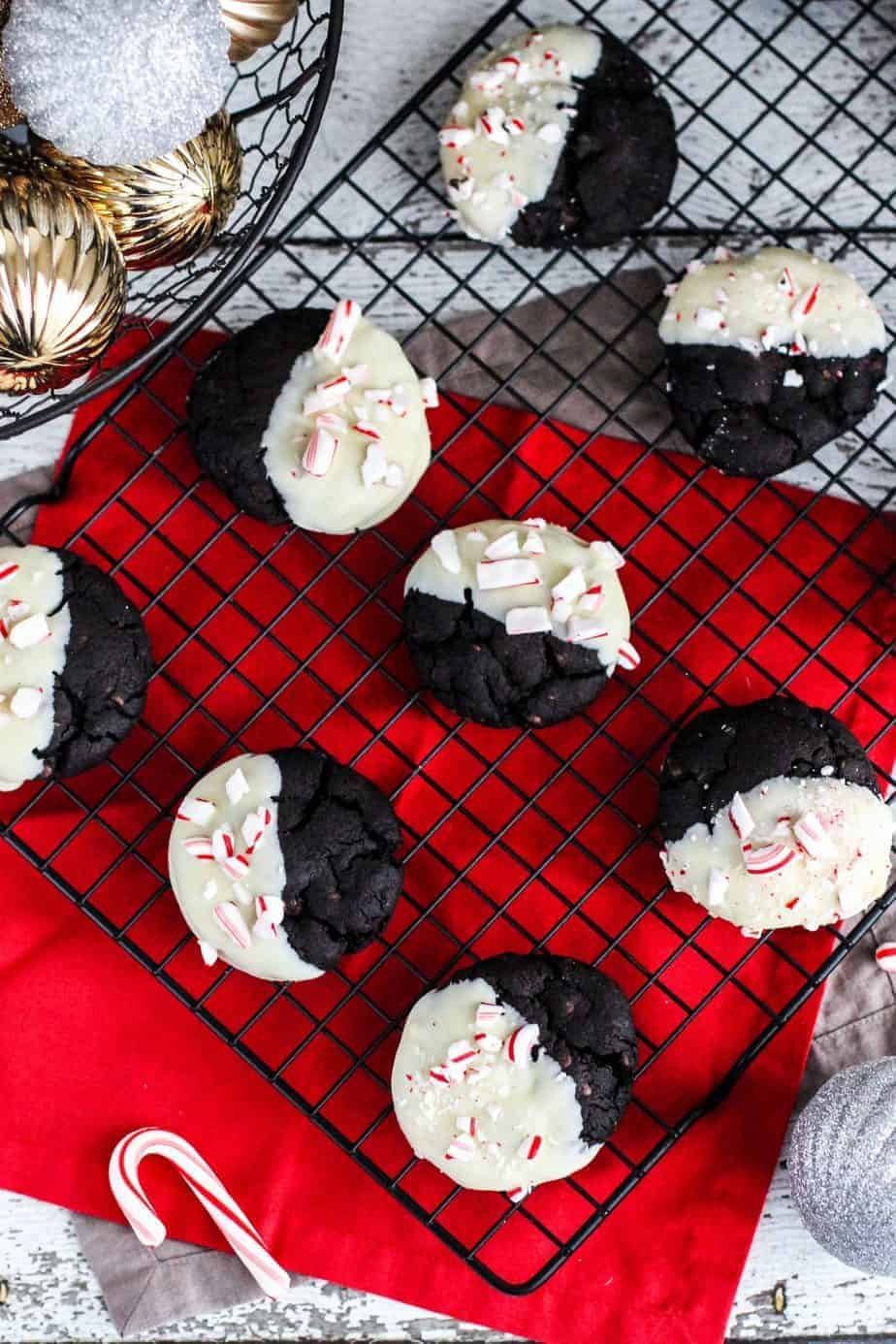 Looking for more holiday cookie recipes?
Need other holiday cookies? How about Gingerbread Crinkle Cookies or Eggnog Cookies?
And while they're not technically cookies, these No-Bake Bourbon Balls are pretty great, too.
So, where does this recipe come from, anyway?
This recipe comes from Sally's Baking Addiction. I doubled the recipe listed on her blog. Because, more cookies.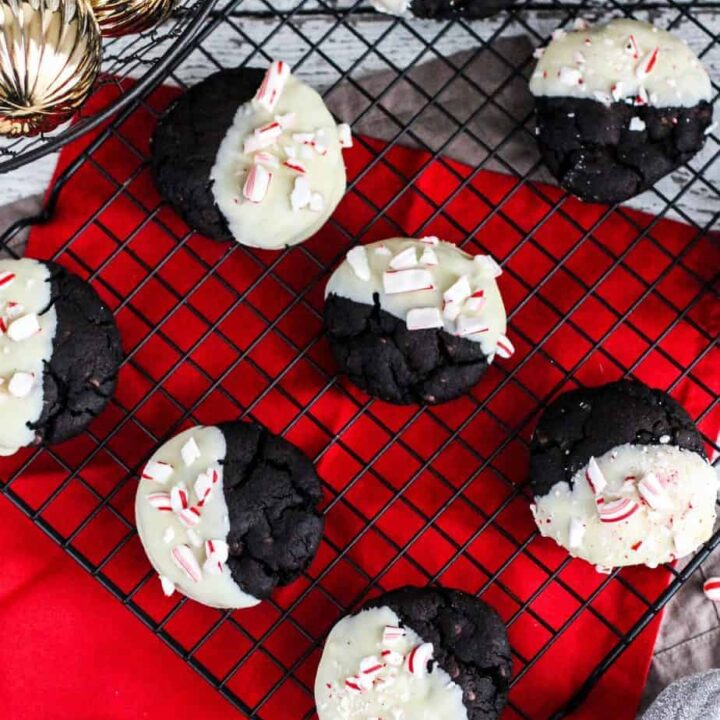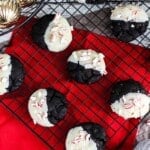 Peppermint Mocha Cookies
Ingredients
2

cups

all-purpose flour

1 ½

cups

cocoa powder

2

tsp

baking soda

4

tsp

espresso powder,

or 2 tbs dark roast instant coffee granules

¼

tsp

salt

1

cup

unsalted butter,

softened

1

cup

granulated sugar

1

cup

light brown sugar,

packed

2

eggs

2

tsp

vanilla extract

2

tsp

peppermint extract

1

cup

mini chocolate chips

16

oz.

white chocolate,

coarsely chopped

6

candy canes,

crushed
Instructions
In a medium-sized bowl, whisk together the flour, cocoa powder, baking soda, espresso powder/instant coffee, and salt. Set the bowl aside.

In the bowl of a stand mixer, cream the butter and sugars together for a few minutes, until they are light and fluffy. Beat in the eggs, one at a time, allowing for each egg to incorporate completely, and add the vanilla and peppermint extracts.

Little by little, add the dry ingredients to the wet, on low speed. Scrape down the sides of the bowl as necessary. Add the mini chocolate chips. Turning the speed up a bit higher helps to incorporate them throughout the thick, sticky dough.

Next, you need to chill the dough. Cover the dough tightly with plastic wrap (you can chill it right in the bowl of the stand mixer, or transfer to another bowl if you want. Chill the dough for at least 3 hours, and up to overnight.

After chilling, let the dough sit out at room temperature for 20-30 minutes. While the dough warms up a little, preheat the oven to 350 degrees F and line two baking sheets with parchment paper.

Scoop and roll cookie dough into 1.5 tbs-sized balls balls. Place them on the baking sheets, leaving a couple of inches between cookies.

Bake the cookies for 9-10 minutes. Remove them from the oven and allow them to cool on the cookie sheets for 5 minutes or so before removing them to a wire rack to finish cooling completely.

Once the cookies have cooled, melt the white chocolate. Dip the cookies into the chocolate, or drizzle chocolate over the cookies, and sprinkle with crushed candy canes.
Recipe Notes
Notes:
Chilling the dough is very important.  If you don't chill the dough, the cookies will spread waaay too much. Trust.
What kind of gear should I have on hand in order to make these cookies?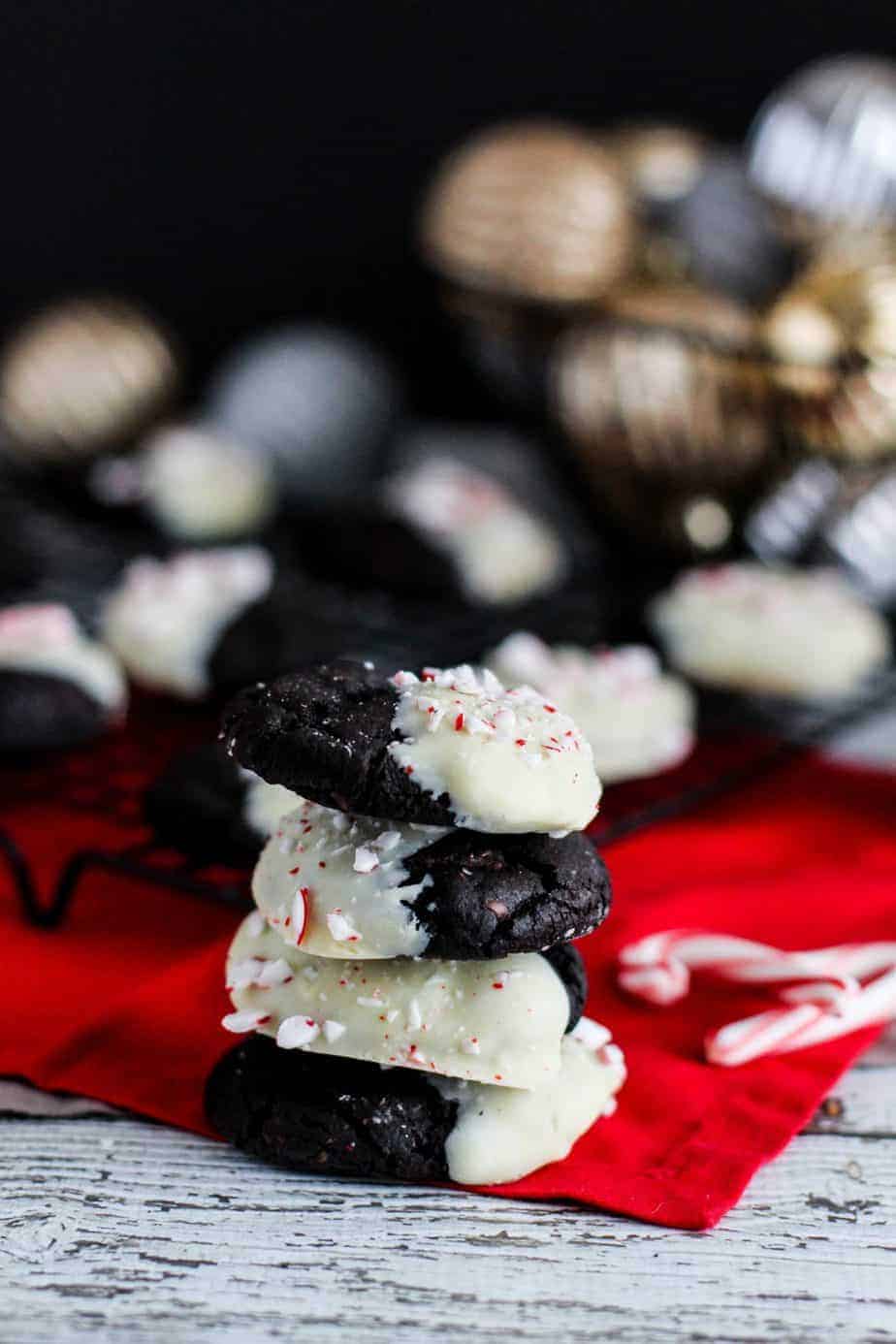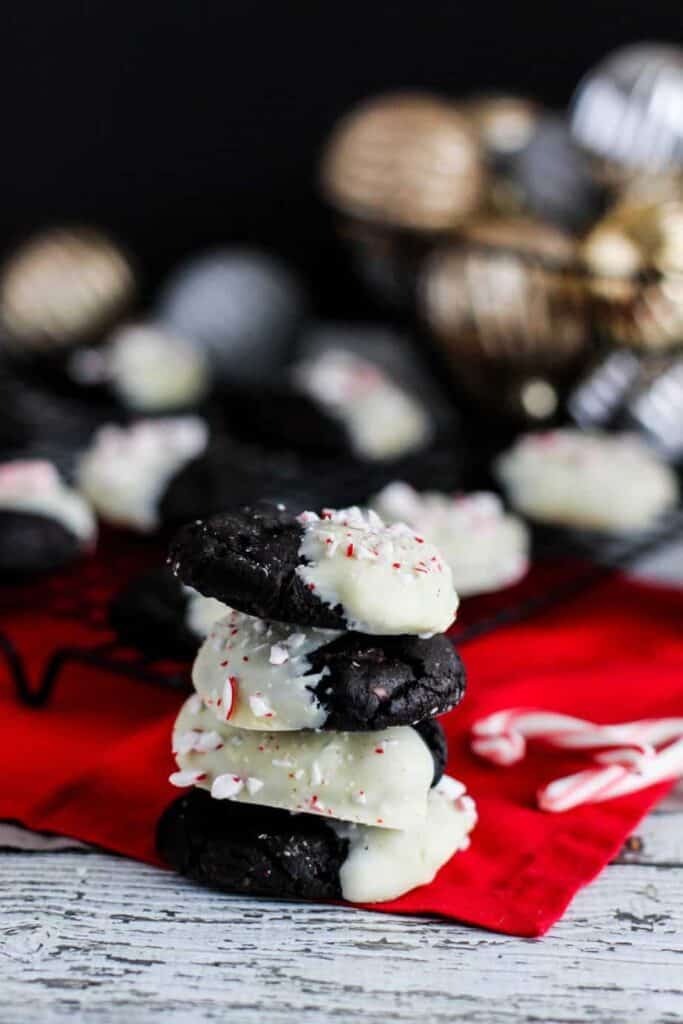 Pin this recipe for later!