This Incredible Hulk Drink is sweet, vibrant green, and packs a punch just like The Hulk! It's delicious and requires only THREE ingredients.
This cocktail has a fun name, fun color, and is fun to drink! But do yourself a favor and sip with a bit of caution. This drink is all booze, with no mixers. And the sweet flavor of the cocktail helps to mask the booziness a bit. So it's pretty potent!
All the same, it's a tasty and somewhat unexpected cocktail that's sure to wow your guests. Though it's perfectly delicious at any time of the year, its unique color makes it particularly well suited to Halloween.
Looking for more fun, vibrantly colored drinks? Check out my Grinch Mimosas, AMF Drink, and Blood Orange Margaritas!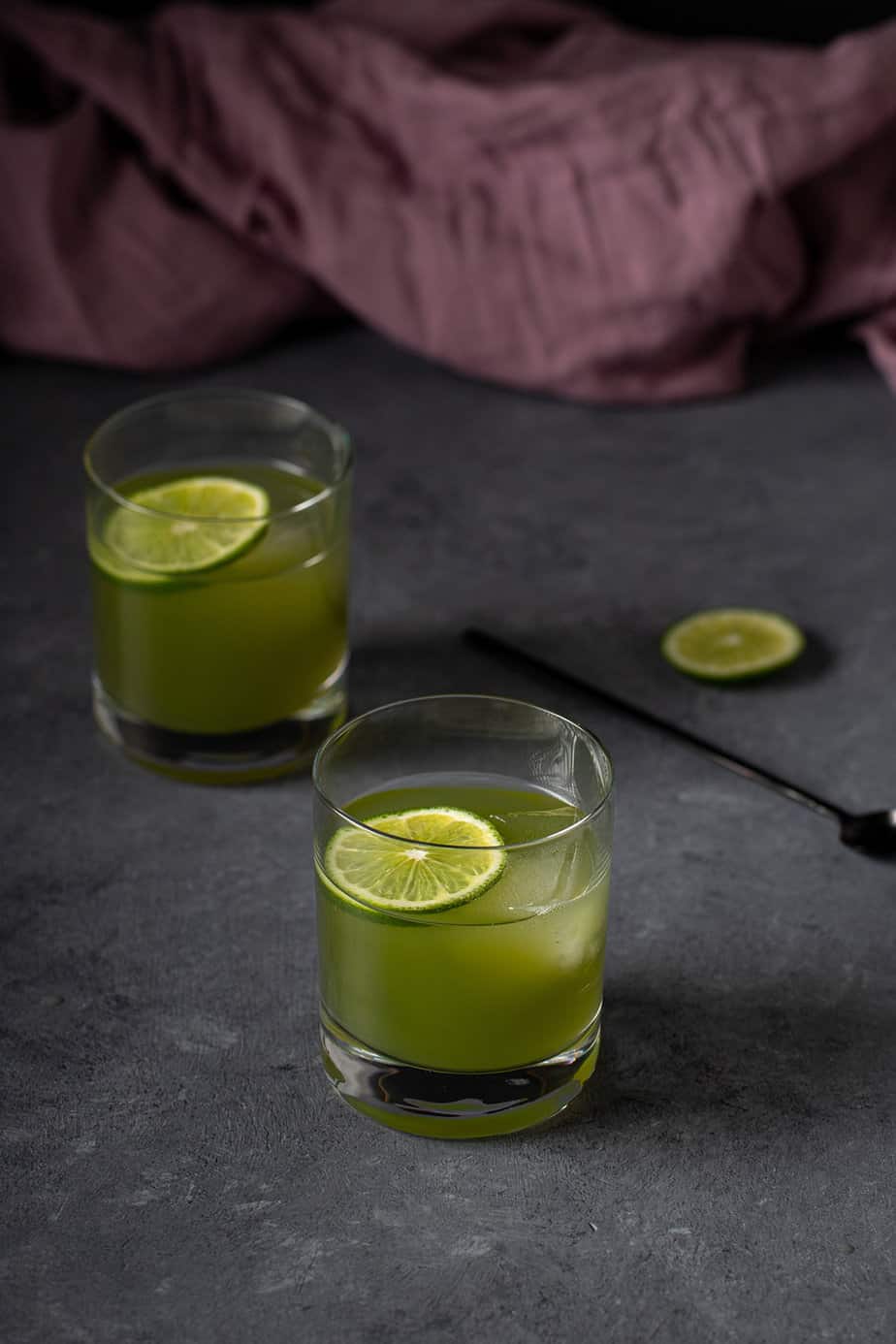 Jump to:
🌟 Why You'll Love This Recipe
It only requires THREE ingredients. You only need three ingredients to make this drink, and one of them is bitters.
It's very easy to make. Can you pour liquid into a glass and shake a bottle of bitters? Sure you can! And that means that you can totally make this fun drink.
This drink is a fun, vibrant color. I mean, look at that color! Though it's great anytime, it's an especially fun holiday drink (think St. Patrick's Day or Halloween!).
💭 What is an Incredible Hulk Drink?
The Incredible Hulk Drink gets its name from the superhero The Incredible Hulk (duh). Not that you probably need a description of who The Hulk is, but we're gonna go into it quickly anyway. The Hulk is a superhero (Marvel comics) who is depicted as being green-skinned, hulking (i.e., huge), and super muscular human-like character with basically limitless strength. The similarities between the character's green skin and the green hue of this drink is where the drink gets its name.
The drink was invented in 2003 at a launch party for Hpnotiq at Sean "Puffy" Combs' New York City restaurant. The story goes that the brand rep noticed that mostly women were drinking Hpnotiq, not men. So, the bartender at the party mixed the bright blue liqueur with Hennessy in order to create a more "manly" drink that would appeal to the male attendees. And thus, the Incredible Hulk was born.
What does it taste like?
This drink is sweet and fruity, but not too sweet. The cognac and bitters help to make it more balanced.
I'll admit, when I first tried each of the alcohols separately, I was a little skeptical about how the final product would taste. If you're like me in that way, don't be worried! It comes out being very tasty and quite drinkable.
Given that this drink is 100% booze, please drink it with a bit of caution. It packs a punch!
📝 Ingredients
This fun drink only requires THREE ingredients! Let's talk about them below.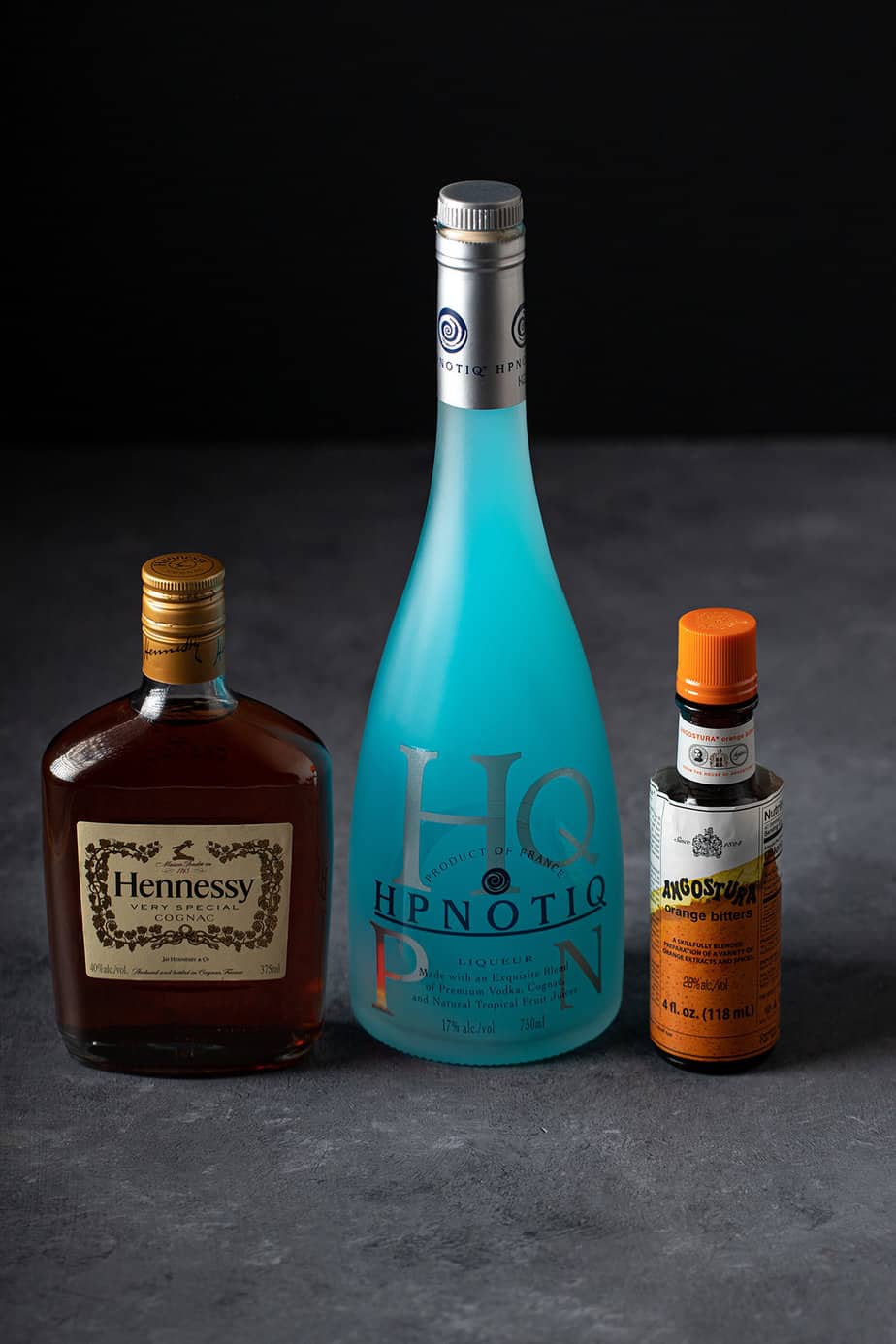 Hennessy: Hennessy is a brand of cognac, which is a kind of brandy, that's made in the Cognac region of France. You could substitute another brand of cognac, if you'd like. I used Hennessy because it's what the original Incredible Hulk Drink recipe calls for.
Hpnotiq: Hpnotiq (pronounced "hypnotic") is a vibrant blue liqueur from France made from fruit juice, vodka, and cognac. Fun fact: it was popularized when Sean Combs (a.k.a. Puff Daddy, P. Diddy, Puffy, etc.) started selling it at his restaurants.
Orange bitters: Use whatever brand of orange bitters you like. It adds a little something to the cocktail.
Garnish: As always, a garnish isn't mandatory. But I garnished my drinks with a fresh lime wheel.
👩🏻‍🍳 How to make Incredible Hulk Drink
This drink is built in the glass that you plan to drink it out of. This makes making this drink extra easy AND hooray for fewer dishes to wash!
Anyway, to make this cocktail, you'll start out by adding ice to a rocks glass. I really like to use a single large cube of ice in my drinks. For one thing, I think that it looks nice. It also keeps your drinks cold without diluting them too quickly, like smaller pieces of ice would.
Once you have ice in your glass, just pour the Hpnotiq and Hennessy in. Next, hit the drink with three dashes of bitters, and give it all a nice gentle stir.
When the two alcohols combine, they'll create a surprisingly vivid green color. Last, if you feel like it, you can garnish your drink with a fresh lime wheel.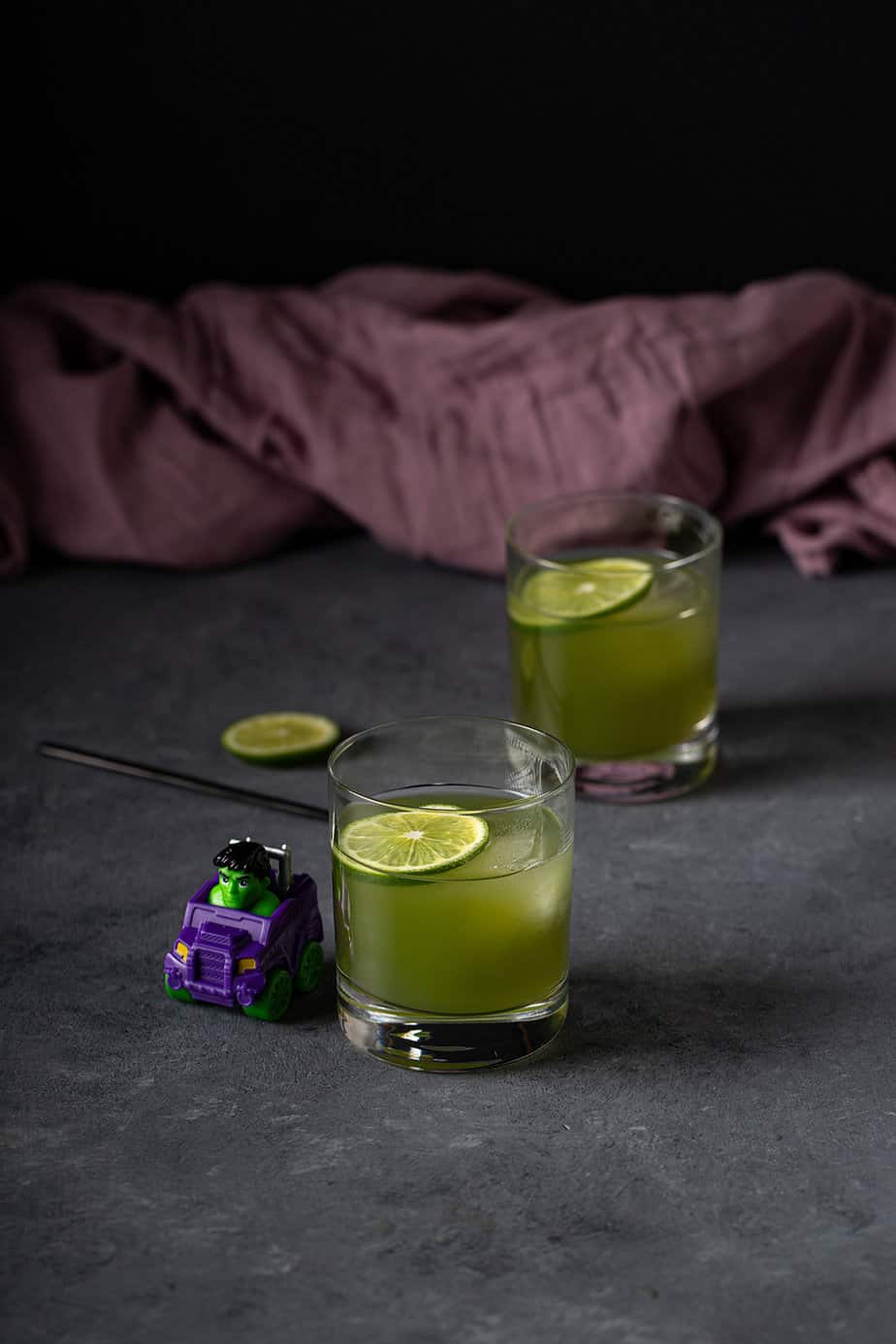 🔗 Other green cocktails
❓ FAQs/Tips and tricks
How to pronounce Hpnotiq?
It's pronounced just like the word "hypnotic."
What is Hpnotiq?
It's a French liqueur made from fruit juices, vodka, and cognac.
Why is it called an Incredible Hulk Drink?
It's named after the superhero, the Incredible Hulk! The Hulk has green skin, and this drink is similar in color.
What does Hpnotiq taste like?
It's sweet, with a bitter finish, and has tropical and fruity notes.
Do I have to use Hennessy?
You can use another brand of cognac, if you prefer. The original recipe calls for Hennessy. But it's up to you.
When should I make this drink?
Make it any time! But I will say, the bright green color really lends itself to being a Halloween or St. Patrick's Day drink.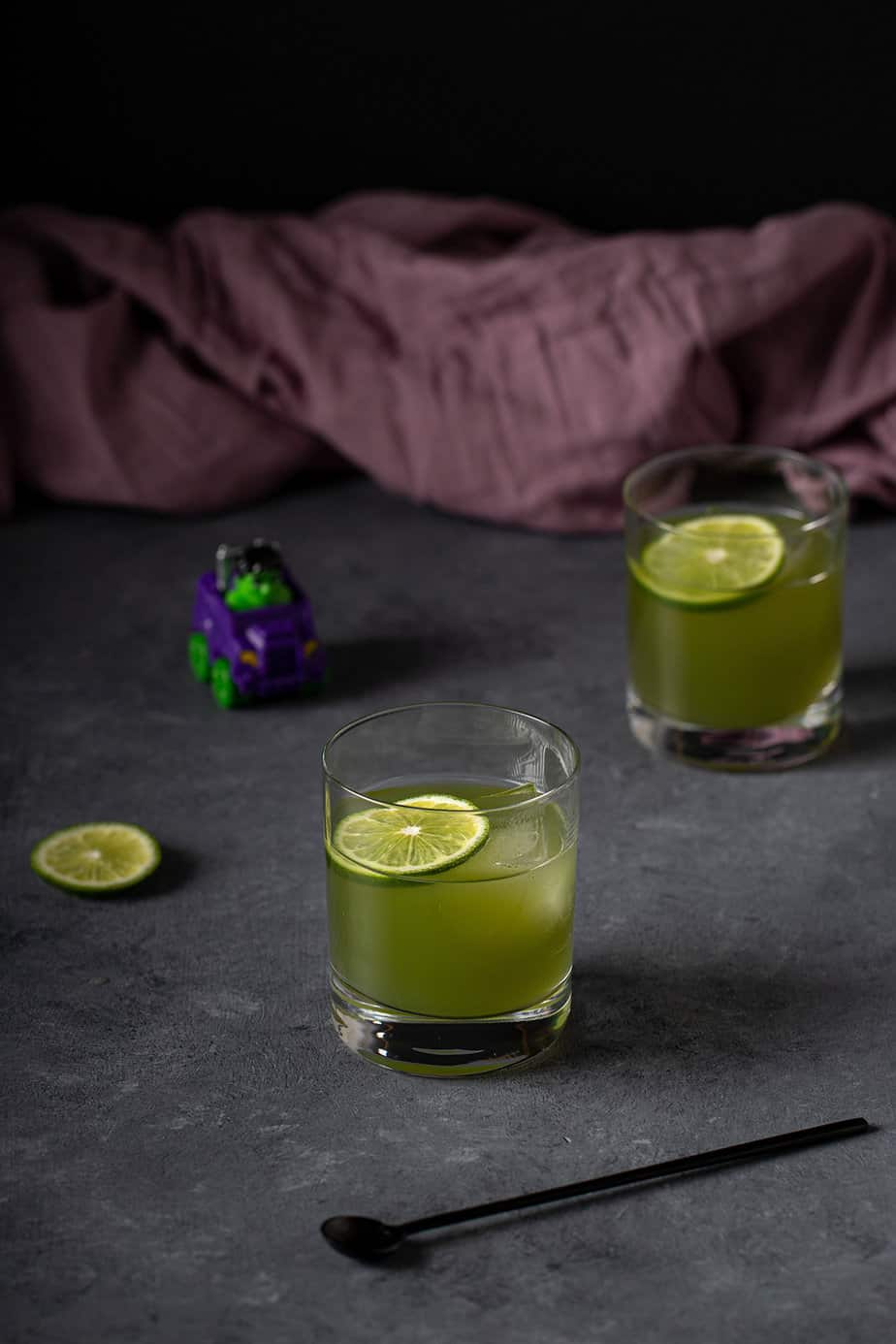 🖤 Share your creations and follow me on social media
✨ Recipe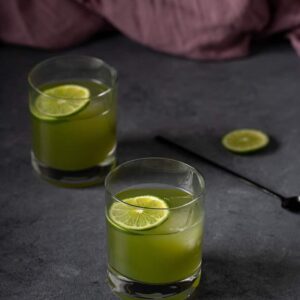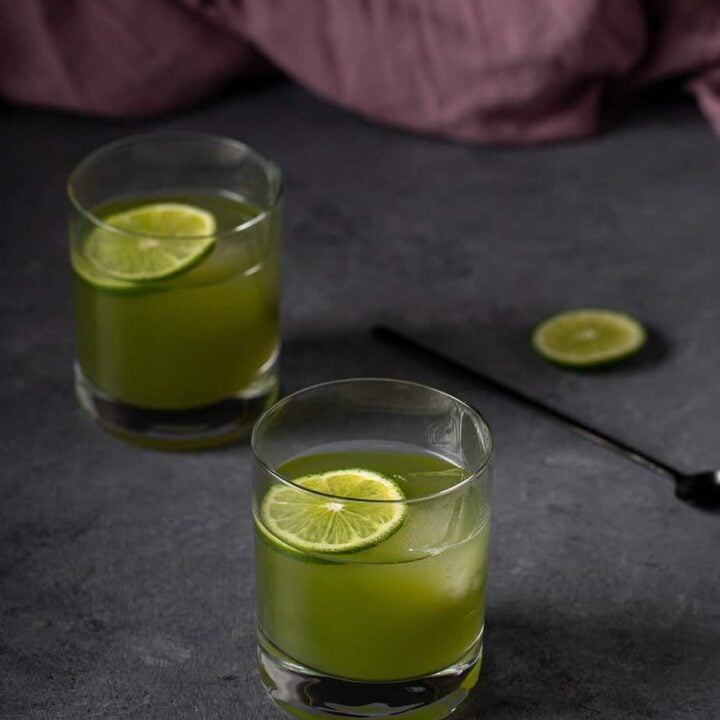 Incredible Hulk Drink
This Incredible Hulk Drink is sweet, vibrant green, and packs a punch just like The Hulk! It's delicious and requires only THREE ingredients.
Ingredients
1.5

ounces

Hennessy

3

ounces

Hpnotiq liqueur

3

dashes orange bitters

lime wheel

for garnish (optional)
Instructions
Add ice to a rocks glass.

Pour the Hennessy and Hpnotiq liqueur over the ice.

Add 3 dashes of orange bitters. Gently stir everything together.

Garnish with a lime wheel, if desired.
Notes
Make this drink anytime, though it's an especially fun drink for St. Patrick's Day or Halloween.
Nutrition
Serving:
1
Calories:
547
kcal
Carbohydrates:
58
g
Protein:
1
g
Sodium:
10
mg
Fiber:
2
g
Sugar:
43
g
Disclaimer: Nutritional information is a generated estimate and is not guaranteed to be accurate.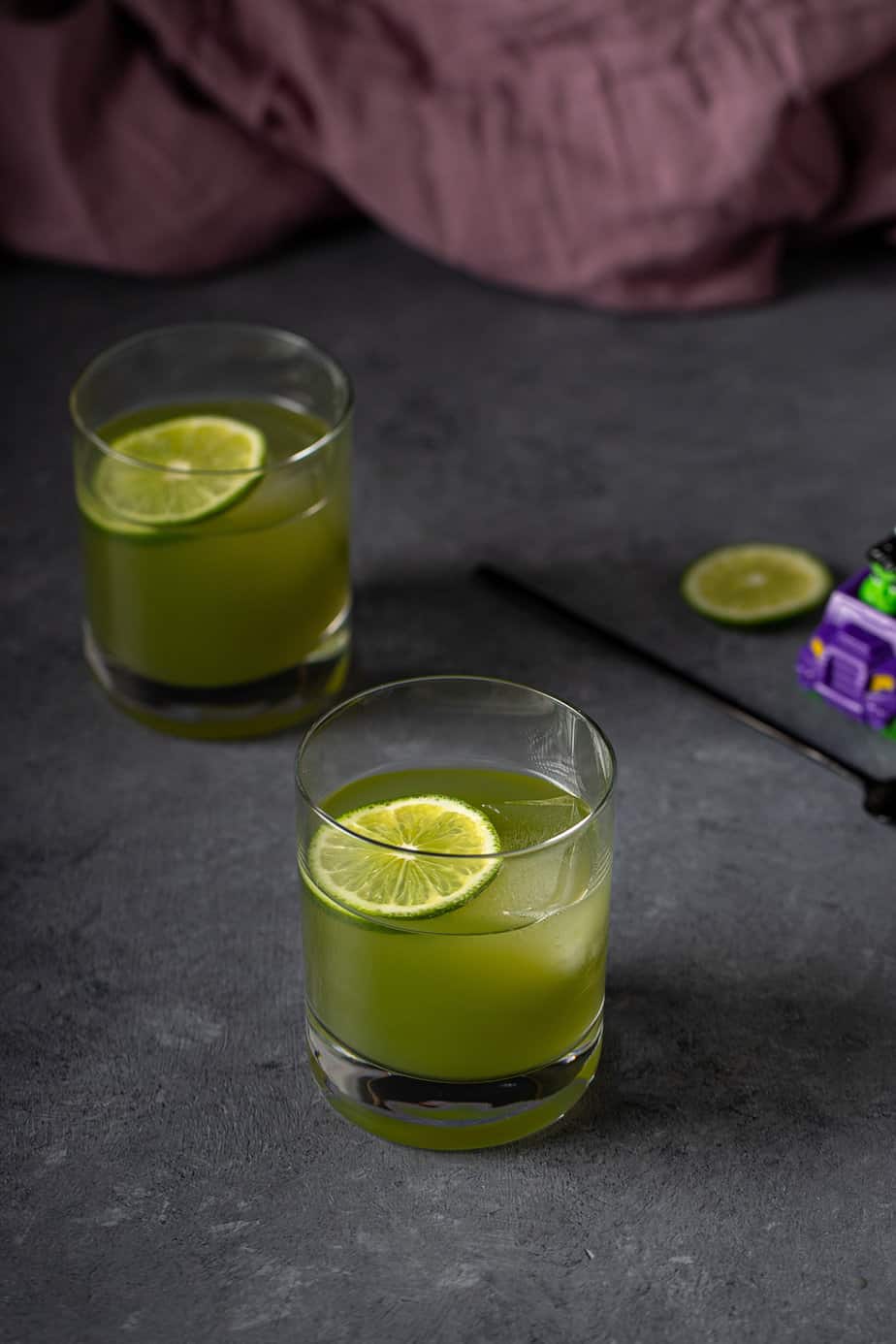 📌 Pin this recipe for later!