Last Updated on February 21, 2021 by laurenpacek
Greek chicken quinoa bowls are delicious, full of flavor, and (bonus) very convenient for meal prepping!
Whip this recipe for Greek Chicken Quinoa Bowls up and you'll have lunches prepared for nearly every day of the work week!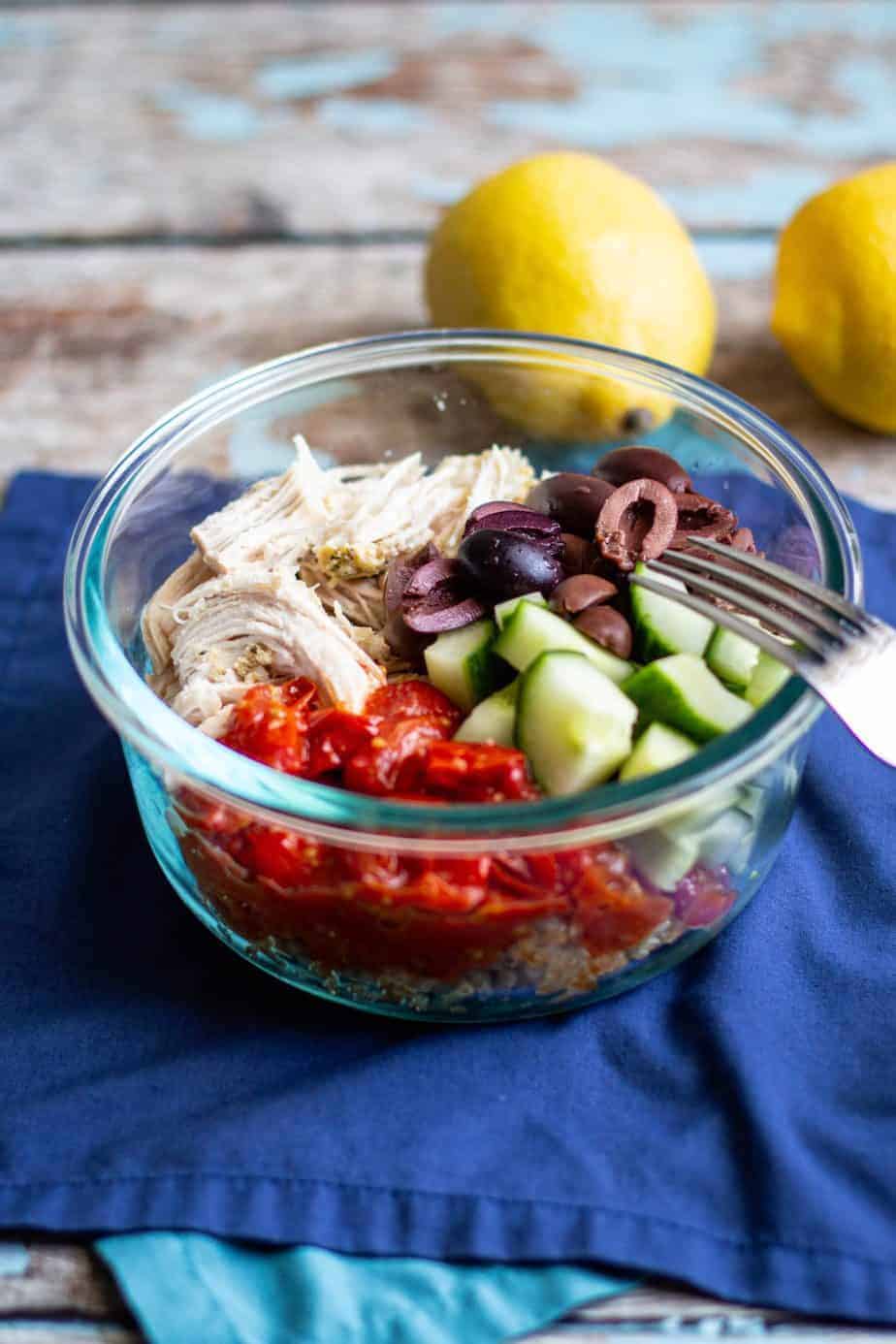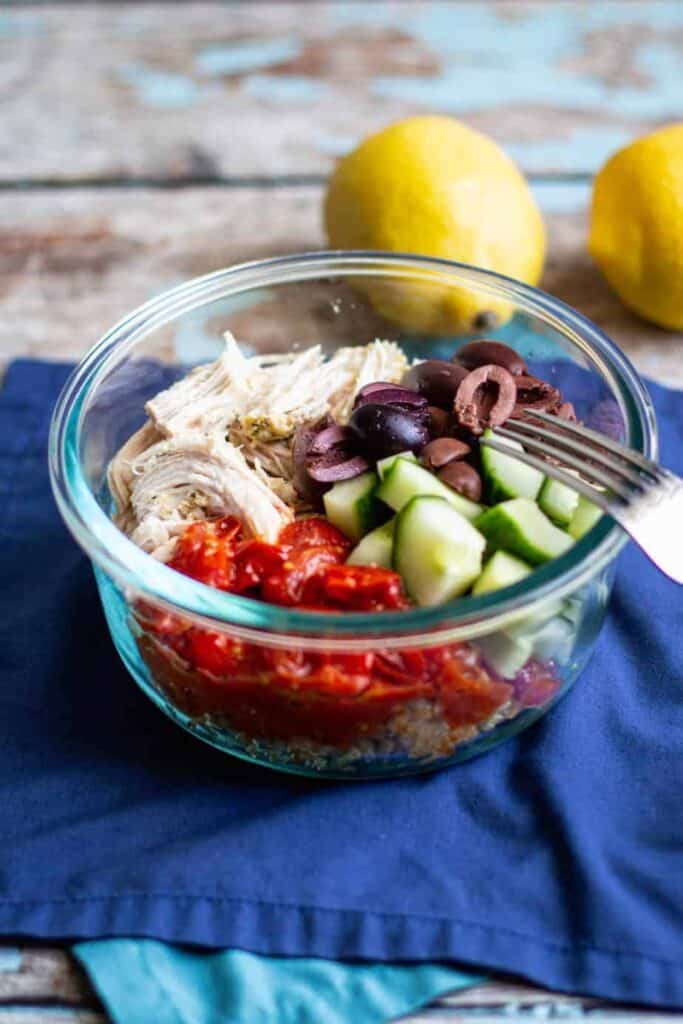 Meal prep makes your week soo much easier
I'll be the first to admit that I'm not always the best about meal planning or prepping. But when I actually do it, it makes my weeks so much easier. Even though I love to cook, I'm pretty much always a fan about having to think less about things.
These bowls are ideal for meal prep. Make everything on a Sunday, divvy everything up in 4 equal portions into containers, and boom: you have lunches for nearly every day of the week.
Don't like some ingredients? Change 'em up!
It's really easy to make these bowls your own. Say you don't like feta. These bowls would be really good topped with some hummus or tzatziki sauce.
Not super into chicken? Top these bowls with your protein of choice.
Dislike olives? (first of all, how dare you) Feel free to omit them. You get the idea.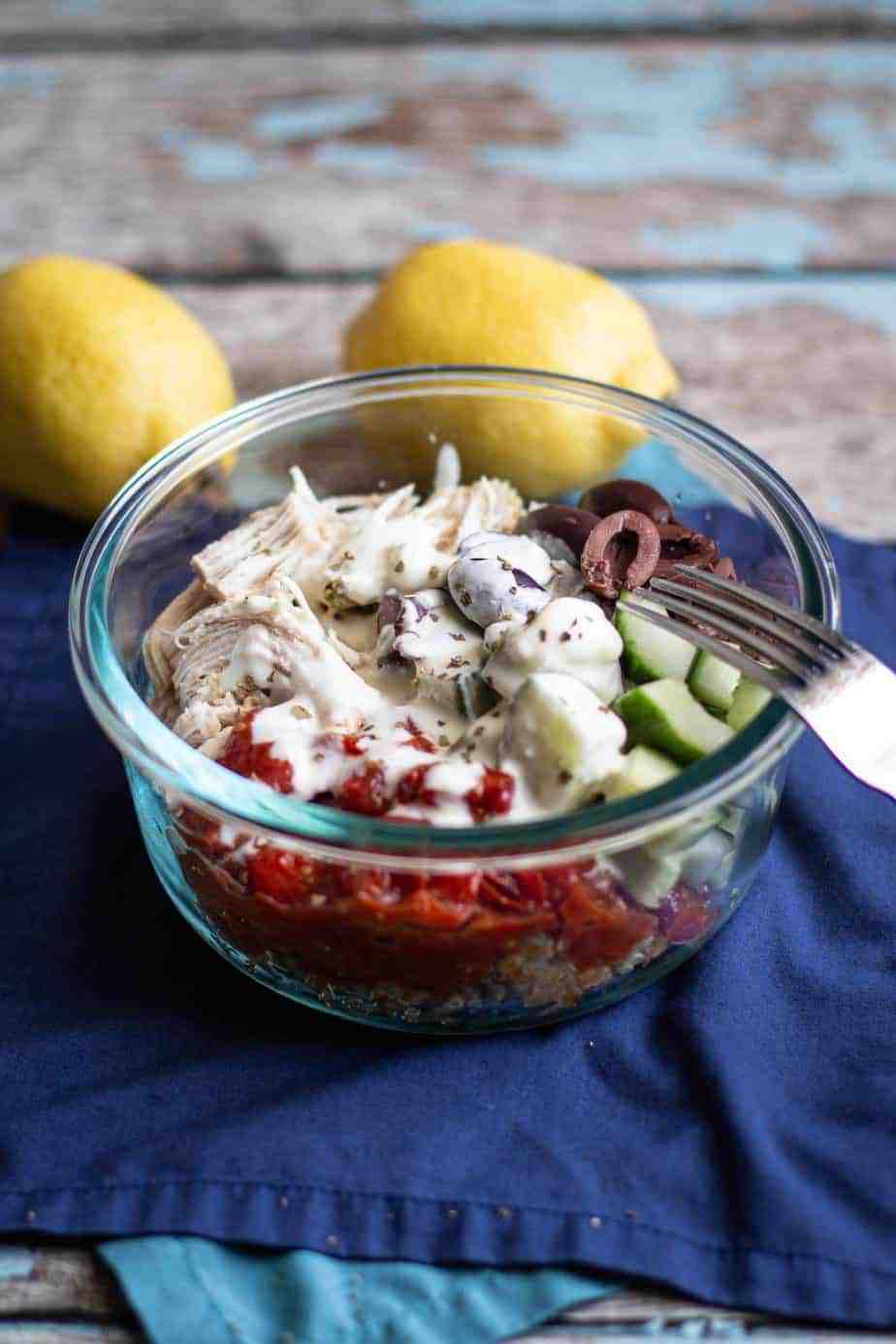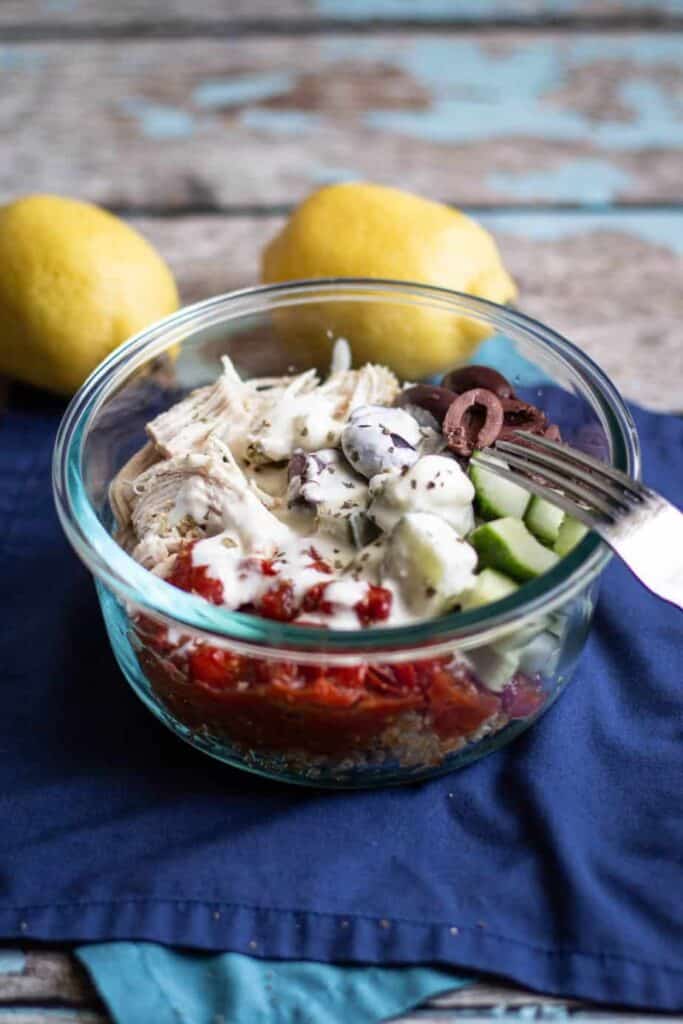 This recipe is adapted from one that I found on thekitchn.com.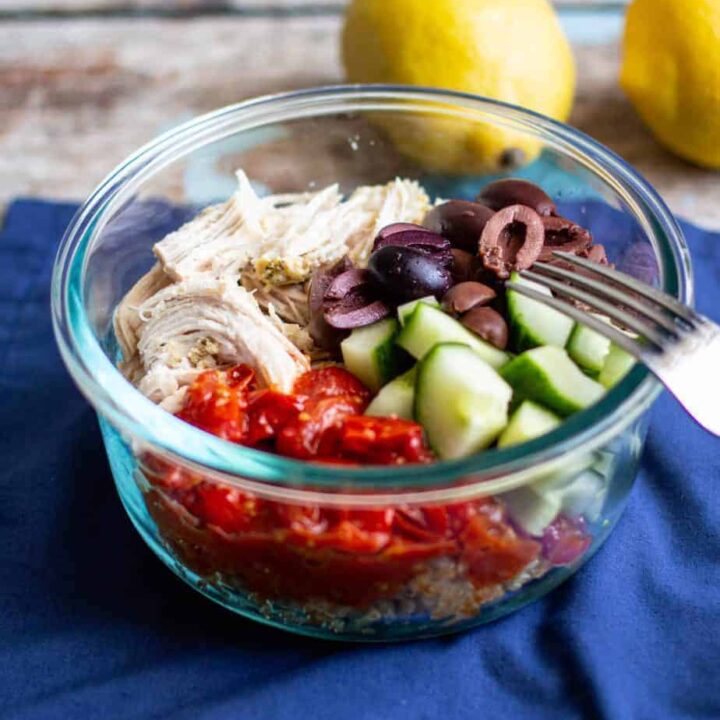 Greek Chicken Quinoa Bowls
Total Time:
1 hour
20 minutes
Ingredients
Roasted cherry tomatoes
1 pint cherry tomatoes, halved
1 tbs olive oil
kosher salt and black pepper, to taste
Shredded chicken
3 boneless skinless chicken breasts
1 tbs olive oil
1 lemon, juiced
1 clove garlic, minced
2 tsp oregano
kosher salt and black pepper, to taste
Quinoa
1 cup quinoa
2 cups water or chicken broth
kosher salt, to taste
Feta dressing
4 oz feta cheese
2 tbs olive oil
1 tbs water, plus more if needed
½ to 1 lemon, juiced
kosher salt, to taste
Everything else
½ English cucumber, chopped
½ cup kalamata olives, chopped
Instructions
To make the roasted cherry tomatoes
Preheat the oven to 300°F. Line a baking sheet with foil and set aside.
Spread the halved cherry tomatoes on the prepared baking sheet.
Drizzle with olive oil, sprinkle with salt and pepper, and toss to coat evenly.
Roast for 45-60 minutes, checking after about 30 minutes, until the tomatoes are sweet, jammy, and perfect. Allow them to cool slightly.
To make the shredded chicken
Preheat the oven to 350°F. Line a baking sheet with foil and set aside.
In a small bowl, combine the olive oil, lemon juice, garlic, oregano, and salt and pepper.
Place the chicken on the prepared baking sheet, coat with the olive oil/spice mixture, and roast until the chicken is cooked through (i.e., 165°F on an instant-read thermometer), approximately 18 to 20 minutes.
Once the chicken breasts are cooked through, allow them to cool a bit before shredding with two forks.
To make the quinoa
Place the quinoa, water, and salt in a saucepan. Bring to a boil.
Lower the heat to low, cover with a lid, and simmer for 15-20 minutes, or until the quinoa has absorbed all of the water.
Fluff the quinoa with a fork.
To make the feta dressing
Blitz all ingredients in a food processor or blender.
Process until smooth.
To assemble the bowls
Divide all ingredients into 4 equal parts and combine in 4 bowls.
Really into Greek/Mediterranean flavors like I am? Check out these recipes:
What equipment will I need to make this recipe?