This drink is exactly what you want on a hot day
This Limoncello Gin Collins is fizzy and refreshing, with a prominent lemon flavor. Minty simple syrup helps to balance out the tartness of the lemon juice and limoncello.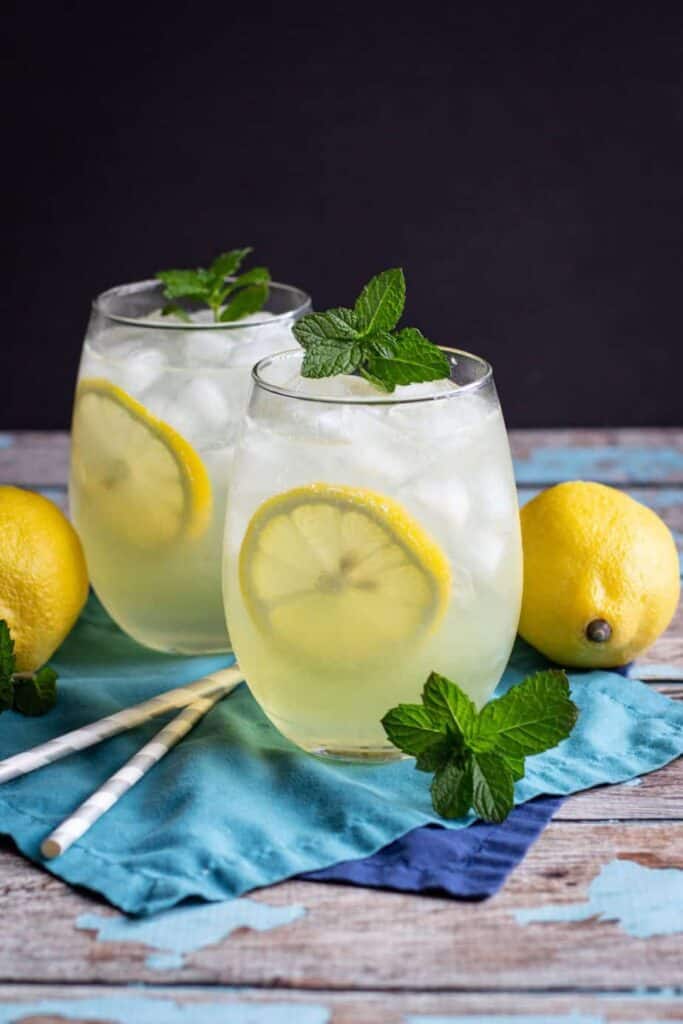 This cocktail is a delicious twist on a Tom Collins
A Tom Collins is a cocktail made from gin, lemon juice, sugar, and carbonated water. This Limoncello Gin Collins adds … you guessed it … limoncello to the mix.
You can use store bought limoncello in this recipe, but I'm a big fan of using homemade. I shared a recipe for Sous Vide Limoncello with you all not that long ago. Super easy, super delicious.
Of course, if you don't have a sous vide (get one, you won't regret it), you can make limoncello the old fashioned way.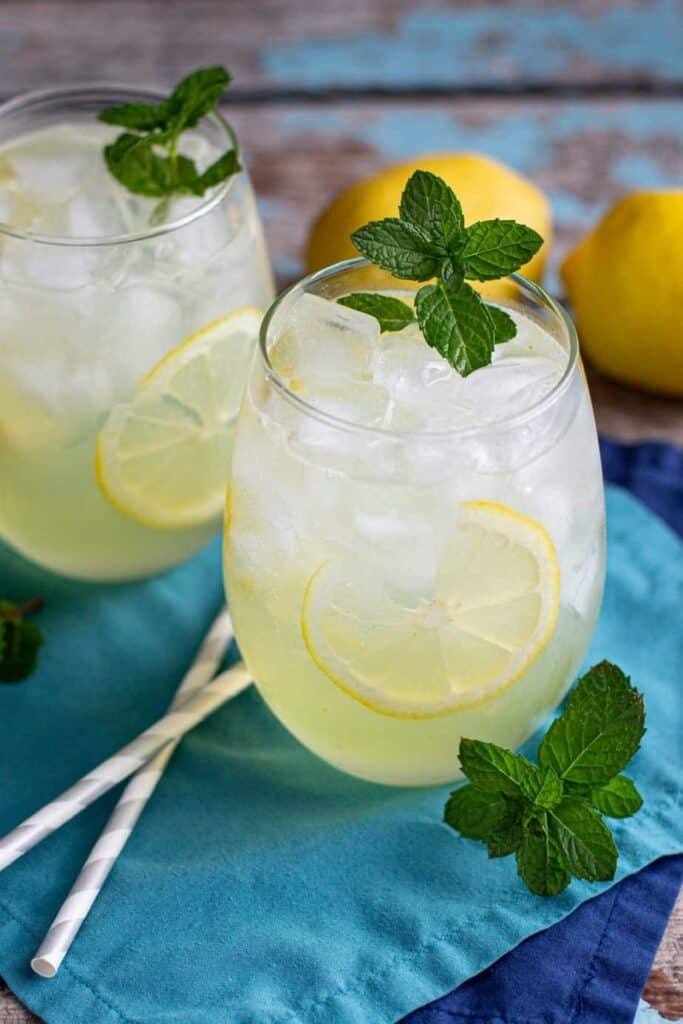 How does this drink come together?
Start out by filling a Collins glass with ice. Yes, I know that the glasses in the pictures are stemless wine glasses. Our tall cocktail glasses recently broke in the dishwasher.
So I'm working with what I've got.
Add the limoncello, gin, lemon juice, and mint simple syrup to the glass. Top all of this with a bit of club soda.
Next, stir gently with a bar spoon. Garnishes are optional, but I think that this drink looks awfully pretty with a bit of fresh mint and a lemon wheel or two. Feel free to tuck those lemon wheels right down into the drink.
I haven't tried it just yet, but I do believe that this drink could be made in a large batch. Very convenient for parties and whatnot.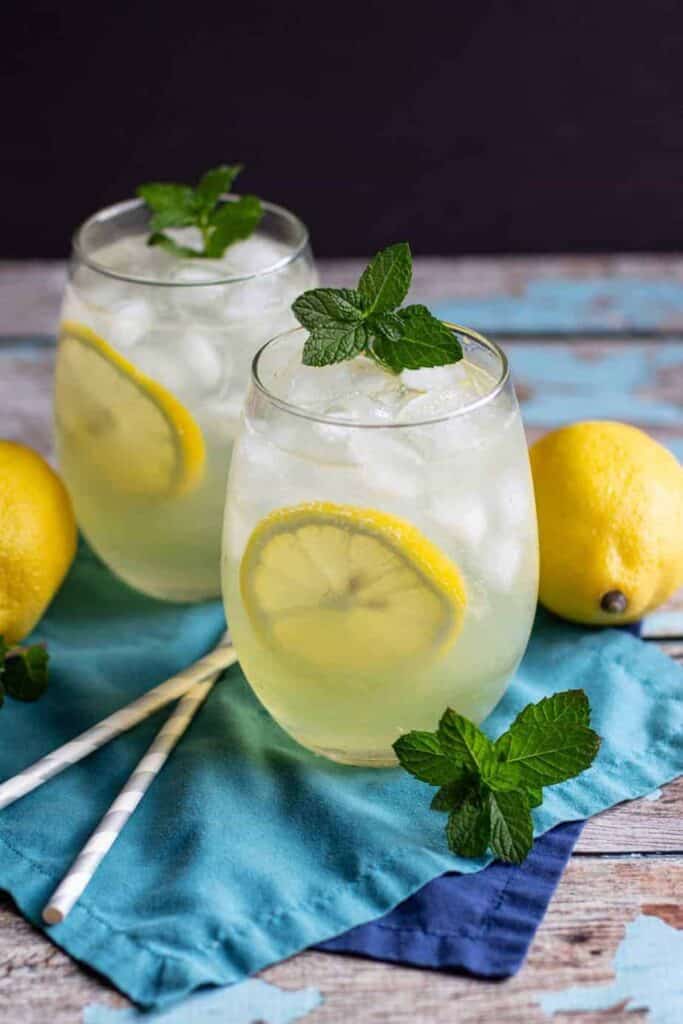 Looking for other tasty cocktails?
In keeping with a gin theme, how about a Festive Cranberry Gin and Tonic? I've also got a Holiday Gin Moscow Mule.
I also shared a Strawberry Basil Vodka Collins not long ago!
This cocktail makes good use of a couple of other recipes I've shared with you before
First, you're gonna want to make some mint simple syrup. I showed you a plain simple syrup before. It's endlessly versatile. I've also talked about how to make a mint simple syrup here in this Derby Cup Cocktail.
And, of course, limoncello is the star of the show here. Check out my Sous Vide Limoncello recipe. It's so delicious and easy to make that you'd be a fool to use store bought.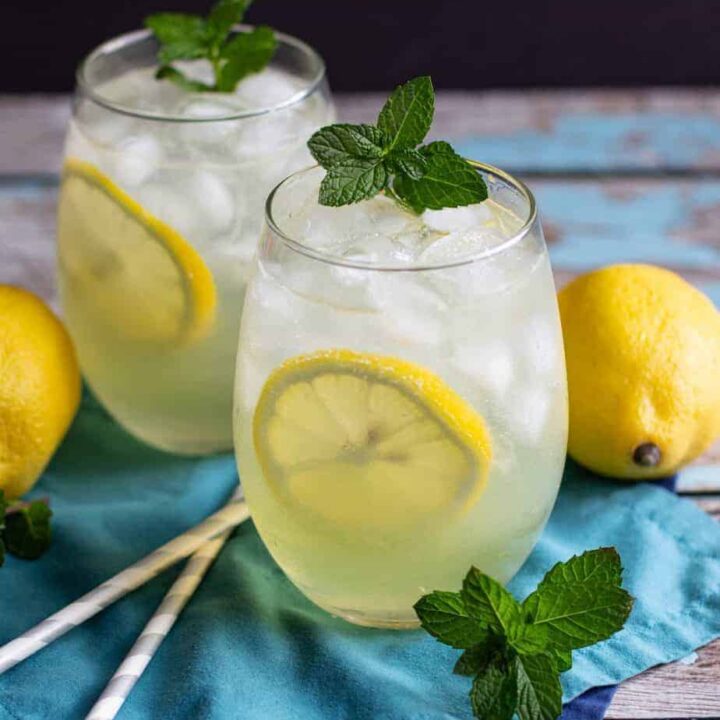 Limoncello Gin Collins
Ingredients
1.5 oz gin
1.5 oz lemon juice, freshly squeezed
1 oz mint simple syrup (see notes)
2 oz club soda
sprig of fresh mint and lemon wheels, for garnish
Instructions
Add the limoncello, gin, lemon juice, and mint simple syrup to a tall glass with ice.
Top with club soda. Stir gently with a bar spoon.
Garnish with lemon wheels and fresh mint.
Notes
To make the mint simple syrup, follow the instructions for making plain Simple Syrup. The only change you'll make is to add a big bunch of mint leaves once you remove the simple syrup from the heat. Allow it to cool and strain the mint leaves out.
What equipment should you have on hand to make this drink?
Pin this recipe for later!