If Apple Cider Donuts don't say "Fall", then I don't know what does.
These donuts have a lot going for them: lightly tangy apple cider flavor, dense cake-y texture, and crunchy cinnamon sugar coating. There's no wrong way to eat them, but trust me when I say that these donuts are at their best when eaten fresh and hot.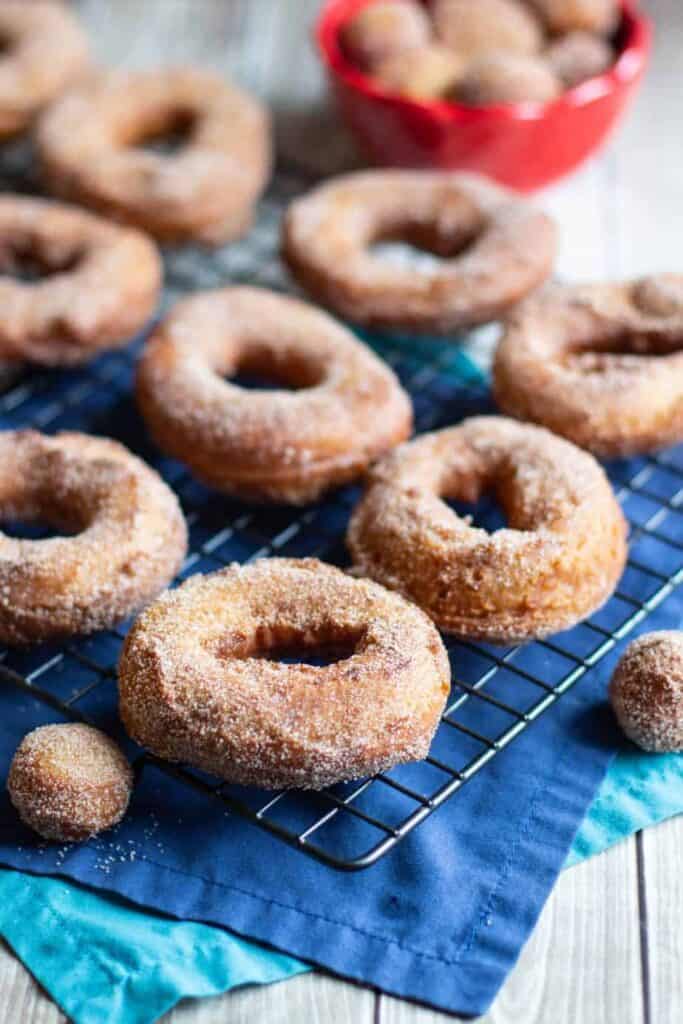 I've shied away from making fried donuts in the past because, frankly, I was a little intimidated. I stuck to baking my donuts in a donut pan. Not that there's any shame in doing that. Baked donuts are great, too!
But I'm here to tell you that frying your own hot, crispy-on-the-outside, tender-on-the-inside donuts at home really isn't a big deal! There's a little bit of forethought involved, since you need to prep the dough, let it chill, and cut out the donuts. But once you're past that, it's pretty simple and everything comes together quickly.
First, you heat canola oil in a heavy bottomed pot (Dutch ovens work well here) until your candy thermometer lets you know you've reached the desired temperature. Gently add the donuts (avoid splashing the hot oil!), flipping them a couple of times over the course of 2-3 minutes so that they cook evenly on both sides. Let the cooked donuts drain a little before tossing them in a big dish of cinnamon and sugar. And there you have it!
Hot, delicious, homemade donuts.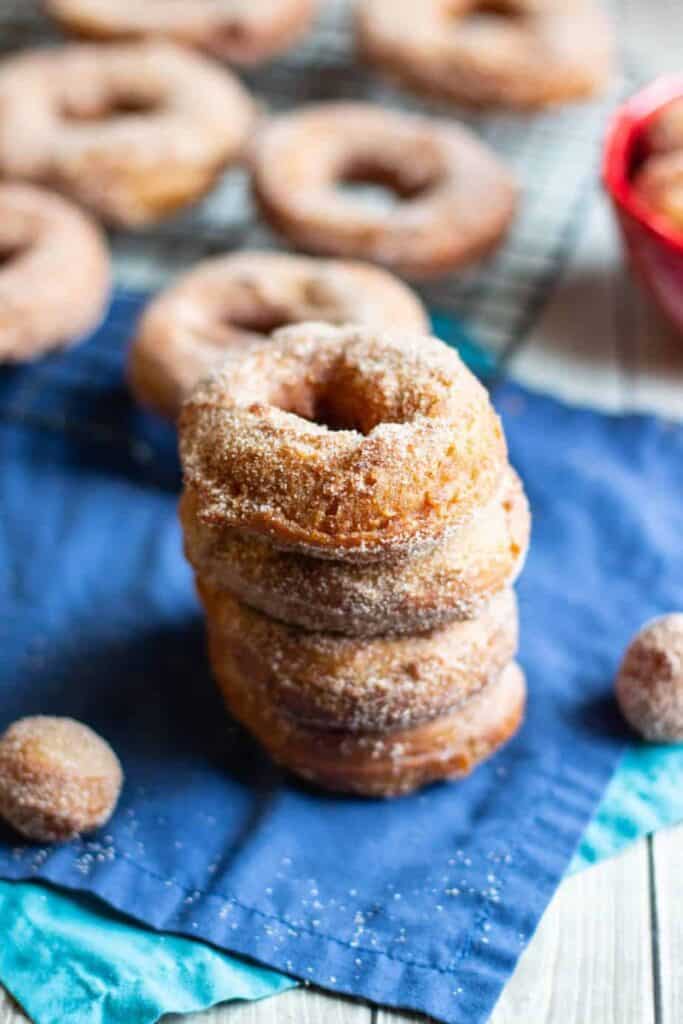 I've shared baked donuts with you before. Check out these (aptly named) Easy Chocolate Cake Mix Donuts and Pumpkin Streusel Donuts for a a couple of examples.
This Apple Cider Donuts recipe is ever so slightly adapted from Table for Two.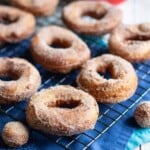 Apple Cider Donuts
Servings
:
12
donuts + donut holes
Ingredients
For the donuts
2

cups

apple cider

3.5

cups

all-purpose flour

2/3

cup

brown sugar,

packed

2

tsp

baking powder

3/4

tsp

kosher salt

1/2

tsp

baking soda

1/4

tsp

ground cardamom

1/4

tsp

ground nutmeg

1/4

tsp

ground allspice

1/4

tsp

ground cinnamon

2

eggs

6

tbs

unsalted butter,

melted and cooled

1

quart

canola oil,

for frying
For the cinnamon-sugar coating
3/4

cup

granulated sugar

1.5

tbs

ground cinnamon
Instructions
To prepare the donut dough
In a small saucepan, bring the apple cider to a boil. Cook over high heat until the cider reduces by half. Allow it to cool completely.

While the cider reduces, whisk the flour, brown sugar, baking powder, kosher salt, baking soda, and spices together in a large bowl.

In a medium-sized bowl or a large measuring cup, whisk the eggs, cooled butter, and cooled cider together.

Make a well in the dry ingredients then pour the liquid ingredients into the well.

With a spatula, fold the flour into the liquid ingredients. Once a sticky dough comes together, cover the bowl with plastic wrap and place it in the refrigerator for at least 3 hours (overnight would be ideal).
To make the cinnamon-sugar coating
On a plate or in a shallow container (I used a pie dish), thoroughly combine the sugar and cinnamon. Set aside.
To fry the donuts
Once ready, divide dough in half then on a well-floured surface, roll out the dough into 1/2-inch thickness and use a donut cutter to cut the dough (see notes).

Heat the canola oil in a heavy-bottom pot (I use a Dutch oven) to 375 degrees F.

Fry the donuts, 2-3 at a time, until they are golden brown (about 2-3 minutes on each side).

Place the fried donuts onto a paper towel to drain for a minute. Then immediately toss them in the cinnamon sugar mixture.
Recipe Notes
Notes:
I don't have a donut cutter, so I used two round cookie cutters of different sizes to cut the outline of the donut and then to cut the donut hole.