Last Updated on February 21, 2021 by laurenpacek
This salad is a Summer classic, turned up a notch and a half
Nectarine Caprese Salad is a lot of things, all in one dish. It's sweet, savory, creamy, and tangy. It's an incredibly delicious and light Summer dish that can be served as a side or eaten as a main course.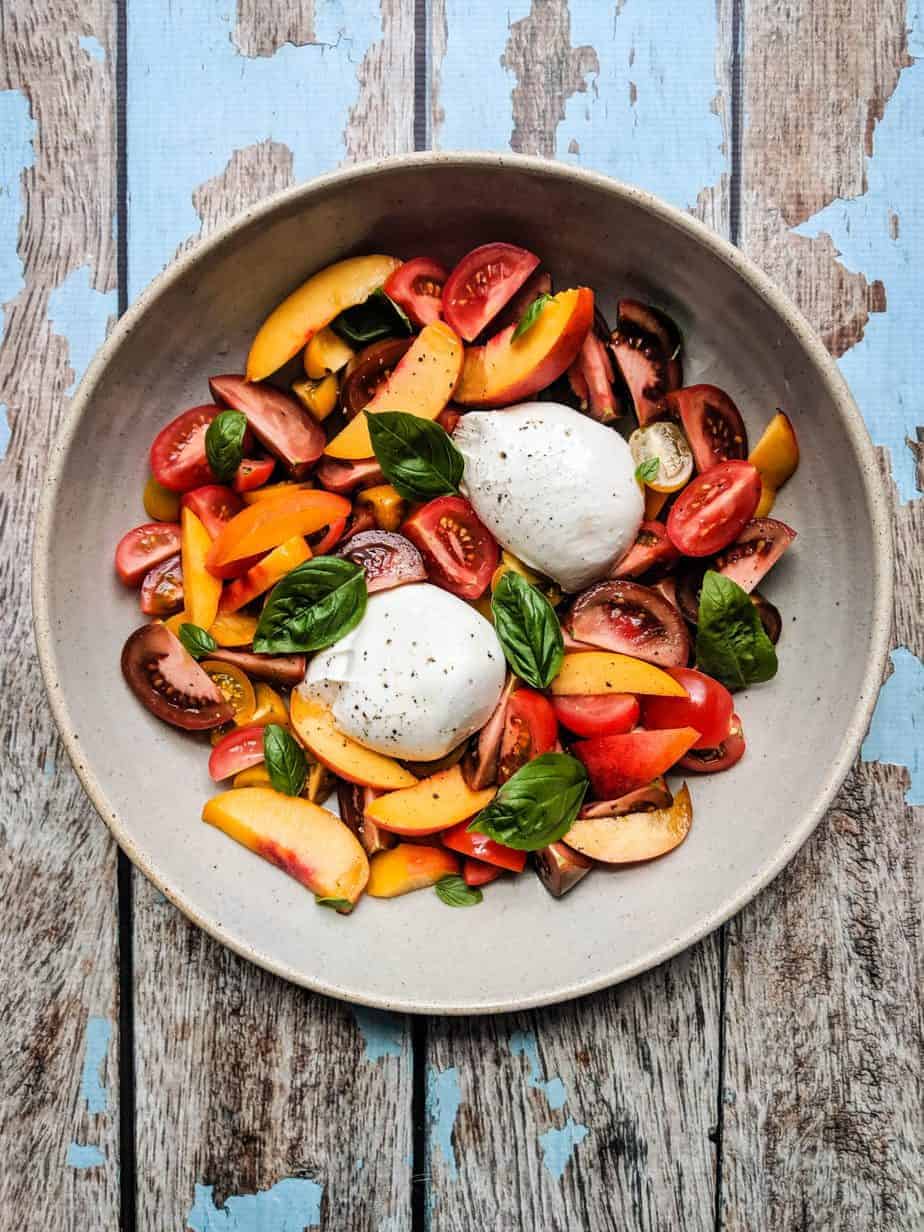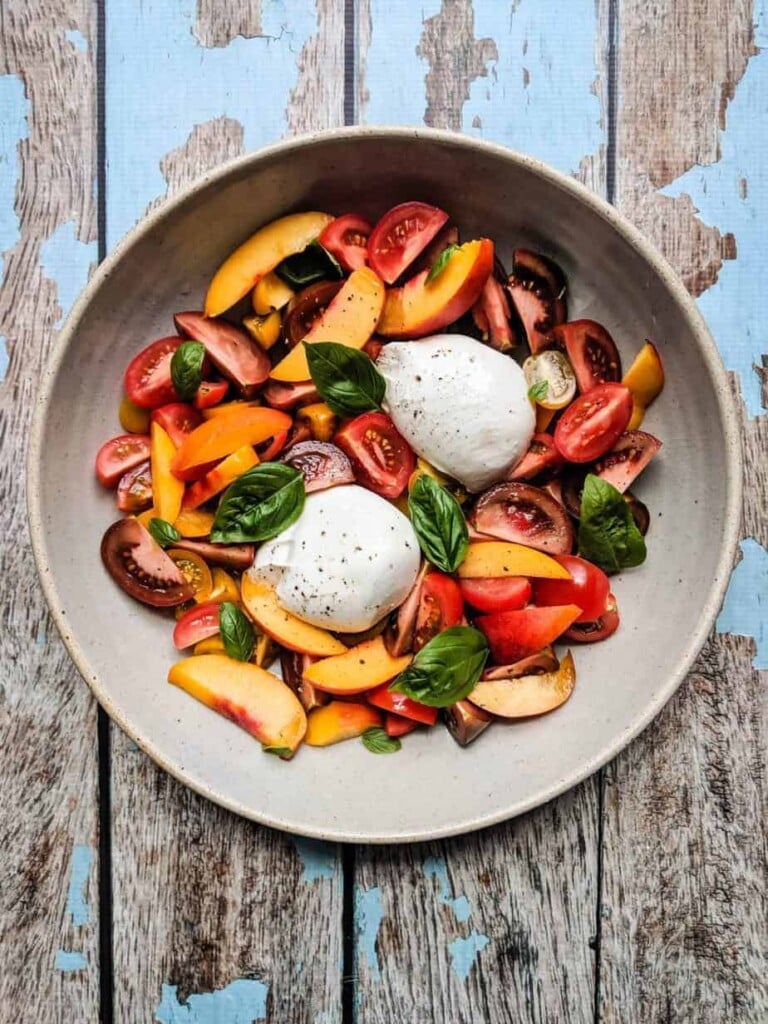 This is classic Caprese Salad taken to the next level
You've had Caprese salad at some point, right? It's a classic. Think super ripe tomatoes, creamy fresh mozzarella cheese, and fresh basil.
This salad retains all of the classic elements of a Caprese salad (tomatoes, cheese, basil). However, we've elevated some of the ingredients and added others.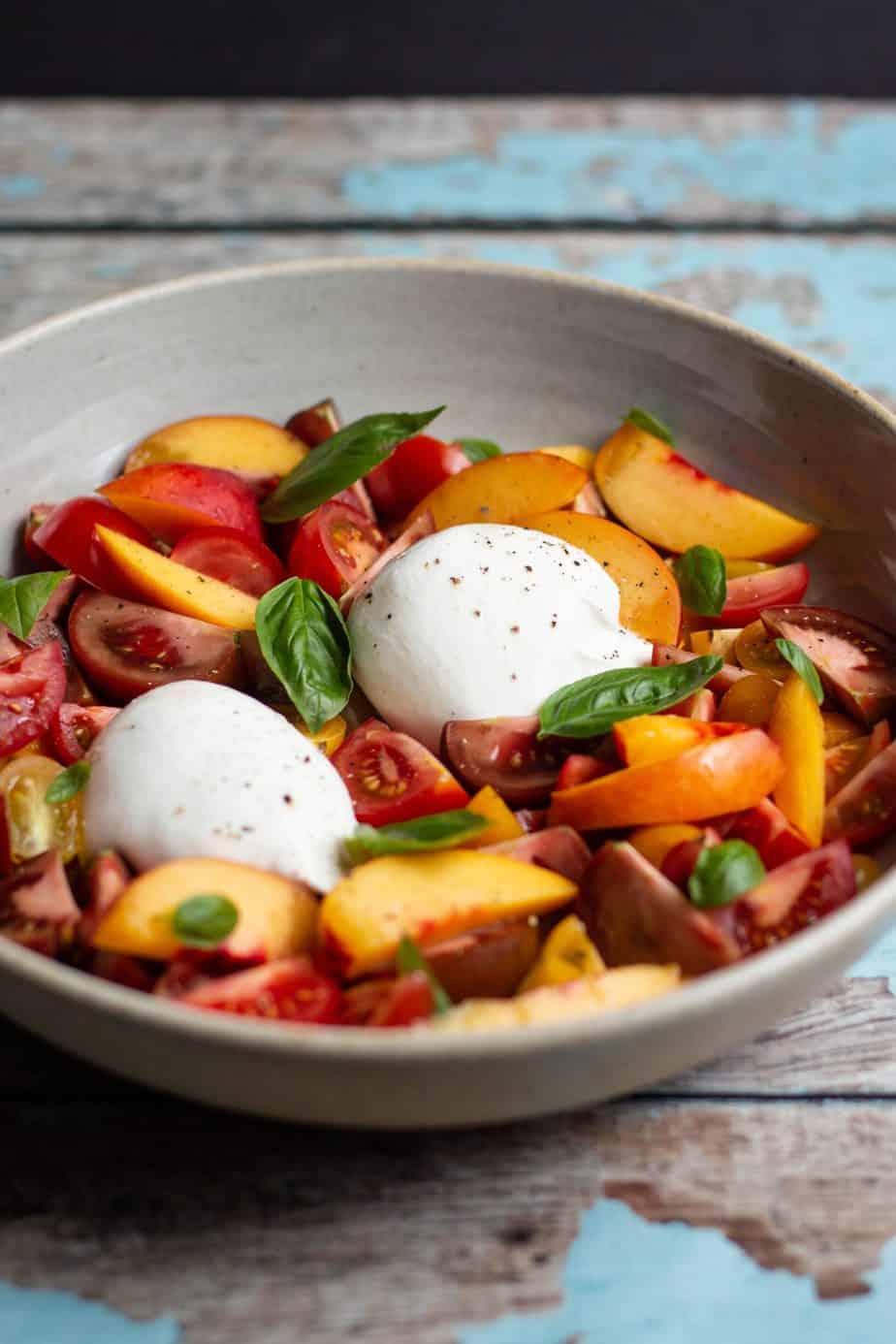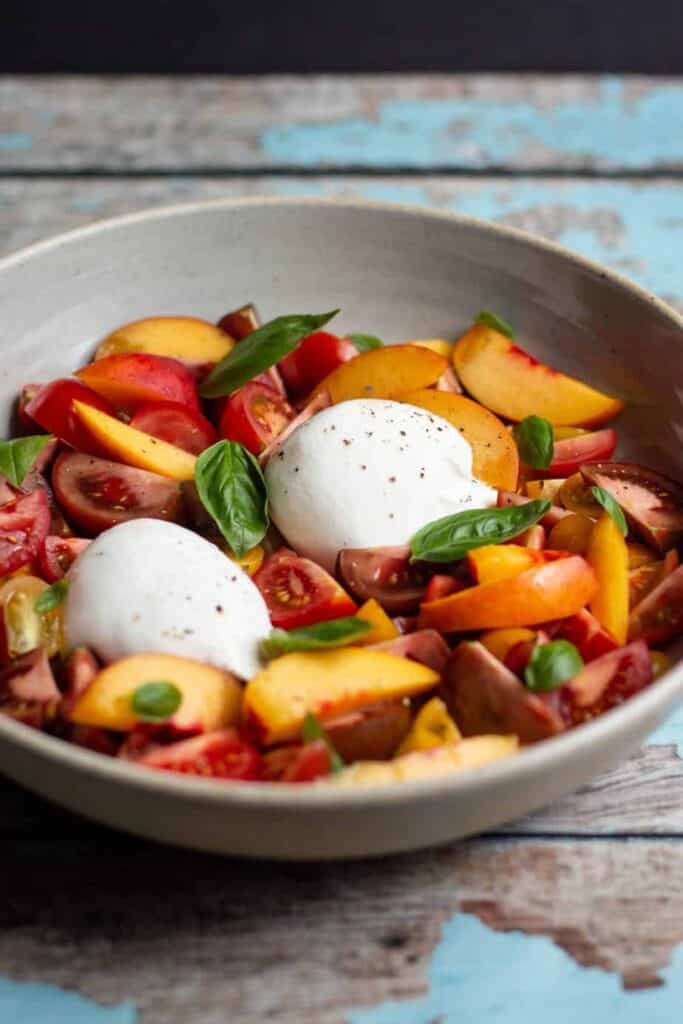 Fresh mozzarella vs. burrata - what's the difference?
For starters, we've swapped (perfectly delicious) fresh mozzarella out for burrata. But, what's the difference between these two cheeses?
Mozzarella is made from cow or water buffalo milk. It's semi-soft, creamy, and just plain old delicious.
Burrata is mozzarella that is formed into a pouch and--get this--FILLED WITH SOFT STRINGY CHEESE CURD AND CREAM. Bonkers, right??
Basically it's decadent AF and you want it in your Caprese salads (and life). I used it in this Creamy Corn and Bucatini with Burrata recipe, too. 115% decadent.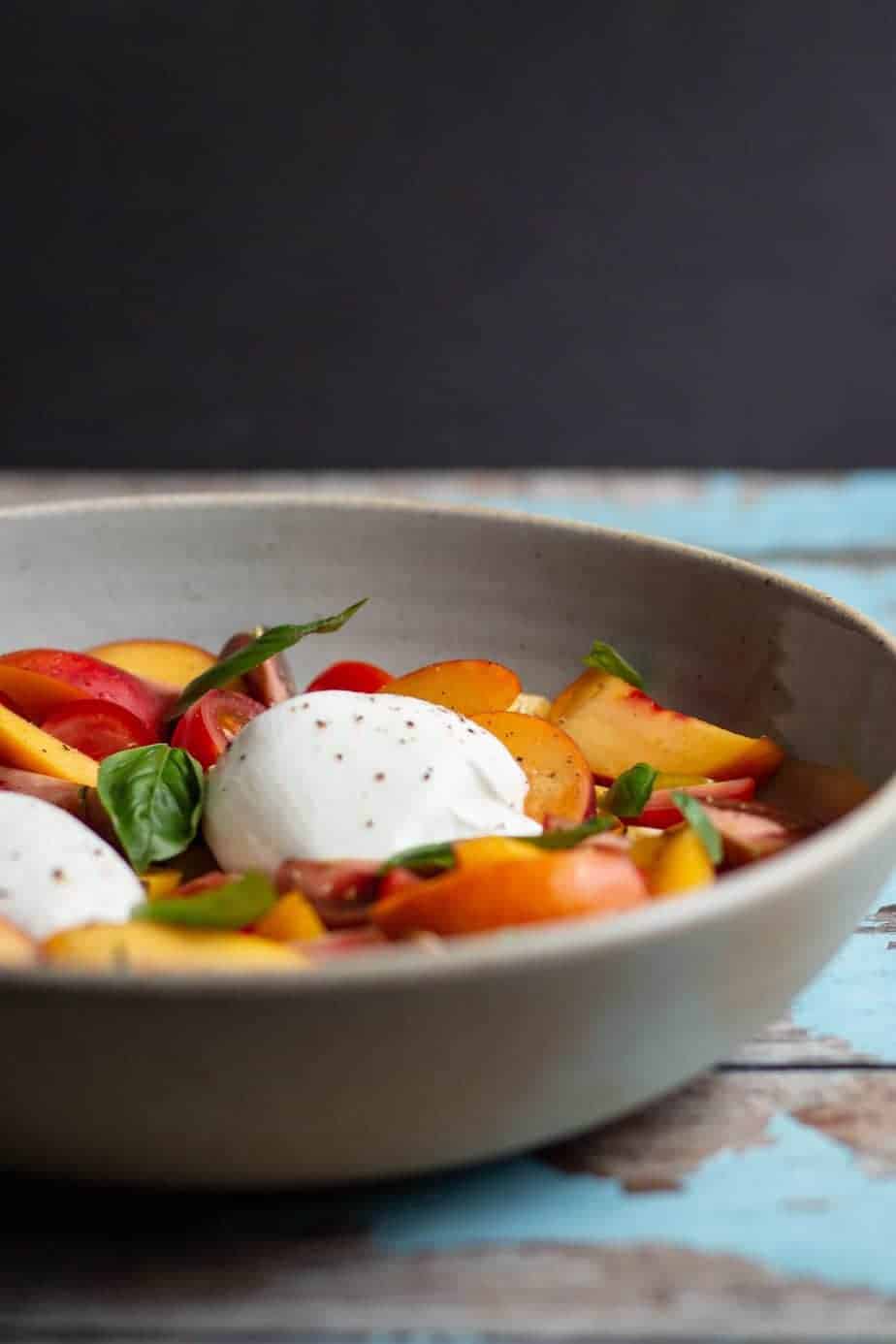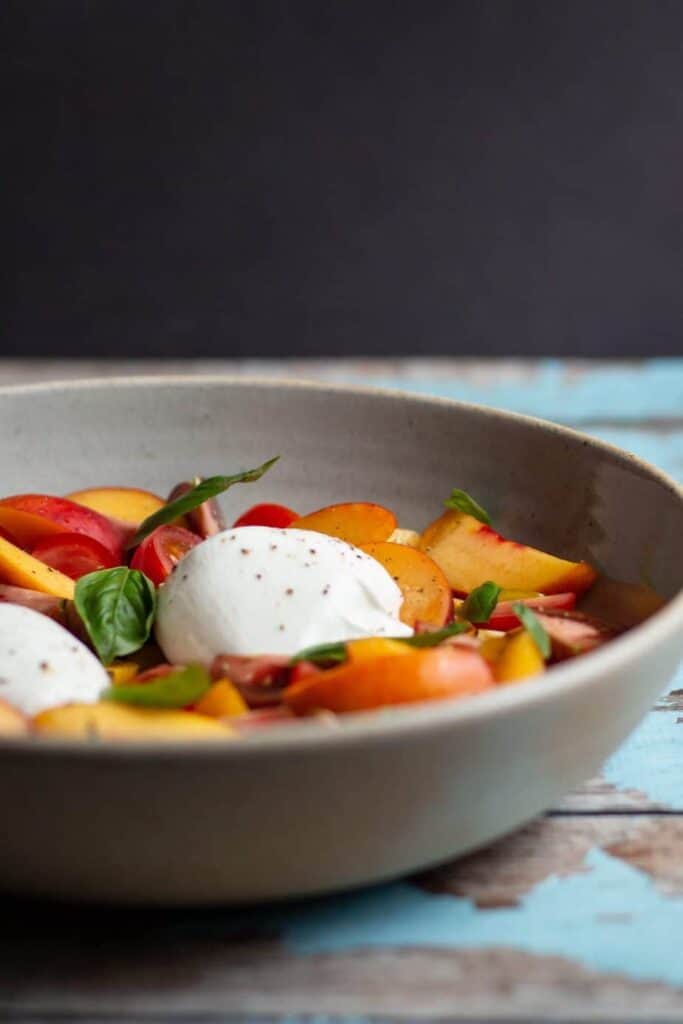 Nectarines also help to make this Caprese special
And, of course, we're adding sweet nectarines to our Caprese, as well. You can use either yellow or white nectarines, depending on your preference. I'm a yellow nectarine kinda gal, so I went with those.
Nectarines add a sweet pop of flavor to this traditionally savory side dish. They also taste particularly amazing with a drizzle of balsamic vinegar. Sweet and savory, am I right?
I'm right.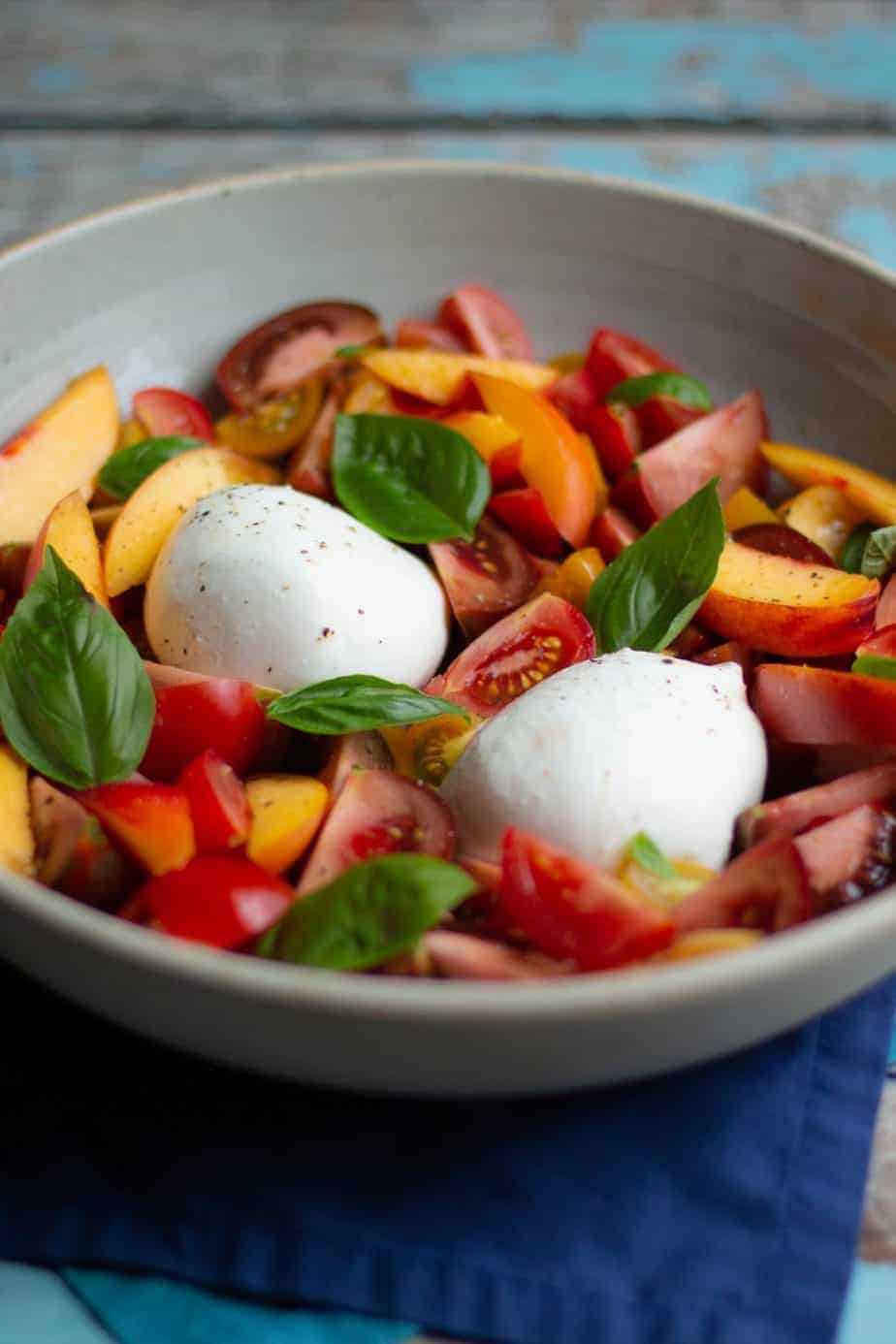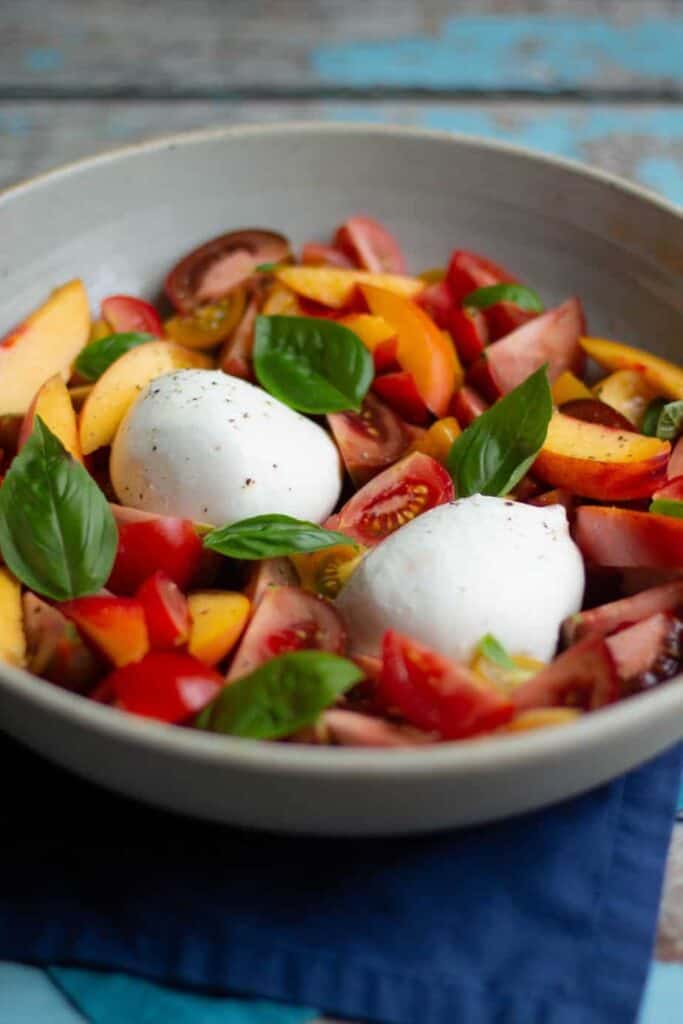 What else is in this Caprese?
On the produce front, besides the burrata and nectarines, there are super ripe heirloom tomatoes (a variety of colors and sizes is nice) and sweet basil from my herb garden.
Kosher salt and pepper bring the flavor, while olive oil and balsamic vinegar do their jobs to make things rich and tangy, respectively.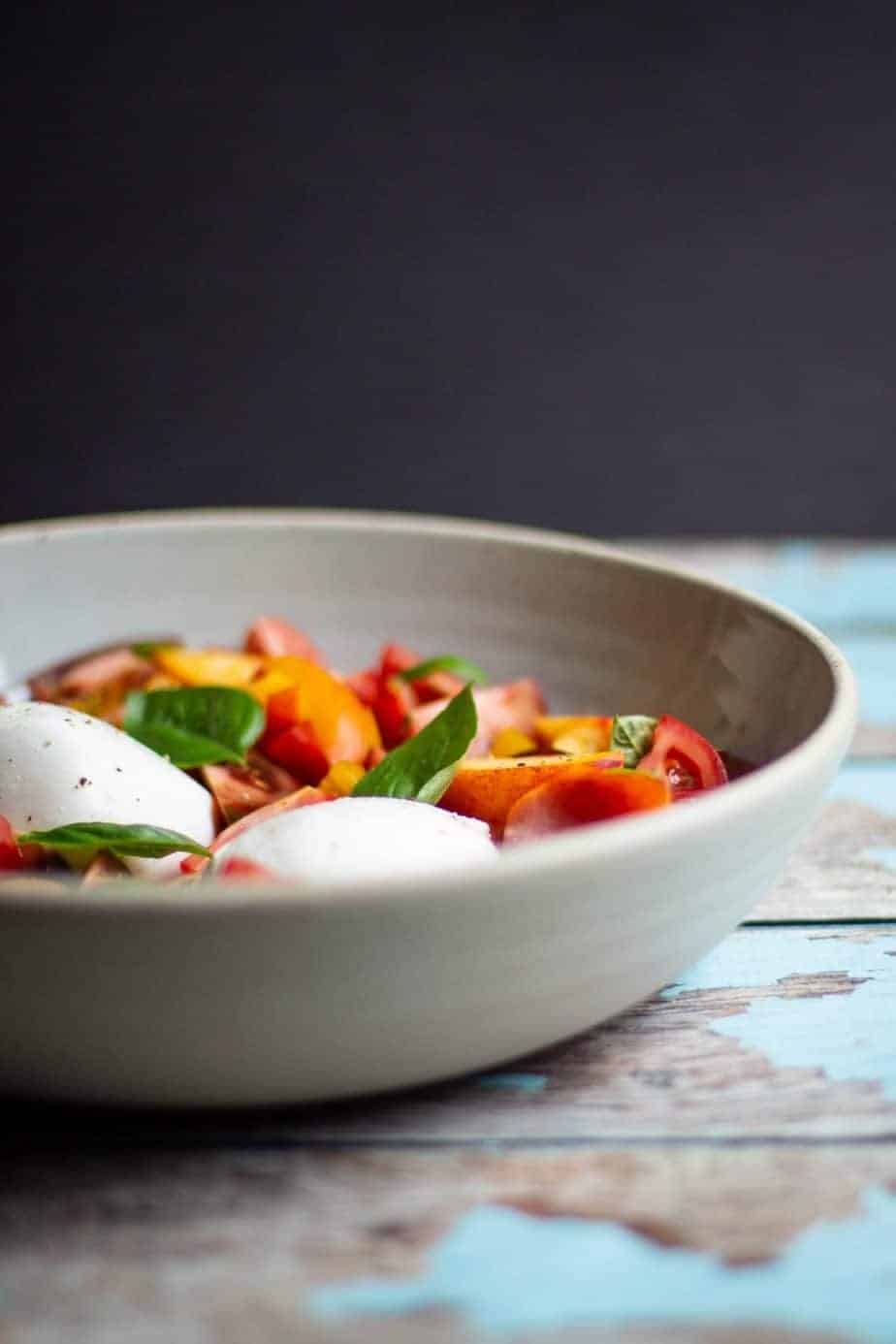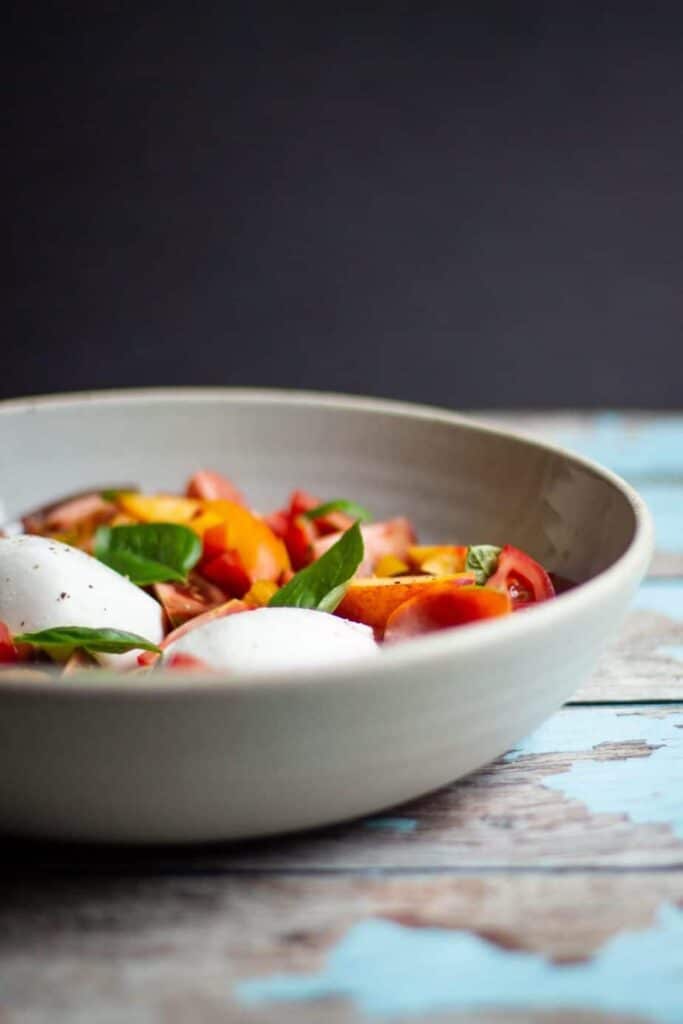 How does this recipe come together?
It's so easy to make this Nectarine Caprese Salad with Burrata. Layer your heirloom tomatoes and nectarines in a big serving bowl or on a platter. Nestle the burrata down in there, too. Scatter those beautiful basil leaves over the top.
Liberally season with kosher salt an freshly ground black pepper. Now is definitely not the time to be stingy. Drizzle with a bit of extra virgin olive oil and balsamic vinegar just before serving and then do the damn thing. By which I mean "EAT!"
Break into that super creamy burrata, scoop up some of the produce, and have at it. Summer in a bowl/on a plate/in your stomach.
What inspired this recipe?
You have my overactive food brain and a trip to Trader Joe's to thank for this recipe.
I went into TJ's for some burrata but before I could reach the cheese section, I was confronted with a stack of crates of nectarines and a variety of super ripe heirloom tomatoes. I mean, what was I supposed to do?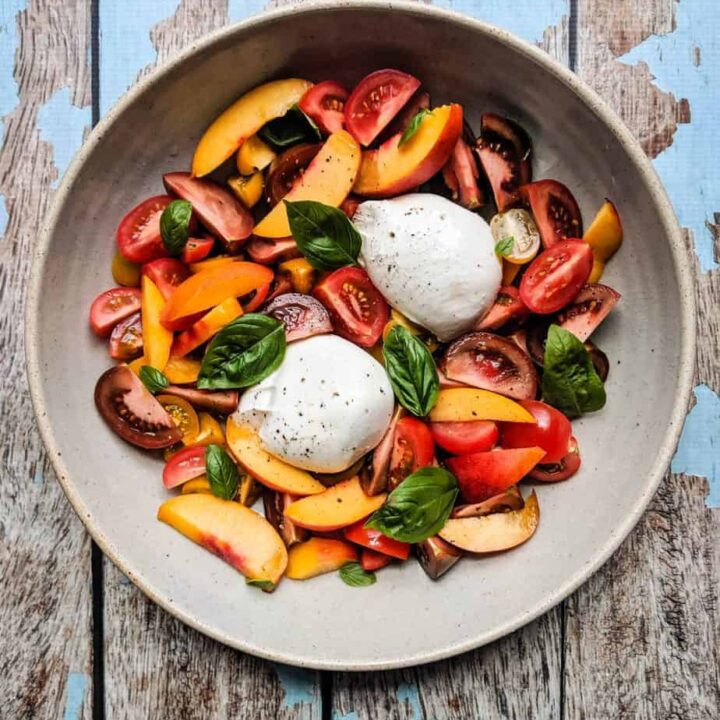 Nectarine and Burrata Caprese Salad
Ingredients
2-3 lbs ripe heirloom tomatoes (see notes)
2 ripe yellow nectarines (see notes)
8 oz burrata
handful of fresh basil leaves
kosher salt and pepper, to taste (see notes)
2 tbs extra virgin olive oil
balsamic vinegar, to taste
Instructions
Slice the tomatoes and nectarines into wedges. Arrange on a platter or in a large bowl.
Nestle the ball(s) of burrata into the tomatoes and nectarines.
Scatter fresh basil over the top and add salt and pepper.
Drizzle with extra virgin olive oil and balsamic vinegar. Serve immediately.
Notes
I used a variety of heirloom tomatoes, ranging from cherry tomato-sized to medium-sized chocolate tomatoes. Use whatever you like/have on hand.
You could use white nectarines here, if that's what you have or prefer. I'm a yellow nectarine kinda gal.
Now is not the time to skimp on seasoning, especially kosher salt. Trust.
Nutrition Information:
Yield:

4
Serving Size:

1
Amount Per Serving:
Calories:

394
Total Fat:

21g
Saturated Fat:

9g
Trans Fat:

0g
Unsaturated Fat:

11g
Cholesterol:

45mg
Sodium:

465mg
Carbohydrates:

37g
Fiber:

10g
Sugar:

25g
Protein:

20g
Will I need anything special to make this recipe?
Pin this recipe for later!