"You can't make everyone happy. You're not pizza."
This homemade pizza dough will make just about anyone happy. Trust.
Anyone else familiar with that quote? I think it rings pretty true. In my experience, pizza is almost universally liked. And honestly, what's not to love? It's a vehicle for getting melty cheese (and tasty toppings) into your face.
Making your own pizza > ordering takeout (hear me out...)
Though it's obviously very easy to pick up the phone and order a pizza. You can't beat the convenience. But I'd also like to make a case for whipping up your own homemade pizza! You can make it exactly the way that you want and you'll feel like some kind of wizard when it turns out amazing. Or at least that's how I feel when I make basically anything that involves yeast.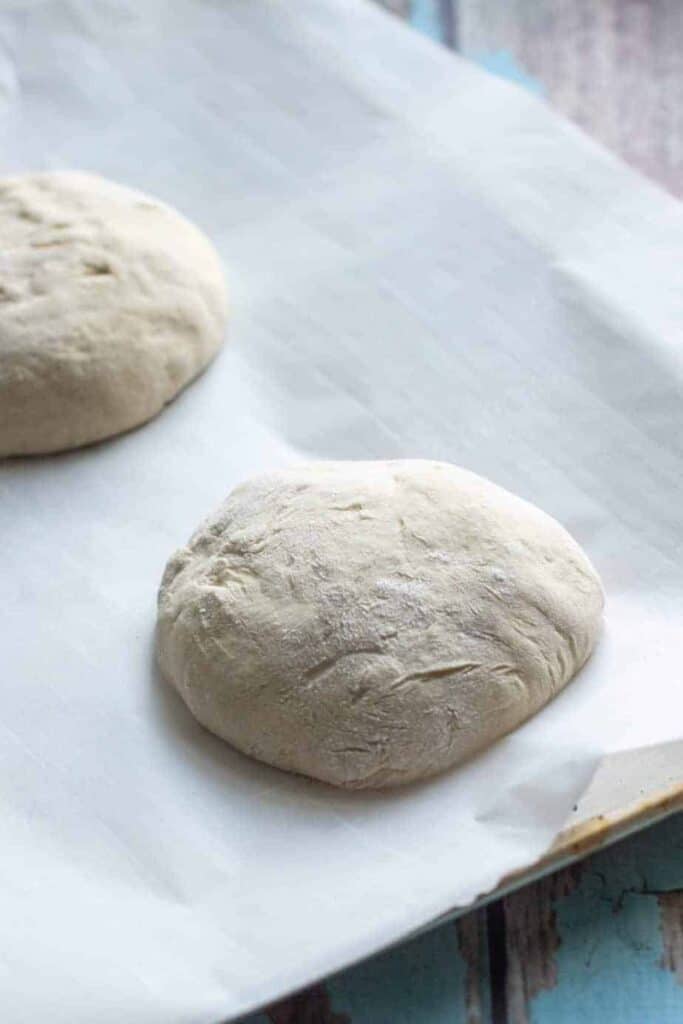 This pizza dough recipe is an old standby: easy to make and consistently delicious
I have been making this homemade pizza dough on the regular for a couple of years now. It's easy to make, consistently turns out well, and can be used for plenty of things besides pizza (stombolis, pepperoni rolls, etc.).
Plus, you can throw whatever toppings onto it that your little heart desires. I often stick with pizza sauce a medley of cheeses, but lately have been adding some prosciutto and roasted veggies (see the picture below). You really can't go wrong, though.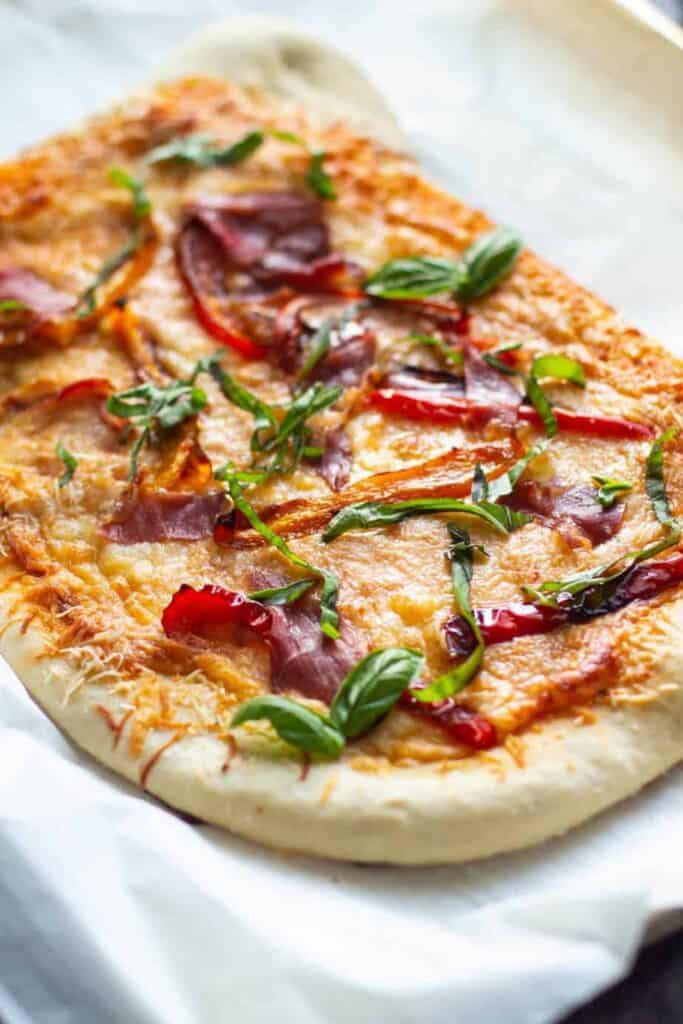 What inspired this pizza dough recipe?
This recipe is modified from this one from The Kitchn.
✨ Recipe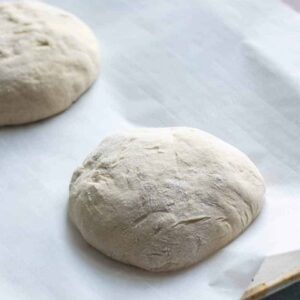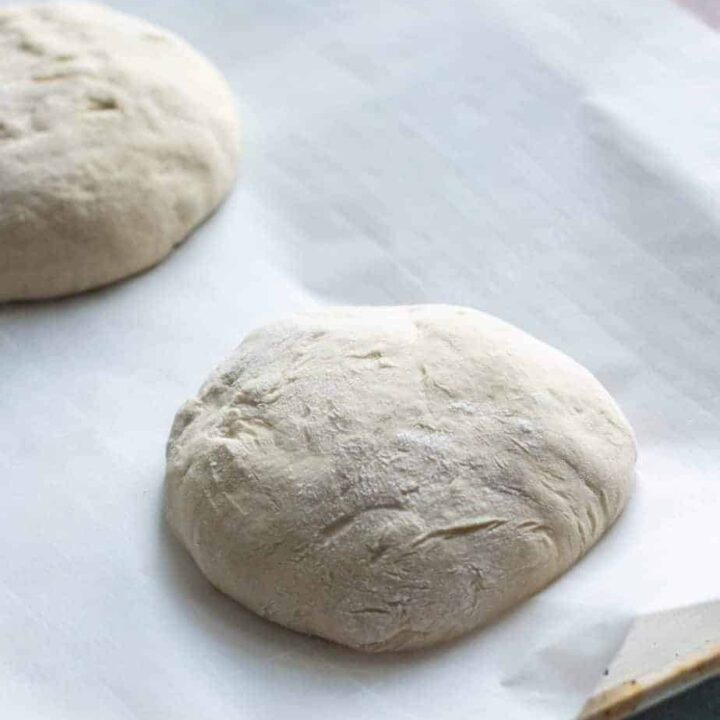 Homemade Thin Crust Pizza Dough
This homemade pizza dough will make just about anyone happy. Trust.
Ingredients
2

teaspoon

active dry yeast

¾

cup

water

lukewarm

2

cups

all-purpose flour

1

teaspoon

kosher salt

1

tbs

olive oil

kosher salt

pizza toppings of your choice
Instructions
To make the dough
Combine the yeast and water in a small bowl and set it aside for 5 minutes. 

Add the flour and salt to a stand mixer. Whisk to combine.

Add the water/yeast to the flour. Using a wooden spoon or stiff spatula, stir until things have just started to combine.

Using the dough hook attachment, knead the dough until it forms a smooth, slightly tacky ball that springs back when you poke it (about 10 minutes). If the dough sticks to your hands, add a tablespoon of flour at a time until it's easier to work with. Try to avoid adding too much flour if you can.

Spray a medium-sized bowl with cooking spray, transfer the ball of dough into it, and cover tightly with plastic wrap. Allow the dough to sit for about an hour to an hour and a half, or until it has doubled in size.
To prepare the pizza
Preheat the oven to 450 degrees F. Line two baking sheets with parchment paper. Set them aside.

Divide the dough into 2 equal pieces. Working with one piece of dough at a time, roll it into a thin, 10- to 12-inch round (or whatever shape your heart desires). Place the rolled out dough onto the prepared baking sheets.

Brush the crust lightly with olive oil. Sprinkle lightly with kosher salt.

Top the dough with the toppings of your choice! I used marinara sauce, a medley of shredded cheeses, strips of roasted bell peppers, and prosciutto.

Bake the pizzas until the crusts are golden brown and the cheese is melted, about 12 minutes. Slice and enjoy!
Nutrition
Serving:
1
/2
Calories:
670
kcal
Carbohydrates:
115
g
Protein:
21
g
Fat:
13
g
Saturated Fat:
4
g
Polyunsaturated Fat:
9
g
Cholesterol:
9
mg
Sodium:
1782
mg
Fiber:
6
g
Sugar:
2
g
Disclaimer: Nutritional information is a generated estimate and is not guaranteed to be accurate.
Looking for other takeout-esque dishes?
Pin this recipe for later!