Last Updated on December 3, 2021 by laurenpacek
You want these carrots on your table
These brown butter roasted carrots are pretty, easy to make, and bonkers delicious. When roasted in brown butter, honey, garlic, and thyme, how could they be bad?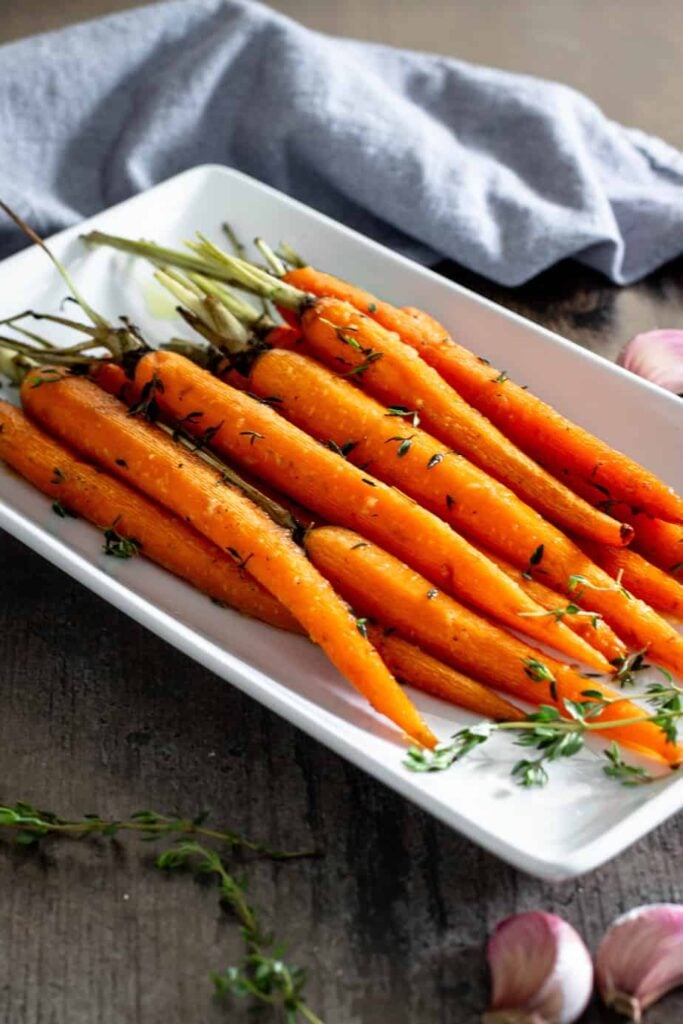 It's all about the side dishes
Am I right or am I right? (You guessed it: I am right.)
I feel this way about dinners most of the time, but especially when it comes to holiday meals. I mean, turkey for Thanksgiving and ham for Easter are fine. But the side dishes are the real stars of any holiday feast, in my humble opinion.
These carrots--roasted in brown butter, honey, and garlic and finished with some fresh thyme--are a beautiful and delicious addition to any holiday spread. Not only are they bonkers delicious, they're super easy to make, too, requiring very little attention once they're in the oven.
Plus, when big holiday feasts are loaded down with carb- and starch-heavy dishes, I find it kind of refreshing to have, you know, *a* vegetable.
What kind of carrots should I use?
I'd recommend using petite carrots for this recipe. They're the ones that come bound together in a little bunch with a rubber band, rather than in a plastic bag. They also generally have the green tops still attached (which I think makes for a nice presentation). As the name implies, they're a bit smaller, too. Which allows for a bit of a quicker cook time.
Please don't confuse petite carrots with baby carrots, though. Did you know that baby carrots aren't a real thing? They're actually just big, gnarly carrots that have been cut down and shaved into little nubs. And why are they always so wet??
However, if you don't have access to petite carrots, or maybe just prefer to not use them, you can definitely use regular carrots. I'd just make sure to cut them in half lengthwise so that they don't take forever to roast.
What is brown butter?
Basically, brown butter happens when you melt butter over low heat, allowing the milk solids to separate and fall to the bottom of the pan. The milk solids will start to brown. Hence the name.
Admittedly, it doesn't taste like much on its own, but when brown butter is used in baking, or on these carrots, it has a really nice, nutty and toasted flavor.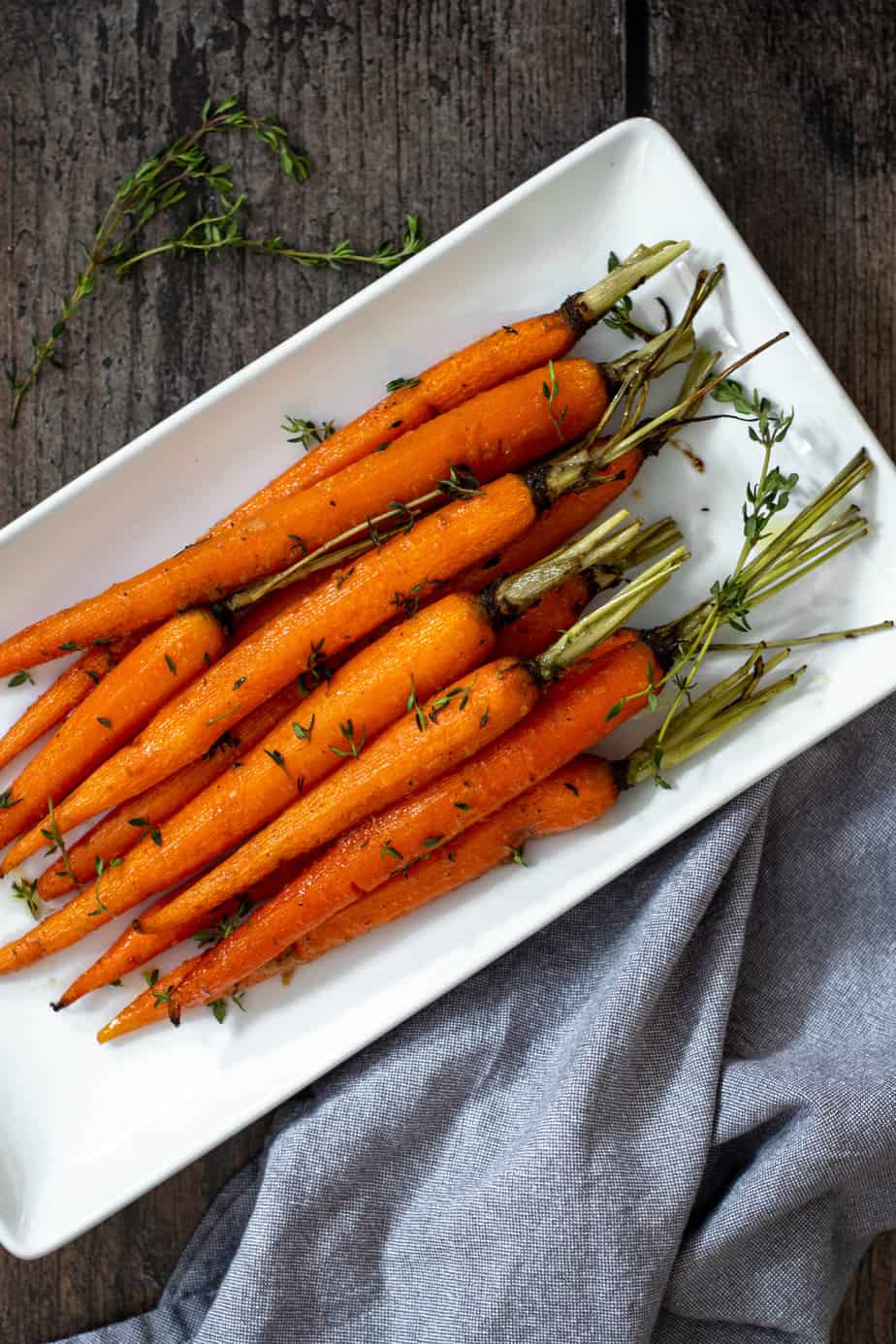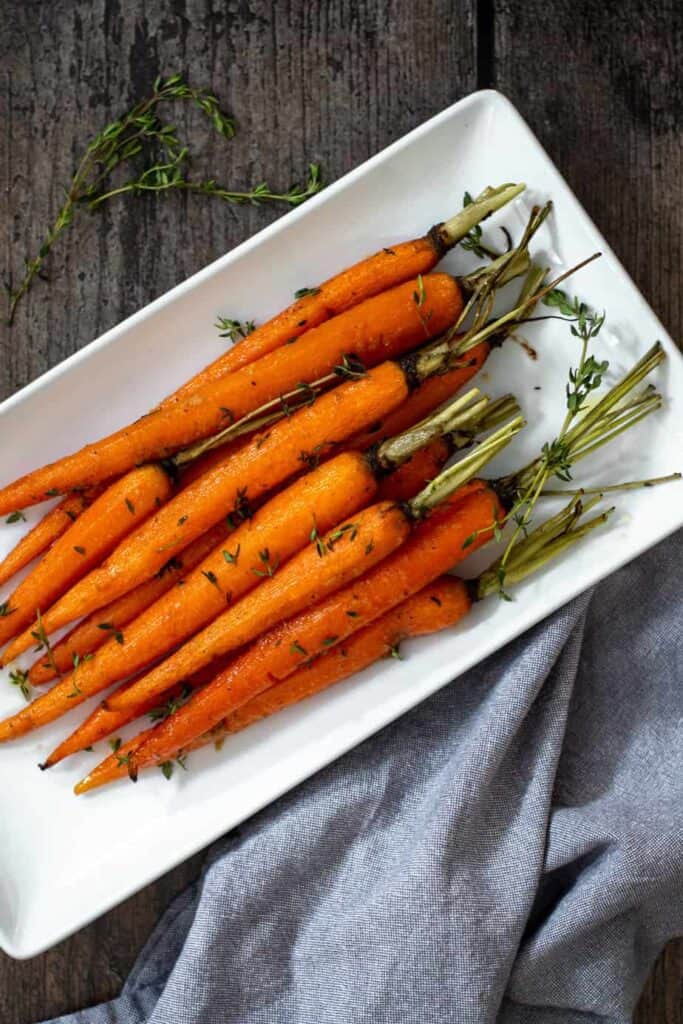 Looking for other side dishes?
These are geared a bit toward holiday meals, but make sure to check them out:
For more year-round friendly sides, check out these: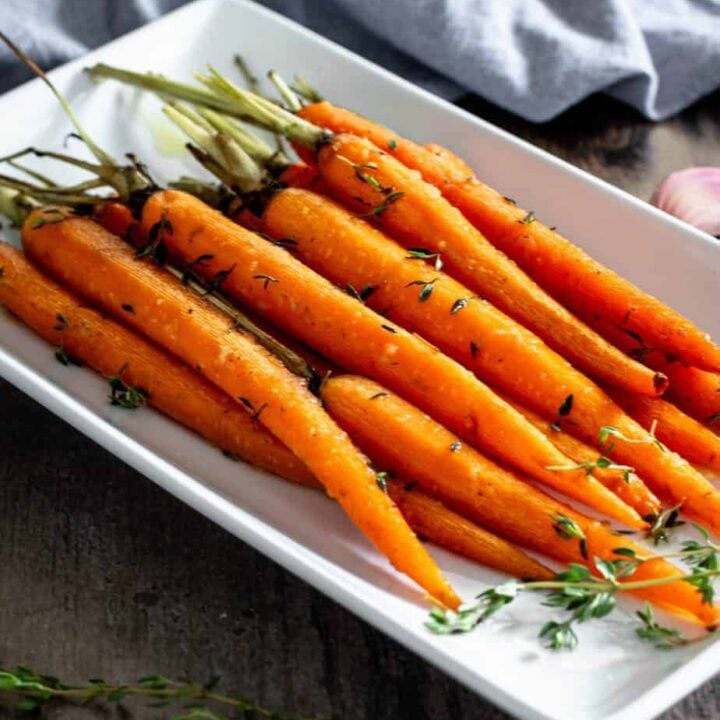 Brown Butter Honey Garlic Roasted Carrots
These brown butter roasted carrots are pretty, easy to make, and bonkers delicious. When roasted in brown butter, honey, garlic, and thyme, how could they be bad?
Ingredients
1.5 lbs petite carrots, peeled (see notes)
4 tbs butter, cut into pieces
2 tbs honey
1 garlic clove, grated
kosher salt and black pepper, to taste
1 teaspoon fresh thyme
Instructions
Preheat the oven to 375 degrees F.
Place your carrots in a baking dish in a single layer. Set aside.
Add the butter to a heavy-bottomed saucepan over medium heat. Use a saucepan with a light colored interior. This will really help you to keep an eye on the butter and make sure that it doesn't burn.
Stir the butter constantly while it melts. It will begin to bubble and fizz once it has melted. Keep stirring.
After approximately 5-8 minutes from when you started melting the butter, the butter will stop foaming and you'll see that the milk solids that have sunk to the bottom of the pan will begin to turn brown.
Once the butter has begun to brown, remove the saucepan from the heat. Brown butter can burn very quickly.
Immediately add the honey and grated garlic, stirring to incorporate it into the brown butter.
Pour the brown butter mixture over the carrots. Season with kosher salt, pepper, and add fresh thyme. Toss to coat the carrots evenly.
Roast the carrots for 30-40 minutes, tossing them around a bit at the 20-minute mark to ensure even roasting. The carrots are done cooking when they are fork tender.




Notes
I used petite carrots, mostly because they usually come with the tops still attached to the carrots, and I think that that looks pretty. If you use petite carrots, you can just trim the tops, peel them, and be good to go. If you use regular carrots, you may want to slice them in half lengthwise so that they don't take forever and a day to cook (still peel them, obviously).
Nutrition Information:
Yield:

4
Serving Size:

1
Amount Per Serving:
Calories:

196
Total Fat:

12g
Saturated Fat:

7g
Trans Fat:

0g
Unsaturated Fat:

4g
Cholesterol:

31mg
Sodium:

336mg
Carbohydrates:

23g
Fiber:

5g
Sugar:

15g
Protein:

2g
What gear should I have in order to make this recipe?
Pin this recipe for later!