Last Updated on December 24, 2018 by laurenpacek
Cacio e Pepe is a Roman pasta dish that literally translates to "cheese and pepper". True to its name, the pasta is very simple, and consists of pasta, cheese (Parmesan + Pecorino Romano), and pepper. A little starchy pasta water helps to bind the cheesy sauce the pasta.
Basically, what I'm saying is that Cacio e Pepe is the OG macaroni and cheese.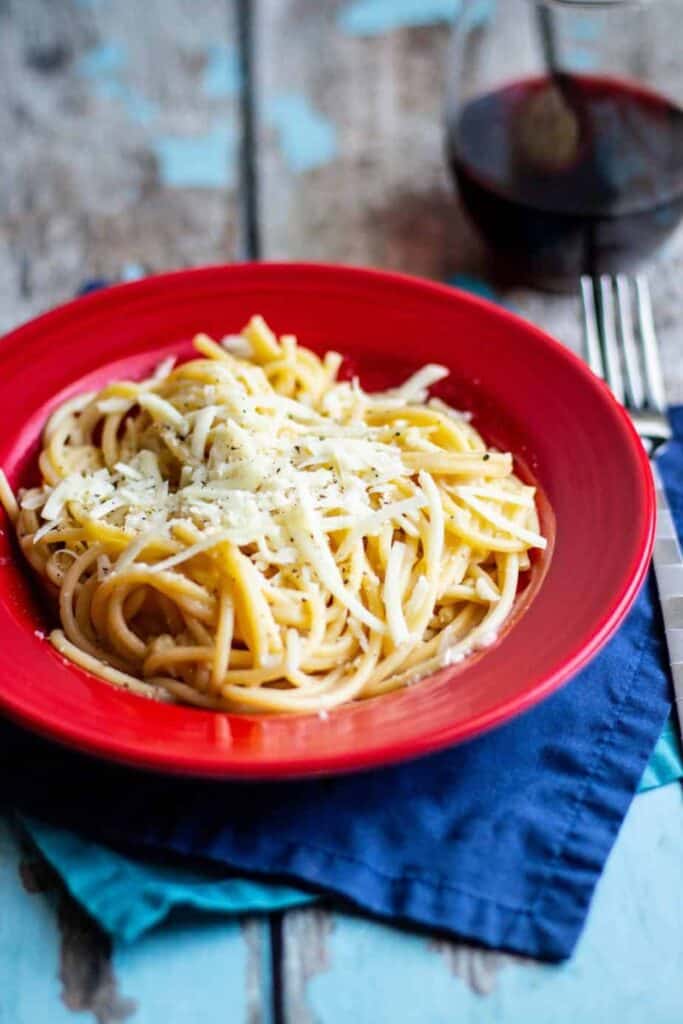 Cacio e Pepe was the very first meal that I ate when visiting Rome last year. We landed at Aeroporto Fiumicino and took a train to Stazione Termini. Jet lagged and very hungry, we found our way to Il Mercato Centrale Roma in the train station.
Pasta seemed like the correct choice. Sean ended up with Pasta Carbonara (I'll be tackling that recipe soon!) and I chose Cacio e Pepe. I'm sure the jet lag and hanger had something to do with it, but that was some of the best pasta I've ever had.
I've said it before, and likely will again, but one of my favorite things about cooking (and about food in general) is that a recipe can transport you to a different time and place. We spent a little time reminiscing about our trip over bowls of this pasta and some really good chianti.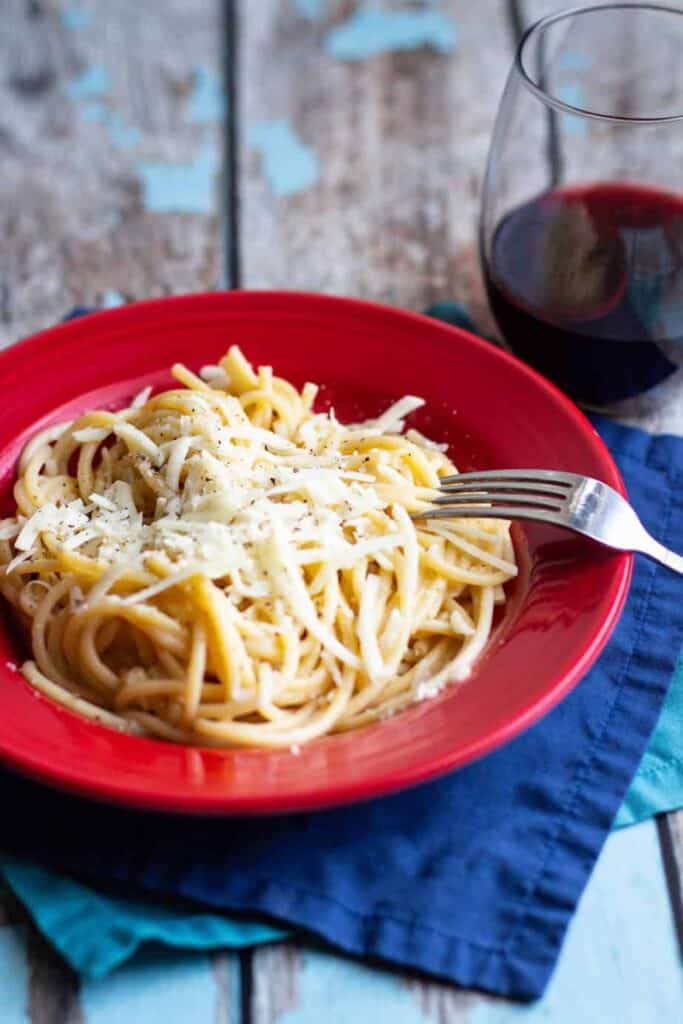 This recipe comes from Bon Appétit.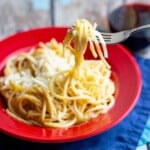 Cacio e Pepe
Ingredients
kosher salt

12

oz

bucatini

3

tbs

unsalted butter

1

tsp

black pepper,

freshly cracked

3/4

cup

Parmesan or Grana Padano,

finely grated

1/3

cup

Pecorino Romano,

finely grated
Instructions
Bring a large pot of water to a boil. Season the water with salt. Add the pasta and cook, stirring occasionally, until 2 minutes before al dente.

Just before the pasta is done cooking, melt the butter in a large skillet over medium heat. Add the pepper a cook for ~1 minute.

Add 1/2 cup of the pasta water to the skillet and bring to a simmer. Add the pasta and toss until coated in pasta water/butter.

Add the Parmesan/Grana Padano, stirring and tossing the pasta around until the cheese has melted

Remove the pan from the heat and add the Pecorino Romano, stirring and tossing until the cheese melts.

Serve with additional shredded cheese and freshly cracked pepper, if desired.
Recipe Notes
Notes: Add a little more pasta water if the pasta seems dry.
Check out this Pasta all'Amatriciana if you're in need of more Roman pasta deliciousness!