This Chocolate Stout Bundt Cake (complete with Irish Cream Glaze) would be a delicious St. Patrick's Day treat! The cake is dense and very chocolatey, while the glaze is sweet and a little boozy. I added some green and white sprinkles for fun.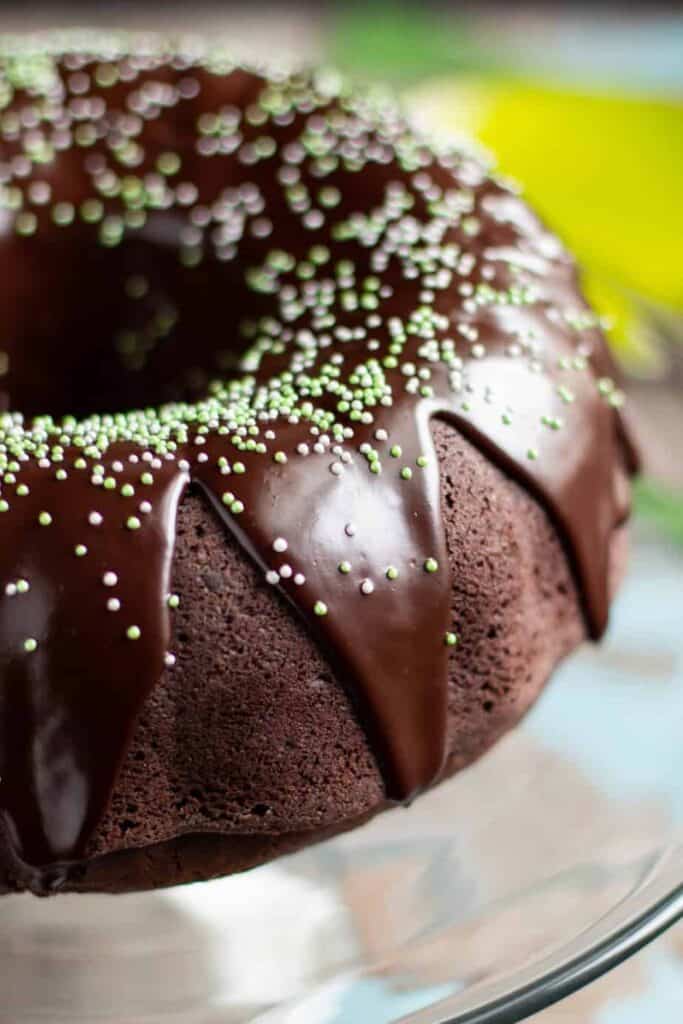 Here's a bit of a fun fact for you all: I'm writing this post while in Ireland! How perfect for a St. Patrick's Day post.
My husband and I are on a much needed vacation. We flew into Dublin and rented a car to drive out to Doolin (on the west coast of Ireland). We're staying there for a few days before heading back into Dublin for a bit. Then we're off to Liverpool for a couple of nights before taking a train up to Edinburgh. After that we'll fly back to Dublin for a night and then come home.
We only just got in yesterday, but it has been incredible thus far. The country is beautiful and green, and the food and drink have been 10/10. In very surprising beer-related news, it turns out that I actually like Guinness! Who knew? I'll be sharing photos of our travels with you soon.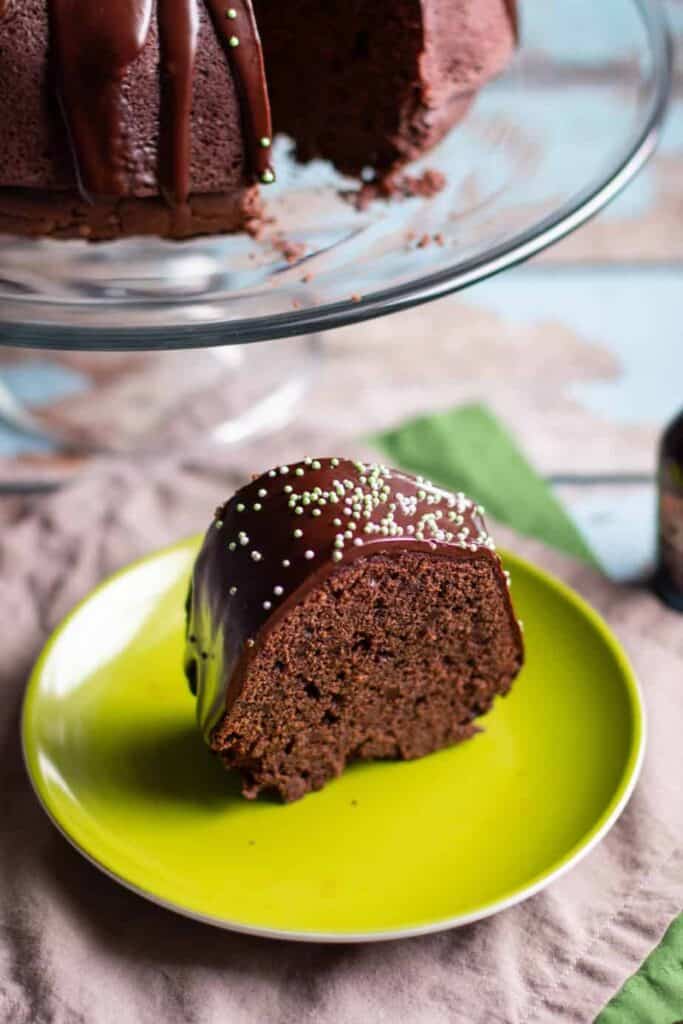 This recipe comes from the blog Handle the Heat, though it has been modified slightly to increase the overall amount of chocolate and Irish cream. Because who doesn't want more of both of those things??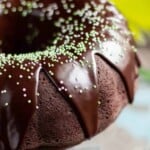 Chocolate Stout Bundt Cake with Irish Cream Glaze
Ingredients
For the chocolate bundt cake
2 1/2

cups

all-purpose flour

3/4

tsp

baking soda

1/2

tsp

kosher salt

1

cup

unsalted butter

3/4

cup

stout beer,

such as Guinness

12

oz

dark chocolate,

chopped

3

large eggs

1

cup

granulated sugar

1/2

cup

packed brown sugar

1/2

cup

sour cream
For the chocolate Irish cream glaze
8

oz

dark chocolate,

chopped

1

cup

heavy hream

1/4

tsp

kosher salt

1

tbs

vanilla extract

2

tbs

Irish Cream liquer
Instructions
To make the bundt cake
Preheat the oven to 350 degrees F. Grease a 12-cup nonstick Bundt pan and set aside (see notes).

In a medium-sized bowl, whisk together the flour, baking soda, and salt. Set aside.

In a small saucepan heat butter and beer over medium heat, stirring, until the butter is melted. Remove from heat and add the 12 ounces of chopped chocolate, stirring until smooth.

In the bowl of a stand mixer, beat the eggs and sugars on medium-high speed, until fluffy. Beat in the melted chocolate mixture and the sour cream. Reduce speed to low and gradually mix in flour. Do not over mix.

Pour the batter into the prepared pan and bake 45-55 minutes, or until a toothpick, when inserted into the center, comes mostly clean. Let the cake cool for about 20 minutes in the pan and then invert it onto a wire rack to finish cooling completely.
To make the glaze
Add the chopped chocolate and heavy cream to a medium -sized saucepan and heat over medium heat. Stir continuously. Once melted add the vanilla extract and kosher salt. Remove from the heat, add the Irish Cream, and stir.

Put the sauce in the fridge for 15 minutes or so to allow it to cool a bit. Pour the glaze onto the cake and let the cake stand until the glaze firms up.
Need more St. Patrick's Day treats? I gotcha.