Fall cocktails get no better than this
These Pumpkin Pie Moscow Mules are sweet, spicy, and full of Fall flavor. Pumpkin butter and vanilla vodka make them taste like a boozy slice of pie!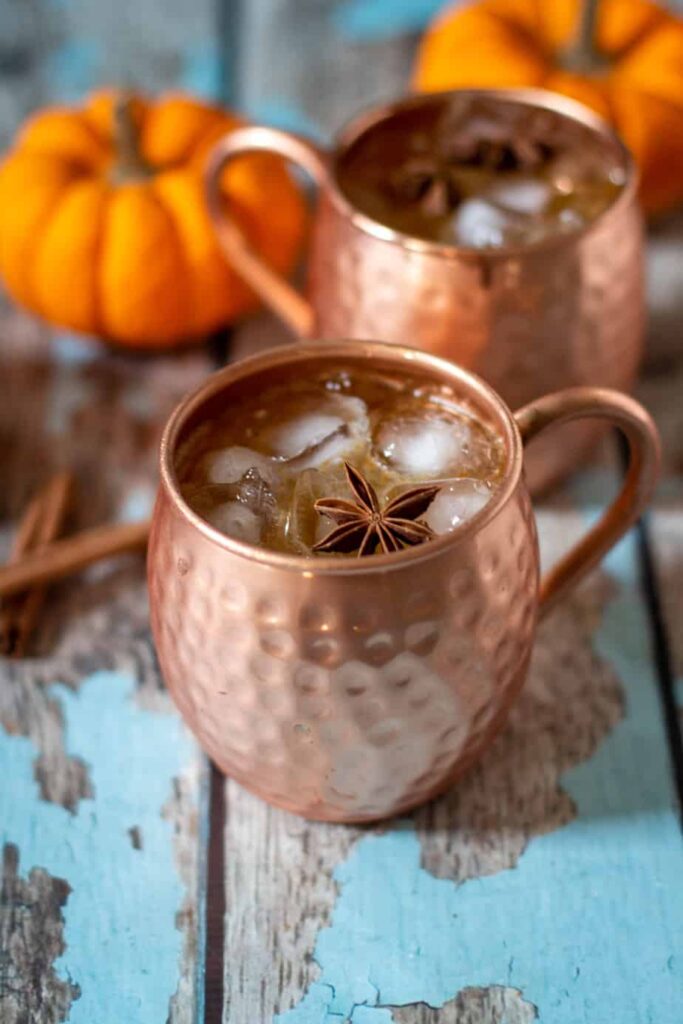 What took me so long to make one of these?
To be honest, I'm a little surprised that I haven't put a cocktail like this together until now! I mean, my love of Moscow Mules is well documented. Seriously, check out the Mules on this blog. Click here. I'll wait.
And, if we're being real, I'm a little bit of a basic bitch when it comes to all things pumpkin. I am not ashamed to do a little self reflection and admit that about myself.
A little time spent looking around my pantry, plus a little seasonal inspiration, led me to concoct this drink. So, while I am apologetic that it took me so long to get to this point, I like to think that this cocktail will serve as a sufficient apology.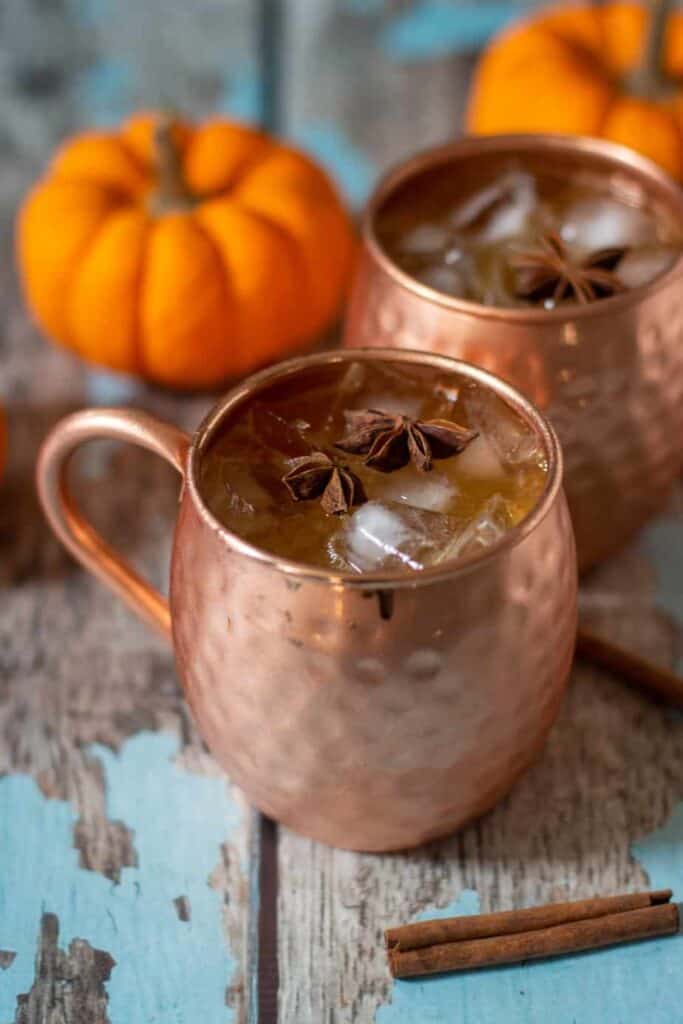 What goes into this Mule?
Just a handful of ingredients!
I was looking around my pantry recently and came across an unopened jar of pumpkin butter from last Fall (still good!). Fortunately/unfortunately, I was experiencing some gnarly morning sickness at this time last year, so while the spirit was willing to purchase pumpkin butter, the body was not willing to eat it. With that jar in hand, I went looking for other flavors to include.
We also had a bottle of vanilla vodka hanging around, along with ginger beer (a staple in our house). So, I tossed those three things, along with ice and some freshly squeezed lime juice in to a copper mug (with a step or two in between) and voila! The Pumpkin Pie Moscow Mule was born.
The vanilla vodka adds flavor and sweetness, the ginger beer is spicy, and the pumpkin butter is equal parts sweet and flavorfully spiced. All of these ingredients together really make this cocktail taste like a boozy slice of pumpkin pie.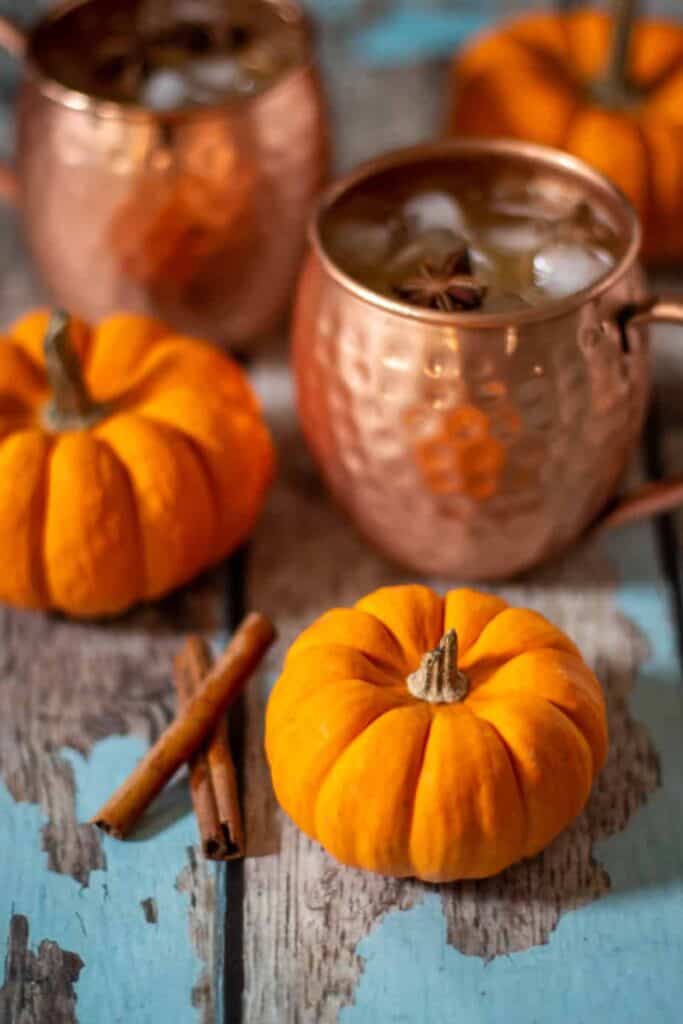 In search of other Fall Moscow Mule Recipes?
Well well well. In that case, let me direct your attention this way…
While I truly believe that bourbon is a spirit that should be consumed year-round, I'll admit that it is especially warming and delightful when the weather turns a bit cooler. I made and shared this Bourbon Moscow Mule almost 3 years ago now. It's just as good today as it was then.
In case you want to amp up the Fall vibes even further, I also have a Maple Bourbon Moscow Mule for ya. It's made with smoked maple bourbon and real maple syrup for a little sweetness. *chef's kiss*
I'm also pretty stoked about my Caramel Apple Moscow Mules. They taste like (you guessed it) a big old caramel apple. But, you know, boozy and in a copper mug.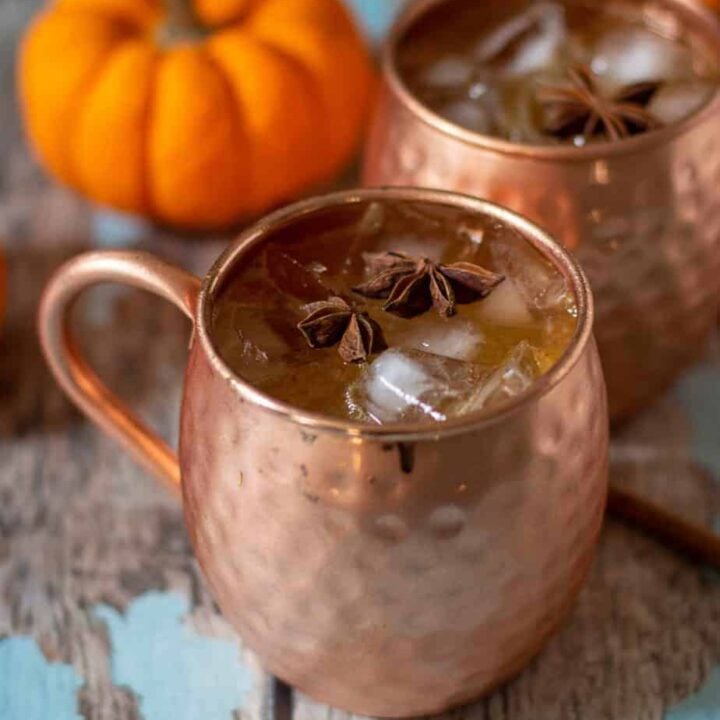 Pumpkin Pie Moscow Mule
These Pumpkin Pie Moscow Mules are sweet, spicy, and full of Fall flavor. Pumpkin butter and vanilla vodka make them taste like a boozy slice of pumpkin pie!
Ingredients
1.5 oz vanilla vodka
1/2 lime, juiced
4 oz ginger beer
whole star anise and/or cinnamon stick, for garnish (optional)
Instructions
Add the vanilla vodka, pumpkin butter, and lime juice to a cocktail shaker with ice. Shake until very cold and the pumpkin butter has been incorporated.
Strain into a copper mug with ice.
Top with ginger beer.
Garnish with a whole star anise and/or a cinnamon stick, if desired
Nutrition Information:
Yield:

1
Serving Size:

1
Amount Per Serving:
Calories:

311
Total Fat:

0g
Saturated Fat:

0g
Trans Fat:

0g
Unsaturated Fat:

0g
Cholesterol:

0mg
Sodium:

28mg
Carbohydrates:

58g
Fiber:

1g
Sugar:

55g
Protein:

0g
What gear will I need?
Pin this recipe for later!