Last Updated on October 6, 2021 by laurenpacek
Instant Pot Apple Butter is sweet and delicious and comes together so easily and quickly! Make the most of Fall's produce and whip up a batch today!
Seriously, this apple butter couldn't be easier to make. Basically, all it involves is chopping up some apples and dumping them along with the rest of the ingredients into your Instant Pot. The Instant Pot and and immersion blender do the rest of the work!
And! Let's not forget to mention how quickly you can make a big batch of apple butter using this method - It's much, much faster than when using a Crock Pot or doing it on the stove top.
What's more, it's delicious. It's sweet, warmly spiced, and tastes just like Fall.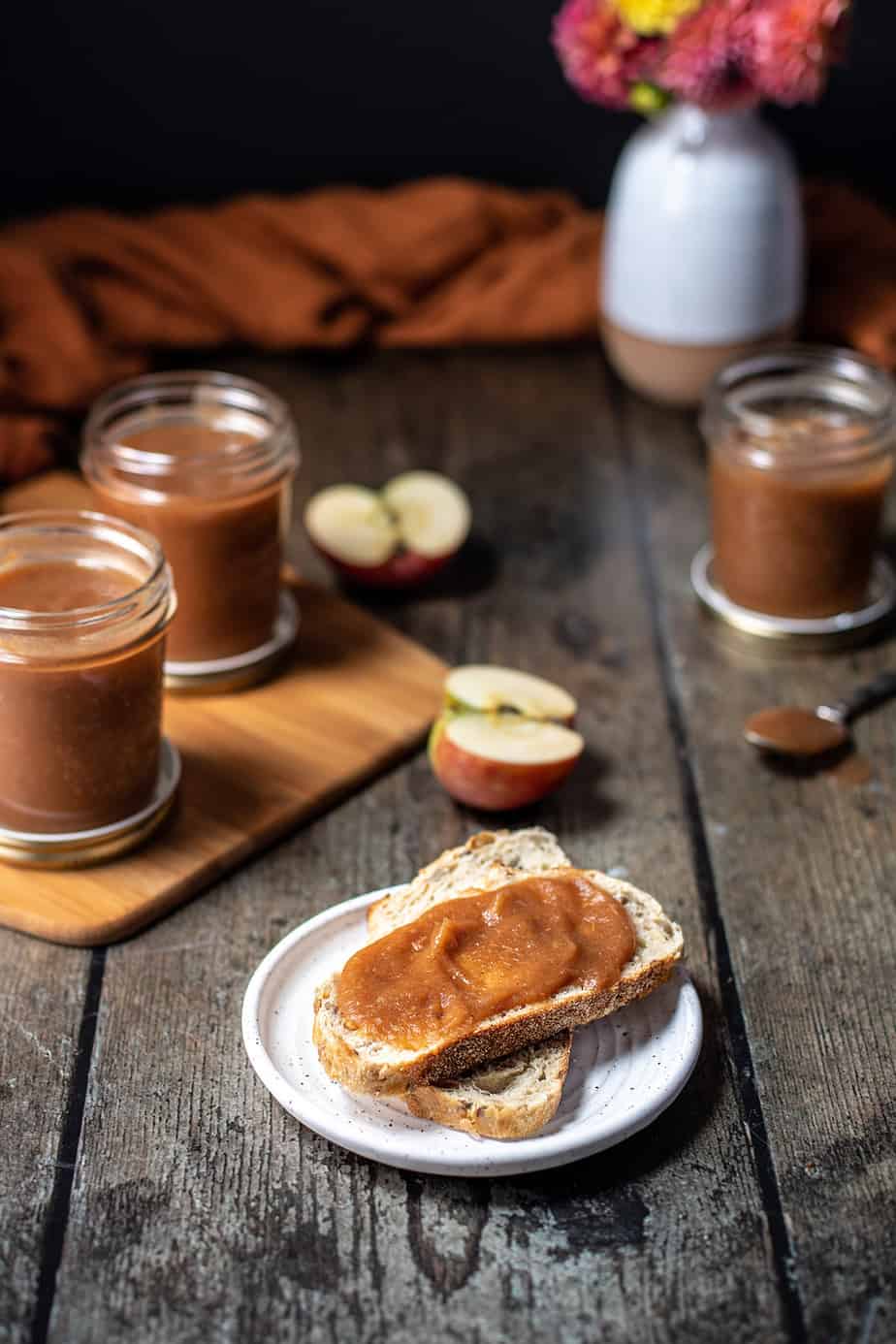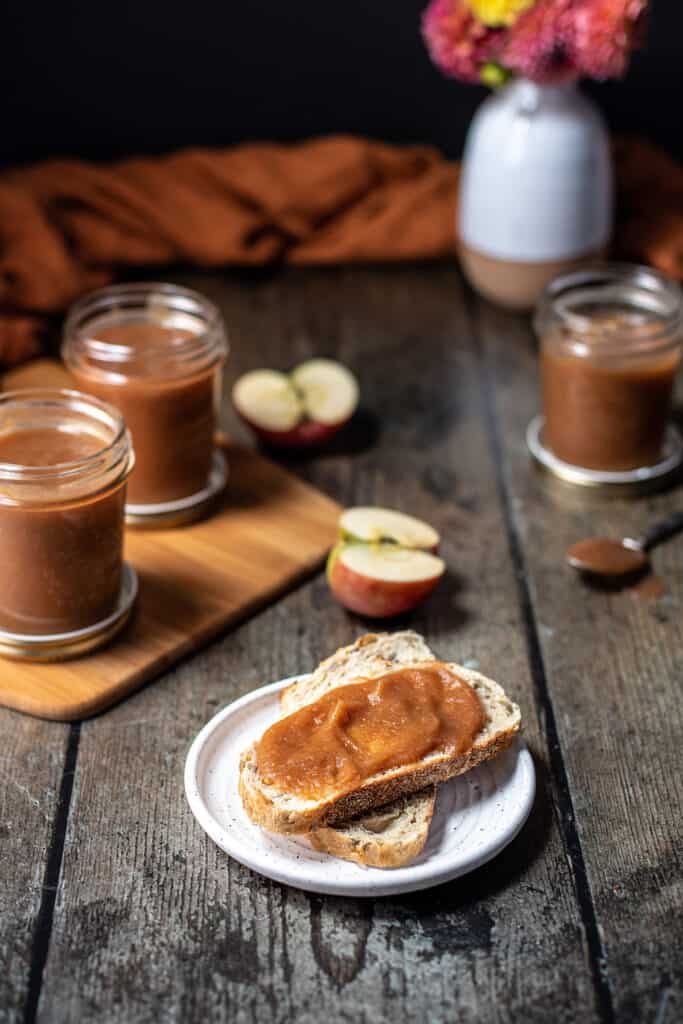 What is apple butter?
Apple butter is sort of like apple sauce, but in a much more concentrated form. Thanks to a long and slow cooking process--or in this case, the pressure in the Instant Pot--the sugar in the apple butter is able to caramelize, giving the apple butter its deep brown color.
According to Wikipedia, apple butter originated in the Belgium/Netherlands/Germany area during the Middle Ages as a way to conserve some of the apple harvest.
It should be noted that apple butter doesn't contain any actual butter, but instead gets the name from its thick, butter-like consistency.
Ingredients
It doesn't take very many ingredients to make a delicious apple butter in the Instant Pot. Let's talk about them!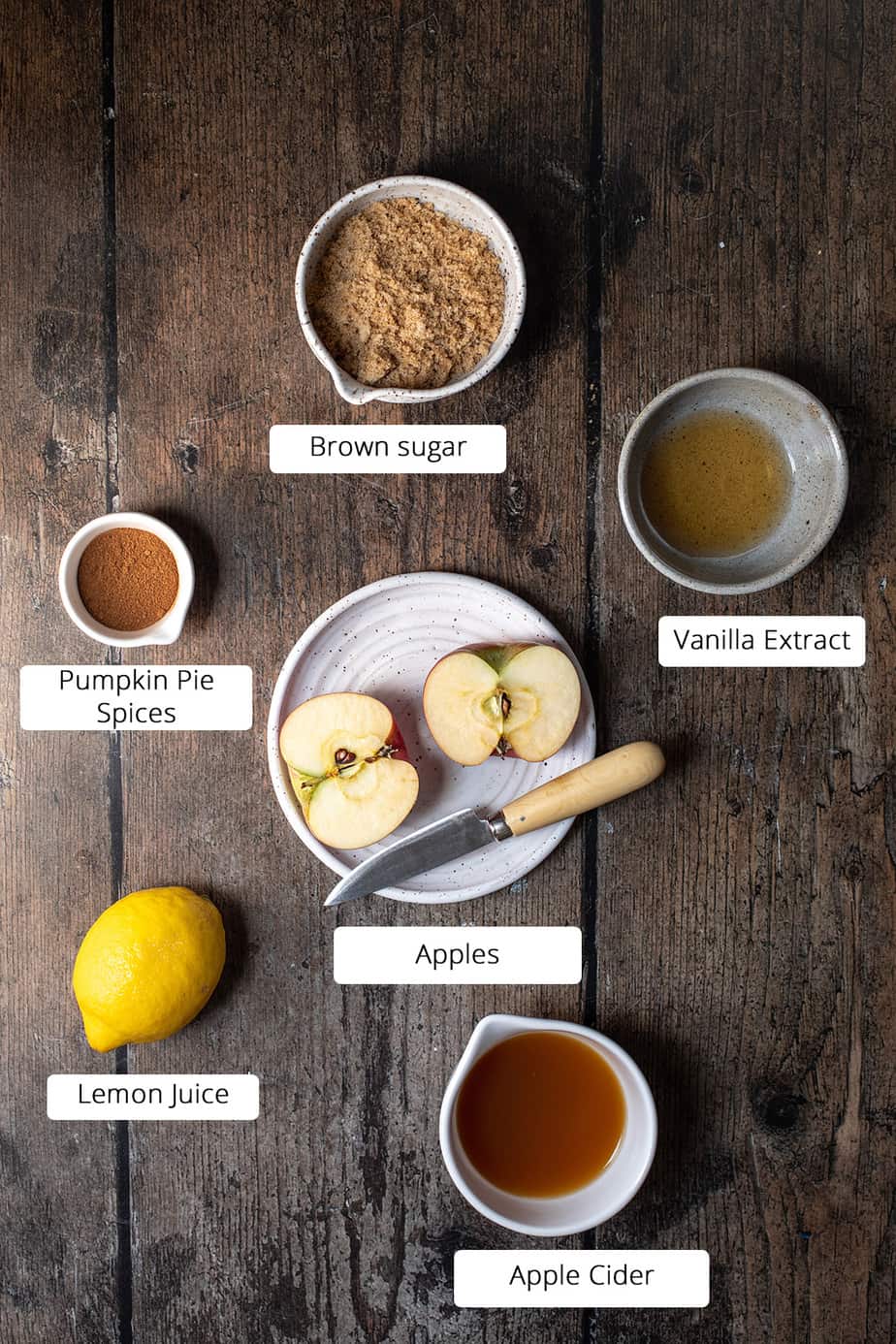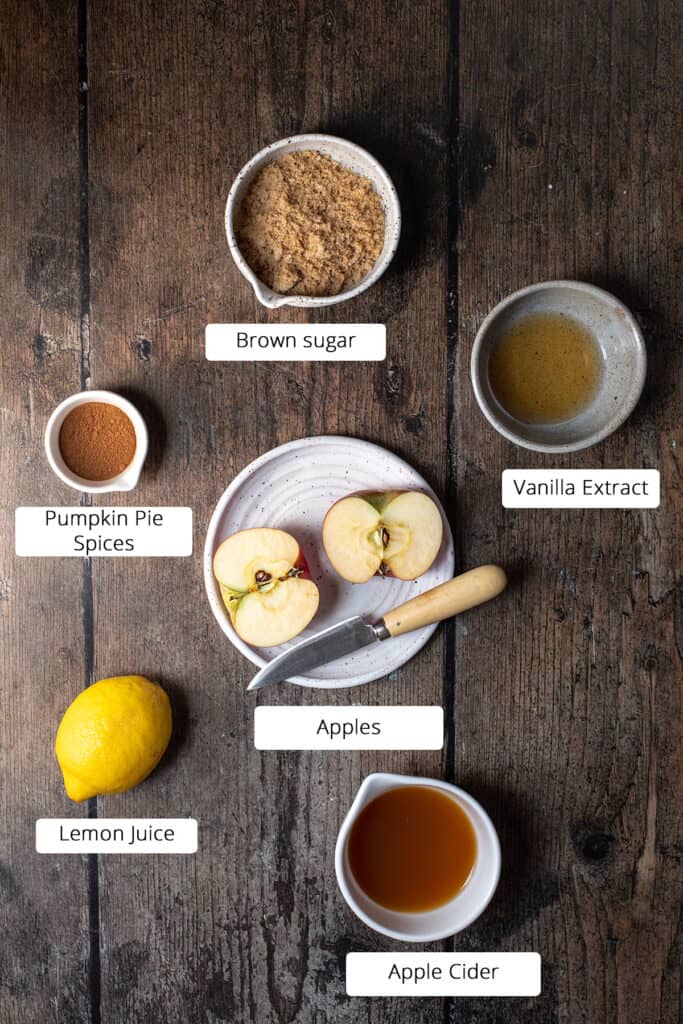 Apples: I used Honeycrisp apples (my favorite!), but you can use whatever variety you like. A mixture of varieties would be nice, too!
Brown sugar: Just brown sugar. Doesn't matter if it's light or dark.
Pumpkin pie spices: Use a store bought mix or whip some up at home.
Apple cider: Apple cider is preferred here, but you could also use water in a pinch.
Vanilla extract: Store bought or homemade works here, just make sure that you use something of good quality.
Lemon juice: Use freshly squeezed, please.
Salt: Kosher salt is all I'll use (I forgot to include this in the photo).
How to make Instant Pot Apple Butter
Fortunately for you and for me, you can make it very easily and quickly.
Start by coring and slicing your apples into about 8 or so slices. You can peel the apples first, if you'd like. I've found that it doesn't really matter much. Everything gets blended up eventually.
Dump the apples plus all of the other ingredients (minus the vanilla and lemon juice) into your Instant Pot, set it, and walk away. Once it has finished cooking, you'll use an immersion blender (or a regular blender) to blend everything up until very smooth.
If you find that your apple butter is a bit too thin for your liking, you can simmer it for a bit in the Instant Pot until it thickens.
That's it! It's super easy to make. And the payoff is huge.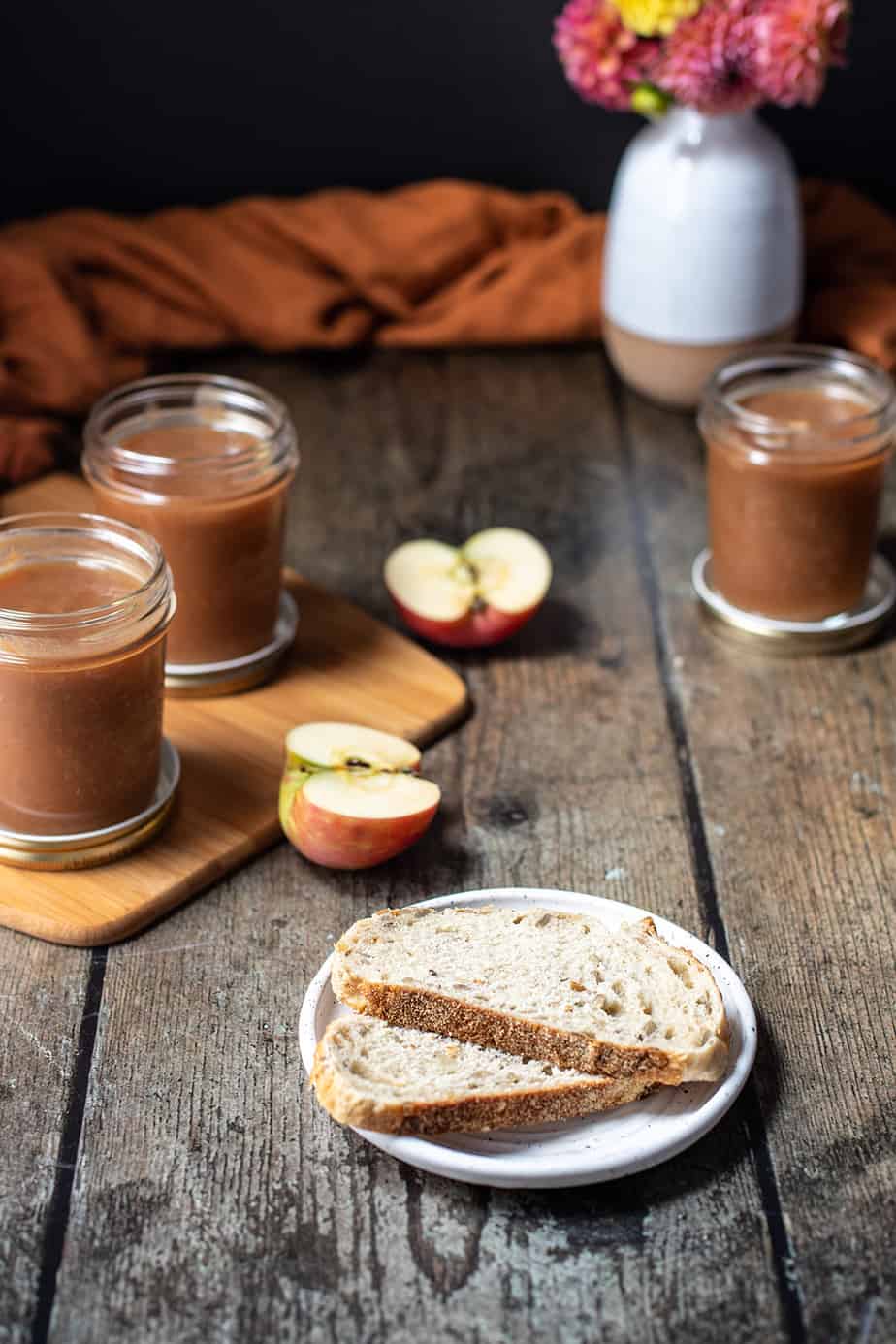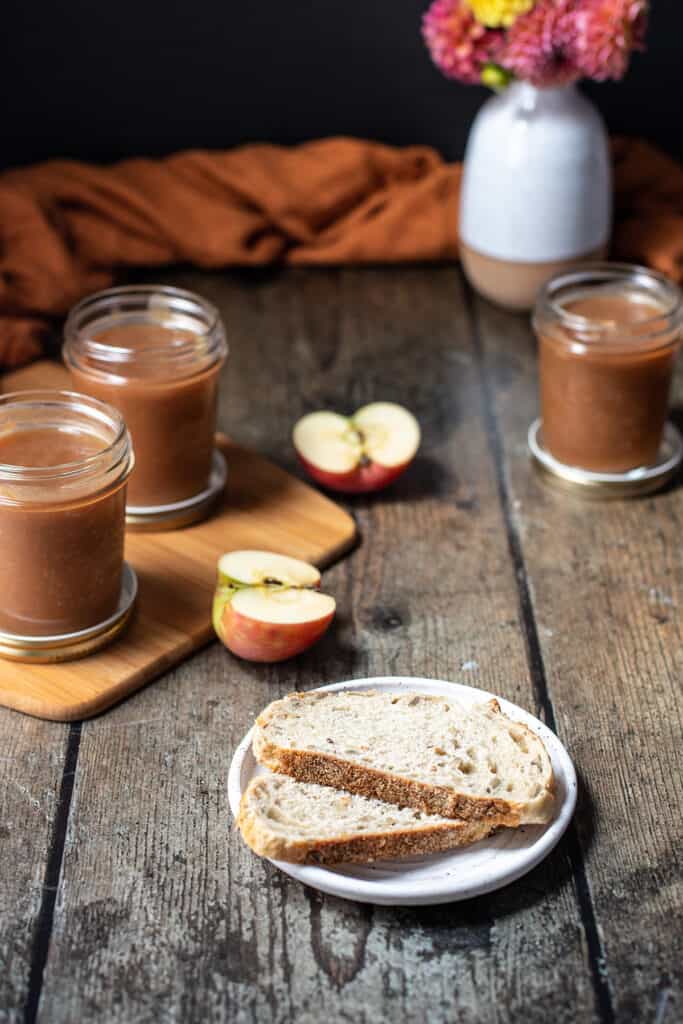 How to use apple butter
You can use apple butter in a variety of ways! You can spread it on bread/toast, muffins, quick bread, and so on, if you'd like. I've been eating it on some slices of seedy bread, and it's been fabulous.
You can mix it into your oatmeal or yogurt, too. Or heck, mix it into your baked goods! I'm also working on a cocktail recipe using apple butter. Basically, you can't lose.
If all else fails, eat it with a spoon straight out of the jar!
Other apple recipes
I have a few other recipes that use fresh apples!
These Apple Oat Streusel Muffins are a really tasty addition to a brunch, and Gluten Free Muesli Muffins are filled with grated apples. They're a little healthier, but are super tasty, too.
Please also don't forget about these Salted Caramel Apple Pie Bars! They're truly decadent.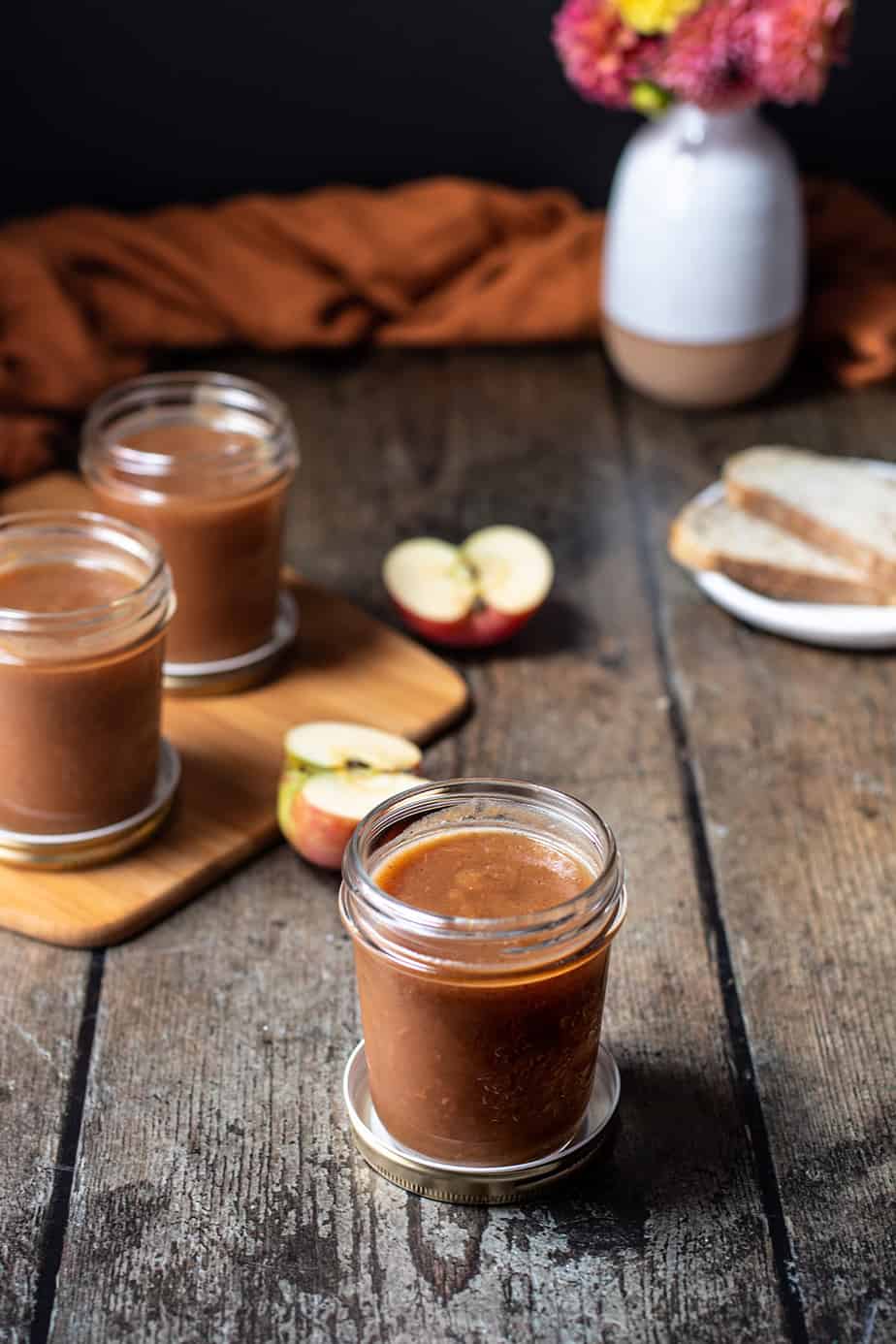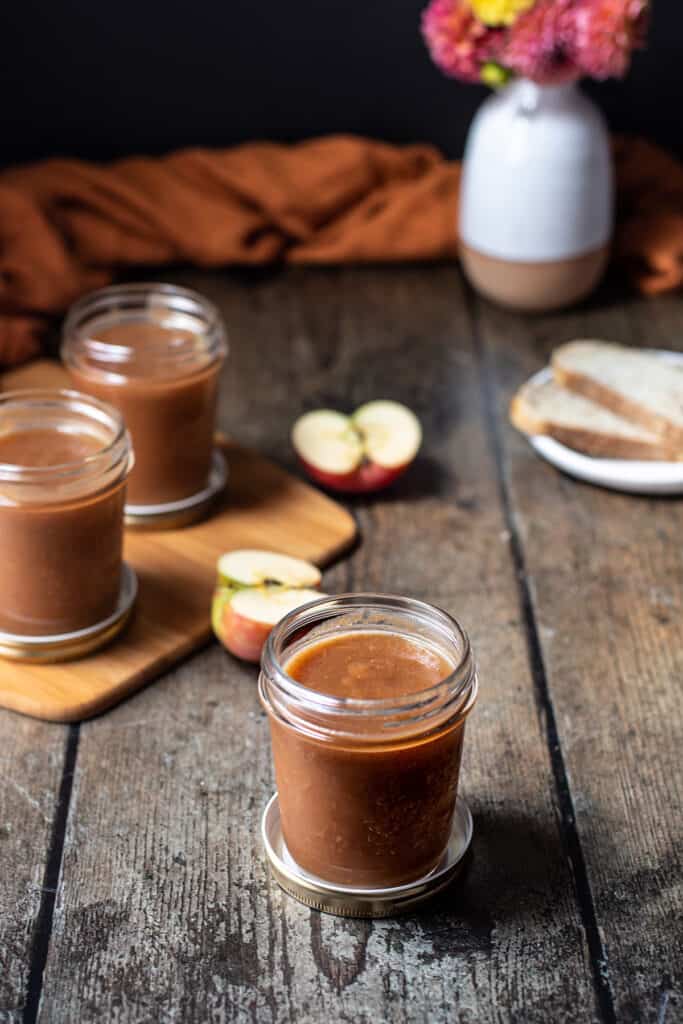 Frequently Asked Questions
What kind of apples should I use?
In short, pretty much whatever kind you like! Traditionally, softer varieties are used to make apple butter, but essentially whatever variety you like can be used when making apple butter in the Instant Pot. I used Honeycrisp, but using a mixture of different apple varieties would also be nice here.
How should I store this apple butter?
You should store your apple butter in an airtight container (like a Mason jar). It will keep in the refrigerator for about 3 months (!) and if stored in the freezer, it will keep for about a year.
Can I can the apple butter?
Probably. I haven't done it myself, but I don't see why not.
Don't forget to follow me and share your creations on social media!
Subscribe to the A Nerd Cooks Newsletter to have updates sent straight to your inbox.

I love seeing when you share my recipes! Please tag me on Instagram @anerdcooks so I can enjoy them virtually with you! You can also find me on Pinterest, Facebook, YouTube, and Twitter.

I'd love to know what you thought of this recipe! Don't forget to leave a comment and
⭐️ star rating below!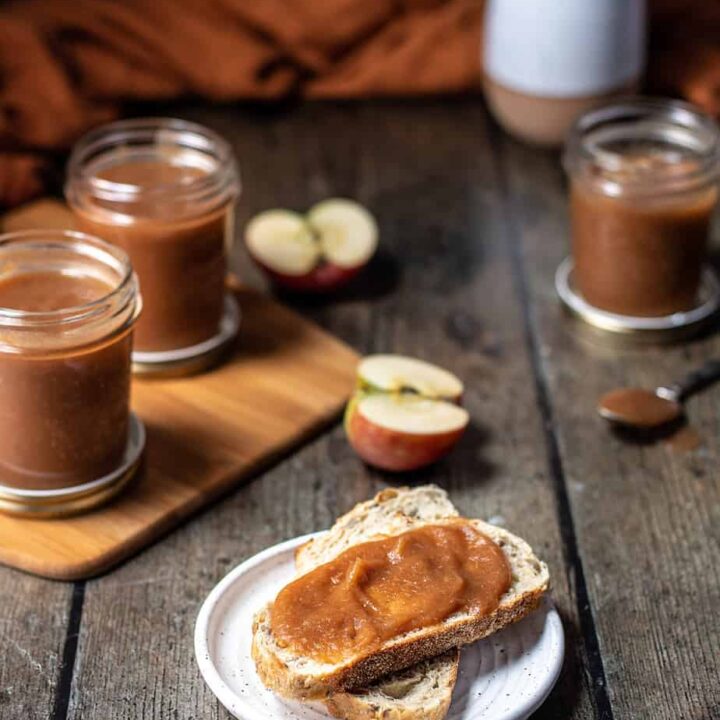 Instant Pot Apple Butter
Additional Time:
30 minutes
Instant Pot Apple Butter is sweet and delicious and comes together so easily and quickly! Make the most of Fall's produce and whip up a batch today!
Ingredients
3 lbs apples
½ cup apple cider
½ cup brown sugar
1 tablespoon vanilla extract
2 teaspoons pumpkin pie spice
pinch of kosher salt
juice of 1 lemon
Instructions
Core and slice the apples into 8 slices. You can peel the apples if you'd like, but it is not necessary.
Add the apples, apple cider, brown sugar, and vanilla extract to a 6 quart Instant Pot.
Close the lid and cook on manual for 15 minutes. Allow the Instant Pot to depressurize naturally for 15 minutes before manually depressurizing the rest of the way.
Use an immersion blender to blend the apples in the Instant Pot until smooth. Alternately, place the apples in a blender in small batches, blending until smooth. Put the apple butter back into the Instant Pot.
Add the juice of 1 lemon and stir.
If the apple butter isn't thick enough for your liking, you can start the Sauté setting on the Instant Pot and allow the apple butter to simmer until it reaches the desired thickness.
Allow the apple butter to cool before removing it to airtight containers and storing it in the fridge.
Nutrition Information:
Yield:

40
Serving Size:

1
Amount Per Serving:
Calories:

29
Total Fat:

0g
Saturated Fat:

0g
Trans Fat:

0g
Unsaturated Fat:

0g
Cholesterol:

0mg
Sodium:

3mg
Carbohydrates:

7g
Fiber:

1g
Sugar:

6g
Protein:

0g
Assumes a 2 tablespoon serving size
What equipment do I need to make this apple butter?
Pin this recipe for later!