Want to hear something kind of crazy?

This was my first key lime pie.  Baked or eaten.
I mean, I know that I've had some sorts of key lime-flavored desserts in the past, but this was my first legit key lime pie.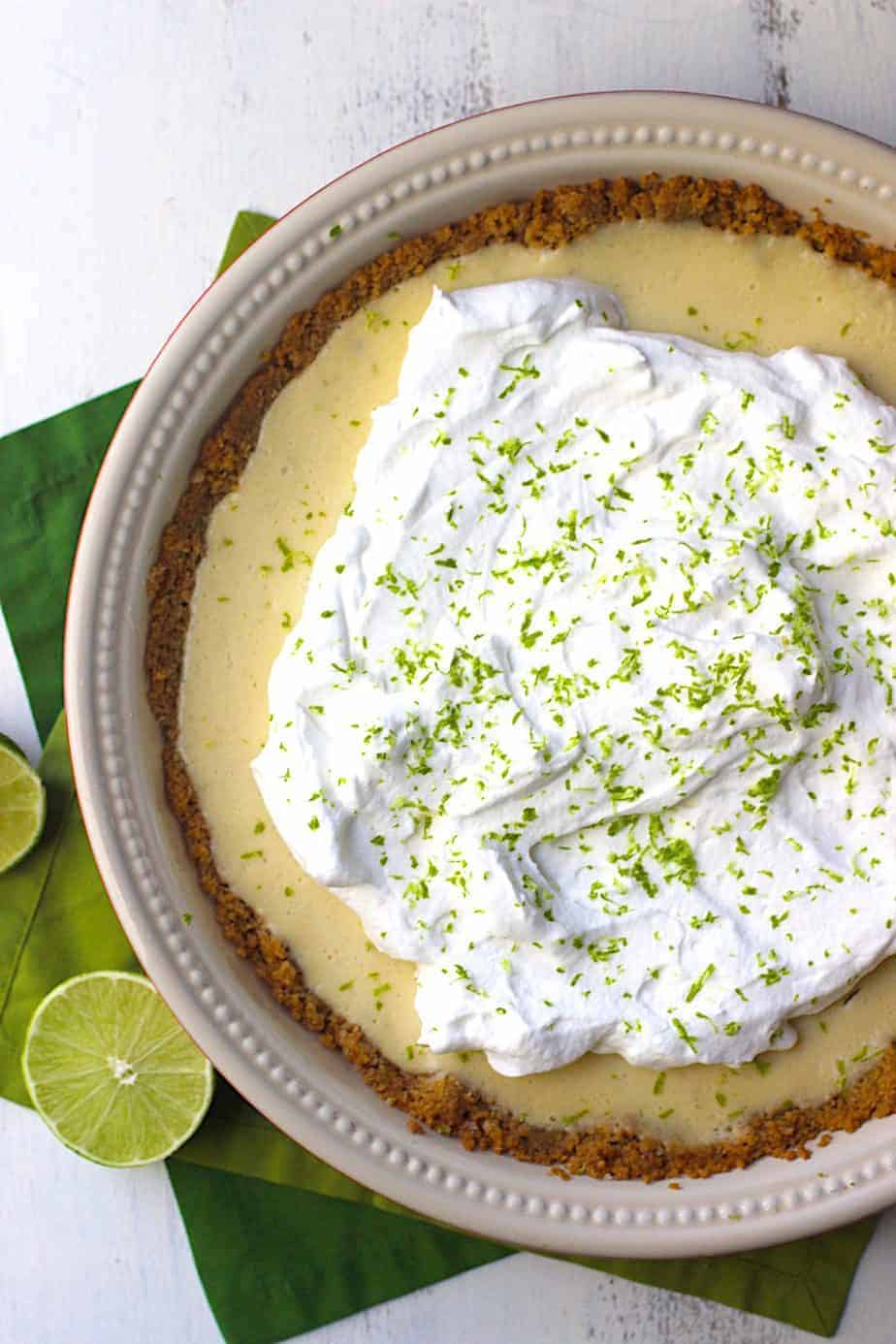 I made it for a research assistant's last day in the lab, and shared it with a group of coworkers and RAs at a small going away party last week.
Now, I can tell you that I thought that it tasted pretty amazing.   But the reviews I received from others were pretty fantastic, too.
It's sweet, but not too sweet, and tangy.  The crust is also phenomenal.
I found this recipe on the blog Honest and Tasty and couldn't not make it.
You'll need:
For the crust –
11 whole graham crackers
7 tbs butter, melted
1/4 cup granulated sugar
big pinch of kosher salt
For the filling –
3 egg yolks
1.5 tbs key lime zest (reserve a bit for the topping)
14 oz. sweetened condensed milk
3/4 cup key lime juice (~1 lb key limes OR bottled key lime juice)
For the whipped cream –
1 cup heavy whipping cream
1.5 tbs granulated sugar
Preheat the oven to 350 degrees F.
In a blender/food processor/zip top bag, smash the graham crackers until they are fine crumbs.
In a small bowl, combine the graham cracker crumbs, melted butter, and granulated sugar.  Mix until everything is combined.
Turn the mixture out into a 9-inch pie pan and gently press it into an even layer, bringing the crust up the sides of the pie pan.  Bake for 10 minutes, or until golden brown.  Allow the crust to cool while you make the pie filling.
In the bowl of a stand mixer, using the whisk attachment, whip the egg yolks and lime zest together until thickened.  Add the sweetened condensed milk and whip for 3 more minutes, or until further thickened.  Add the lime juice and mix until just combined.
Pour the filling into the crust and spread it around with a spatula, smoothing the surface.  Bake for 15-20 minutes, or until the center is not completely jiggly.  There will be some movement, but it will look done.  Also, the filling may puff up a bit, but won't change color.
Allow the pie to cool on a wire rack for about half an hour before covering it and letting it cool completely in the fridge for at least 2 hours.
Once the pie is cool, you're ready to top it with some whipped cream and more lime zest!  In the bowl of a stand mixer, again using the whisk attachment, whip the cream and sugar together until stiff peaks form.
Slap some whipped cream on top and garnish with more zest.