Last Updated on December 3, 2021 by laurenpacek
This salmon is delicious and easy to make
This Air Fryer Salmon is most, flaky, and so flavorful. Better yet? It's so EASY to make! It only takes a little bit of time to whip up, too.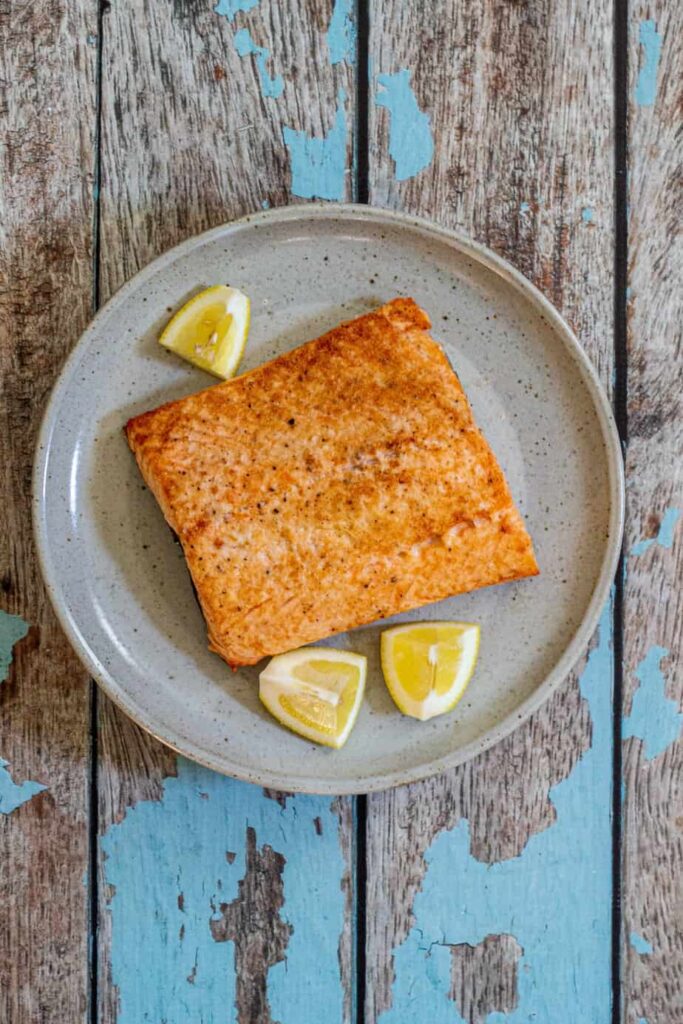 So, why use an air fryer to make your salmon?
For the longest time, I've done salmon in the oven by wrapping it in foil and roasting it. It's a pretty foolproof method, resulting in moist, delicious fish. It's a good and reliable method for getting some salmon on the table.
HOWEVER. If you're looking for a way to make super moist and flavorful salmon that also has a beautiful browned exterior with awesome texture, then you want to use an air fryer.
I mean, look at that browning. I'm having a hard time figuring out how to describe the texture of the outside of the salmon. I don't want to say crust, because it's not a crust. But it gets a little crusty. It's like salmon you'd get at a restaurant.
Despite that "crust" on the outside, the inside of your salmon will be *chef's kiss* perfectly moist and tender.
What ingredients do you need?
Salmon: Can't make salmon in the air fryer without some salmon, now can you? You can use a filet with or without skin, depending on your preference.
Olive oil: Only a wee bit of olive oil is needed for this recipe - that's one of the great things about cooking salmon in an air fryer.
Salt and pepper: At minimum, I would recommend seasoning your fish with kosher salt and black pepper.
Other seasonings: These are optional. Use whatever flavors you'd like. Sometimes I like to just add a bit of garlic powder or some Old Bay Seasoning.
Lemons: Seafood and lemons just go together! I'd recommend having some lemon wedges to squeeze over your fish once it has been cooked.
How do you make salmon in the air fryer?
It's seriously so easy. Take a beautiful salmon filet and coat the exposed flesh with just a little bit of olive oil. It really does not take much at all. Sprinkle it with salt and pepper, for starters. I've just been using garlic powder in addition to the S+P. But really, you can season your salmon with whatever floats your boat.
Spray the basket of the air fryer with some cooking spray (again, it doesn't take much), lay the fish in there, skin-side down, and cook at 400 degrees for 10 or so minutes. Depending on how thick your salmon is, it may take a little longer. Just use your fork to check for doneness.
After that, it's done! It's ready! Get your salmon on.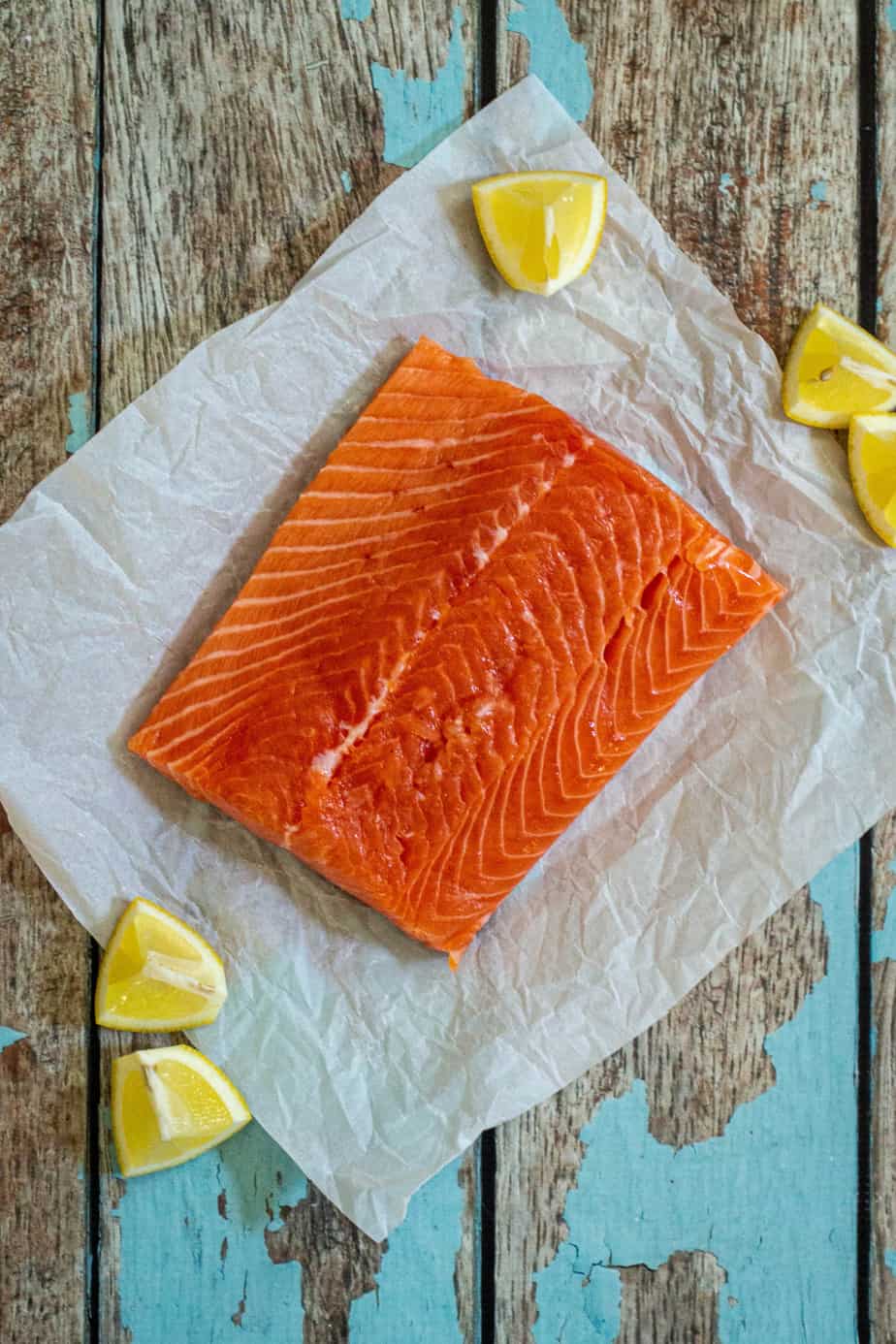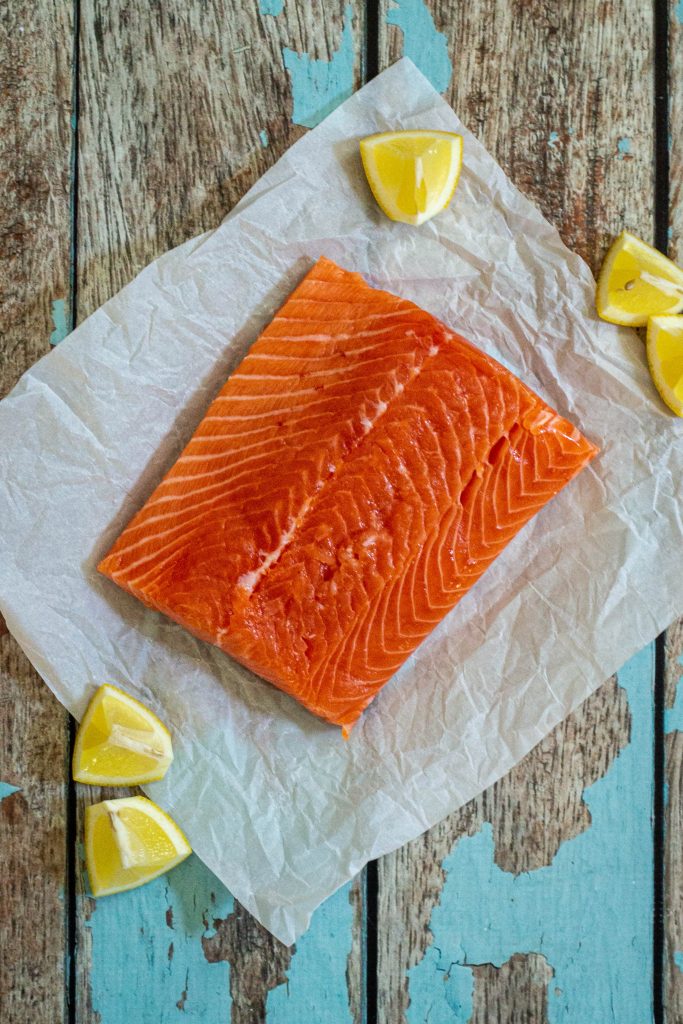 Need more air fryer recipes?
'Cause I've got a little of both.
Up until now, I've mostly been using my air fryer to make chicken wings. And, honestly, I think that an air fryer is worth the money that you spend on it just for the chicken wings alone. Check these Air Fryer Old Bay Chicken Wings out ASAP. You will not regret it.
Need more salmon recipes?
As for salmon, I talked about this Easy Baked Salmon earlier in the post. It's still a solid method for preparing salmon. Once you've prepared your salmon, consider making some of these Spicy Salmon Sushi Bowls or Salmon BLT Tacos!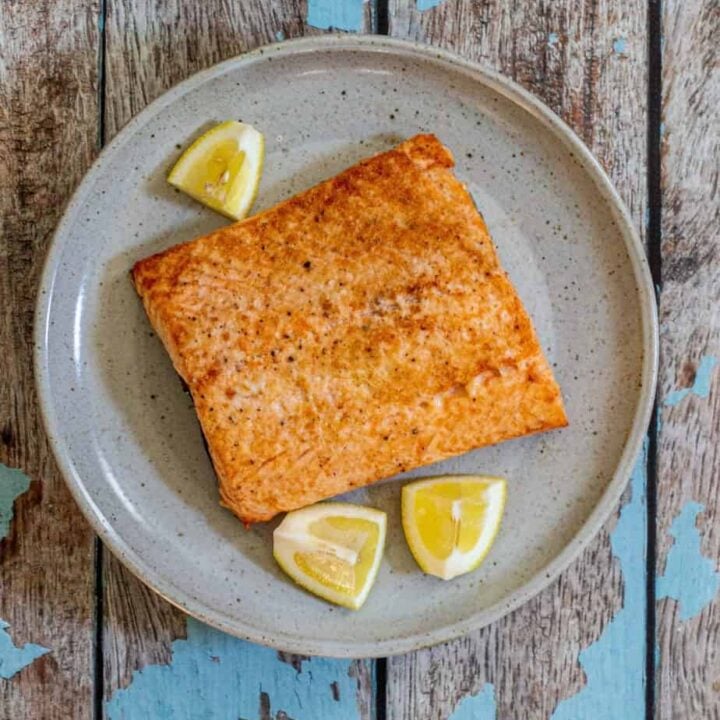 Easy Air Fryer Salmon
This Air Fryer Salmon is moist, flaky, and super flavorful. It's so easy to make and takes only a little bit of time.
Ingredients
1 - 1.5 lb salmon fillet (1 - 1.5-inches thick)
1 tsp olive oil
kosher salt and black pepper, to taste
garlic powder, to taste
lemon wedges, for serving
Instructions
Coat the salmon filet lightly with olive oil. Season with kosher salt, pepper, and garlic powder.
Spray the air fryer's cooking basket with cooking spray. Place the salmon filet into the cooking basket skin-side down (if your filet has skin).
Air fry at 400 degrees F for 10 minutes.
Use a fork to flake the salmon apart in order to check the level of doneness.
Air fry for a few more minutes, if necessary, to achieve the desired level of doneness.
Serve with lemon wedges.
Notes
The nutrition facts for this recipe are calculated based on a 1.5-pound filet that results in 3 servings.
Nutrition Information:
Yield:

3
Serving Size:

1
Amount Per Serving:
Calories:

490
Total Fat:

30g
Saturated Fat:

6g
Trans Fat:

0g
Unsaturated Fat:

21g
Cholesterol:

143mg
Sodium:

333mg
Carbohydrates:

3g
Fiber:

1g
Sugar:

0g
Protein:

51g
What do I need in order to make this recipe?
Pin this recipe for later!